Air conditioners contribute a significant portion of the electricity costs for all families with air conditioners. If you're concerned about high electricity costs caused by air conditioners, investing in an energy-efficient air conditioner makes a lot of sense. In today's market, there are many different types and brands of air conditioners. Everyone wants to be well-informed before purchasing an air conditioner and wants to buy the greatest air conditioner in India. People also want to know whether they should get a split air conditioner, an inverter air conditioner, or a window air conditioner.
The majority of online sources provide information about features and reviews. The amount of electricity consumed is rarely a deciding factor. We recommend the Hitachi 1.5-ton 5-Star Inverter Split AC because of its durability and energy efficiency.
Best Air Conditioner Recommendations in December 2023 – A Quick Comparison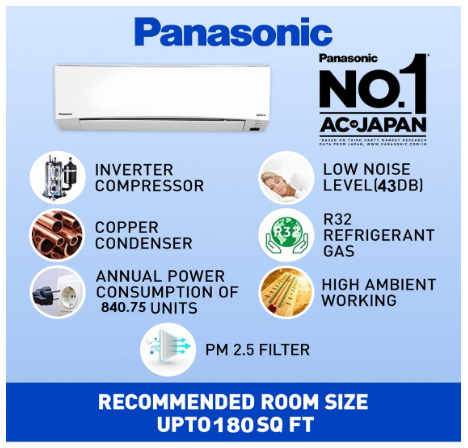 3. Panasonic 1.5-ton 5-Star Wi-Fi Twin-Cool Inverter Split AC
Size: 1.5-Ton
Energy Efficiency: 5 Star
Twin Cool Inverter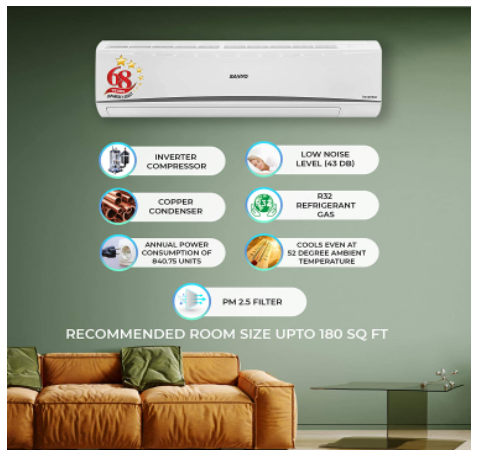 5. Sanyo 1.5 Ton – 2020 model
Size: 1.5-Ton
Energy Efficiency: 5 Star
Split AC with dual inverter compressor
Best Air Conditioner
Recommendations
in December 2023 – A Complete Detail
1. LG 1.5-Ton 5-Star AI Dual Inverter Split AC – PS-Q19YNZE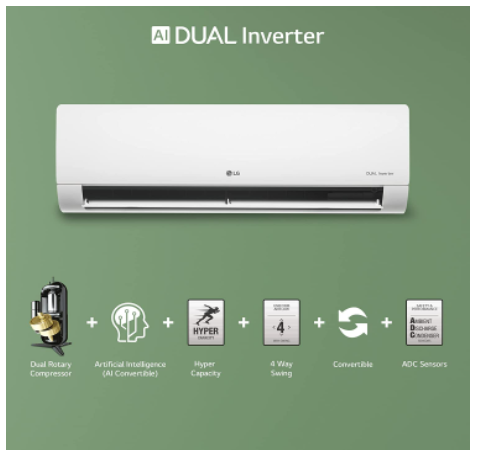 This LG air conditioner has a dual inverter compressor. The power of this variable-speed compressor is adjusted according to the load. Under normal operating settings, this air conditioner uses roughly 818.81 units of electricity each year. Furthermore, the dual rotary inverter compressor is quieter than its competitors. The temperature, gas discharge, and pressure are all controlled by ADC sensors, ensuring the highest levels of comfort and convenience. Furthermore, this AC can operate across a wide voltage range, eliminating the need for an extra voltage stabiliser. Cooling the space even if the outside temperature reaches 52 degrees Celsius is another intriguing function. The HD filter catches contaminants in the air, allowing pure air to circulate throughout the room. Sleep Mode and Monsoon Comfort Mode are two features that improve comfort. The self-diagnosis and auto-cleaning technologies make life easier. This air conditioner uses R32, a high-quality refrigerant with minimal global warming potential and ozone depletion potential of 'Zero.'
2. Whirlpool 1.5-ton 3-Star Inverter Split AC – 1.5T MAGICOOL 3S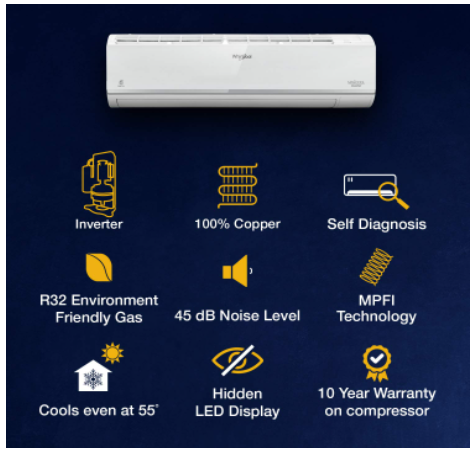 Because the Intellisense Inverter compressor monitors the load and changes the compressor speed accordingly, this Whirlpool AC is an energy-efficient device. This Whirlpool air conditioner uses 1071.03 units of electricity per year. The compressor employs innovative MPFI technology, which combines a compact circuitry with a capillary design to deliver fast cooling even when the ambient temperature exceeds 55 degrees Celsius. Furthermore, the 44 evaporator circuit design ensures improved heat exchange and, as a result, improved cooling while conserving energy. Because the condenser and evaporator tubes are made entirely of copper, they are more robust and efficient than traditional air conditioners. Furthermore, this Whirlpool air conditioner includes a HEPA filter that traps dangerous pollutants such as dust mites and pollen, ensuring allergen-free and pure air circulation. The R32 refrigerant is more efficient than the normal R410A refrigerant used in many air conditioners. Self-Clean is another feature that avoids evaporator coil rusting and bacterial growth within the AC. In addition, this air conditioner has several modes, including Eco and Sleep. Another benefit of this Whirlpool air conditioner is the Self-Diagnosis feature. The input voltage range for this AC is 145V to 290V.
3. Panasonic 1.5-ton 5-Star Wi-Fi Twin-Cool Inverter Split AC, CS/CU-XU18XKYF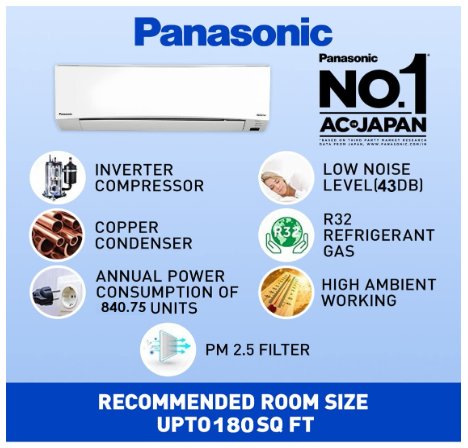 The Panasonic air conditioner is one of the most long-lasting products in its class. The condenser is protected from corrosion by the 100% copper tubing. It also incorporates Blue Fin Condenser technology, which is a corrosion-free coating that ensures a long lifespan. The Eco Touch feature is a rust-resistant shell that protects pricey components from weather-related harm. As a result, it ranks among the finest in terms of endurance. The Jet Stream technology, which is capable of powerful cooling up to 45 feet reach airflow with a larger air intake and diameter, is another intriguing feature. This AC does not require an external stabiliser because it can withstand voltage swings between 100 and 290 volts. The MirAIe platform includes a one-touch service request capability that allows for the digital storage of all annual maintenance contracts. It guarantees that customers are notified when the status changes. Smart Diagnosis, which allows you to diagnose faults in real-time, is another amazing feature. As a result, you save money on upkeep.
4. Voltas 1.4-Ton 5-Star Inverter Adjustable Split AC, 175V ADJ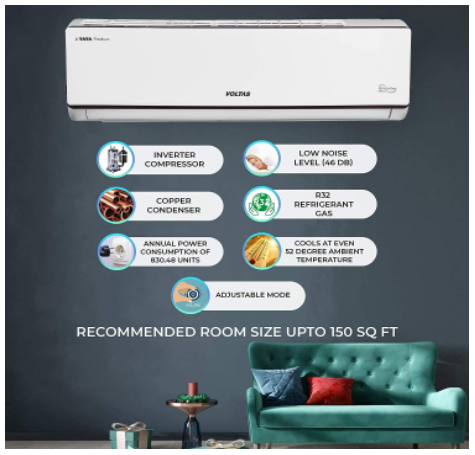 This Volta's air conditioner differs from others in that it has a configurable inverter compressor that can run at varying tonnages depending on your cooling needs. Depending on the ambient temperature or the number of occupants in your home, this air conditioner may run at 1-ton or 1.4-ton. This Volta's air conditioner has the advantage of providing high-quality cooling even when the outside temperature is as high as 52 degrees Celsius. The Active Dehumidifier feature is fantastic since it detects and manages interior humidity levels throughout the rainy season. Copper coils are used in the condenser and evaporator fittings of this Volta's air conditioner. It improves the durability quotient while also assuring effective cooling. Stabiliser-free operation is one of the sterling advantages.
5. Sanyo 1.5 Ton – 2020 model, SI/SO-15T5SCIC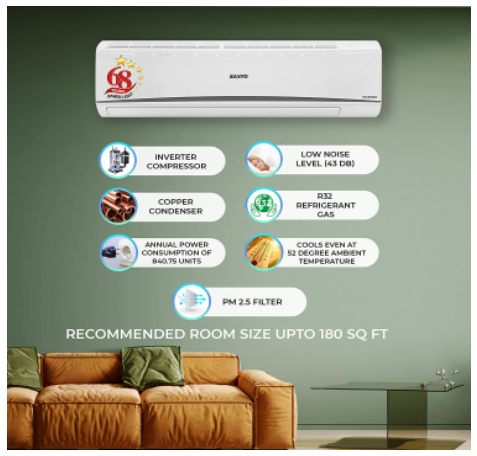 Quick and uniform cooling, as well as novel operational modes like Glacier mode, are among the best features of today's leading air conditioners. Even if the outside temperature is 52 degrees Celsius, this Sanyo air conditioner can quickly chill the interior.
This appliance is powered by a twin inverter compressor with two rotors that modulate power consumption based on the heat load. Furthermore, among its contemporaries, this motor produces the least amount of noise, around 43db. The 5-star rating for the 202 0model is valid until December 31, 2021. As a result, it's a good buy. It also has an ISEER of 4.70 and annual power consumption of 840 units. Another factor to think about is the fact that the condenser coils are made of copper. Copper is a good conductor of heat and does not corrode quickly. As a result, your efficiency improves while your maintenance costs decrease. Furthermore, the hydrophilic fins on this air conditioner provide outstanding protection against corrosion and salt damage. It extends the life of the condenser. The built-in PM2.5 filter is an excellent feature because it promotes clean air circulation throughout the house. This air conditioner also includes an anti-dust filter to improve air quality. The Sanyo AC does not require a voltage stabiliser because it can operate over a wide voltage range of 100V to 290V.
6. Hitachi 1.5-ton 5-Star Inverter Split AC, RSOG518HDEA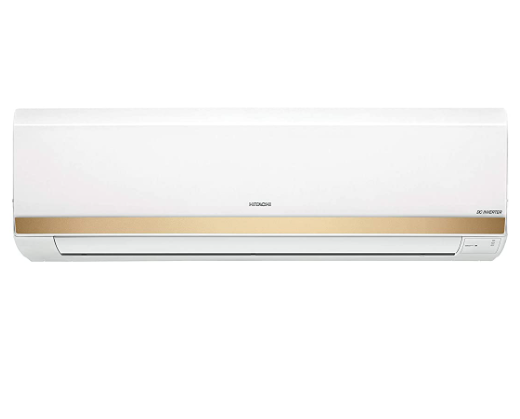 The feature of this Hitachi air conditioner is its extendable inverter compressor, which increases capacity based on your cooling needs. In extreme temperatures, it outperforms its rated capacity, while in the rainy season, it reduces humidity levels to provide optimal comfort. The compressor's microcontroller monitors the internal and exterior temperatures to adjust the speed and deliver optimal cooling. Even when the temperature outside exceeds 52 degrees Celsius, the Penta sensor technology provides optimal cooling inside. This air conditioner adapts to changing loads perfectly and adjusts compressor speeds accordingly to safeguard its key components. At 43 degrees Celsius, it is designed to provide maximum cooling capacity. After each use, the Auto-Cool Dry Technology guarantees that the copper pipes are dry and clean.