Foyer Design Ideas
Foyers are employed as opening aesthetics to the complete space's décor in large houses and apartments.
The foyer is a French word that means "entrance." With time and use, the term foyer has evolved to be synonymous with entryways, entrance halls, and hallways. It's a place where you can greet visitors or guests as they come into your home. This space can also be used as a visitor waiting area.
When an entrance has been redesigned to include items that allow visitors to sit, wait, or browse. Many individuals make their home or apartment's entrance into a foyer by designing it in such a way that the space is best utilized.
A huge light, bench or chairs, a table, a coat rack, and other items are common in foyers. Foyers in hotel lobbies have things to keep guests entertained while they wait. It is not always necessary to beautify an entrance. It can simply be an inlet or outflow into another area.
Here are 45 contemporary foyer design ideas for a fascinating doorway to get your mind going with foyer design ideas for your home:
1. Design the wall
Using textured wood paper, I created a dramatic accent wall and then put layers on top of it. A console table and black leather stools give charm to the area, while a gallery wall of geometric prints provides a sense of whimsy.
2. French Foyer
A French-style aesthetic is opulent, exquisite, and over-the-top in terms of home design. If you want to create a French-inspired foyer, choose elements that exude elegance.
3. Rustic Style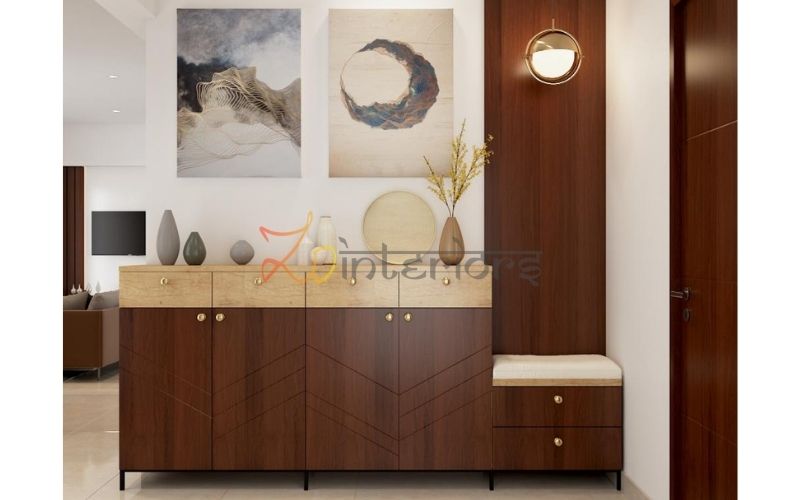 In terms of house interior design, you can experiment with sophisticated and rustic elements to achieve a mix of comfort and beauty.
4. Use Wallpapers
For an authentic French style foyer, use botanical designs, warm colors, and curves in fabrics, wallpaper, and accessories.
5. Go for a minimalistic design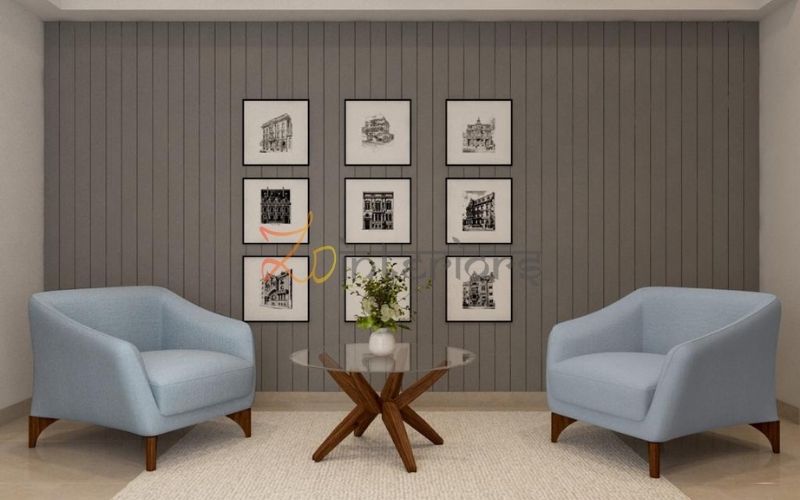 One of the most popular ways to decorate your home is to keep things simple. When going minimalist, the most important thing to remember is to maintain the foyer clutter-free. Make sure your entryway has only a few items of art or furnishings. 
6. Place Mirror
In your foyer, you can hang a huge mirror with a simple or contrasting design, but make sure it's straightforward. Maintain a single colour palette. If you have furniture, make it simple and neutral in colour.
7. Add Accessories
You can add a tiny plant, flower vase, or any other interior décor accent that complements your style, whether you have a simple wall rack and seat or a more ornate room.
8. Use a Console Table
You can have a console table made out of wood, metal, or any other material that matches your home's interior. You can use your console table to display statues and frames or leave it empty.
9. Plan storage cabinets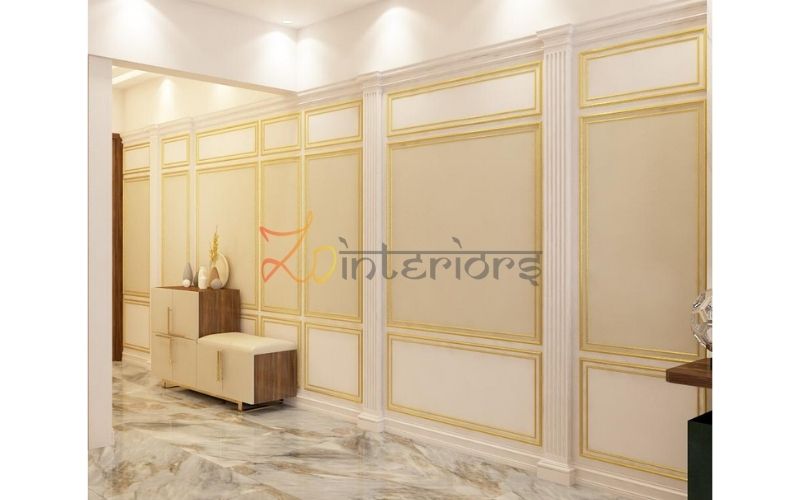 As storage is one of the main reasons for having a foyer, having a storage cabinet in the foyer is a terrific idea. Shoes, jackets, hats, and other items can be stored in these cabinets.
10. Light it up
An entryway is a pleasant environment that you want to create, and the lighting should be simple and traditional. Depending on the size of your foyer, you could opt for ceiling-mounted lighting.
11. Foyer in a small space
Even if you have a little room, you can turn it into a foyer by applying optical illusions. Decorate the foyer with a few pieces of furniture to give it the feel of a waiting area.
12. Themed Entrance
You can customise your Foyer to fit various circumstances. If you enjoy decorating your home for special occasions such as Christmas, New Year's Eve, birthdays, Halloween, and other holidays, Depending on the occasion, you can renovate with any theme.
13. Industrial Theme
When it comes to your foyer, choosing an industrial theme involves paying careful attention to all areas of the interior design, particularly the flooring and ceiling. Use concrete, hardwood, or marble flooring to achieve the ultimate industrial look.
14. Wall Shelves are best for storage
Wall shelves placed into the walls are a feature of several foyer designs. A wall shelf can be placed beneath a mirror, over a console table, or on the side of a door. These can be used to hold small home decor objects such as candles or frames, as well as coat and hat hooks.
15. Place Statues that you admire
Depending on your beliefs, you can decorate your foyer with religious idol statues. These contribute to the surrounding area's optimism and pleasant sentiments. Your guests will get a sense of your passion and religion as soon as they enter your home..
16. Put Carpets & Rugs
Rugs and carpets are a must-have for every foyer, and they complete the overall aesthetic. Rugs or rugs give a splash of color to the foyer and also act as dirt absorbers for visitors' shoes when they enter your home.
17. Paint with suitable Colors
The colour of the foyer is also heavily influenced by the home's decor. If you're going to paint your foyer, make sure to choose with a light or neutral color. Given the presence of furniture and home decor in the foyer, make sure the color scheme complements all of these items.
18. Entrance lights are elegant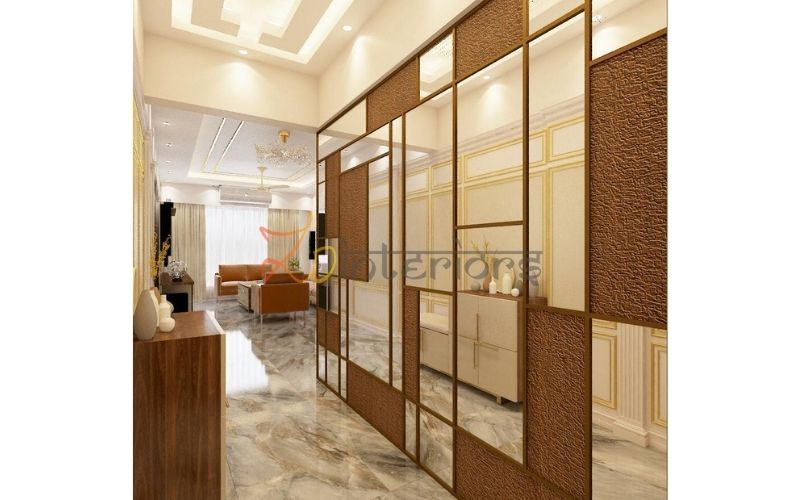 For your foyer, choose from chandeliers to pendant lights, softly lit bulbs to Victorian lighting. Backlit lights or lights that are installed into a false ceiling are also options. Make sure your home entrance lights are bright enough to illuminate the foyer and provide a visitor a positive first impression of your home.
19. Add some artwork
The vibrant artwork and flower containers create a warm, inviting atmosphere, while the recessed lighting and chandelier lend a glistening touch to the scene.
20. Use Twin Mirrors
The twin consoles, flowers, mirrors, wall lights, and even floor vases infuse the room with character thanks to the mirror effect in design. Symmetrical compositions also radiate visual harmony and give off a classy, relaxing vibe.
21. Do something unique with the floor
Nowadays, you can choose from a variety of modern floor designs that are both unique and appropriate for the atmosphere of your entrance. People spend a lot of time looking at the floor while waiting, therefore it should be something unique and attractive to the eyes.
22. Keep a bench
A wooden bench is a fantastic alternative for creating a waiting area at the entryway. This entrance design, with its little seat and chandelier, is crisp, clean, and elegant, allowing the gleaming finishes and bold black lines to take centre stage..
23. Create some wall art
A small bright foyer with white walls and a piece of art on the wall. The hallway's aesthetic complements the flooring with a rug.
24. Hardwood Flooring
A little foyer with grey and white tones and gleaming hardwood flooring. The wall decor appears to be elegant. An beautiful tiny entrance with hardwood flooring and a sophisticated rug. The coffered ceiling, as well as the pendant lights, are just stunning.
25. Tiles Flooring
The flooring in this little Mediterranean foyer is a mix of vinyl and tiles. Along with the lighting, the walnut-finished accents look fantastic.
26. White walls
White walls and a high ceiling characterise this small foyer. The wall can be decorated in a variety of ways. The stairwell is made up of wooden stairs with iron railings. White walls and flooring are topped by a brown rug in this little foyer. The dark-finished stairs add to the elegance of the staircase.
27. Choose the right door
The front door makes the initial impression for your property, and the open door is just as significant as the foyer. The backside of the door can be utilized as a hanging for keys, coats, or an umbrella, and it can be embellished with decorations.
28. Set up a comfy seating
Having a seat conspicuously placed in your entryway is a simple approach to make guests feel at ease. Benches and chairs both offer a convenient place to sit when putting on or taking off shoes.
29. Add accessories in the seating space
Throw pillows and plants can be readily added to entry seating to reflect your particular style and serve as a preview of the rest of the house.
30. High Ceiling
High ceilings and other architectural characteristics that create a grand entrance are great for showcasing in an entryway.
31. Geometric shapes
Don't be afraid to use a mix of geometric forms, lines, and curves to draw the eye around the room and create a big wow factor.
32. Keep it neutral
Natural wood tones and neutral rugs are the ideal combination for greeting, entertaining, and bidding farewell to best friends at the end of the evening.
33. Natural & botanical
If you want to go eclectic, use a lot of vivid colors and pieces that are slightly mismatched. Natural textures and plant elements will appeal to you if you want a more boho look.
34. Design the walls.
Create an artistic area you enjoy going home to by adding a beautiful decor to the entry hallway. If you're not much of a painter, then don't worry! you can get the same effect with a variety of wallpaper alternatives.
35. Renovate the stairs
Try dressing up your staircase if it's one of the first things you see when you walk into your home. Draping cloth across the stairs may give a pop of colour and style in an unexpected spot while also preventing slippage.
36. Vintage dresser
Using a decorative desk or a vintage dresser to mix things up and create a beautiful arrangement is a terrific method to do it. Plus, extra storage drawers are usually a good idea.
37. Texture the walls
Texture is a frequently ignored but important consideration. Adding paneling or wainscotting with wooden strips to create a beautiful design can turn your wall from bare to elegant with a little effort.
38. Display your passion
Whether you opt for a gallery wall or a place dedicated to displaying your favourite wine, you can let your passions come through loud and clear.
39. Add layers
Layering your deor to create something unique and fresh should never be underestimated. You don't even need to buy new items; go through what you currently have and try out different combinations.
40. Use the stairs
If you don't have a lot of room for tables, or if you just want to try something different, use your staircase to showcase a few decorative things.
41. Wall Hooks
Having a hook for your guests' outerwear will give them the impression that you've planned the area around their arrival. Simply take your time to choose the ideal place to mount them on.
42. Create an art gallery
On a foyer table, you might also present a gallery wall of artwork, photographs, or a lovely piece of sculpture or bronze.
43. Go Vibrant
With colourful entryway design ideas, you can show off your personality right inside the entrance. Tropical wallpaper contrasts with dark green built-ins in this small mudroom for a strong pop of color.
44. Build cubicles for storage
Hooks, overhead cabinets, baskets, and pull-out drawers are included in a set of built-in cubbies. The unit's base even extends to create an entryway seat for sitting and tying shoes.
Every coat, bag, pocketbook, and shoe has a home in these organization systems, which helps keep this family of four in order.
45. Build Cabinets for a closed storage
In a dining area, this long cabinet was designed to hold buffet spreads. It provides simple storage for out-the-door needs like umbrellas and keys when placed in a front entryway.
Consider repurposing some of your home's unused furniture for the entryway. It may be made to look brand new with a fresh coat of paint.
Starting by measuring your foyer and then choosing among the greatest foyer designs might be a challenging undertaking. However, with the appropriate design strategy and idea, you can make it happen!
A well-designed and arranged doorway will make a house feel more welcoming. Knowing what procedures to take can assist you in completing the task more quickly and effectively.
Remember to choose the right paint colours, wallpapers, lighting, furniture, home décor items, and plants. After all, your entryway is the one place that every visitor will remember, so make a good first impression!