Small Bedroom Design Ideas
While contemporary and opulent design ideas may lead you to believe that you require a lounge area, a tiny workplace, or a queen bed in your bedroom, keep in mind that the primary purpose of a bedroom is to relax and rejuvenate. And you won't have to do anything to have a lovely environment. Here are some modest ideas on how to make a small bedroom bigger:
1. Use light and bright colors while decorating
White is a versatile and sensible color to use in a tiny bedroom. Your bedroom will appear larger if you color it white. Employing white or brighter colors to liven up your area compensates for the lack of vast wall surface or windows.
2. Cozy Bed in the Nook
Squeeze your bed against a side or nook to make the most of the floor area. As a result, you'll have a cozy and warm sleeping place.
3. Slim Bed Frames and Headboards
A few more inches of space may transform a tiny bedroom into a magnificent master suite. To complete the design, get rid of your footboard-styled bed frame and substitute it with a basic modern platform bed.
4. Adopt Minimalism
Reduce the number of items in your tiny master bedroom to just the necessary. For more storage, consider elegant, modern built-ins. Built-ins provide more storage while appearing to be invisible.
5. Mirrors
Mirrors provide the sense of a larger space in a tiny bedroom. A mirror placed to reflect light from a window can help increase the natural daylight in a room.
Find Some Decorative Mirrors For Your Bedroom
6. Under-the-bed Storage
For more space, choose a bed featuring drawers below. Put colorful baskets underneath your bed for added room if your area is so restricted that drawers won't open smoothly.
Find Some Creative Storage Boxes For Your Bedroom
7. Loft Living
Consider constructing a loft/platform for the bedroom area with cabinets or seats below if you have minimal square footage but higher ceilings.
8. Bold Wallpapers
Make a focus wall, such as your headboard wall, with a strong wallpaper design. Select a large-scale design over a smaller, chaotic one when choosing wallpaper.
9. Floating Shelves
In a tiny bedroom, the adaptable floating shelves may be used in a variety of ways. Here are several bedroom floating rack decoration concepts:
A substitute for a nightstand
a bookshelf
A laptop table
10. Niche in the Wall
A wall niche offers space without wasting precious floor area. Use it to store tiny objects such as a clock or personal possessions.
11. Innovative Nightstands
You ought to think artistically once you have a tiny room and a snug squeeze close to your bed. Use a stylish seat or chair to complete the look.
12. Floating Desks
A floating desk, which is essentially a large hovering shelf, can help you make the most of your space. By laying a sheet of plywood atop of a pair of shelf pegs, you have a homemade floating desk.
13. Throw Pillows
Colorful throw pillows are a simple way to bring color to any space.
Find Some Colorful Pillows For Your Bedroom
14. Chandeliers
Adding a one-of-a-kind chandelier or suspended lamp to your home is a great way to give it a central focus while also adding some warm lighting.
Find Some Chandeliers For Your Bedroom
15. Cozy Area Rug
An eye-catching area rug may quickly bring comfort or a splash of color to a space. Experiment with the pattern until you hit one that both looks and feels comfortable on the feet.
Find Some Area Rugs For Your Bedroom
16. Bedside Table Shelf
Floating shelf nightstands are ideal. You could set them at the ideal elevation, and if you do it yourself, you can have the shelf cut to the correct measurements of your bedroom.
17. Elegant Sconces
In a tiny bedroom, wall sconces are an excellent way to provide additional lighting. You may choose between a modern or a classic aesthetic.
18. Greenery
Adding potted plants to your space will give it more life, and they will also serve to purify the air. Use wall planters to make the most of your area.
19. Flowy Curtains
Curtains may be used to substitute cabinet doors or to produce a room partition. In any case, choose colors and patterns that complement your surroundings.
20. Fairy Lights
They may be mounted on the wall, the ceilings, the headboards, or anywhere else you might think of. Tiny lights are also available in a variety of hues, making your bedroom much more enchanting.
Find Some Fairy Lights For Your Bedroom
21. Embrace Contrast
Decorating a tiny bedroom with white and a high-contrast color has a great impact. A dramatic appearance is achieved by using only one vivid hue and white.
22. Wall Art Gallery
Look for small works of art in flea markets, shops, and home décor stores. Then, for a diverse collection, put a lot of them on one wall. You may even create your own works of art.
Find Some Wall Art For Your Bedroom
23. Avoid the Middle Zone
To create the sense of a higher wall, leave room atop displayed art. If you have shelving or even other storage space, keep it as near the ceiling as possible to attract the attention upwards.
24. Buy Scaled Furniture
You'll need to select a décor that matches in proportion and is the right size for your room. A king-sized bed surrounded by two little nightstands seems ridiculous.
25. Coordinate Walls and Windows
In a compact bedroom, it's preferable to coordinate your walls and window coverings. This gets the gaze wandering around the room, deceiving it into thinking it's a little larger than it actually is.
26. Add Furniture Legs
To achieve an expansive, open impression in the bedroom, add supports to your furniture. The more your room's walls and floor are visible, the bigger it will look.
27. Color-Code Items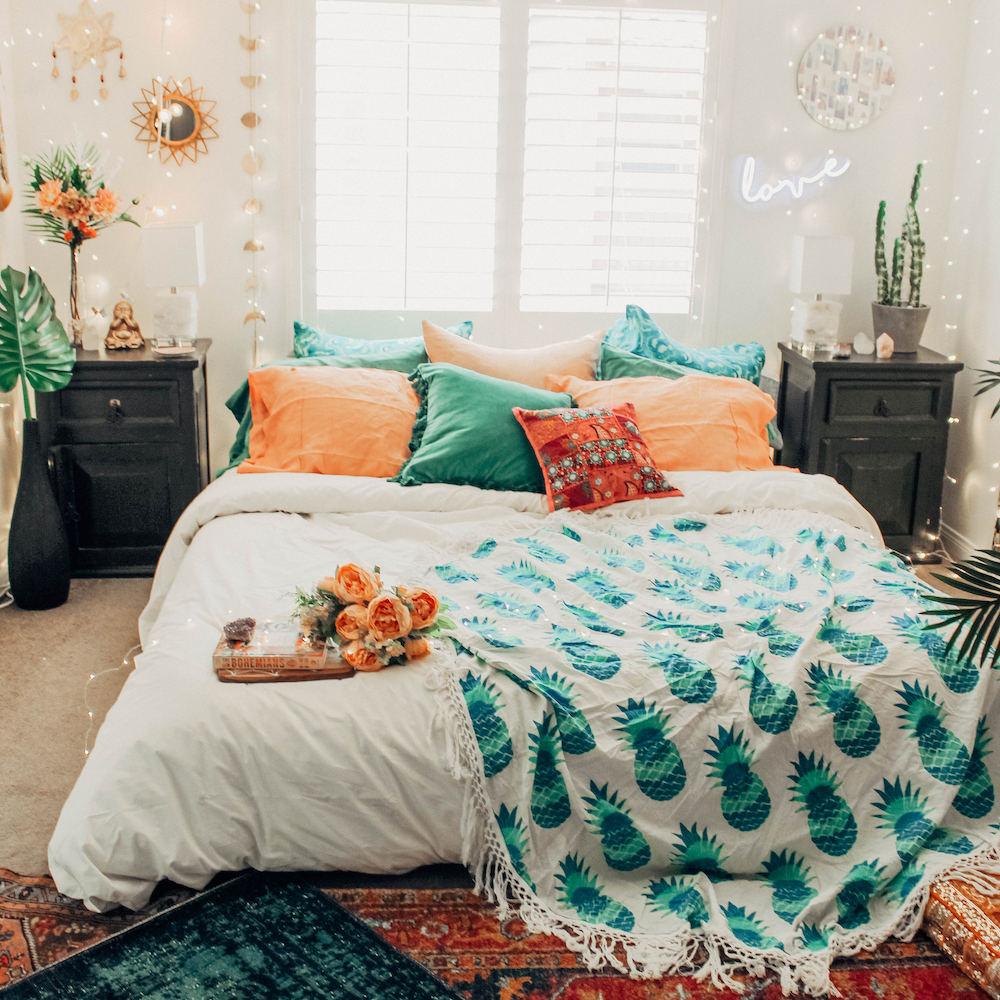 Even something as basic as putting books of similar colors together might help to create a feeling of cohesion.
28. Empty Area
For a small bedroom, empty space is crucial because it allows the room to breathe. It is not required to completely fill all of your shelves.
29. Smaller Lamps
Make use of a few tiny lamps strewn over the space. This will pull your gaze throughout the room, heightening your perception of space.
30. Keep it Simple
It's easy to get caught up in the trap of over-decorating, and you'll soon find yourself in a cramped, congested space. Keep it simple.