Puja Unit Designs
In India, every household has a separate provision or space dedicated for performing puja, prayer and meditation routine, either in a small single shelf or one full elaborate room based on their floor plans. No matter, how small or big it is, one needs to pay sheer attention to its design as it is the cornerstone for creating a serene and tranquil environment that is much needed for an ideal space of worship. To get a better idea about how to design yours, check out the following 31 puja unit designs.
1. A single wall mount shelf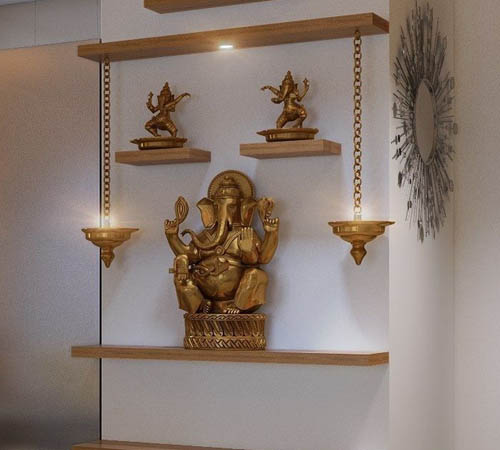 This is the puja unit in its simplest form. Instead of taking up the floor space, this form of wall-mounted or floating shelf uses the wall space to host the puja unit. If your home comes with space constraints or if you are looking for space savers, you can definitely turn to this kind of puja unit. To make the unit more charming, you can add focus lights, backdrop it with wallpaper, and decorate it with traditional collectibles.
2. Temple Style Puja unit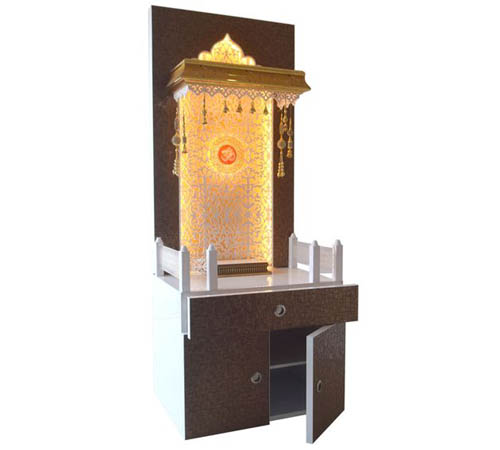 As the name says, this kind of puja unit resembles the structure and architecture of the temple. It is a traditional puja unit design which looks the most beautiful in the home that is large and spacious. Decorating it with a variety of carvings and intricate designs, sculpted columns, charming temple bells and a pair diyas can make the temple-style vibe more authentic.
3. Puja units with stone cladding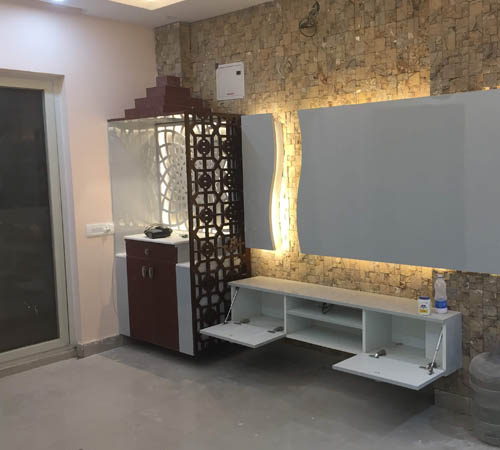 Stone cladding on the walls gives your prayer space a more earthy, natural and fresh look. In recent days, this is becoming the most happening design as they never fail to add a touch of class to the interiors by presenting a soothing contrast to the light-toned walls. You can experiment with a variety of stones that differ in colour, shade and shape and make the space more distinct and unique.
4. Wall-attached Compact Cabinet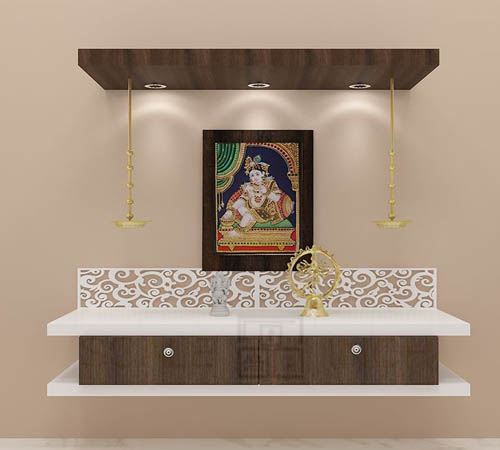 Modern homes in urban cities which lack some extra square feet can make use of this space saving design. This compact cabinet can perfectly sit in the corner of any space like your living room, the kitchen, space right outside the kitchen or in the dining room by cleverly taking the wall space and staying off the ground. This cabinet also comes with a storage unit at the bottom to stock up the puja essentials and to hide out the sparingly used items.
5. Puja units with Glass doors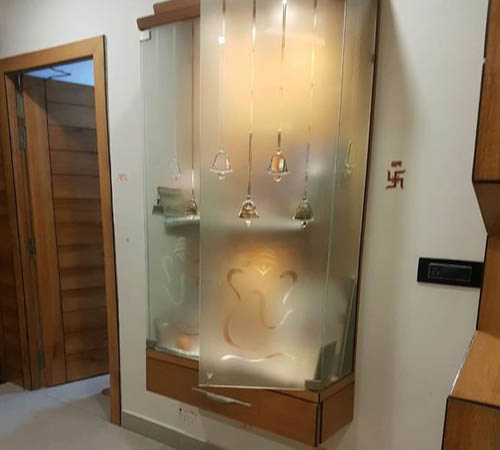 Super stylish and super elegant are the two words that rightly describe the puja unit with glass doors. One can choose to have a simple, plain glass door or one with decorative accents like images of God etched on it, letters of Shlokas encrypted on it, or any artistic work carved on it. Adding a backlight with it can make this prayer space more charming and effortlessly infuse sophistication into it.
6. A dedicated puja room
When you have the luxury of space, transforming one full room into a puja room can offer you a quiet spot for prayer, meditation routines and contemplation. As the puja room comes with no space constraint, you can include various elements like frames of deities, idols, lamps, hanging bells, accessories, storage units and for extra pinch a false ceiling too. But, remember too much can result in overcrowding the space as well – making the space lose its elegance.
7. Wall Niche puja unit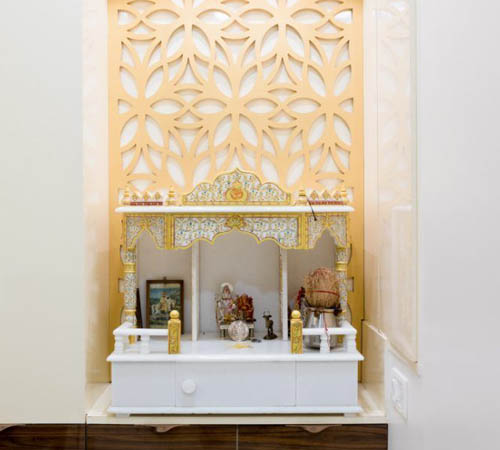 As today everything is about space optimisation, it is a good idea to transform the niches and alcoves into worship areas. But this transition doesn't mean you have to compromise on the design or look of your puja space. Just get the help of pretty wallpaper, drapes in divine tones and some soft focus lights and make your prayer area gorgeously unique.
8. A complete marble puja unit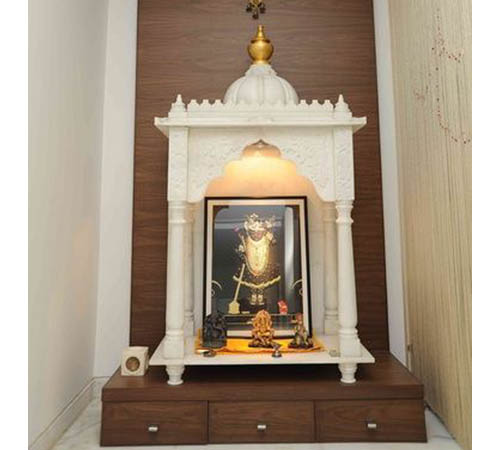 Marble – the most durable and enduring building substance which can never go wrong in making your puja space a masterpiece. Designing the entire puja room completely out of marble stones not only makes your prayer area unarguably appealing but also the most daunting chores of cleaning and maintenance pretty easy. If you have marble flooring at home already, this kind of marble unit can easily blend with the rest of the home and also its general décor by avoiding visual clashes and imbalances.
9. Puja unit with an Eye-Catching Door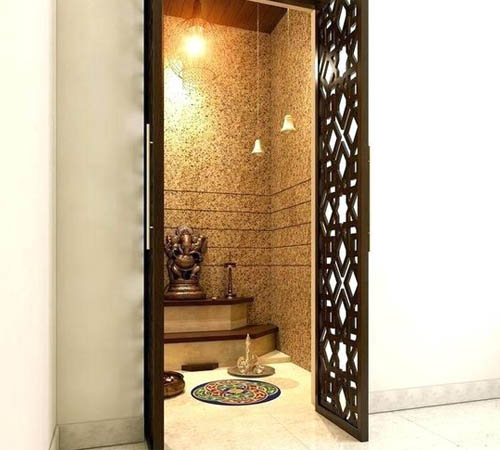 The door of the puja unit always deserves interesting design features as it holds various responsibilities like demarcating the space, providing an enclosed area, and offering a quiet spot for prayer. Though the basic, and quite common material used for puja room door is wood, you can also experiment with glass, metals, MDF, laminates and a combination of glass and wood as well. To make it more interesting, try incorporating various patterns, ethnic Indian motifs (like lotus, flowers, sun, etc.), elaborate carvings, engravings, and embellishments. Also, try fabricating the door with jali designs or lattice screens to create a great entrance and set a pleasant mood for prayer.
10. Puja rooms with decorated walls
Why should doors of your puja room alone have an eye-catchy design? Why not the walls? Try decorating the walls with finely detailed wall stickers of Gods and Goddesses, charming wallpapers, sacred mantras or shlokas, etc. If you want to add something unique or different, try decking up your puja room walls with digitally-printed glass. The digital prints on the glass panels can never fail to add some extra elegance to your already beautiful puja room.
11. Puja room door design with bells
This is a classic idea which will never go out of trend. As bells are considered sacred, hanging them in the little cut-outs or nooks made in the door adds an auspicious vibe and ancient feel to the prayer space. You can amp up the look further by decorating the solid wooden framework of the door with intricate and ornate carvings, artistic embellishments, distinctive patterns and motifs.
12. Puja unit in a Standalone cubicle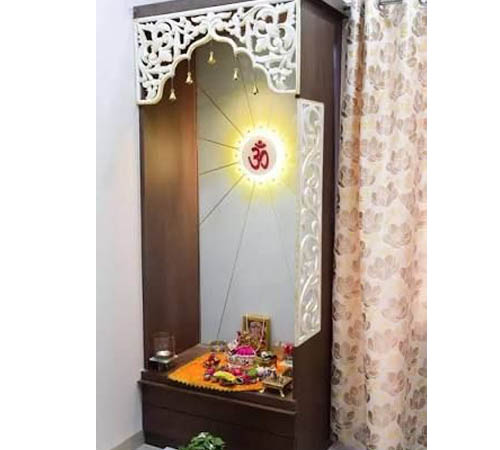 Puja unit in a standalone wooden cubicle is easily doable and can be made to fit in any available space. The space for this unit can be carved out from your living room or dining room by clearly satisfying the rules of spatial orientation (Vastu Shastra). A bit of creativity and modern twists can make this standalone cubicle more pleasing and more appealing.
13. Puja room in corners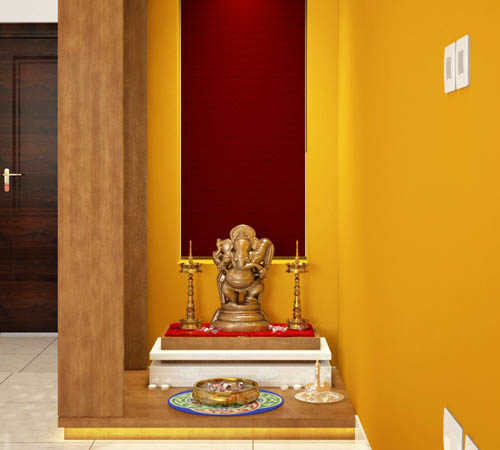 Yes, even those right angles can make for your wonderful worship place. You can place a compact cupboard unit made out of wood or just mount some floating shelves and witness the transition from an empty corner into a puja unit. As corners are low on light, install a soft focus light to provide better illumination, visibility and also a magical glow.
14. Puja unit with CNC patterns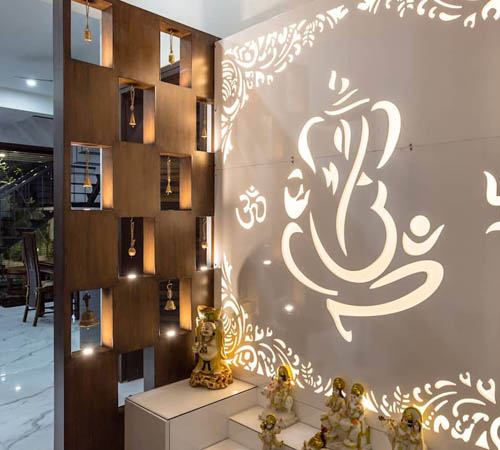 If you have a dedicated puja room at home, incorporating CNC patterns can make your prayer area more luxurious and more extravagant. The CNC patterns can be installed on the back of the idols (as backdrops), for the doors, side panels, dividers or for the entire puja unit by covering the unit on all sides. This simple design pattern can make even the simplest puja unit out of the ordinary.
15. Puja unit with false ceiling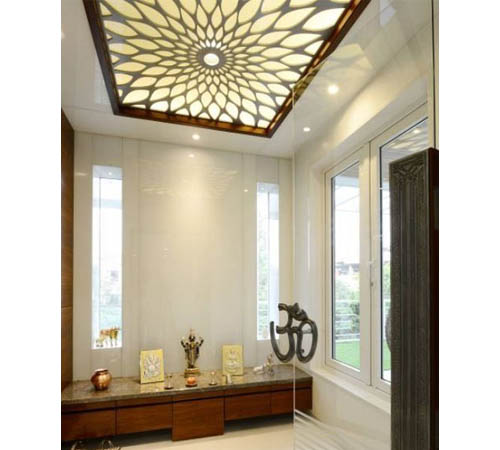 Why let your puja room ceiling look plain, bland and boring? Give it an edge with a false ceiling. False ceiling is a fashionable and popular choice when it comes to designing homes and especially puja rooms. You can customise it by etching different patterns, applying various colours and providing unique textures. If done right, they make a striking statement by creating an exquisite ambience.
16. Puja room with unique lighting solution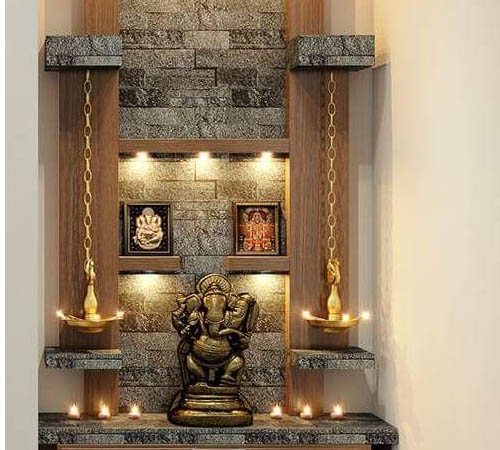 Whether it's a small wooden unit or an elaborate room, puja spaces should always be well lit. Your options for lighting up your worship area are plenty with various lighting solutions like – focus lights or spot lights for idols, recessed lights for ceiling, pendant lights in the middle of the room, panel lights at the backdrop, etc. And for a slight touch of grandeur, warmth and expansiveness include light fixtures that project interesting patterns, effects and shadows.
17. Puja room with stunning accessories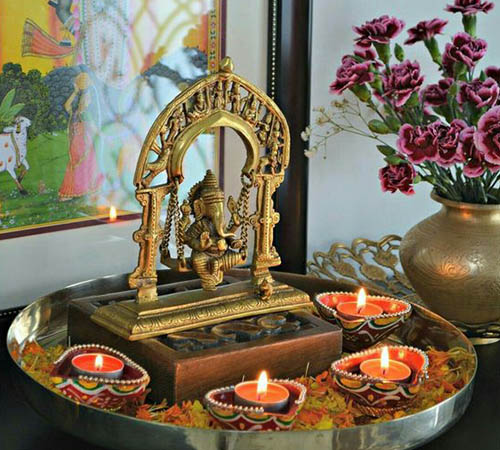 Standing lamps, hanging lamps, diyas, temple style-bells, incense stick holders, ornate idols and brass pots and plates are some of the most important accessories that always find a place inside our puja room. Though most of us shop these accessories randomly, it is best to choose them according to the theme, colour, shape and size of the puja room, so that they don't clash with the rest of the elements. Importantly, refrain from adding too many accessories and going overboard with décor pieces as it will create clutter and visual distraction.
18. Some colourful murals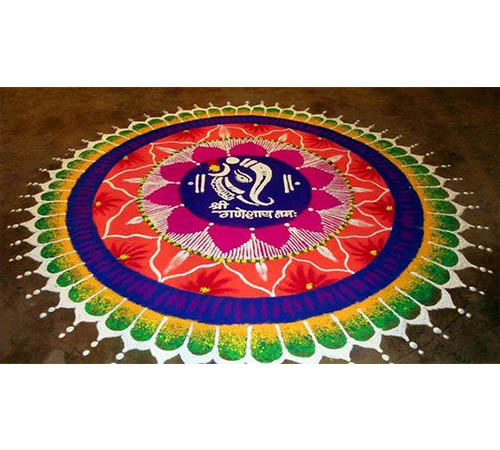 Framed murals are a fine and dandy way to create beautiful puja space. Installing some tiny spotlights and decorating the frames with garlands can fuse a bit of both modern and traditional look and create more pleasant vibes. If you are fortunate enough to have a separate puja space, you can also paint the murals directly on the walls – no hitting and hammering required.
19. A tile inlay
This is a simple puja room design which makes cleaning and maintenance super easy and super simple. If you wish to make this puja corner truly fancy, try etching the images of gods and goddesses, religious symbols like om, swastik, most chanted shlokas, etc. on the tiles and also employ creative lighting solutions wherever possible.
20. Portable Wooden Puja Unit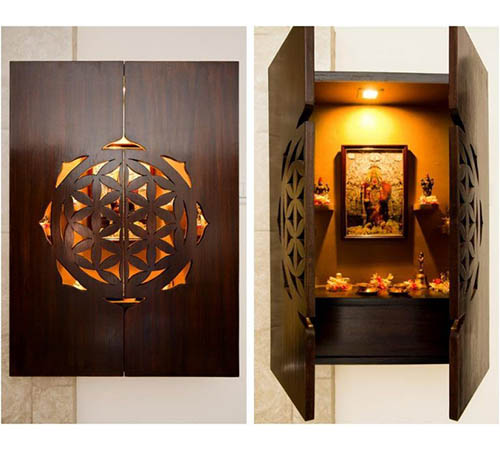 Does your work life call for switching homes often? Then, a portable wooden puja unit will be an ideal choice. Opt for a compact and light weight unit, so that the cabinet can fit in beautifully and comfortably in any modern Indian apartment without complaining about space constraints.
21. Puja rooms with customised wallpaper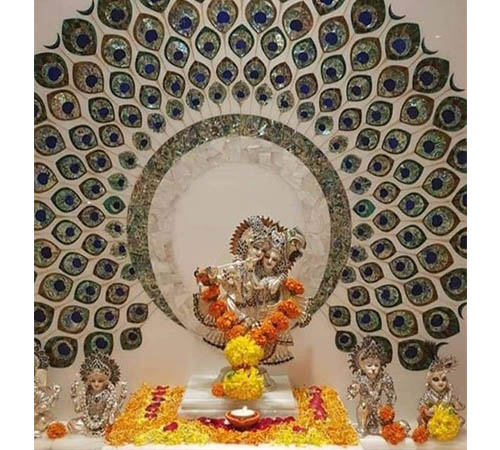 In many homes, the puja unit is placed against a wall or in the corner, leaving an empty wall resting behind. How do you liven up the bare wall to make it more favourable for prayer and worship? It's simple; just introduce wallpapers. Try different colours, various textures and unique styles to make it look more interesting. If you are more into personalisation, customise the wallpaper to match your prayer needs.
22. Puja units wedged between walls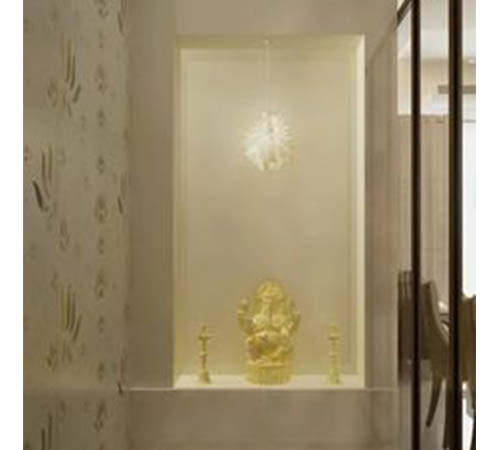 Tuck away the puja unit between any two walls that provide enough space to display the idols or framed images of the deities. Include some floating shelves in the middle for holding the idol/frames and a closed storage unit at the bottom for placing the not-often used items and other puja accessories.
23. Puja room with wooden flooring
Wood can be one of the best flooring options for your puja room as they are comfortable to sit on, easy to maintain and extremely warmth infusing. Besides this, it also offers an earthy tone to the prayer area, adds visual beauty, makes the space elegant, and provides pleasant feel under barefoot. If your puja room is already adorned with wooden structures, then the wooden floor can easily team up with them and make for a homologous room.
24. Granite puja room design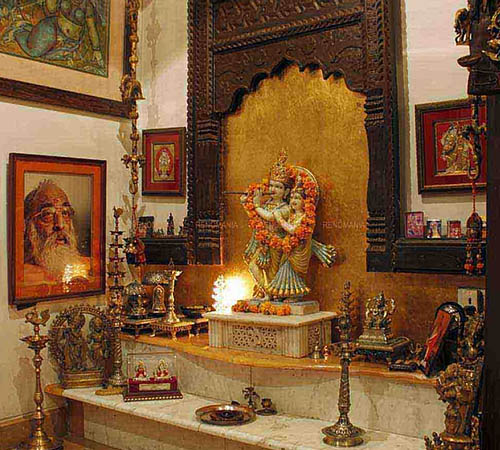 If you are a huge fan of granite, we urge you to look at this idea. Going for granite and building the shelves, storage cabinets, walls and the entire unit, from floor to ceiling, with it can bring a luxurious look, and add unmatched grace and elegance to your otherwise simple divine corner. Besides lending elegance, Granite stones are easy to maintain, highly durable, extremely resistant to water and moisture, and can also be easily re-polished to earn the shine back.
25. Puja rooms with ornate backdrops
When you have a minimalist puja room, creating an ornate backdrop will make your worship area undoubtedly grand and interesting. You can use a jaali pattern or carve sacred symbols, holy verses or images of gods and goddesses or any artistic work with intricate detailing at the backdrop. When these backdrops are supported with the right lighting solutions, the light passing through them will throw soft shadows and make the prayer area more pleasing.
26. Puja room with Lattice door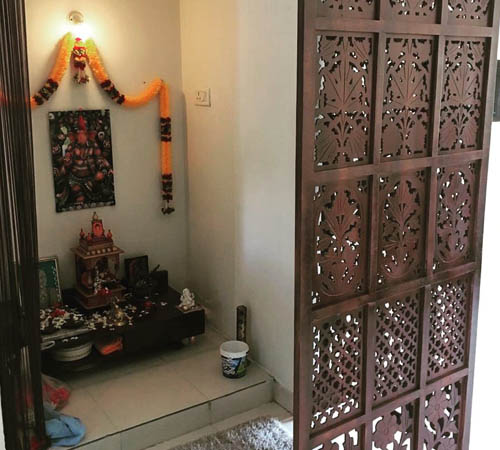 Fabricating the door with lattice patterns enhances the sophistication quotient and richness of the puja room. With patterns almost close to endless, you can choose anything from simple lines to crisscross to heavily ornamented that pairs up perfectly with the rest of the decor in your worship area. However, avoid dense patterns (if your home is prone to dust) as the cut-outs in the doors can catch dust easily and make cleaning arduous.
27. Puja room with a pinch of green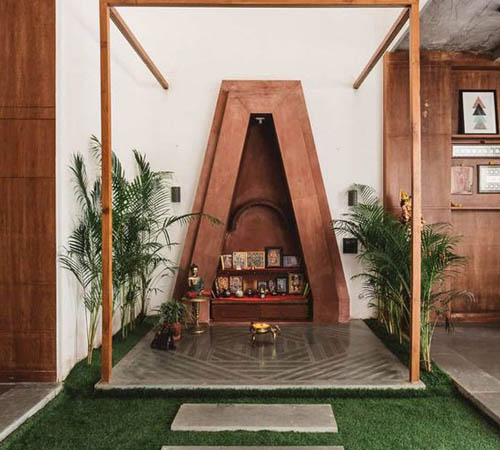 If you love a nature-inspired décor, add some green to your puja space with potted plants and plant hangers and invite the outdoors in. Before placing the plants in the serene space, make sure your puja room has sunny windows to support your green friends' growth and survival. With diminishing green spaces around us, this idea of using natural elements to decorate the space is here to stay.
28. Open Puja room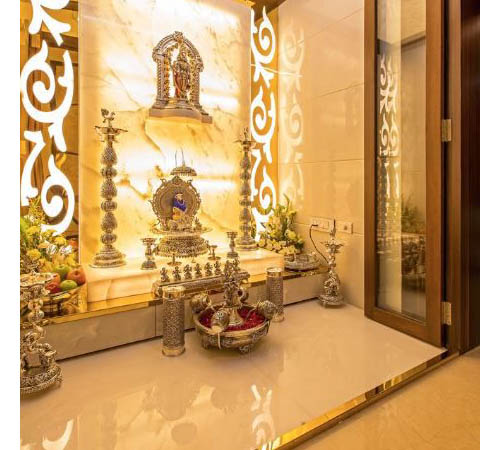 As open spaces have become a huge hit in recent times, indulging in an open puja room design is a wise way to stay on trend and also to save space. You can scoop out the space for this kind of puja room either from your living area or dining area that is blessed with ample space. Gentle ambient lighting and a pair diyas hanging on long chains can give an additional touch to it.
29. Puja room with enchanting colours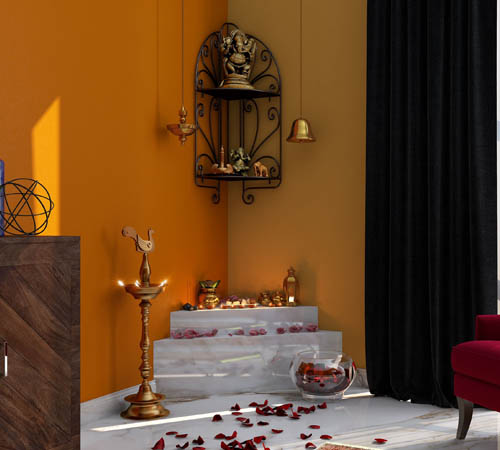 From auspicious yellow to sacred red, colours always occupy an important place in Hindu rituals and traditions. So, why not splash some on your puja room walls? Style it generously with the colours of divinity and sanctity, either in standalone form or in combinations or in shades of the same hue and bring an energetic vibe to your place of worship.
30. Puja room in outdoor spaces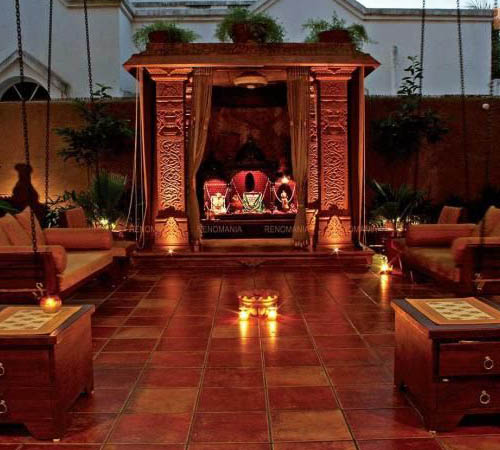 This is absolutely for the ones who are blessed with bountiful and lavish spaces in their dwellings. When you are at the luxury of outdoor spaces, sky is the limit for designing and decorating your puja space. You can even create a mini temple by including decorated pillars, beautiful spire, carved doors, highly polished surfaces and various other traditional elements.
31. Puja unit at the entrance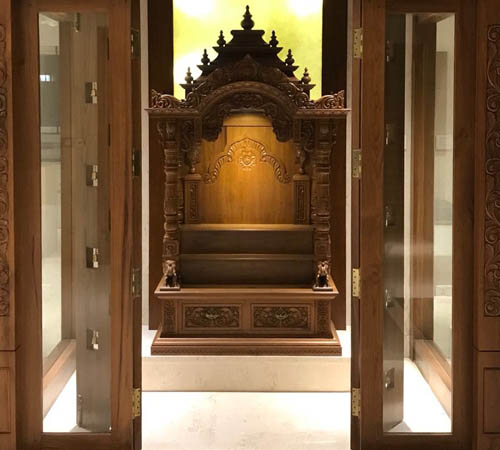 Locating your puja unit at the entrance is a great way to invite goodness and prosperity into your home. Since you are stationing the unit near the entrance, don't crowd the space with too many frames of smaller deities or idols, just go for one large-sized frame with stylish trims and add a tinge of simplicity to it. Also, introduce a spotlight above the frame to give the space a touch of warmth.