Indian Home Decor Ideas
Home decors need not be expensive always. There are plenty of ways to bring that alluring and exquisite look to your home without squeezing your wallet. You will only need some time, a few materials, a little patience and loads of imagination and creativity.
Take a look at some of the simple and affordable home decor ideas we supply you with!
Add Colours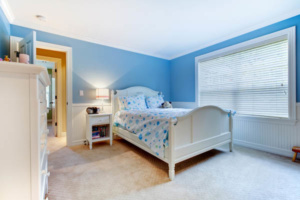 Adding colours is completely Indian way of decorating. It is also one of the most traditional and original ways of decorating our space. Our colour palette is very vibrant and vast containing all the hues from earthy tones of olden days to pretty pastels of modern times. With such a huge spectrum, colours can be warm, dark and intense or cool, soft and sober and can be used in standalone form or in combinations. Every colour has its own characteristics and has the power to set the mood and the tone of the room by closely connecting itself to our emotions. So, be sure to consider the purpose of each room and every object and choose their colours by understanding how they make you feel. For example, Yellow is great for the kitchen as it can uplift your mood and supply you with adequate energy to start your day. Similarly, lighter shades of pink and blue are ideal for your kids' room; deep midnight blue for your bedroom, etc. And remember there are plenty of shades in every colour and each one brings its own impact on a person's mood and state of mind. When chosen well, colours can do wonders.
Add more lighting
With loads of lighting, your home will look more appealing and alluring by accentuating its virtues and hiding its defects. There are plenty of lighting options available on the market to illuminate your home with different colours, sizes and intensities, such as floor lamps, table lamps, hanging lamps, chandeliers, etc. Just grab them, play with sizes and symmetry and upgrade lighting where ever possible in your home. You can add lighting to highlight a specific wall, particular corner, artwork, statement pieces, well-thought-out details and others complements for bringing them to life and experiencing them to the fullest. Most importantly don't forget to illuminate the corners and nooks, staircases, corridors, reading corner, kitchen table, and special task areas. In the kitchen, adding lighting to cabinets can illuminate the worktop and make cooking and auxiliary tasks much easier and give a different touch to your culinary space. Using energy-saving bulbs or tubes can make this process easy on your pocket and cleaning them often can help improve their efficiency and brightness. You can add more light to your home, not only with artificial lights but also through colours and mirrors.
– Find Some Lights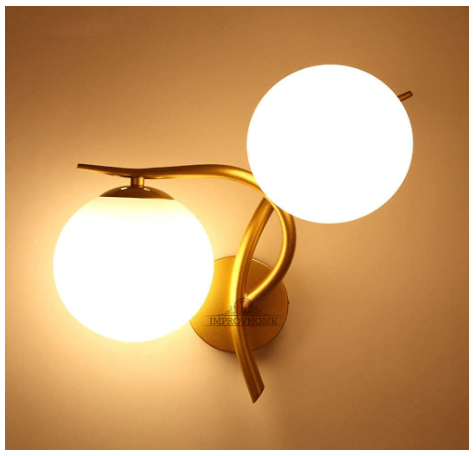 1. 220V Double Headed Modern Design Minimalist Cross Wall Light Sconces
Material: Metal
Switch Installation Type Wall Mount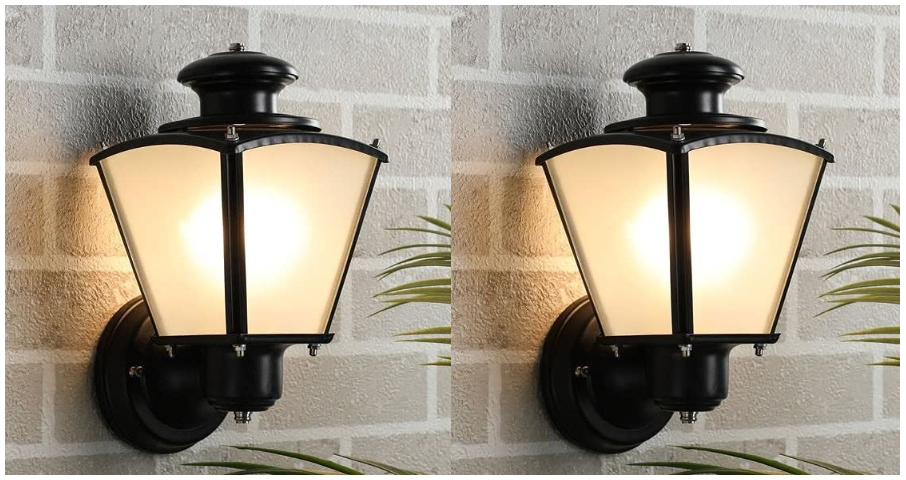 3. Stylish Wall Light Vintage Wall Lamp Ceiling Lamp
Material: Wood, Metal
Color: Black
Switch Installation Type: Wall Mount, Ceiling Mount
Add curtains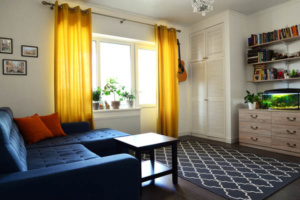 Curtains are an important element in any home because besides fulfilling their functions of controlling the light, separating spaces and providing privacy, they dress up the windows and become an important feature that completes the decoration. They have a high decorative value and come in a multitude of colours, patterns, fabrics and materials, out of which a particular one can be chosen depending on the characteristics of the room. For example, if the room is monotonous with neutral shades, the ideal thing is to choose curtains that blend the colours of furniture and other attractive elements featured in the room and vice versa. You can also determine how long the curtains should run – reaching the floors or just ending at or below the window sill – or based on the look you are after – traditional, formal or casual. Transparent curtains are always in fashion but they are not ideal for achieving the desired privacy. If you are good at your sewing skills, you can also look for some inspiring list of DIY curtain ideas and make your own curtains at a low cost.
– Find Some Stylish Curtains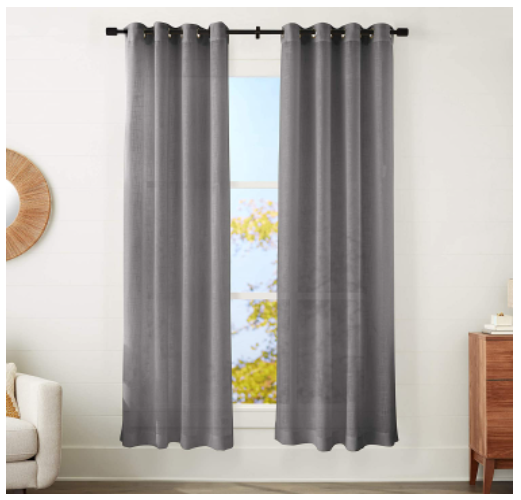 1. AmazonBasics Sheer Polyester Curtain Window Panel Pair with Grommets
Material: Polyester
Color: Grey
Size: 50 in x 95 in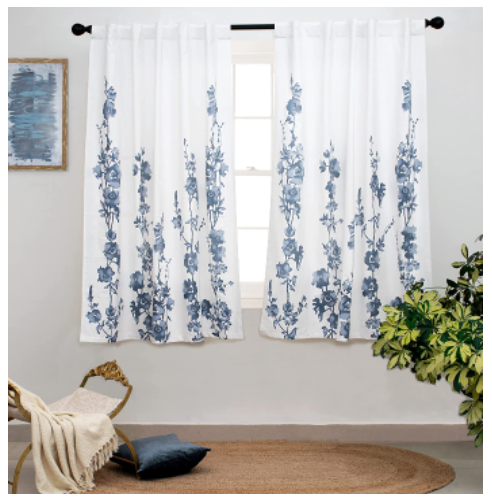 3. TRANQUEBAR CURTAIN CO. Cotton Floral Window Curtain
Material: Cotton
Color: Blue, Floral
Size: Window (5 Feet)
Rearrange Furniture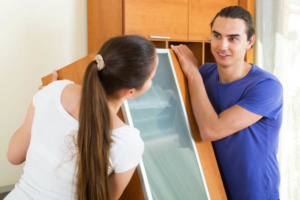 No matter what style you choose, having the right furniture arrangement is the key for making a room functional and practical. Sometimes, the uncomfortable arrangement of the furniture may make you feel that you are in need of new furniture; the struggle for settling on a correct decision that will fit your home flawlessly is real. Rearranging the furniture in any room helps give it a new perspective. It can help change the look and feel of the room dramatically and give your room a facelift. And the best part is it costs absolutely nothing. While rearranging, just make sure that your furniture does not hinder your movement and leaves enough room for people to walk, and also provides a clear line of sight allowing for better conversations.
Decorate with natural elements
If you are someone who cannot enjoy a house in the countryside or a garden in the backyard, try bringing nature into your home through some potted plants, plant frames or fresh flowers. You can also take advantage of the free and beautiful objects like shells from beaches or stones from rivers that nature has blessed us with and use them to decorate your home entrance, living room and bathroom. They are low cost resources with a great decorative force which you can pick up during your beach vacation or summer holidays.
– Find Some Decorative Indoor Plants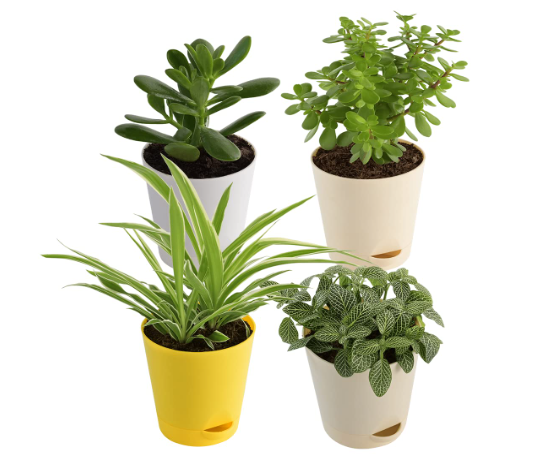 1. Combo of 4 Indoor Live Plants for Home Decor with Pot
4 Plants – Jade, Spider, Fittonia & Crassula Ovata Plant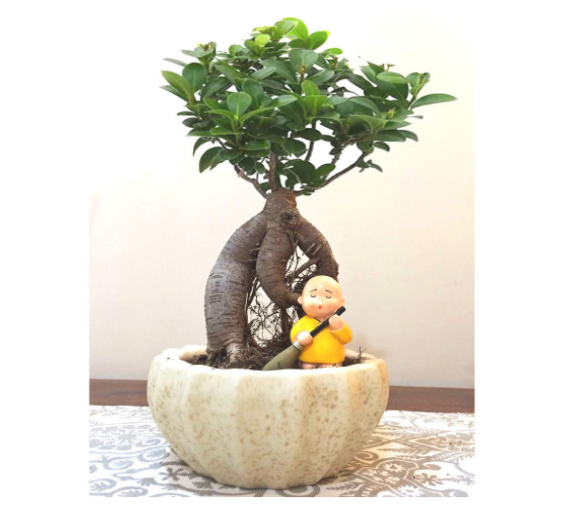 3. Grafted Ficus Indoor Real Bonsai Live Plants With Pot
Bonsai Plants for home
Sunlight Exposure: Full Shade
Special Feature: Air Purification
Reuse old objects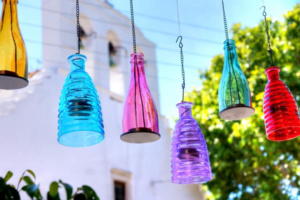 Your old and unused objects do not always belong to the trash; you can give them a second life and repurpose to liven up your space. This is also one of the best ways to repurpose your favourite things that you truly cherish and can't afford to toss away. Some splendid examples are transforming an old wooden ladder into storage shelves, old crockeries into plant holders, unused glass bottles into lamp fixtures, pages of a colourful calendar into photo frames, etc. If you are a Do It Yourself enthusiast, we are sure you have more and more ideas up on your sleeves to recycle old items and transform them into functional and stylish home furnishings.
Hang Pictures and Photographs
Fill your walls with family photographs, classic paintings and that customised mural which you have picked up from the recent exhibition. They are a very fashionable and budget-friendly option to add a personal touch to your home, by creating a special atmosphere that fills your space with beautiful memories. It is advisable to choose a wall where the photos will stand out and become the focal point and center of attention. Also hang them at the correct height, neither too high nor too low, such that it falls in the range of vision of the people. Before getting them on the wall, choose the shape, style and colour of the frame for each piece by following a unifying theme so that it will echo the same with other complements in the room.
– Find Some Decorative Wall Paintings/Frames
1. Big Panoramic Abstract Rose Floral Canvas Wall Painting
Material With Foldable Frame
Mounting Type: Wall Mount
Size: 135×61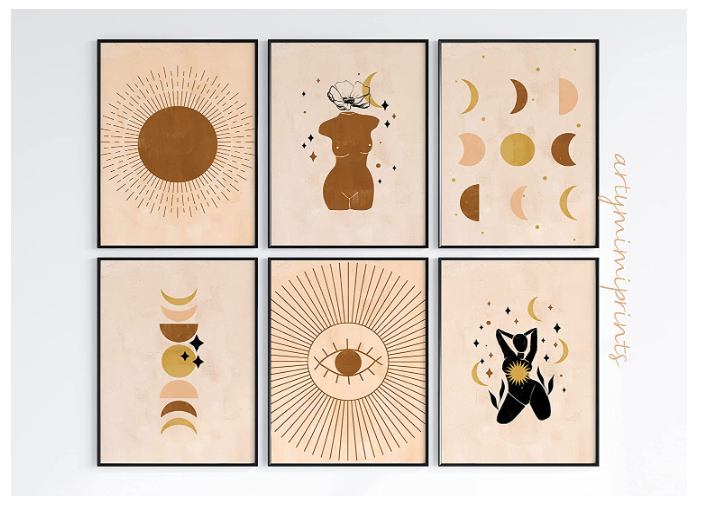 3. Boho Art Set of 6 Posters Sun Moon Prints Mid Century Modern Celestial Wall Art
Colour Multi
Material Framed
Shape Rectangular
Focus on small details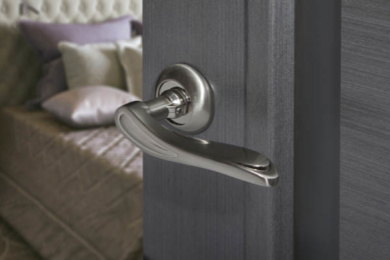 It's astonishing how small changes bring a huge difference to the look of a room and make it appear much more elegant. Yes, sometimes small changes are all it takes to give your home a whole new look and feel. For example, something as simple as changing the door handles, treating the windows, replacing the faucet, re-polishing the furniture, adjusting the lighting fixtures, adding new accessories, improving the bookshelves, and even de-cluttering the mess can bring a huge impact and let your home breathe fresh air. More often than not, these are some of the fastest and the least expensive ways to transform the look of your home in no time.
Spread Rugs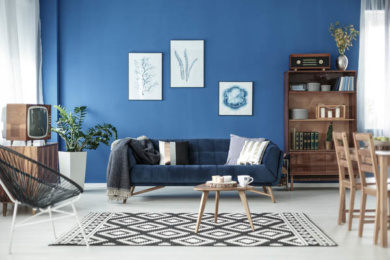 Throwing a stylish rug on the floor is one of the quickest ways to add the decorative accent to your room. Rugs add warmth, freshness, comfort, and also beautify your home when chosen appropriately with the right features to sit in harmony with other elements in the room. The size of the rug should be based on the dimension of the room in which it will be laid, also large enough to seat the furniture without completely taking over the entire space. WhilAffordable Home Decor Idease placing the rugs, make sure it doesn't float in the center of the room and also spread at least a few feet away from the walls, no matter what the size of the room is, big or small.
– Find Some Spread Rugs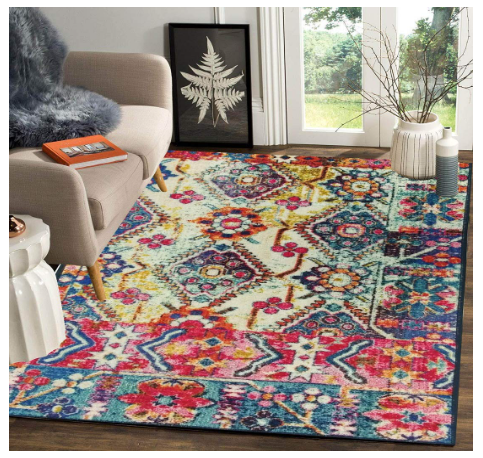 1. 3D Printed Vintage Persian Carpet Rug Runner
Material Polyester
Pattern Solid
Item Dimensions LxWxH 40.6 x 40.6 x 2.5cms
3. Modern Boho Cotton Handwoven Rug Braided Carpet
Material Cotton
Shape: Rectangular
Weave Type Braided, Tufted
Add throw pillows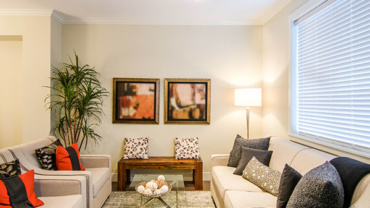 Throw pillows and cushions are some of the interesting complements a home can have. They have ornamental capacity and create the factor of elegance and glamour at the moment they are thrown on the sofa, bed, armchair or on a window seat. They also provide great comfort and warmth when chosen to be soft and fluffy. Before placing them, take into account the quantity, size, colour, texture, placement and also organization to get the most out of your throw pillows and cushions. There should be a right balance between all of them and should not be thrown in a random way because if you don't know how to place and balance them, it's not going to help. Place them in odd numbers like threes or fives to get a more relaxed and natural look and also go for larger pillows of smaller numbers rather than smaller ones of larger numbers to avoid jumbles. Play with their colours, fabrics, volume, layers, and unexpected contrasts to give a unique personality to the sofa/bed – thus avoiding it to look flat, boring and lifeless. If there are existing pillows, try buying new covers with attractive colours or make your own cover with decorative fabrics, if you are good at sewing.
– Find Some Throw Pillows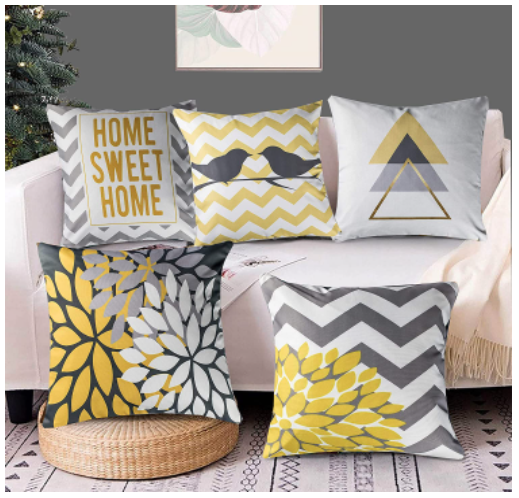 1. Polyster Designer Decorative Throw Pillow/Cushion Cover
Material Polyester
Pattern Solid
Item Dimensions LxWxH 40.6 x 40.6 x 2.5cms
Use Mirrors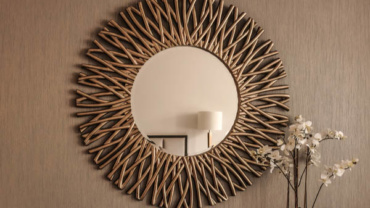 If you have bland naked corners at your home, never go blank with them because they have the tendency to make the room look incomplete and empty. You can decorate it with hanging elements like plants, lamps, pots, garlands, photos, etc. using rails and hooks and give it an inviting and alluring look. The second option would be adding pieces of furniture or cabinets that can easily fit those right angles, without affecting the functionality of each one. The next option is to go for corner shelves which can stack your books or other decorative objects horizontally or vertically, thus maximising your storage space without sacrificing the useful floor space.
– Find Some Mirrors
Decorate your entrance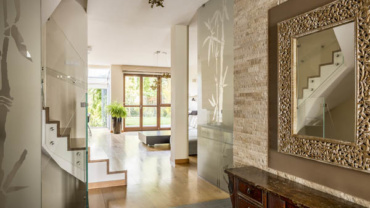 The entrance is one of the most important spaces in your home which stands first in the queue to greet your guests. Go beyond the welcome carpet and create a stunning entrance that can make your guests feel awesome, warm and pleasant, all at the same time. Some inexpensive ways to create such entrances are going bold with colours, adding a framed mirror, hanging arctic paintings, placing custom décor pieces, etc.
Make small rooms look bigger
A room may look smaller and cramped for a number of reasons like if the ceiling is not high enough, if the space is too narrow or thin, if the furniture takes up a lot of space, etc. Having that said, how can you make such rooms look bigger than they really are? It calls for your attention on wall colours – light, neutral shades and clever contrasts which can visually enlarge your space; curtains – hang long ones which can create an illusion of tall walls; natural light – allow more sunlight inside the room so that it can make the space feel more expansive (use artificial lights if you don't have access to natural light); multi-functional furniture – use pieces with multiple purposes which can changes its function in no time (like a couch that can transform into a bed in seconds); mirrors – when included can bounce the light from the windows and create an illusion of a more spacious room.
Decorate with simple and useful items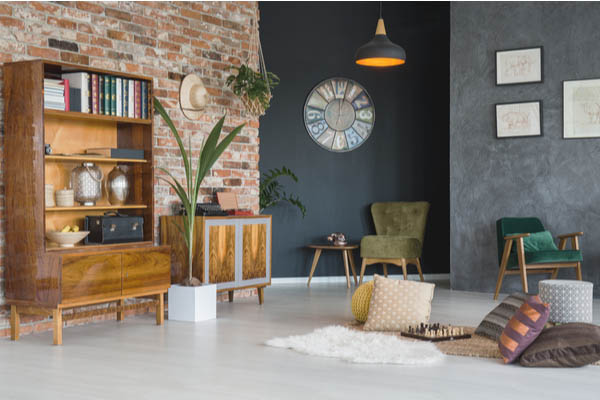 Simplicity is evergreen. It holds for your home décor too. Keeping things and decor both simple and minimal can help you to be at ease with your interiors. Don't go overboard and overdo it. Overdoing the décor with too many features can upset the visual balance and make your home lose its charm. One of the simplest tricks to avoid too many features in your home is keeping yourself away from those unnecessary decor pieces which make their way into your shopping cart due to your impulse buys. When it comes to home décor, always remember "less is more". Make room only for the essentials and double its functions cleverly. For example, not only use your glassware for drinking but also for decorating and holding plants and flowers. Instead of accumulating too many accessories, just get creative with the things which you already have.
Clear the Clutter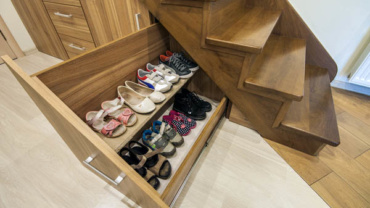 Clutter is one of those many things that every home suffers with. When you get busy with your work or fall sick for a couple of days, things get disorganised in an untidy way and clutter mounts up. Some easy ways to clear out your clutter are creating better storage facilities, letting go of those unused things that no longer fit in your life, downsizing the quantity of possessions you have, donating pieces of stuff to charities. If your stuff is pretty good in condition, you can even sell them and make some money out of it.
Shop second-hand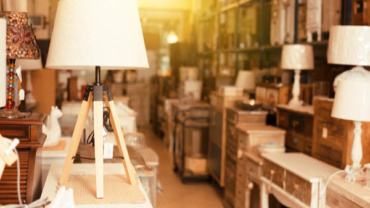 It is possible to decorate your home and give it a new look almost exclusively with second-hand pieces that have not aged well. There are plenty of pieces from furniture to mirrors, for a fraction of retail cost, requiring a little and quick makeover like painting a new colour, re-polishing the faded surface, adding the broken knobs, etc. to spruce it up and put in use. Take advantage of such treasures! Just ensure to do a quality check to make sure that the items are in good condition without any flaws. Be very selective and skip on buying things that cannot be easily cleaned or transformed as you wish. If you find a perfect piece, go for it, turn it into the new "new" and use it to add a unique flair to your home.
Include Statement pieces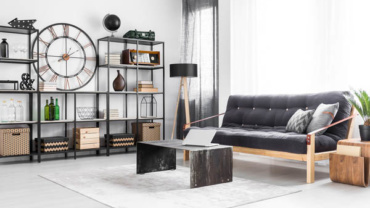 Though large and open rooms are the features of the modern homes, they carry a number of downsides too. It questions your privacy and sometimes makes your space feel empty. So why not separate the zones in style and visually tell where one space leaves off and the next begins with simple décor? It can be done easily by erecting a simple thin wooden framework with open shelves, or throwing down rugs or carpets with contrasting colours, painting the two adjoining walls with distinct colours or using different themed wallpapers, hanging well draped curtains, or through constructing a glass barrier. Without having to build a wall or permanent solid vertical structures, these ideas can help you smoothly separate your space, without disturbing the harmony of your space.
Hide flaws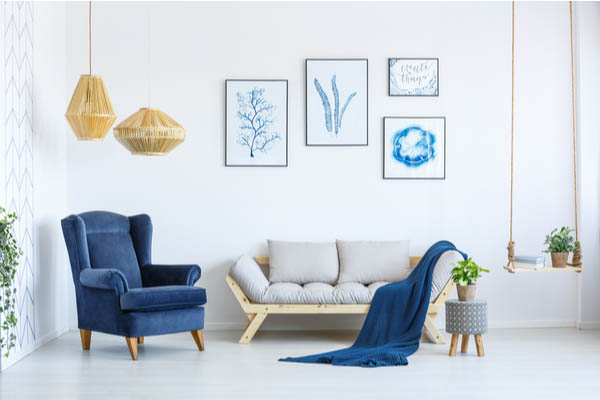 A perfect home doesn't exist; it is quite obvious that there is always room for some flaws and imperfections. But, this cannot rob your hope for pretty interiors. You can always hide or mask those imperfections and unattractive features and make for those eye-ball grabbing interiors. Some simple examples are covering the flawed floor with a stylish rug, concealing the faulty wall with photo frames or mirrors, hiding something bigger like a window with a long hanging curtain or drapery, etc.
Organize your Shelves by colour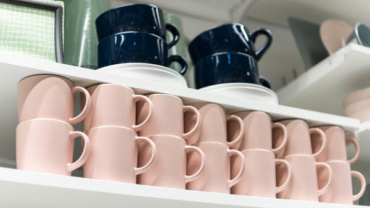 Though the entire home looks clean and organised, the shelves in Indian homes often tend to look cluttered and messy due to organizing mistakes. One easy way to de-clutter the mess and organize the shelves is to stack and arrange the things that are alike in colour with one another. It may be the books in the bookshelves or crockeries in the kitchen cabinets, think about how you want their colours to line up – from dark to light or light to dark, horizontally or vertically, etc. and put them in the right place. This trick will not only make your shelves look neater but also more spacious.