PVC and Wood Kitchen Cabinets
Kitchen is the heart of the house. From cooking up the meals, nourishing the bodies, learning to bake to hosting and entertaining friends and using it as a place to have a chat over a hot cup of coffee, families bustle in the kitchen. The kitchen is certainly a space with high utility. To have-it-all, the kitchen needs to be aesthetically pleasing and its furniture, specifically kitchen cabinets, need to be highly durable.
With the modular kitchen on the rise, kitchen cabinets contribute significantly to the overall look of the kitchen. But what kind of materials for kitchen cabinets are strong, durable and just right to satisfy all the requirements? While there is a wide range of materials available, in this article, we are discussing the most popular options of kitchen cabinet materials – Poly-Vinyl Chloride (PVC) and Wood.
Poly-Vinyl Chloride (PVC) Material for Kitchen Cabinets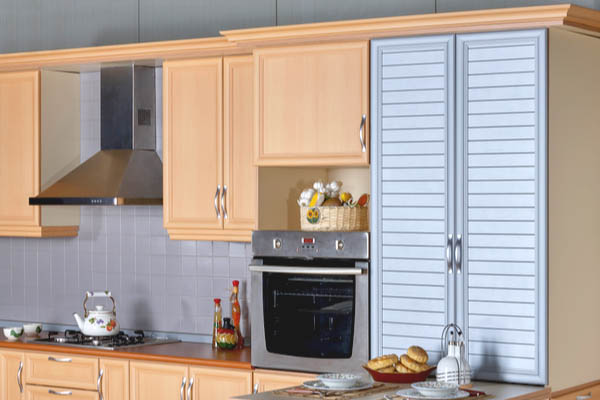 Poly-Vinyl Chloride or PVC material is sheets made of plastic composite. It is understandable that when one talks about Poly-Vinyl Chloride or PVC material, the first thing that flashes in mind is pipes, bathroom or plumbing material. But today, due to its durability and ease of availability, PVC has many other uses. With modular kitchens in demand, PVC has gained popularity as kitchen cabinets material too.
PVC board for kitchen cabinets are of two types: PVC hollow boards and PVC foam boards. As the name implies, PVC hollow boards are hollow inside whereas PVC foam boards are thicker and sturdier than hollow boards. While both types of PVC material can give the same glossy/matt look, PVC hollow boards have low thermal resistance and can often sag way too soon due to lack of strength, unlike PVC foam boards.
Before you choose PVC as your preferred material for kitchen cabinets, here are the pros and cons of material you need to be aware of.
Pros of PVC Material for Kitchen Cabinets:
PVC is one of the most preferred materials for modular kitchen cabinets. Here are the reasons.
Economical:
PVC materials are cost-effective and are cheaper in comparison to wooden cabinets. PVC hollow boards are cheaper than PVC foam boards. But PVC hollow boards lack strength and advisable only for short-term kitchen cabinets.
Ease of installation:
The PVC material for kitchen cabinets come with an array of colours and in ready-to-fit boards, without any additional fixing. These ready-to-fit boards are lightweight and easy to install in your kitchen. You don't even have to worry about additional laminations or designs to fit them.
Zero maintenance:
Considering the material is plastic, PVC cabinets are super easy to clean, and don't keep any types of stains. This means that PVC requires almost no maintenance.
Termite-resistant:
With PVC, you don't have to worry about termites, wood borers and other insects destroying your cabinets. These materials are termite-free, waterproof, oil-proof and anticorrosive. Once installed, the material will stay as it is.
Ease of sourcing/replacing:
PVC materials are easily available in the market. Thus at any given point of time, you can replace PVC boards or sheets without much of hassle.
Durability:
PVC foam boards are sturdier and durable than other variants of PVC. Further, PVC material is rot-proof and thus, last longer without causing any major damage.
Cons of PVC Material for Kitchen Cabinets
While PVC kitchen cabinets have many pros, there are a few cons as well.
Low hardware compatibility:
While PVC boards are easy to install and use, the difficult part is their hardware. The screws and hinges used in joining these PVC boards tend to loosen over time resulting in sagging. Thus when compared to other materials like plywood or natural wood, the holding power of PVC boards is weak.
Low fire resistance:
Kitchen is the place where the furniture are exposed to heat, oil and water. The PVC board kitchen cabinets have low thermal resistance and fire resistance. Thus, you need to be very careful while adding PVC cabinets to your kitchen.
Prone to scratches:
Given that PVC cabinets are plastic, over time the material might get scratches or cuts which unfortunately cannot be covered up. You need to ensure not to use any sharp material directly on your cabinet boards.
Wooden Material for your Kitchen Cabinets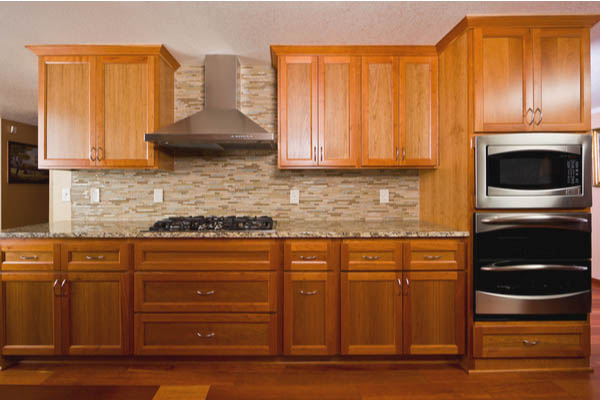 Wooden cabinets are another option to upgrade the look of your kitchen. It offers a perfect balance between style and durability. The texture and grains on the wood material provide the natural look and is exquisite for any type of kitchens – modern as well as country-style. Thus, we can find wood as one of the most commonly used kitchen cabinet materials in Indian households.
In recent times, there are several options available in wooden boards for kitchen cabinets. A few of them are Plywood, Plyboards, and Medium Density Fiberboard (MDF). Plyboards and plywoods are carpenter-friendly and can be used for kitchen cabinets if accompanied with best finishes. MDF is not preferred in the kitchen as the material can bulge when it comes in contact with water or moisture.
Pros of Wooden Kitchen Cabinets:
Let's look at some of the pros of wooden kitchen cabinet
Appearance:
As mentioned earlier, wooden cabinets with their classic and timeless beauty, beautiful colour variations and natural grain patterns bring in a nice natural look to your kitchen. Further, it provides the opportunity to personalize the look as per the homeowners' taste, through varnishing or staining.
Easy to customise and design:
Unlike PVC kitchen cabinet boards, wooden cabinets can easily be customised as per your requirements. Since the material is very flexible, it can be modified into various shapes and sizes and can also add beautiful designs and carving. The beauty of adding wood is that you can add design to it according to your home.
A wide range of variety:
Wood has a wide range of options in the market. You can easily buy them from the market, personalise it by adding designs or just paint them to match with your kitchen walls. Here are the most commonly used woods for kitchen cabinets:
● Teak: Teak wood is very hard and strong and is it one of the most favoured materials for all types of furniture – be it traditional and modern. Due to its high durability and resistance to extreme heat and cold, many prefer teak wood to add in their kitchen.
● Mahogany: The Indian Mahogany is a tropical hardwood, mostly native to the states of Manipur, Northeast. The mahogany wood is comparatively cheaper than teak and rosewood. Its strong resistance to termites and close-grained makes it a good option for furnishers.
● Pine: Pinewood is known for its softness and easy to use features. It is very stiff and has a high resistance to shock thus being commonly used for cabinetry and traditional kitchen styles.
Apart from these, there are also other varieties of wood like maple, oak, cherry, Indian rosewood (Sheesham), marindi, and hickory wood.
Easy to clean:
Kitchen cabinets undergo a lot of wear and tear as they are regularly used. This is the reason why many prefer wooden cabinets. The surface of wooden cabinets can easily be cleaned irrespective of how strong the stains are. All you have to remember is not to use any harsh chemicals to clean the wooden surface.
High durability:
Once you install wooden cabinets in your kitchen, you don't have to think again about it. They have relatively higher durability and can last for many years, although at times, it matters on the type of wood you are using to make the cabinets. In case there are any damages or stains, you can easily use sandpaper and re-stain the finish.
High reselling value:
Wood in India or any other country has always been on high demand and so are things carved out of wood. Thus, in case you are renovating or relocating, you can always sell your wooden cabinets and aspect to get a good return value. You can also take this as your dual investments – where you enjoy the beauty it brings into your home and when needed you can easily sell off and earn some money!
Cons of Wooden Kitchen Cabinets:
While a house with beautiful wooden cabinets always screams classy, there are many drawbacks to this material which prevents people from investing heavily in wood for kitchen cabinets.
High maintenance:
Cleaning wooden cabinets is easy. But they do require high and frequent maintenance. There are special products available in the market which are specifically designed to clean all sorts of wooden materials. There are also different types of oils available which are used to polish the surface of the wood to make them look new.
High in cost:
Solid hardwood cabinets undoubtedly upgrade the look of your house. But do you know, it also comes with a price tag? The premium quality, versatility, and higher durability of the wood increase the cost of the wood. Thus, you need to be careful with your budget while designing or renovating your kitchen cabinets.
Complex installation process:
Unlike PVC cabinets that come in ready-to-use blocks, wooden cabinets are not that easy to install. Each block of your kitchen cabinet needs to be measured and customised to fit together.
Low resistance to termite:
The drawback of wooden cabinets is that if they are not treated before installation, they may be attacked by termites, wood borers, and other insects. Not only that, once installed, you also need to keep a close look at its condition time and again to ensure no termite destroys it.
Decays easily:
Unfortunately, wood is not waterproof or moisture-proof and hence if exposed to water, moisture or steam constantly, there is a high probability that they rot, decay and get damaged soon. Thus, you need to be extra careful not to spill water or any other liquids on the wooden surface.
Prone to humidity:
Another major drawback of wood is that they are prone to humidity. This means that the change in climate can affect the wooden cabinets. When the moisture content of the surrounding climate fluctuates the wood may expand or contract, thus causing damages.
Kitchen in a place where we make memories and stir up the nostalgia. So ensure you invest some good time on research, identify the material according to your requirements and design the kitchen interiors as per your taste. We hope this article helps you in making an informed decision!