Kitchen Magic Corner and Its Uses
Every kitchen requires a pantry or closet, as well as storage spaces, cabinets, racks, hooks, and rods, among other things. People constantly seem to run out of room in the kitchen with all of the cutlery, pots, plates, food processing equipment, culinary and kitchen items, and various items. We would like to make the most of every inch of accessible kitchen area with a magic corner – the leader of all kitchen organisers or kitchen space storage options.
What is a Magic Corner?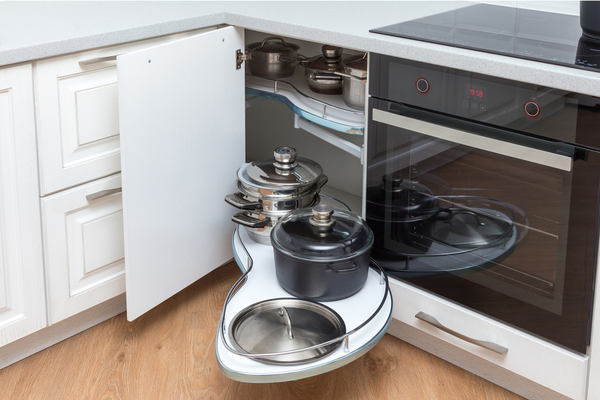 A magic corner is a cleverly constructed kitchen corner storage system with a slide-out function that provides easy access to anything stored in the kitchen counter's blind corner. A magic corner unit is organized into four tiers or baskets — two front trays and two back trays — that are kept in place by a frame with a sliding system attached to the cabinet's sides and door. The "magic" occurs in the sliding mechanism, which is basic yet brilliant. The front trays are attached to the cabinet door and held by a movable framework on the neighbouring side wall, while the back trays are secured by a sliding structure on the rear wall of the magic corner. The front trays slide alongside the cabinet's adjacent wall when the door is pulled open. The same motion pulls a swing drawbar linked to the folding frame of the back trays, allowing them to slide to the left or right in front of the door. So, once you've fully expanded the cabinet door in one fluid motion, you'll have all four trays in front of you.
Is a Magic Corner Storage Unit Necessary?
Answer the following questions to see if you need to add a magic nook in your kitchen:
"Do I want to make the most of the corner area beneath my kitchen bench cabinet?"
"Do I want an easy method to get to the items in the corner of my kitchen cabinet?"
"Do I want a contemporary, functional, and creative kitchen corner storage system?"
If you responded "yes" to even one of the aforementioned concerns, you're ready to purchase a magic corner unit, and the following question is…
Things to Know Before Making a Purchase
Every magic corner vendor will tell you that theirs is the greatest, but there's an easy method to figure out which one is right for you.
1. Cabinet Size
Your cabinet's corner must have an interior breadth of at least 900mm, depths of a minimum of 500mm, an interior height of at least 525mm, and a doorway width of more than 400mm. (This is true for the majority of Elite magic corner kitchen units. Before you purchase anything, double-check the cabinet specifications for the model you're interested in.)
2. Materials & Components
Choose a magic corner made of superior-quality materials, hinges, and rollers if you want it to last. Because we're dealing with the kitchen, stainless steel (for the framework and baskets/trays) is still the finest option due to its durability and cleanliness.
3. Mechanism
Do you desire a magical corner that glides silently and effortlessly? Choose a device with a soft-stop function so that it would not slam shut.
4. Style
Many magic corner items appear same, however these are the basket style possibilities varying from brand to brand
5. Pricing
Magic corner storage units start at Rs 9,000 and go higher from there. When evaluating a product's pricing, it's equally important to consider its quality. When you consider what's available on the market today, you could discover that a certain line of magic corners offers great value for your money.
Contemporary Magic Corner Units
Magic corner units are quite popular, particularly in modern kitchens with a tight blind corner. They typically come with four trays, two of which are connected to the door and two to the unit itself. This is an ideal illustration of a magic corner unit. The bright and industrial/modern design of the Magic Corner, which is made of chrome rails, is guaranteed to capture the eye of most customers. Bringing kitchen things into plain view is a brilliant approach. This cabinet has shelves linked to a swing-out front that, when opened, draws inner shelves towards the cabinet's open part. The design has been modified in recent years to incorporate a soft-close function. While this feature reduces noise, all-metal organisers still make rattling sounds when the shelves have been fully loaded.
The Magic Corner 2
The Magic Corner II is an improvement to the Magic Corner, providing complete access with 2 distinct roll-out shelves that draw out from being pushed to the cabinet's open part. The blind corner gains a whole new dimension of organising possibilities thanks to this sort of accessibility.
Benefits of a Kitchen Magic Corner
Magic corners make excellent use of the kitchen's limited space. These square containers fit nicely in square cabinets and provide simple access to the goods you've put within. You'll be able to witness how smooth and quick these devices are to use. Magic corners, on the other hand, have certain drawbacks. They are more costly than le-mans corners, but they are ideal for increasing storage space and providing access to products in the kitchen. Because they have more movable parts than le-mans units, they are much more likely to break down, however you do get a more "automated" functionality in that all the trays come out simultaneously you don't have to pull anything out yourself.
Conclusion
The nicest part about installing a magic corner is that you'll be able to turn an under-utilized dark nook beneath your kitchen bench into valuable storage space. Magic corner options without the bin and with simple shelves on two levels for storage are also available. The outer unit is connected to the shutter, and the inner unit pulls out when the doors are opened in a two-step mechanism. Regardless of the type you choose, you can rest assured that it will aid in the creation of more kitchen storage.While somewhat more costly, magic corners have a much more 'automated' feel to them because everything is done in one step.