Hettich Cosario: A Quick Comparison
| Parameter | Cosario 600 mm | Cosario 900 mm |
| --- | --- | --- |
| Standard wall unit width | 600 mm | 900 mm |
| Minimum carcase depth | 300 mm | 300 mm |
| Loading Capacity | 5 kg | 5 kg |
| Height of side when closed | 140 mm | 140 mm |
| Height of interior when closed | 120 mm | 120 mm |
| Opening force | Less than 30 N | Less than 30 N |
| Light fixture | Optional | Optional |
| Replacement warranty | 5 years | 5 years |
| Price | Rs. 57,361 | Rs. 65,422 |
Note: Cosario is also available for unit widths of 550 mm, 700 mm, 800 mm, 1000 mm in aluminium and grey shades.
Hettich Cosario: Features, Benefits, Types & Price

No matter how big the size of the kitchen is, there's always one thing we all cry out for: more storage space! Despite those tons of drawers and cabinets, somehow it just gets never enough. Understanding this, Hettich, a German brand has come up with a unique storage solution called Cosario which can give some instant storage bonus for your cramped kitchen. So, what is Cosario exactly? What are its types? And how much does it cost? – Here is a detailed low-down. Read on!!
What is Cosario?
Most often, we are so focussed on stuffing things into our cabinets and drawers that we completely forget to take advantage of that empty vertical space between the upper cabinets and the countertop. Installing a Cosario is a simple solution to make use of that empty vertical space. And the space created by Cosario can be used to store smaller kitchen items like small bottles, tins or jars that are used on a daily basis. So, in simpler terms, Cosario is a storage solution fixed under the wall units for storing daily-use smaller kitchen items.
What are its features and benefits?
This unit consists of two long shelves with different divider and organiser options. The lower shelf swings downwards and backwards on opening, while the upper shelf descends horizontally for easy access.
It is simple to mount and easy to retrofit under any wall unit from 600 mm wide. Depending on the door design, it can be mounted either in view or out of sight.
The little bit of extra space offered by Cosario can be used to store the smaller kitchen items like spice jars, espresso cups, kitchen gadgets, small appliances, kitchen rolls, knife blocks, cookbooks and pens, etc. all organized and also out of sight.
This new storage unit is even safe for glassware, bottles and other jars.
It comes with a good loading capacity of 5 kg.
And it can store items up to 120 mm high.
A pulling force of less than 30 N is all it takes to open the unit.
It has a locking system with a 20 mm safety catch.
This system requires a minimum carcase depth of 300 mm for its comfortable sitting.
As the Cosario opens at the eye level, all the contents are clearly visible and also it is easy to locate, place or retrieve any specific item from it.
It also comes with an optional built-in light fixture that performs double duty. Yes, when the unit is closed, the light illuminates the worktop below and when opened, it illuminates the interiors and contents.
When closed, the sides remain at a height of 140 mm and the interiors at 120 mm.
The material choices for the Cosario are aluminium and plastic.
Generally, it has a modern aluminium-look finish which gives the unit an unadulterated elegance.
As it protects the items from dust and grime (in its closed condition), it also makes for a clean and hygienic storage solution.
With an innovative, stylish, sleek, comfortable, and ergonomic-rich design, this unit adds a new focal point for any kitchen design and imparts an uncluttered look to the cooking space.  
In addition to the kitchen, the living and working areas can also make use of this versatile and flexible storage unit.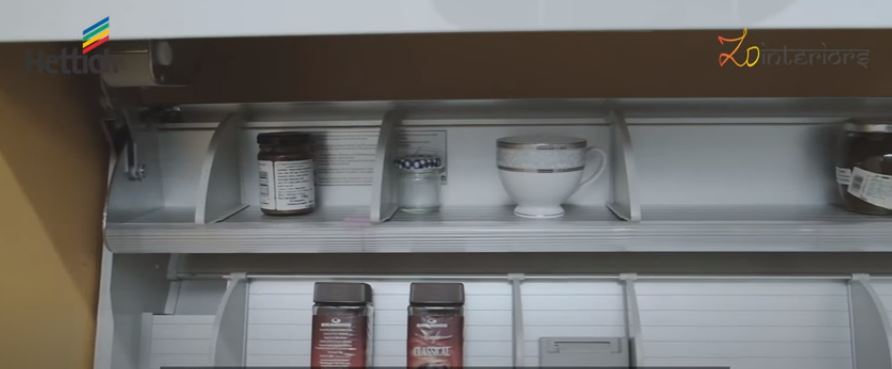 What are its types and price?
Cosario can be of two types based on its width
Cosario 600mm
Cosario 900mm
Final Words
Cosario is a brilliant add-on for wall units with good storage capability, high practicality and unbeatable functionality. If you wish to add this innovative storage option to your kitchen space, do connect with our experts at ZAD Interiors. Get started today.
For Hettich Products and Fittings, Contact ZAD Interiors: +91 8777291785