Uses Of Hettich Interior Fittings
Hettich is a German brand which manufactures hardware, accessories and furniture fittings for kitchen, living room, bathroom, corporate office, etc. With plenty of design diversity and creative flexibility, the products of Hettich have gained a notable reputation and remarkable prominence in the market over the years.
Today's post talks about the benefits of one of the most innovative range of products by Hettich, the interior fittings.
What Are The Interior Fittings Offered By Hettich?
Hettich Interior Fittings For Kitchen
Hinges
Concealed Hinges
Butt Hinges
Flap Fittings
Drawer Runners
Quadro Drawer Runners

Silent System Full extension
Silent System Part extension
Part extension
Push to open Part Extension

Ball Bearing Slides KA
Roller Runner FR
Drawer Systems
MultiTech
InnoTech
ArciTech
Drawer Accessories
Tray
Add on kit for Pot and Pan Drawer
Double railing kit for Pot and Pan Drawer
Plate rack for Pot and Pan Drawer
Anti-slip mats
Wire Baskets
Cargotech

Inlets for plates, thalis, cups, saucers, cup & saucer combo, etc.
Dish Drainers

Cargo Midway series

Roll Holder
Saucer Rack
Oil-container Rack
Multi-Purpose Rack
Jar Rack
Railing 1200mm with connectors

Cutlery Baskets
Portable dish drainers
Other kitchen interior fittings
Base unit interior fittings

Bottle Pull out
Bin holder
Wicker Basket
Under-sink Basket
Worktop Extension
Detergent Holder
Dustbin holder
Cylinder Trolley
Spice pull out

Overhead unit interior fittings

Dish drainer
Pull out shelves
Bottle Pull out

Corner solutions

Moving corner
Carousel
CargoMan
Magic Lights
Spotlights
Linear lights
Special Lights
Hettich Interior Fittings For Wardrobe
Interior fittings
Garment lift
Wardrobe tube rail (integrated LED light system)
Oval Cabinet rail
Coat hanger holder
Tie and Belt Holder
Built-in ironing board
Storage baskets and wire shelves
Pull out, turning mirror
Pull out shelves

Pull out shoe rack (vertical and horizontal)
Trouser Pull out
Tie and Belt Pull out
Laundry baskets
Hettich Interior Fittings For Bathroom
Front pull-outs
Laundry basket pull out
Pull-out towel rails
Swivel basket
Door rack with plexiglass base
Baskets (Screw-on version)
Pull out, turning mirror
Bathroom column FixLine
Hettich Interior Fittings – What are their benefits?
Hinges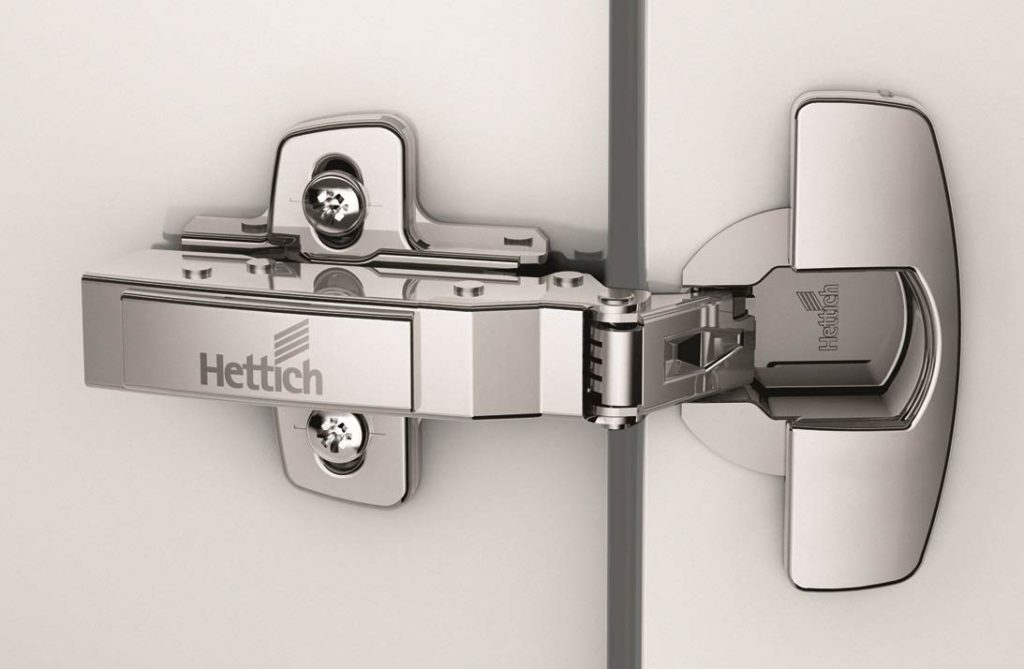 Hinges by Hettich come with an integrated hidden soft-closing mechanism which puts an end to banging doors.
They also let the cabinet doors close automatically from an opening angle of 35 ° approximately. So, a gentle flick of the wrist is all it takes to close the cabinet doors.
These hinges can be fitted and removed quickly and ergonomically.
In addition to the kitchen cabinets, Hettich also offers hinges for refrigerators, freezers, wine coolers and wardrobes.
Flap Fittings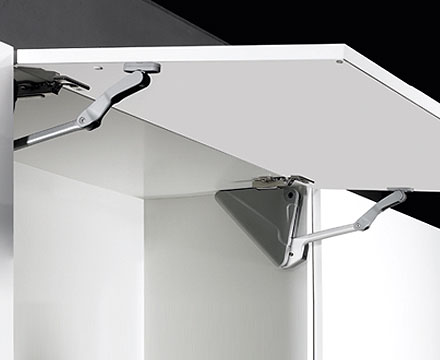 These fittings offer superior convenience with individually adjustable opening force and cushioned closure.
It also comes with an integrated silent system with soft-closing action.
Drawer Runners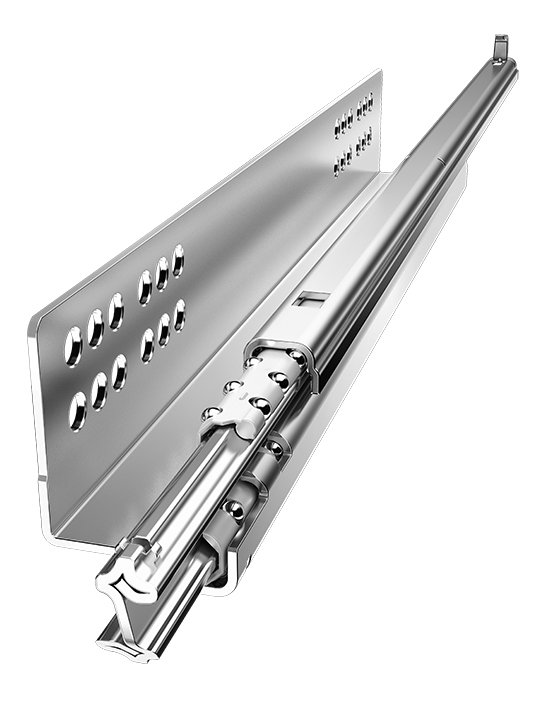 The drawer runners provide easy and ergonomic access to the drawer contents with smooth and easy running action.
They have perfect vertical and lateral stability and offer unobstructed complete view of the contents inside.
With robust and resilient tracks, these runners have a long life and unceasing top performance.
To make the drawer look more neat and sleek, the runners can also take concealed installation underneath the drawer bottom panel.
For handleless furniture fronts, a light press on the front is all it takes to open the drawer automatically with the Push to Open feature.
Drawer Systems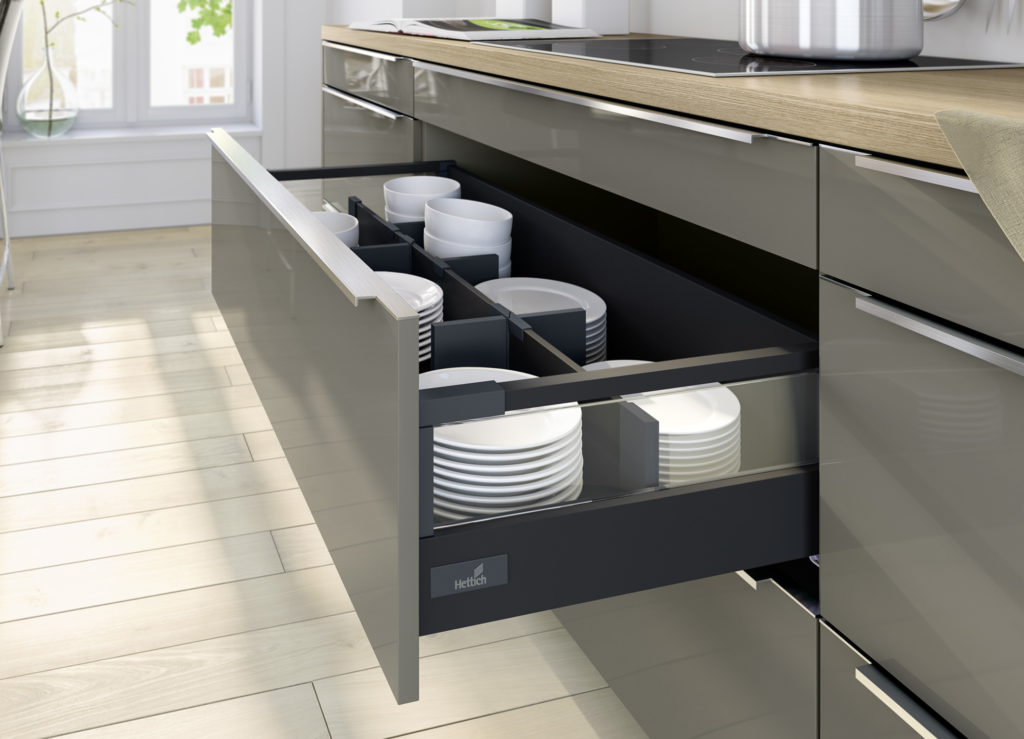 The Drawer systems by Hettich make clear aesthetic statements in modern kitchens with handless front panels, wide pull-outs and large surfaces with narrow reveals.
Can carry heavy loads without sagging
Enables quick installation and removal
Highly versatile and can be made to fit furniture of any type
MultiTech is a single-walled drawer system while InnoTech and ArciTech are double-walled ones.
InnoTech and ArciTech drawer systems also come with Push to Open features and electromechanical opening systems.
All three drawer systems are well appreciated for their Silent System Soft Closure.
Drawer Accessories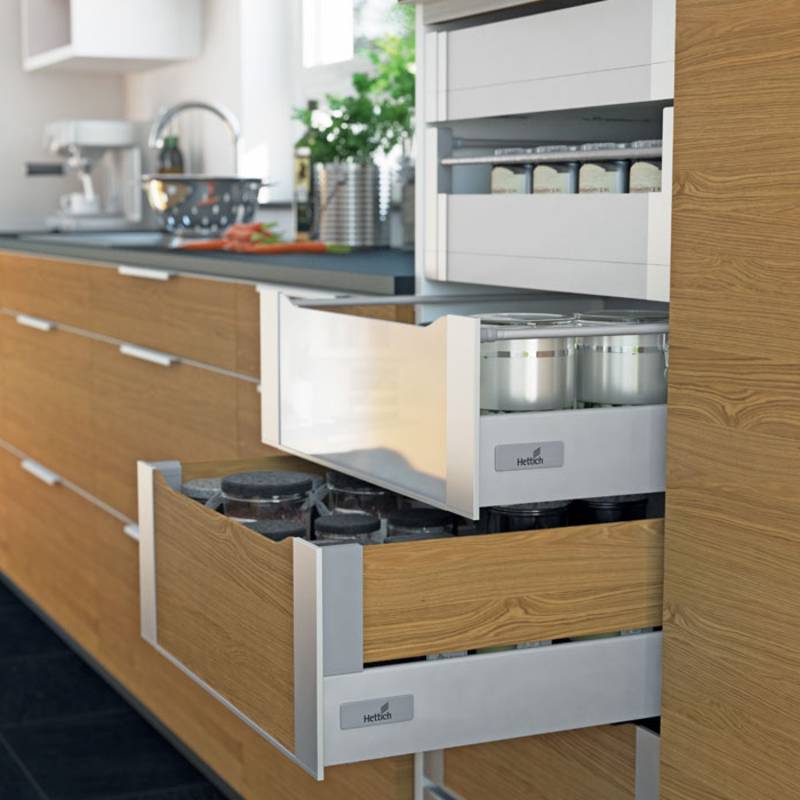 Accessories like trays, interior organisers, crosswise railing and lengthwise railing, etc. help with effective organisation of various contents inside the drawers.
The tray again comes with variable dividers for organising the contents in any way flexibly.
Products like Anti-slip mats prevent objects from sliding and guarantee protection against knocks and damages.
Wire Baskets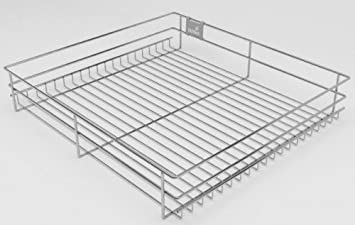 The baskets can be installed in readymade size carcases and avoid the need for adjustments.
These sturdy structures have well-designed inlets for holding various products like thalis, plates, cups, cutleries, cups and saucers, etc.
To separate the contents, Separator inlets can be fitted at any width to divide the basket along its whole depth.
Comes with a 10-year replacement warranty against rusting.
Base Unit Interior Fittings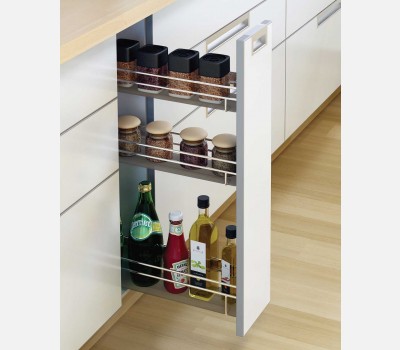 These fittings are light-weight, sturdy and visually appealing.
Available for various loading capacities.
Can be mounted to the right or left.
Products like worktop extension create additional working space quickly and conveniently as andwhen required.
Bin holders can be installed easily with fixing at only two points.
The Cylinder trolley has low height for easy loading of the cylinder and also takes the load of filled gas cylinder easily.
Overhead unit interior fittings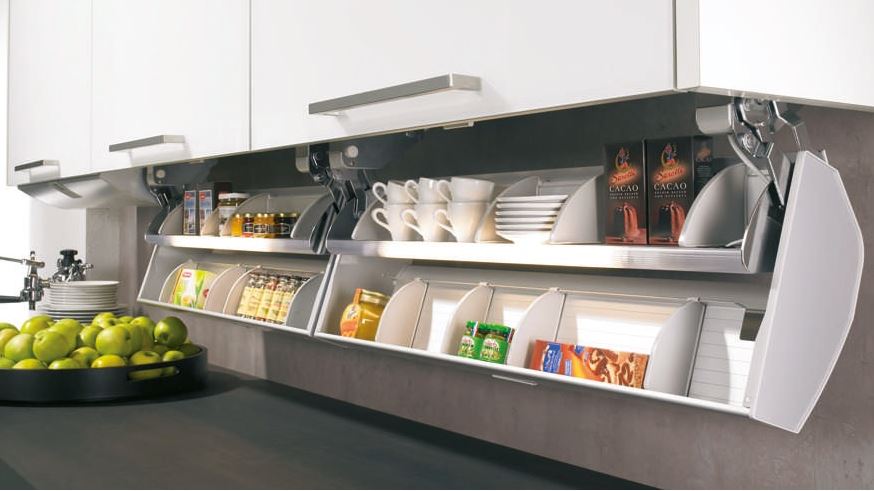 The stainless steel dish drainers are chrome-plated and act as a very practical solution for drying tableware like plates, cups, etc. It also comes with a unique PVC water collecting tray.
Pull out shelves come with a loading capacity of 30-40 kg and 10 years warranty against rusting.
Products like Bottle pull outs come with a loading capacity of 10 kg and are suitable for use on the left or right.
Corner Solutions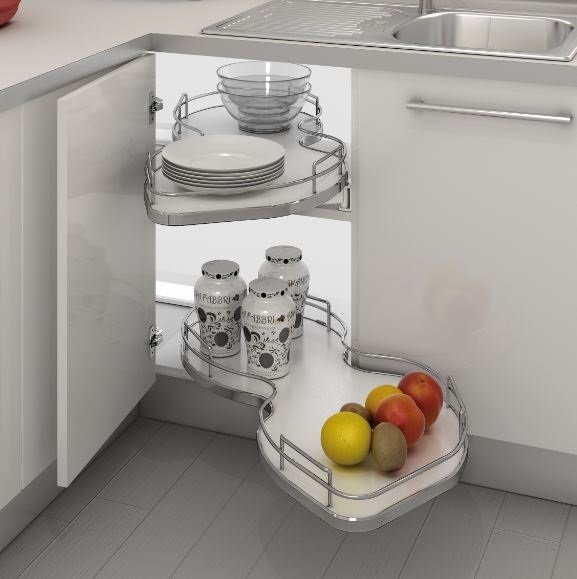 Corner solutions help with the optimum use of space for corner cabinets.
Integrated silent system soft closure helps shut the unit in complete silence.
Each unit can have any number of odd or even layers or shelves.
And each shelf comes with good railing to better hold the goods and prevent their fall outs.
The shelves can also be swilled out individually and completely.
These solutions are very stable and also extremely easy to fit.
Magic lights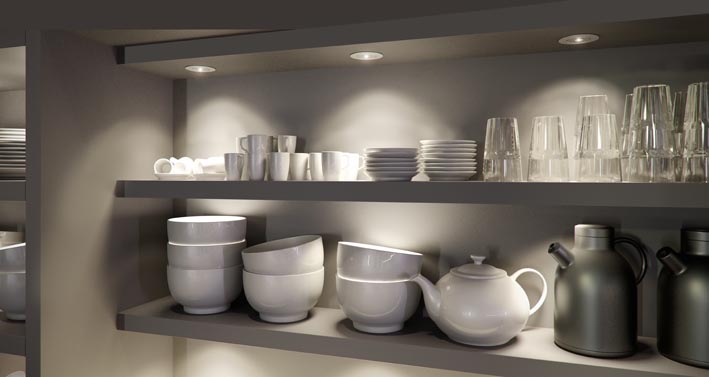 Magical lights are used to add a sense of depth within the interiors, not only in the kitchen but also living room, bedroom, etc.
Spot lights are useful for highlighting key objects placed on shelves, display cabinets, niches, etc.
Linear lights are used for cabinet interiors, kitchen midway sections, furniture edges, etc. and can be individually cut to length based on the application.
Special lights can be fitted inside the wardrobes, cloakrooms, furniture compartments, behind furniture doors, etc. to avoid dark zones.
Garment lifts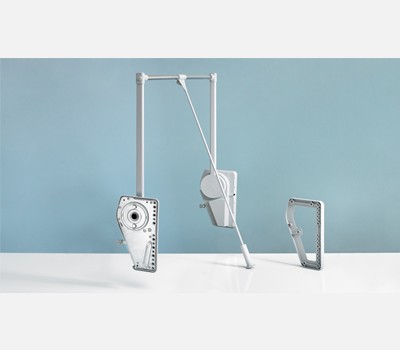 It makes reaching the hard-to-reach items simple in tall wardrobes.
Comes with a loading capacity of 10 kg / 15 kg / 12-18 kg.
Has optional spacer for bridging door protrusion.
Wardrobe tube rail (integrated LED light system)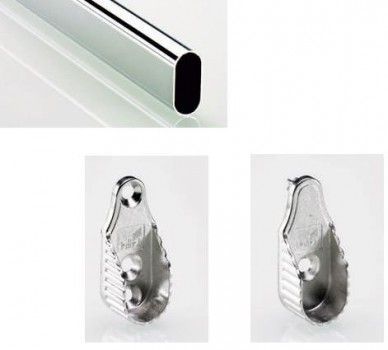 It provides illumination to see the clothes in their true colours and also adds visual appeal to the wardrobe interiors.
Has a PIR sensor switch which switches off 30 seconds after the last moment has been detected.
And the light remains switched on as long as movements are detected.
Overall Cabinet rail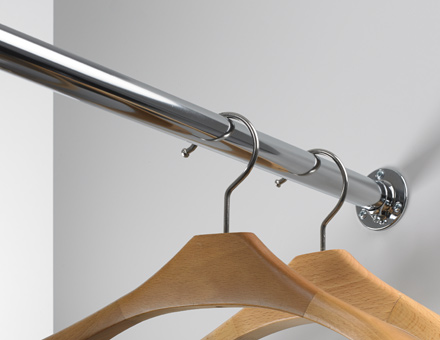 Suits, shirts, jackets or any type of clothing can be hung easily inside the wardrobe using these rails.
Made of steel, these rails have a high-gloss chrome plated finish.
They can be of screw-on type or press-in type.
Tie and Belt Holder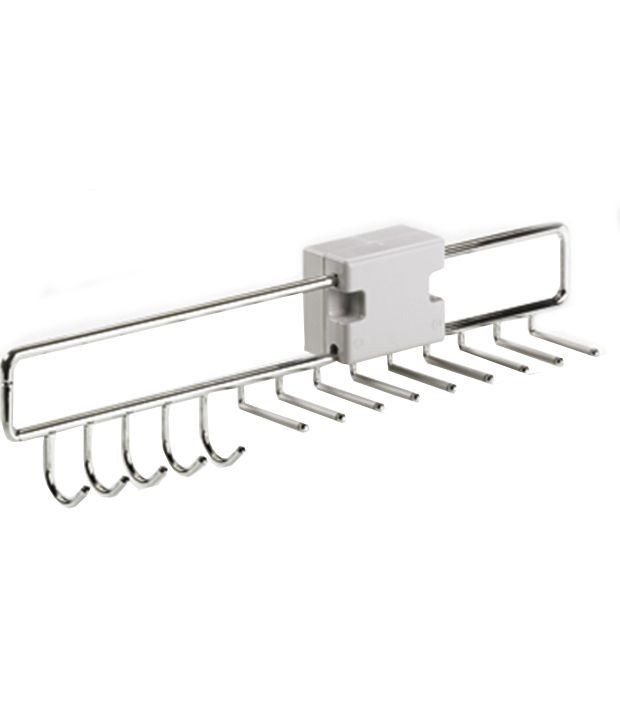 Made of steel, these holders are nickel-plated.
Available in two versions: Screw-on version and telescopic version.
The telescopic version consists of 5 hooks and 9 non-slip elements.
Built-in ironing board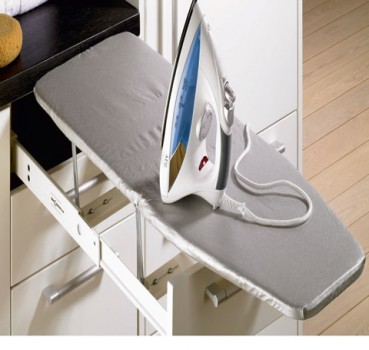 These boards are fitted in kitchen base units instead of wardrobes.
The board can be pulled out of the unit on a telescopic extension.
Also, it can automatically swing up to the working height.
Comes with 5 years replacement warranty
Pull-out shelves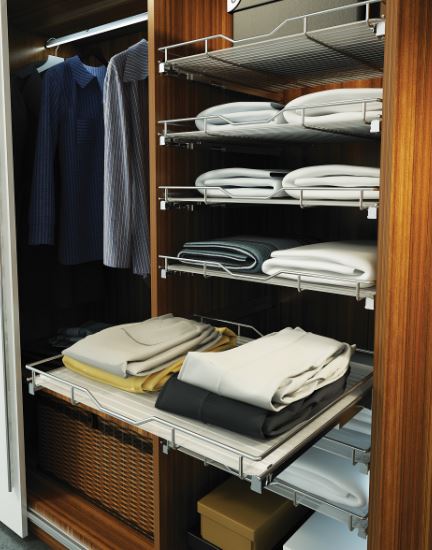 By bringing items in your cabinets out to you, these moving shelves are an ergonomic alternative to old-fashioned fixed wooden shelves in wardrobes.
They have a load-bearing capacity of 30-40 kg.
Has optional plastic bottom to avoid creases on clothes
Comes with 10 years warranty against rusting
Other pull-outs by Hettich are Pull out shoe rack (vertical and horizontal), Trouser Pull out, Tie and Belt Pull out, etc.
Front Pull-outs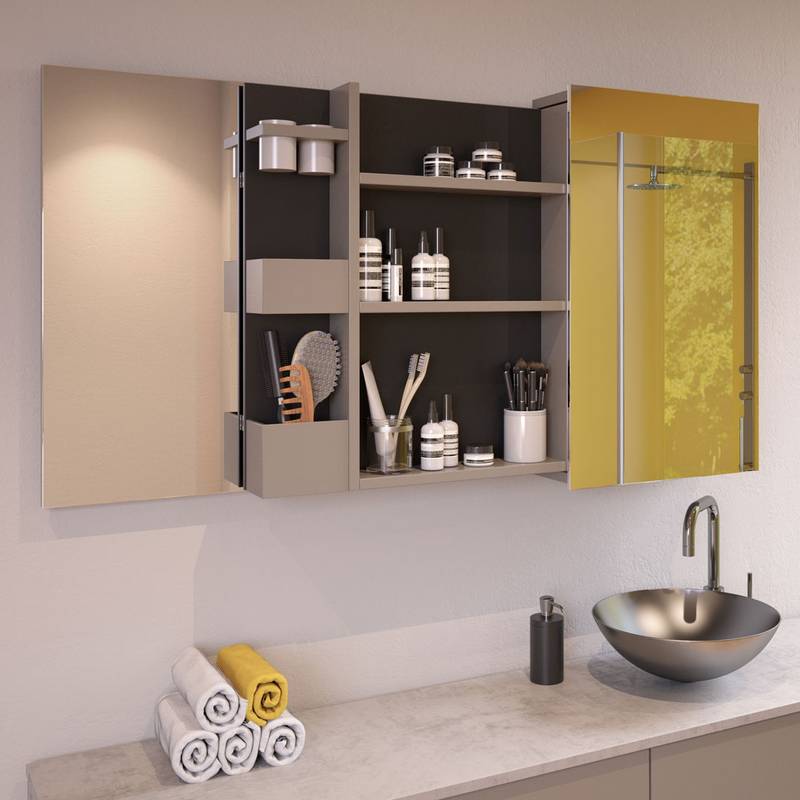 The front pull-out for bathroom cabinets helps with optimal utilization and easy accessibility of the storage space behind the narrow panels.
It is a full extension pull-out with integrated Silent System soft-close function.
It comes with a loading capacity of 5 kg.
Laundry Basket Pull-out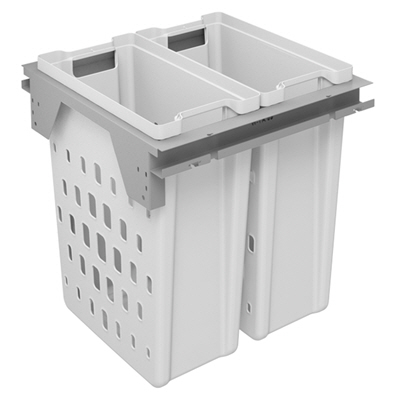 It is ideal for cabinet widths of 300 mm and 350 mm.
Can be mounted behind right or left-hinged doors.
When the door opens, the laundry basket pull-out fitting connected to the door is automatically pulled out of the unit.
Others
The Pull-out swivel-action mirror can be fitted on the right or left, with the frame in either silver or white.
The Swivel baskets work on a swivel out mechanism and are ideal for storing bathroom utensils.
Door rack with plexiglass base and simple baskets are of screw-on version.
Bathroom column FixLine can be mounted between the washbasin countertop and overhead panel. It consists of
1 hair-dryer holder with multiple-purpose hooks
2 all-purpose baskets with glass shelf
2 mug holders, including 2 glasses
For Hettich Products and Fittings, Contact ZAD Interiors: +91 8777291785