Hettich Wardrobe Fittings
Nowhere else the aspects 'organisation' and 'accessibility' are as important as in the wardrobe. Getting dressed or changed is a joy only if your wardrobe is streamlined and well-organised, allowing you to go through and reach your pretty clothes and accessories that are hanging up in the tall end or stuffed in the back of drawers, no matter how many pieces you own. But, the truth to be told is most wardrobes stand nowhere close to it. Using the right wardrobe fittings and accessories is a great way to help your wardrobe work smarter and go further with efficient organisation and accessibility. That being said, at this juncture you would have ventured a guess on what today's post is all about. Yes, it's about wardrobe fittings. And to your surprise, they are a German make; by a renowned brand called Hettich. Well, without further ado, let's get started.
List Of Wardrobe Fittings By Hettich
1. Sliding and Folding Door systems
Top-running sliding door system
Bottom-running sliding door system
Folding door system
Swivel and retractable door systems
Topline sliding door hardware
Sliding & Folding Door Hardware
Fittings for vertically running sliding doors
2. Wardrobe Accessories
Garment lift
Shoe rack

Wall Shoe rack
Pull out shoe rack (vertical)

Wardrobe tube rail – with integrated LED light system
Built-in ironing board
Pull out shelves
Trouser Pull-out
Tie and belt pull out
Tie and belt holder
Cargo laundry
3. Lighting
4. Furniture lock system
Wardrobe Lock
Sliding Door Lock
Multipurpose Lock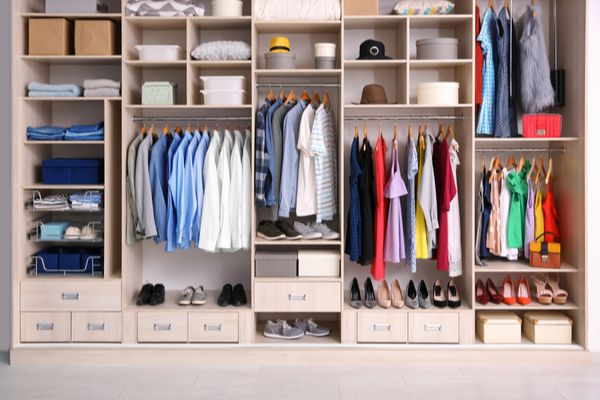 Use Of Hettich Wardrobe Fittings
Pull out shelves are like a hybrid of drawers and shelves. With them, you need not get into the wardrobe; the wardrobe will reach out to you. Yes, as they slide out easily, just a pull out movement is all it takes to access the items stored in it, even in the second row or in the deep back.
With doors that glide from side to side, sliding door systems don't require much space in front of them and work best in small or confined spaces. One can be assured of three things with Hettich sliding door systems –
Easy opening
Smooth running
Silent and gentle soft closing
With minimal door protrusion, the folding door systems by Hettich take up very little space and omit space limitations greatly. They also come with Push/Pull to move opening mechanism, meaning that with just a single hand motion, you can access everything inside your closet. An added advantage of these systems is they offer panoramic convenience i.e. an unbroken view of your entire wardrobe.
Products like swivel door systems rotate in their vertical axis and make wardrobe handling completely effortless and easy. With a framework like no other, they make a unique design statement and never fail to add a contemporary touch to the room.
Products like lighted wardrobe tube rail come with integrated LED technology and movement PIR sensor switch which keeps the light switched on as long as movements are detected and switches off automatically 30 seconds after the last movement.
For tall fitted wardrobes, garment lifts help reach for your items by allowing you to pull down the clothes hanger, and put it up again.
Want to add a little extra security to your valuables? Then, make use of wardrobe locks by Hettich. They come with different security levels and keep your valuables secure to a high degree.
Wardrobe interior fittings like tie and belt holders and trouser pull outs come with non-slip elements to prevent the contents from slipping or falling and help avoid the clutter and disorganization otherwise it would create.
Loading Capacity Of Wardrobe Interior Fittings
| Fitting | Load Capacity |
| --- | --- |
| Pull out shoe rack (vertical) | Minimum of 6 pairs of adult shoes |
| Wall shoe rack | Minimum of 4 pairs of adult shoes |
| Trouser Pull out | 11 trousers (600mm) and 17 trousers (900 mm) |
| Tie and belt pull out | 5 belts and 7 ties, 4 belts and 12 ties, etc. |
| Garment lifts | 10/15/12-18 kg |
Note: Loading Capacity of each fitting varies with the type of configuration selected.
Final Words
From sliding door systems to pull out shelves, all the wardrobe fittings by Hettich are designed to serve a specific purpose impeccably so that with effective organisation and easy accessibility, getting dressed or changed gets really faster and smoother. The decision of going for Hettich fittings for your wardrobe can indubitably make YOU and YOUR WARDROBE always look your best.