About Hettich Wardrobes
From crawling on the floor to find your gym clothes to getting tired of opening and closing the sliding door that refuses to glide, you probably know how frustrating it is when your wardrobe is not flexible enough for your use. A simple way to work around these issues is to opt for wardrobes which are high on design, flexibility, and ergonomics. But, if you have just started discovering a budding love for your wardrobe, odds are good that you might find it difficult to select that perfect wardrobe which is high on design, flexibility and ergonomics.
In this blog, let's understand how the products and solutions by Hettich help design such flexible and ergonomic-rich wardrobes for bedrooms.
What is Hettich?
A German company which manufactures furniture fitting, hardware and accessories for bedroom, kitchen, living room, corporate offices, etc. is Hettich.
What are the fittings and accessories offered by Hettich for Wardrobes?
With a perfect blend of intelligent technology, functionality and design, Hettich offers the following fittings and accessories for wardrobes.
1. Garment lift
2. Wardrobe Tube
3. Shoe Rack
4. Pull out shelves
5. Sliding door systems and
6. Folding door systems
The other accessories and fittings offered by Hettich are
1. Door hardware like knobs, handles, closers, etc.
2. Hinges
3. Flap fittings
4. Drawer runners
5. Drawer systems
6. Locks like Wardrobe locks, Sliding door locks, and Multi-purpose locks.
7. Connecting fittings like shelf support and screw
What are the features and advantages of these accessories and fittings?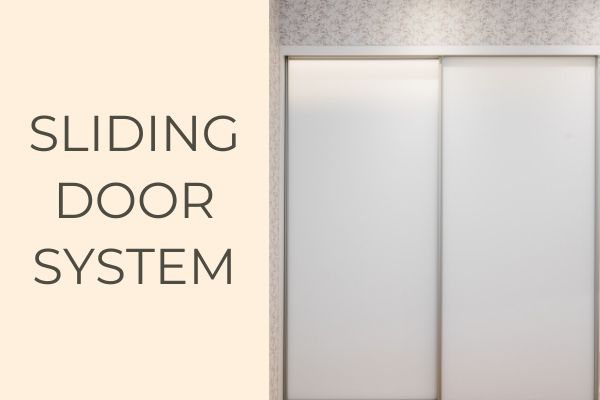 Sliding and folding door systems
The doors are easy to open with minimal opening resistance. So, a gentle push is all it takes to open your wardrobe.
With soft-close systems, the doors can be opened and closed quietly and gently without those creaking noises.
Cushioned end stops and holds the door in place so that the door remains in its position unless you again move or close them.
The doors are also lockable with easy push locks.
Folding doors can be installed in two ways,
– One way – where doors open from one side and fold to the opposite side
– Bi-parting – where doors open from the centre and fold to both sides
And all the below elements are adjustable.
– Door height
– Door offset (distance between the front face of the wall and the front face of the door)
– Door reveal (distance between the face of the door out and the face of the frame on the push side of the door)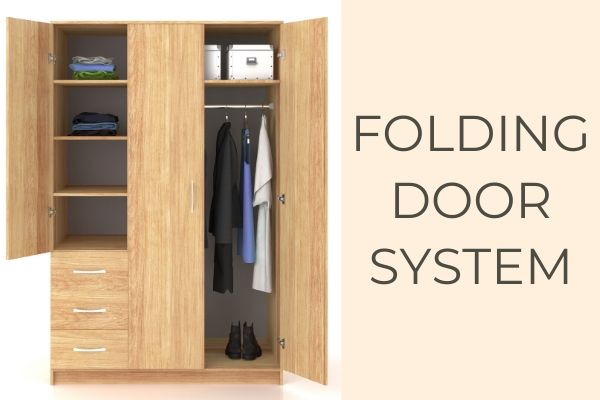 Interior fittings for wardrobe
1. Wardrobe tube rail – with integrated LED light system
It creates the hanging space inside the wardrobe and comes with a PIR sensor switch which switches off the light automatically 30 seconds after the last moment has been detected. Super smart, isn't it?
The light stays switched on as long as movements are detected.
2. Built-in ironing board
Ironing boards are usually fitted in kitchen base units (instead of a drawer).
It can be easily pulled out of the cabinet without applying much force.
An added benefit is it automatically swings up to working height and makes your job effortless.
3. Pull out shelves
Pull-out shelves are wonderful options for storing clothes, shoes, and other accessories. As they slide out easily, you don't have to struggle to get to the items in the second row or strain your back to place the contents back in their positions. Just one pull-out movement, your job will be done.
They act as highly functional and visually pleasing alternatives to wooden shelves in wardrobes.
4. Pull out shoe rack (vertical)
This pull out shoe rack can take a minimum of 6 pairs of adult shoes.
It is suitable for use on any side i.e. left or right.
It also comes with additional space to keep related accessories like shoe polish, brush, etc.
5. Wall shoe rack
These racks are screwed onto cabinet flaps which open individually or to the inside of cabinet sides or fronts.
It can take a minimum of 4 pairs of adult shoes.
6. Trouser Pull out
The trouser pull outs can take up to 11 trousers (600mm) and 17 trousers (900 mm).
It consists of trouser holders with a non-slip element which prevents the trousers from slipping or falling.
It also comes with a handle on both sides for easy pull out and also additional trays for storing accessories like watches, tie, etc.
7. Tie and belt pull out
The tie and belt pull outs are available in different configurations with various holding capacities like 5 belts and 7 ties, 4 belts and 12 ties, etc.
It also consists of holders with non-slip elements to prevent the tie and belts from slipping or falling.
It is suitable for use on any side i.e. left or right.
It also comes with additional trays for storing accessories like watches, cufflinks, etc.
8. Tie and belt holder
These holders are available in 2 versions:
Screw-on version: traditional one with a single long rod which is screwed on both the edges.
Telescopic version: It comes with 9 non-slip elements and 5 hooks including the fixing materials and spacers.
9. Cargo laundry
It stores the clothes for laundry and comes with a mesh to avoid the clothes from falling off.
It is also suitable for use on any side i.e. left or right.
10. Garment lifts
It helps you reach up to the top of your garment hanging space comfortably and pull down the clothes hanger, and put it up again.
It can bear loads up to 10/15/12-18 kg and comes with an optional spacer.
How helpful are these fittings and accessories by Hettich?
1. Sliding door system guarantees three things:
Easy opening
Smooth running
Silent and gentle soft closing
2. With products like pull-out shelves and garment lifts, reaching your garments and accessories is easy and simple and hence getting dressed or changed will not seem like quite a task.
3. With clever drawer solutions, you can easily maximise and use every inch of your storage space – right to the very back.
4. Options like "Push to Open" makes the opening of handless drawers more convenient and easy.
5. Soft opening and closing systems provide even more convenience and peace.
6. With a broad range of optional materials, shapes, and sizes, products by Hettich offer a high degree of design flexibility too.
7. Products like folding doors systems offer Panorama convenience, meaning that with just two pushes, you can instantly view the entire content of your wardrobe and get fast access to everything.
8. The Performance of every product remains unchanged even after a prolonged period of use.
9. Installation too is extremely easy and simple.
Conclusion
Below table cuts the long story short –
| | |
| --- | --- |
| Criteria | Solution |
| Are you short or finding it difficult to reach up to the top of your garment hanging space? | Get a garment lift mechanism installed |
| Want to create hanging space? and illuminate it as well? | Turn to wardrobe tube rail with integrated LED light system |
| Are you after the ease of access? | Turn to sliding and folding door systems |
| Want to keep annoying noises at bay? | Turn to silent and soft-close systems |
| Want designated space for shoes, ties, belt, laundry, trousers, etc.? | Turn to their respective racks and pull outs. |
Ergonomics, Efficient Storage, Easy of access – Hettich gives you all these and offers unbeatable convenience and comfort-ability. That being said, Hettich wardrobes not only maximise flexibility but also redefine flexibility.