Hettich Modular Kitchen Cost Calculator
Modular kitchen – the element which is high on the wish list of a lot of homeowners these days for the reason of organized appearance and maximised storage it offers. What makes this kitchen concept inch even more upwards is its sophisticated design and clean finish.
Lately, a lot of people tend to opt for the Hettich modular kitchen in their homes. A major factor when it comes to designing this modular kitchen is the budget. Knowing its price beforehand helps one to avoid hidden surprises and shocks and also a deep hole in his/her pocket, provided there are no major design changes in the future. So, before getting started with your planning session, understand how much does a Hettich Modular Kitchen cost by giving this blog a quick read.
What is Hettich Modular Kitchen?
Hettich is a German brand which manufactures premium quality hardware and accessories like hinges, handles, drawer systems, drawer runners, pull-out baskets, bottle pull-outs, tall units, corner units, lift up fittings, etc. for the modular kitchen. So, a Hettich Modular kitchen doesn't mean a modular kitchen by itself but the components that make it.
Hettich Modular Kitchen Accessories & Fittings
How much does it cost?
Quite frankly, it is really tough to settle on a single figure. With a rough estimate, the cost of Hettich Modular Kitchen can start from 1.25 lakh and go anywhere up to 6 lakh depending on various factors like what the choice of your products are, how many accessories you require, what the shape of your kitchen is, etc.
| Kitchen Layout | Size | Plywood | Cost of Hettich Kitchen* |
| --- | --- | --- | --- |
| Straight | 5 Ft | BWP Ply | ₹1,24,000 |
| Straight | 6 Ft | BWP Ply | ₹1,42,000 |
| Straight | 7 Ft | BWP Ply | ₹1,60,000 |
| L-Shaped | 6 Ft X 4Ft | BWP Ply | ₹2,00,000 |
| L-Shaped | 7 Ft X 5Ft | BWP Ply | ₹2,30,000 |
| L-Shaped | 8 Ft X 6Ft | BWP Ply | ₹2,64,000 |
| U-Shaped | 8 Ft X 6Ft X 4Ft | BWP Ply | ₹3,30,000 |
| U-Shaped | 10 Ft X 6Ft X 6Ft | BWP Ply | ₹3,96,000 |
| U-Shaped | 12 Ft X 6Ft X 6Ft | BWP Ply | ₹4,30,000 |
*The cost of Hettich kitchen in the table assumes Hettich hinges and channels and standard Hettich Baskets only. It does not consider other kitchen hardware and fittings from Hettich such as Magic Corner, Cosario, Drawers, Carousel, large baskets etc. These fittings can additionally cost about ₹1.5 lakhs to ₹3 lakhs.
To get an estimate of your modular kitchen, please check our calculator here.
What are the factors affecting the cost of a Hettich Modular Kitchen?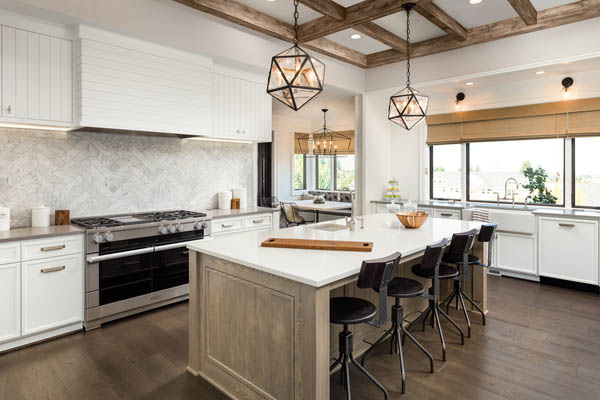 Size and shape of your kitchen
The cost of the Hettich modular kitchen depends on the size and shape (layout) of your culinary space to a great extent. This is obvious as the size and shape of the kitchen determines the area of the kitchen, number of cabinets and provisions required, storage units used, etc. which, in turn, decides the number of accessories required for each. The common kitchen shapes that are in vogue are
L-shaped Modular Kitchen
U-shaped Modular Kitchen
Straight Modular Kitchen
Island layout Modular Kitchen
Parallel Modular Kitchen
The larger the kitchen space is, the higher the cost will be.
For eg: A large-sized U shaped kitchen will accommodate more modules than a small-sized straight kitchen and hence, the cost of the U shaped kitchen is likely to be more expensive than the straight kitchen.
Material used for cabinets and shutters
Solid wood, plywood, particleboard, and fibreboard are some common choices of materials which are used for the construction of kitchen cabinets and shutters. These materials exist in different grades with each varying in quality, size, strength, thickness and price as well. The accessories by Hettich can be customised to suit the nature of the material chosen and thus creating a smart cooking environment for the master chef in you is super easy.
Surface finish used
Laminates Finish (Laminate Matt Finish, Laminate gloss Finish), Acrylic finish, Glass finish, Polyurethane finish, membrane finish and veneer finish are some of the surface finish options that give a rich feel to your kitchen. With a wide array of colour options in each, this list gets further lengthy.
Type of accessories used
There are a plethora of accessories that affect the cost of the Hettich Modular Kitchen, which includes
1. Hinges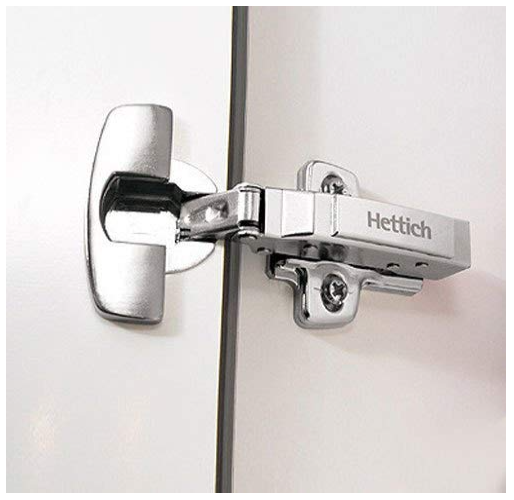 Hettich Onsys 4447i Soft Close Hinges for up to 25mm Thick Door 0 Crank (4pcs.)
2 Pair Contains, 4 Hinges, 4 Mounting Plates & Cover caps
Integrated Soft Close
Full Overlay Door, Opening angle 110⁰
For Door Thickness upto 25 mm
Hettich Intermat 9936 Auto Closing Concealed Hinges 9.5 Crank for Half Overlay Doors with 95 Degree Opening Angle, 14-32 mm (Zinc) -1 Pair
Concealed hinge for Snap-on attachment
Integrated overlay adjustment + 2.5 mm / – 2.5mm
Height adjustment at mounting plate
2. Cabinet hardware like knobs, handles, etc.
3. Flap fittings
4. Drawer systems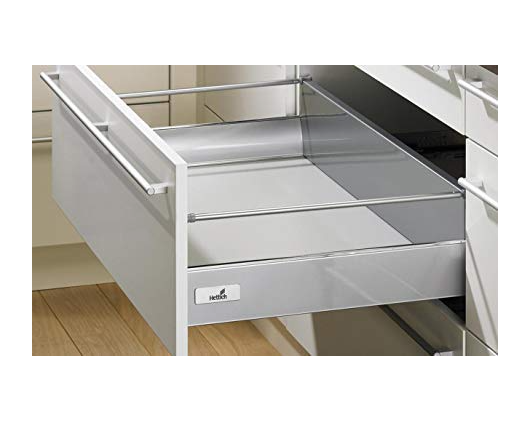 Hettich Innotech Full Extn Silent Pot and Pan Drawer System with Railing (520 x 114 mm, 30 kg, Grey)
Drawer side profiles – left and right Screw-on front connector – 2 nos Quadro-v6 drawer runners – left and right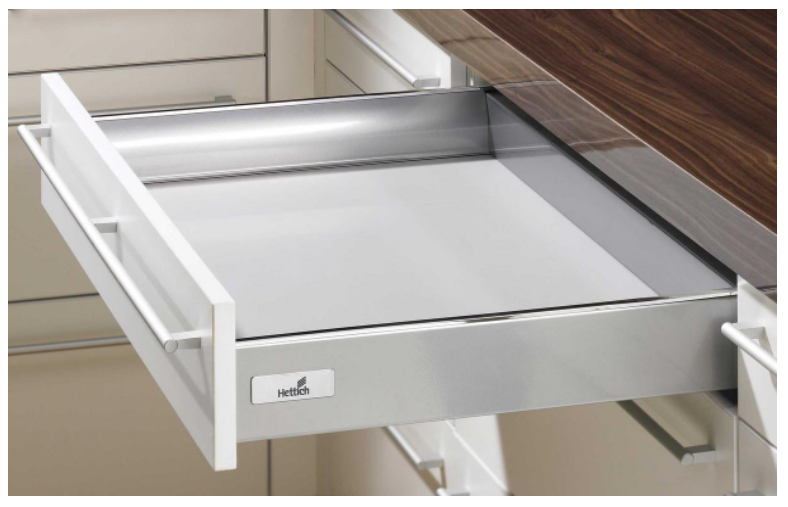 100% Genuine Hettich InnoTech Double-Walled Drawer System – 420 Mm X 70mm (Height) – 30kg – Full Extension Drawer System (Normal) – Without Railing
Drawer Side Profiles – Left & Right; Screw-On Front Connector – 2 Nos
Quadro-V6 Drawer Runners – Left & Right
5. Drawer runners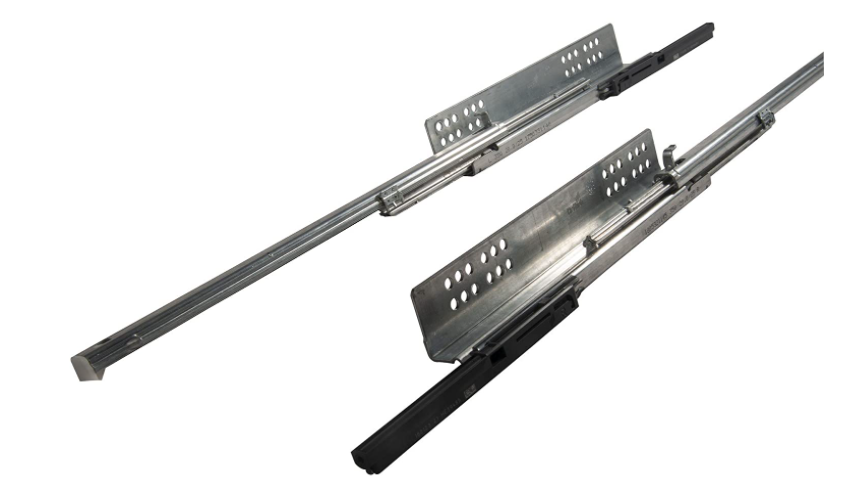 Hettich 924323100 Quadro V6 Silent 400 mm Drawer Runner 1 Set (Silver, 30Kg)
Drawer side profiles – left and right Screw-on front connector – 2 nos Quadro-v6 drawer runners – left and right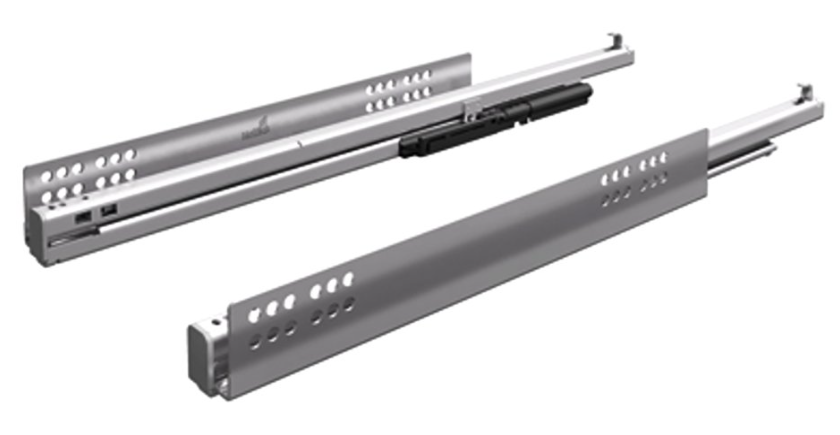 Hettich Quadro V6 550 mm Stainless Steel Silent System Drawer Runner (Silver, QuadroV6-550)
Material: Stainless Steel
Colour: Silver
Size (L x W x H): 55 cm x 0.5 cm x 2 cm
6. Drawer accessories
7. Sliding and folding cabinet door systems
8. Tall/pantry units
9. Midway series
10. Base units
11. Overhead units
12. Pull out shelves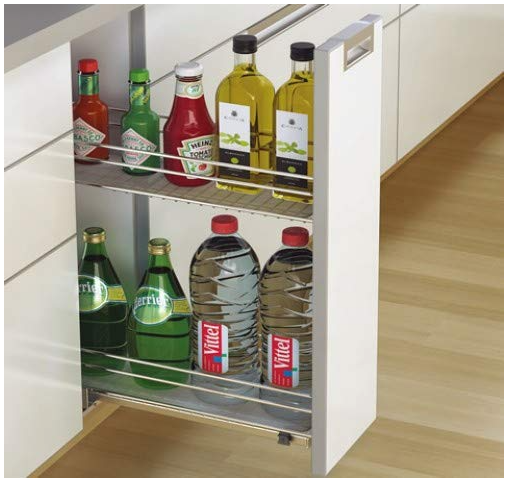 Hettich Bottle Pull Out for Cabinet Size 200mm Width Without Channel Set, Silver
Stainless Steel, Chrome plated Bottle Pullout
11 Years replacement warranty against rust
For Carcase width 150 mm
12. Corner solutions
In this list, each accessory can vary in its size and shape to match the distinct modules of cabinets (varying in dimensions) in every kitchen. And therefore the cost of each accessory can inch upward or downward on the price scale depending on the module for which it is used. The two major advantages of these Hettich accessories are: they make the storage space easy to reach and help organise the kitchen essentials cleverly.
Number of accessories used
This goes without saying!! The higher the number of accessories used, the higher the cost of the kitchen will be. The factors that determine the number of accessories to be used in your kitchen are the size of the cabinets and drawers, the layout of the kitchen, and your preference for the design.
For eg: If you opt to have an island unit in your kitchen for the purpose of storage, then including cabinets and drawers beneath the worktop becomes fundamental. In such a case, the number of accessories used will see a hike and so does the cost of the kitchen.
Final Words
As discussed above, many factors add up to the cost of the Hettich modular kitchen, from the size of the culinary space to the number of accessories used. In case, if you find it difficult to get started with your budget planning for Hettich modular kitchen, just reach out to a professional interior designer for the right guidance.
Our Top Appliance Recommendations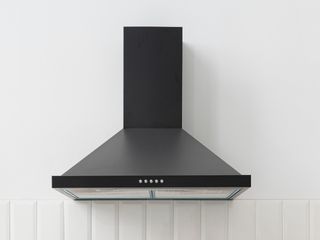 Chimney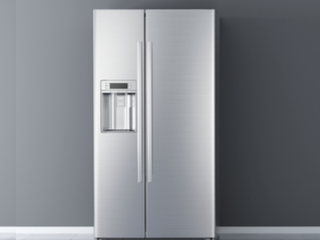 Refrigerator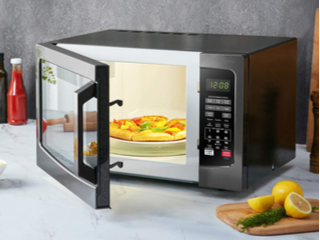 OTG & Microwave