Grey Bedroom Wall Design Ideas
Are you looking for ideas to style your grey bedroom wall and give character to your interior? Here are 20 original, easy-to-implement ideas that work every time to make your grey wall a strong element of the decor!
1. Paint a false headboard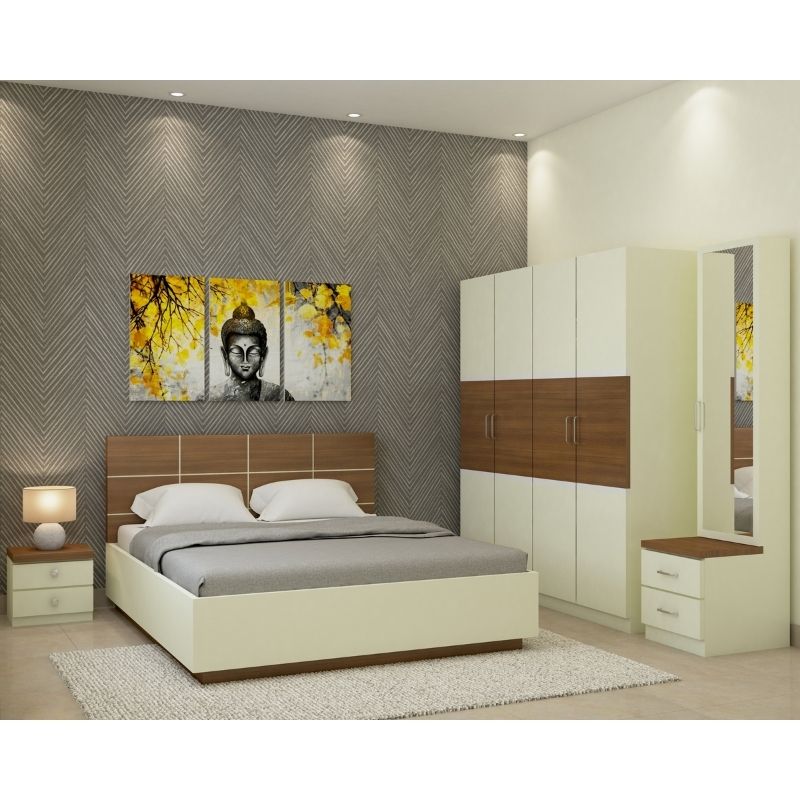 You can give your bedroom some flair just by painting a false headboard on the wall behind your bed. The shade of the grey depends on your taste and desire. You can either choose deep dark colours or warm ones and it is decisive for the style you want to impose. This painted headboard will visually delimit the sleeping area from the rest of the room, which is an additional argument for adopting it when the room has several areas such as a dressing area or home office.
Another detail for the realization of a beautiful headboard with paint is choosing an original shape for the headboard. Yes, even in a painted version, the headboard can take on different shapes: square, rectangle, half-circle or superimposed shapes for an original colour zoning, it's up to you to unleash your creative talents!
2. Place a stepladder or staircase wall shelf
Vintage style, reminiscent of an old wooden stepladder, this staircase shelf can complete the wall decoration of your bedroom without much effort. Be it modern or vintage, this decorative ladder is always trendy. Instead of squeezing your wallet to get one, you can turn your old ladder, which is often forgotten in a corner of your attic or garage, into an aesthetic companion in your daily life.
You can also put this practical piece of furniture for everyday use and hold all sorts of objects like magazines, beauty products, etc. By adding wire baskets to a sloping ladder, you can multiply the potential storage space. However, be careful not to overload it if you want to preserve the furniture's pure aestheticism.
3. Try Black or White Gallery wall or Photo Frame Set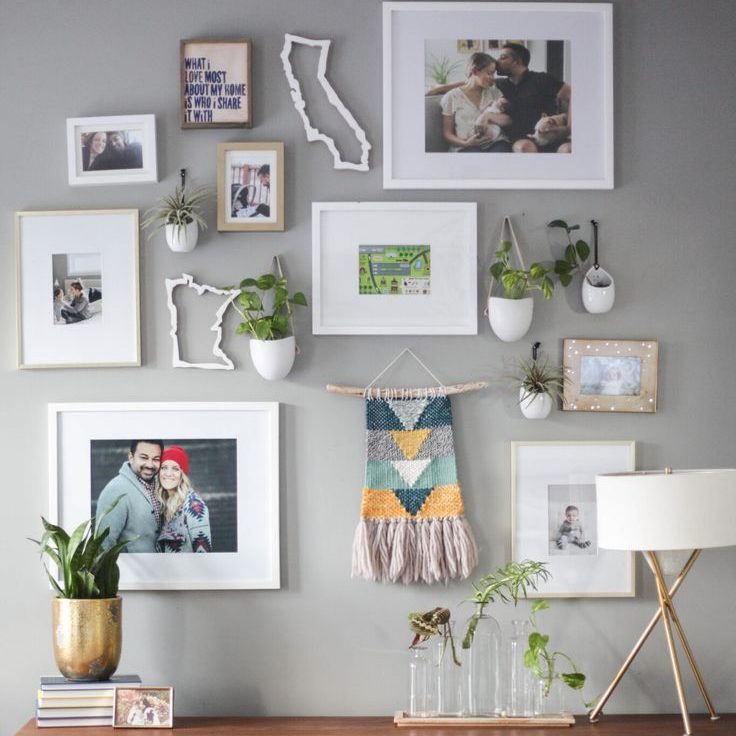 Create a geometrical bedroom wall decoration with this set of matching black or white photo frames. They can be used in a vertical or more compact composition, and can be adapted to suit the mood of the room, thanks to their different height and length formats. This kind of unique frames is ideal for creating a bright wall decoration with contrasts. 
It can be a nice way to decorate a wall without too much artifice, even in a minimalist way. You can obviously think of black and white photographs that give a timeless aspect to the moments photographed. The idea here is to break the monotony of a wall that seems too blank. With this gallery wall, you can style your bedroom in the blink of an eye. No fuss, simplicity above all.
4. Put up Hanging Mirrors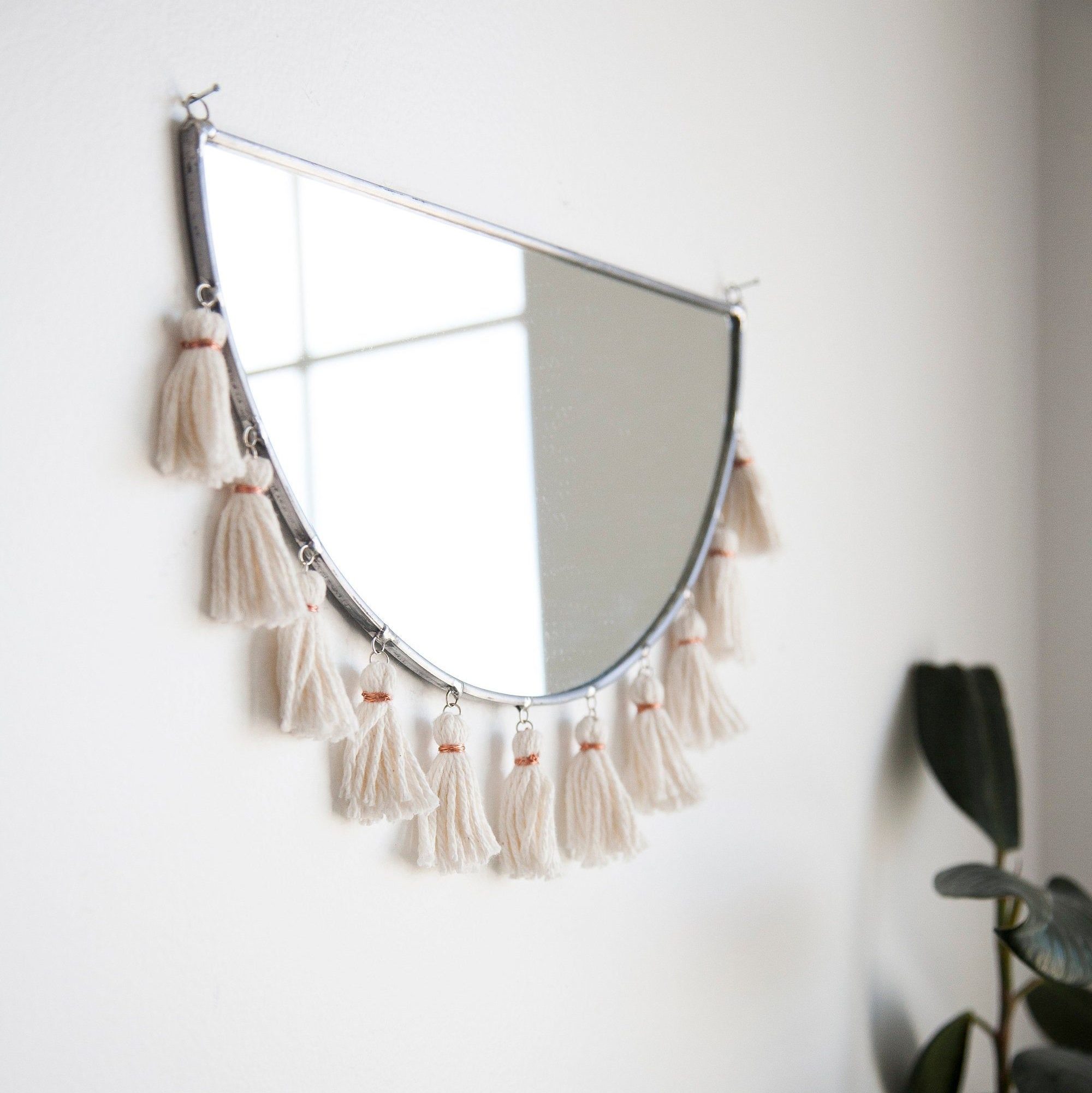 Opt for an original bedroom wall decor with hanging mirrors. The beautifying power of mirrors is no longer in question, but with a piece like this, the wall decoration of your room can only be successful. They will fit perfectly in a contemporary atmosphere and will enlarge the space by reflecting the light. Their practicality will also allow you to look at yourself as you walk in or walk out of your room. 
You can play with frame colours (like metallic gold, silver or bronze) and shapes (like oval or rectangle) to create a statement piece and sophisticated décor. This intimate and original wall styling combines pure aesthetics with functionality, bringing an extra mirror to your home. Let your imagination run wild and mix and match the styles, making sure that the heavy ones are properly secured. 
5. Play with Assorted posters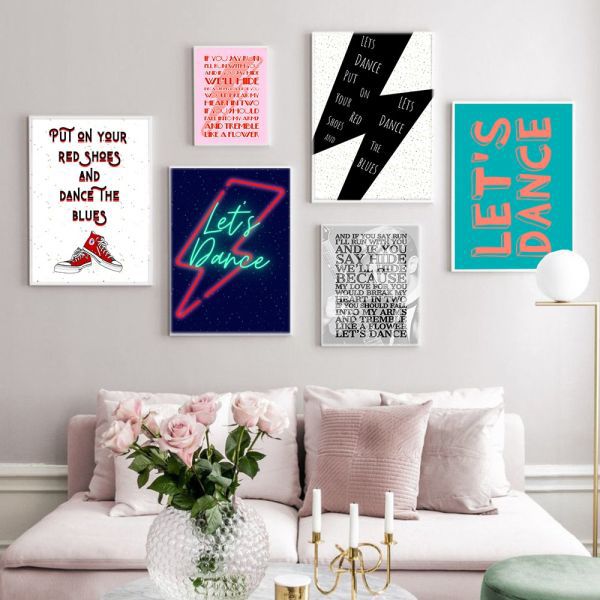 Keep it simple by choosing matching posters to hang on the wall without the need for frames. This wall decoration for the bedroom, although basic, will nevertheless require a nice harmony between the chosen pieces, so that a certain sophistication comes out of the selected themes and colours. The number one advantage of posters? It is very easy to change. So, you never get tired of your wall decoration!
Posters don't represent a trend but your personality. You choose the posters according to what speaks to you (like vintage posters, travel posters, fashion posters, etc. that have made an impression on you) and this set gives a completely unique decoration that makes sense in your bedroom. It's a very fun way to dress up a wall and it's infinitely adaptable. It's hard to get tired of it.
6. Try Square wall shelves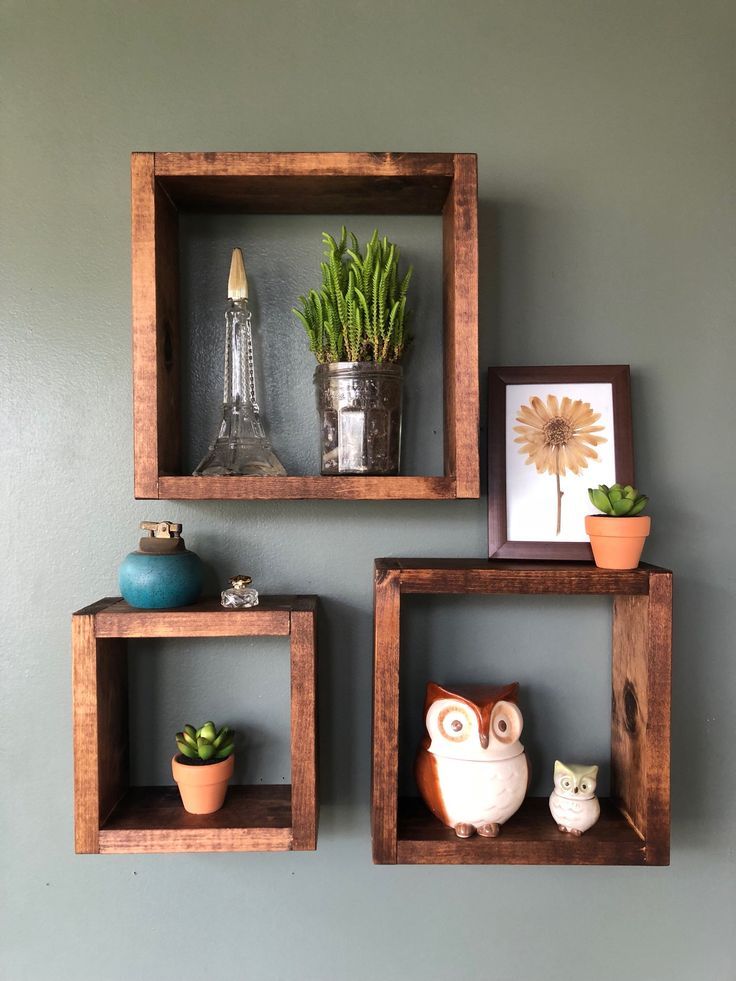 Want to bring a lot of lightness to your bedroom? Then square wall shelves are the best. Choosing shelves with rounded corners can soften the whole look and bring a minimalist effect and also an impression of not being hung on anything. The decorations placed on it will instantly stand out. The advantage of square wall shelves is that you can choose the number and size, and then assemble them as you wish.
To display your most precious knick-knacks or to keep your current book within reach, or to store your office accessories and also to display your favourite small decorative objects, these wooden shelves are ideal. This is a great combination of functional furniture and wall decoration for your bedroom. They can easily replace a bedside table in a small room.
7. Hang Dream Catchers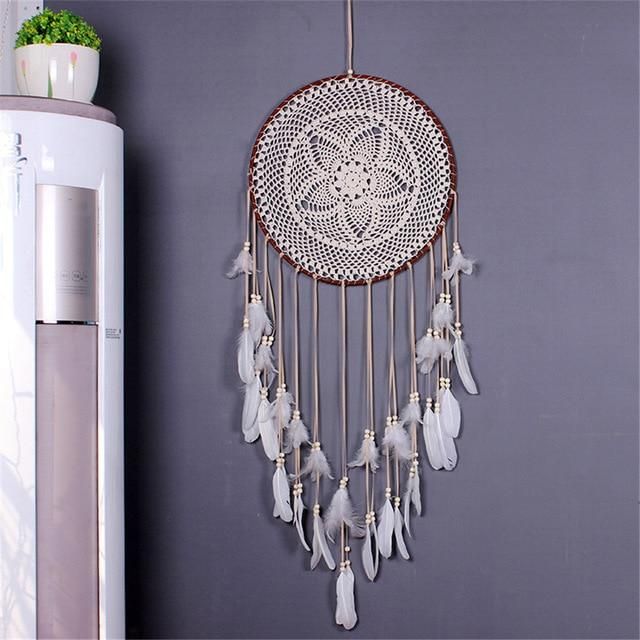 Natural and authentic, this dream catcher bedroom wall styling will bring real warmth to your interior walls. It will easily find its place above the bed for peaceful and serene nights. In Indian mythology, the dream catcher has the power to trap bad dreams to preserve sleep. It is therefore an ideal bedroom wall decoration to hang above the bed.
Dreamcatchers are available in a wide range of beautiful colours. In terms of choice, it's easy to get lost. The idea is to find a wall in a colour that contrasts with the colours of your dream catcher. For example, if you have chosen a darker shade of grey for your bedroom wall, you will need a dream catcher in white or lighter shades. On the other hand, if you have opted for a lighter shade of grey for your walls, then you will need to find a dream catcher with a darker colour to define the shape and pattern of your dream catcher.
8. Install a long headboard floating shelf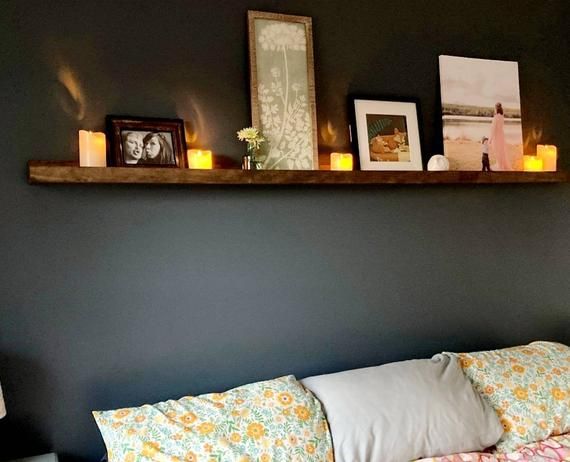 Complete your headboard with a large wooden floating shelf, which will create a beautiful wall decor in your bedroom. This simple, one-piece wooden wall shelf offers the possibility of creating a practical and decorative space. Its original length allows you to have a large space at your disposal.
Make it sturdy, so it can hold anything you wish. It can hold your favourite prints and photographs, some knick-knacks or, why not, your current reading material. Placed above the bed, it will perfectly complete the wall decoration of your bedroom. This shelf also gives a beautiful impression of harmony.
9. Style it with Wall Stickers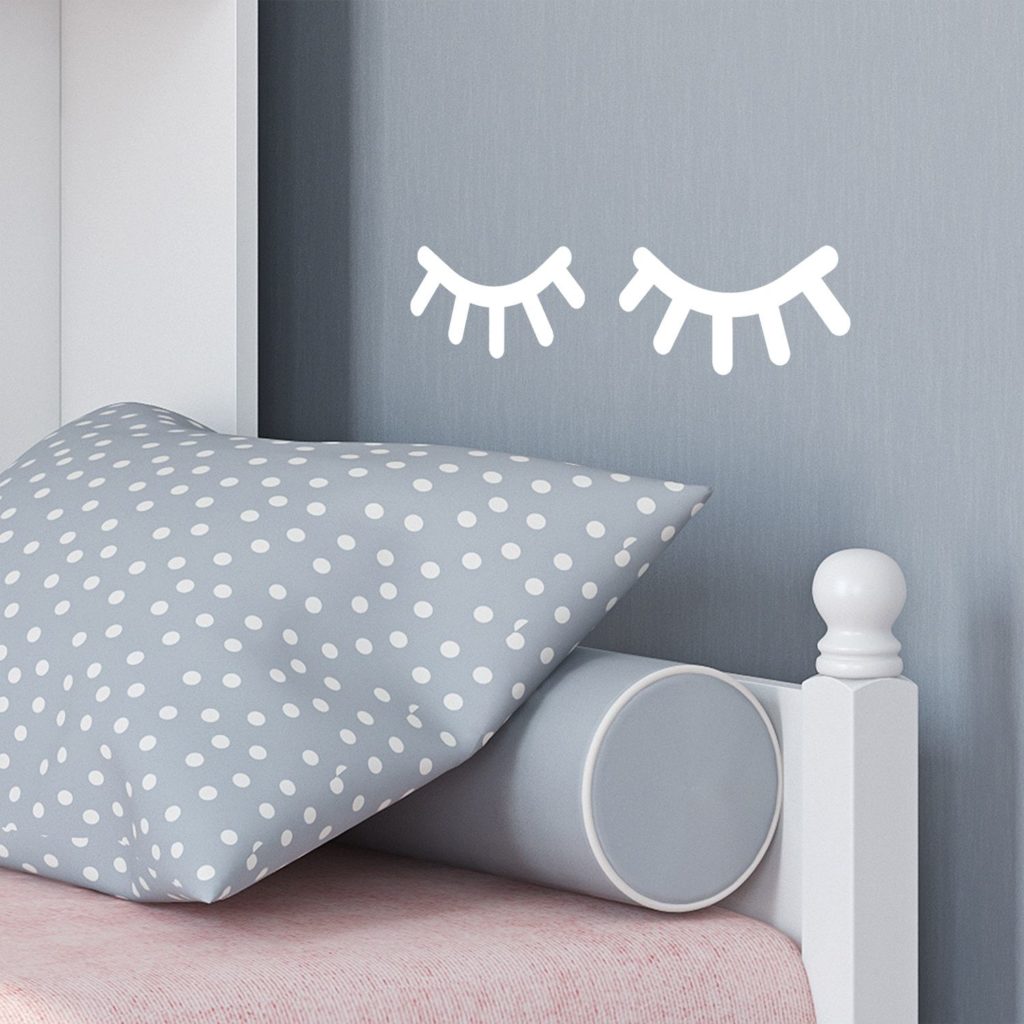 Want to style your bedroom walls without breaking the bank? Think of decorative wall stickers. They have become a very popular wall accessory these days. There are several types of stickers with different designs, styles and colours. And there is something for every age, every passion and every taste.
You can find a wide range of creative stickers and self-adhesive labels. You will have more freedom to personalise your stickers if you customise them. This is your chance to be original and make distinctive stickers with your photos or name, sayings and quotes, humorous characters or even portraits of your little family. You can also try stickers all in 3D for an added effect.
10. Use Wall-mounted Planters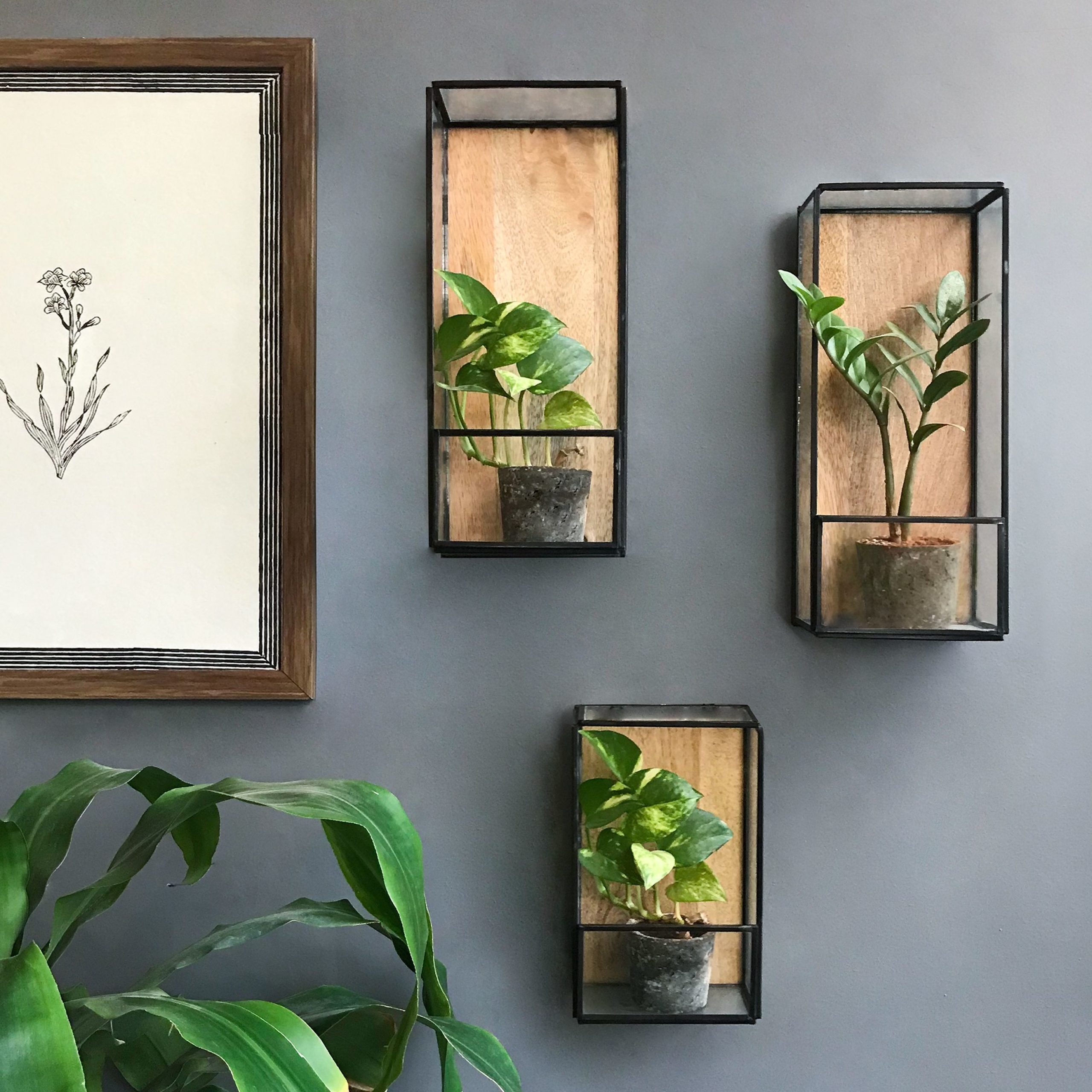 While living in an urban jungle, why can't we think of plants to dress up our homes? At the moment, plants are everywhere: on the floor, on the furniture, hanging from the ceiling… So why shouldn't they have a place on the wall? Of course, you have to find the right containers to protect your wall from the moisture of the soil and the plant. But it's a really nice way to bring life to your wall decoration.
Wall-mounted planters are also an advantage if you don't have a lot of space in your bedroom. House plants will totally enhance your interior and create a cool bubble in your bedroom. Be careful, plants must be chosen according to the exposure of your bedroom to sunlight. In order to combine styling with benefit, choose depolluting plants which, in addition to being beautiful, will work silently to purify the air you breathe.
11. Wow with a large-scale Art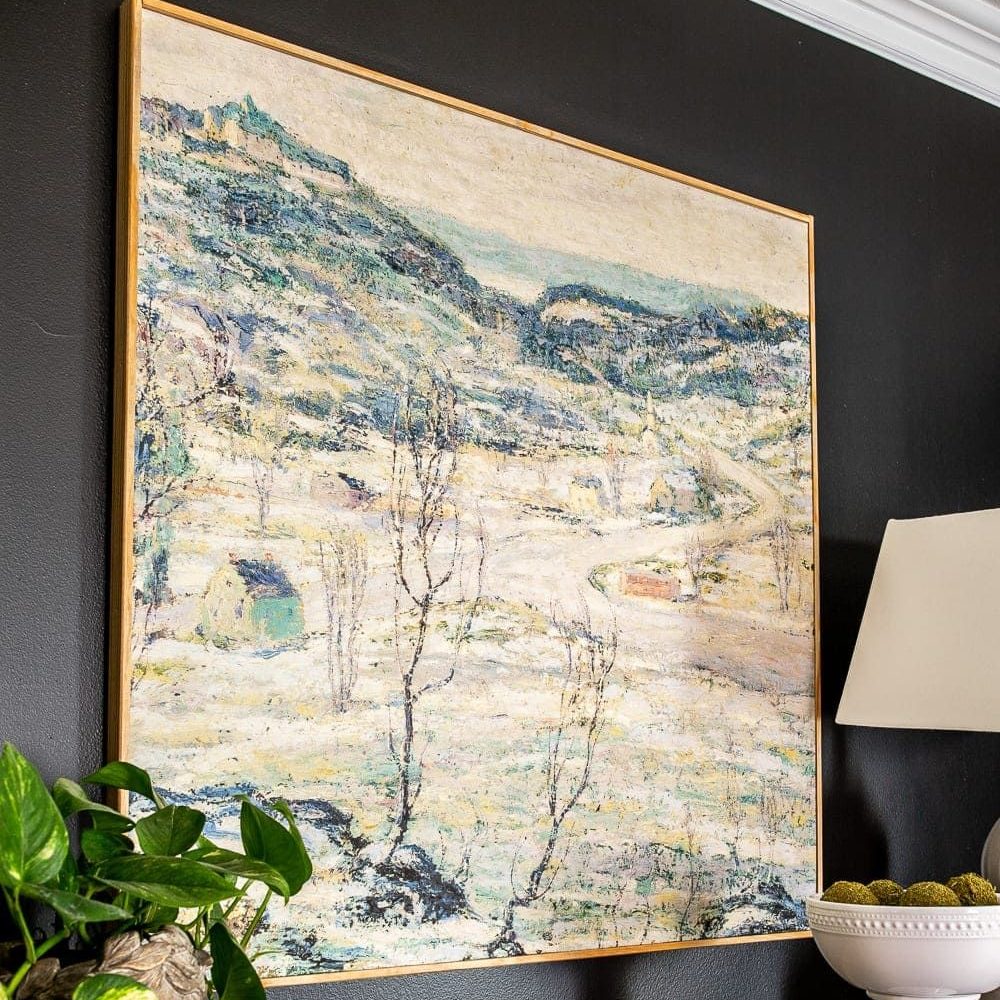 It is impossible to talk about wall styling or wall decoration without mentioning paintings. It is an object of art that crosses time and eras. In a bedroom, it brings sophistication without weighing down the aesthetic and can be the centrepiece of a decoration. Art also allows you to express your uniqueness. Often original, these statement pieces rejuvenate your decoration and give it a boost.
Avoid colour imbalance inside the bedroom by choosing the colours of the paintings to be reminiscent of the shades of the carpet or the curtains or vice versa. Care must be taken with its exposure to light. Choose its place of hanging correctly because without proper planning, you may end up making unnecessary holes and damaging your walls.
12. Hang Decorative Wall Plates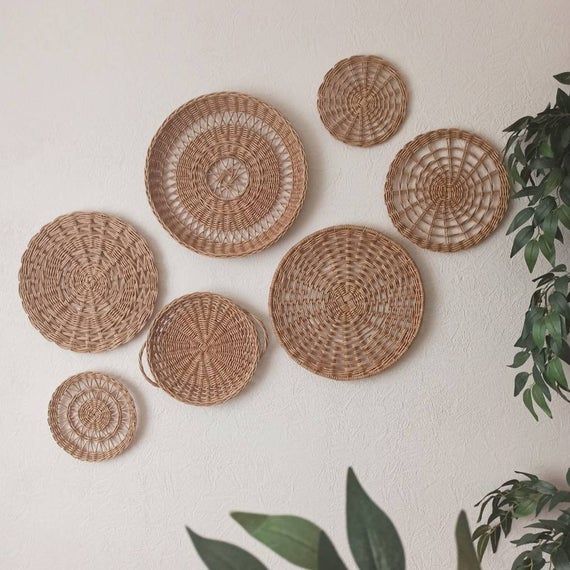 In recent times, we find plates coming out of the cupboards and getting diverted as decorative accessories in their own right. What's interesting is that it's easy to find them in good condition at a flea market and not to ruin yourself for the wall decoration. Practical and easy to obtain.
You can also keep them natural or have fun painting them to create a more dynamic effect on the wall. Above the bed or the bedside table, placed in a discreet pattern, they can add a fine wall decoration to your bedroom walls without overloading the room. You will give your interior a slightly retro look. A very trendy style of wall styling that allows a lot of freedom!
13. Add Antique wall sconces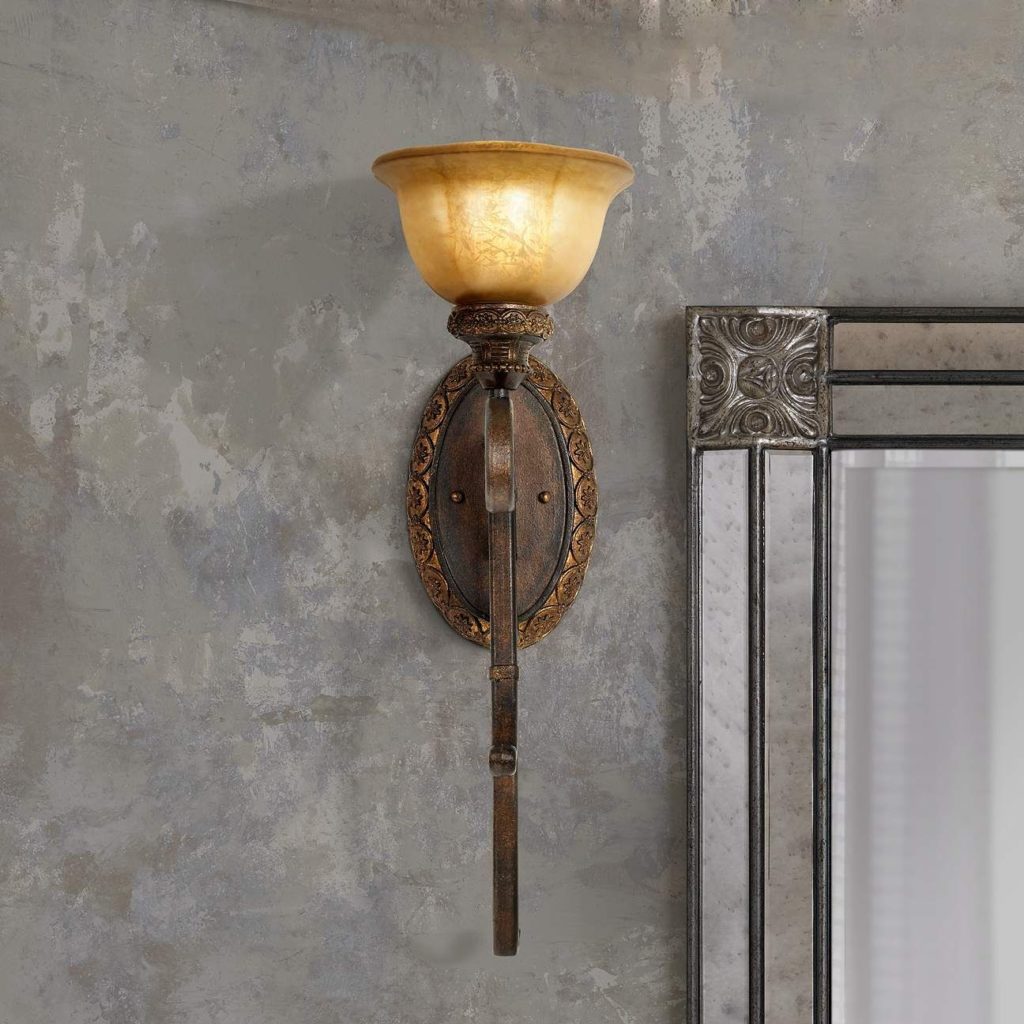 And yes! Vintage is very fashionable at the moment. This old-fashioned style, reminiscent of old rustic homes, can impress with its authentic charm and is very useful for styling. It can also fulfil its primary role and will not visually clutter the area around the bed.
You can fix the sconces above a picture, a photograph or any other element that you want to star and create a very trendy and warm decoration. The spotlight effect offers a little art gallery feel without overdoing it. Pay attention to the colour of the light and the nature of the bulb as they are the most important factors in creating a warm atmosphere inside your bedroom.
14. Display your interests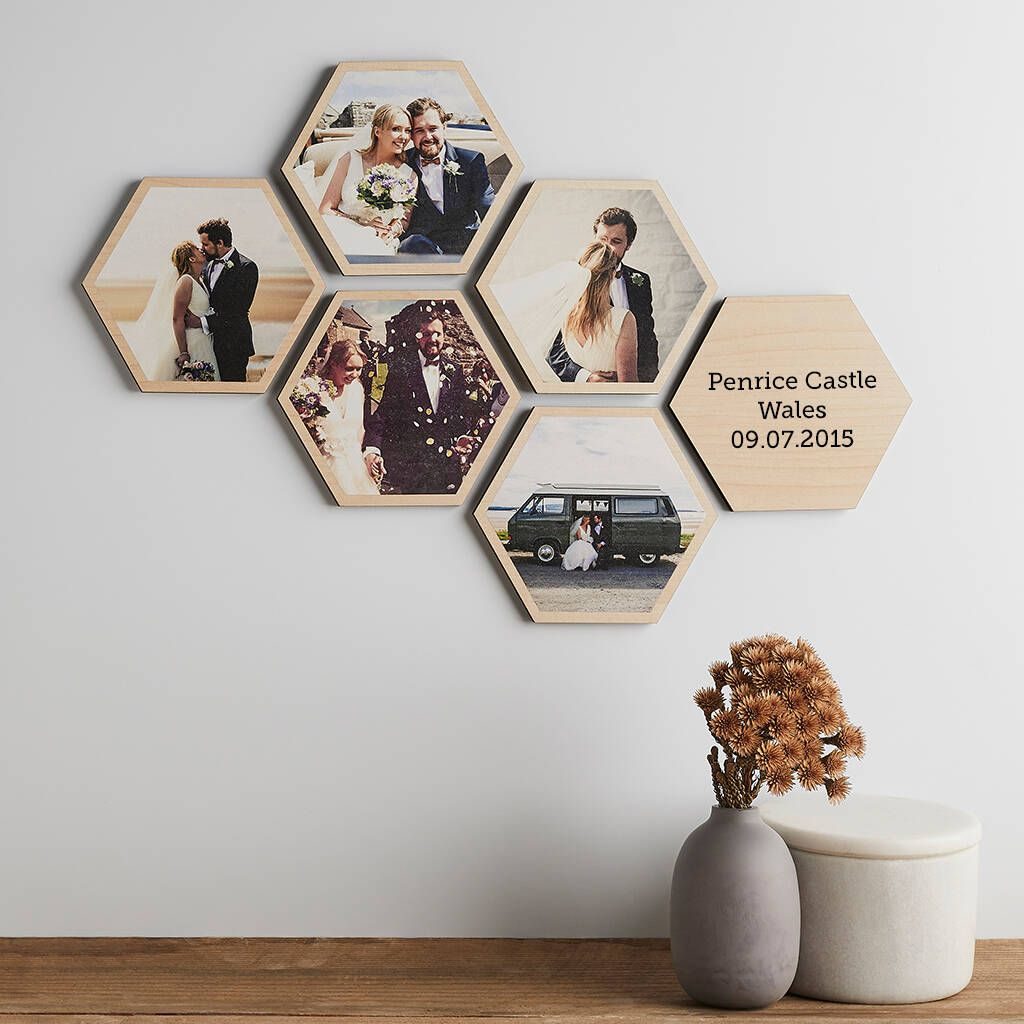 Are you a fan of cycling or board sports, or perhaps a musician? Display your passion on the walls by diverting your objects from their primary function. This has been a real trend in recent years on the walls of the most sophisticated interiors. A surfboard or a skateboard also guarantees a particularly successful result.
You can also hang a guitar or violin and watch the beauty of your instruments highlighted in this way! More than a décor, its presence will remind you to free up some time in your day to play. More effective than your reminders about the schedule! So, display your passions with pride! They will speak volumes about your aspirations!
15. Go for Pom Pom Garland with Photo Clips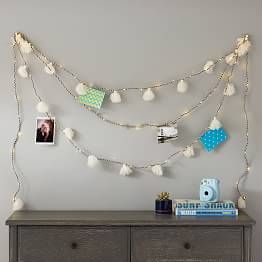 Do you know woollen pompons, widely used in the fashion world? They are also used in the world of decoration to brighten up the interior with their very "fluffy" side. And here again, the possibilities are endless. From bright or pastel shades to multicoloured or monochrome versions, the choice is yours.
You can hang them vertically or in any pattern to make great decor for unique and modern walls. Pair it with photo clips for they will nicely hold your beloved photographs and close-to-heart memories. With a series of subtle coloured pompons, you can give a soft and ethereal finish to your bedroom.
16. Hang up a few antique pieces
Instead of running to the pricey décor shop and billing everything on the shelf, why not turn to the antique pieces? Your weekend stroll to an antique store or local flea market will do. You can also bring your family's heirloom pieces back to life. Don't go overboard and moderation is often advised as creating a total look out of antiques will not achieve the desired contemporary effect.
One of the most famous elements that can easily find its place in your decoration is the jar for example. In the past, it was used as a container for water or other liquids. Now, it gives cachet to a room, and will bring to your interior a certain touch of royalty.
17. Build wall-to-wall floating shelves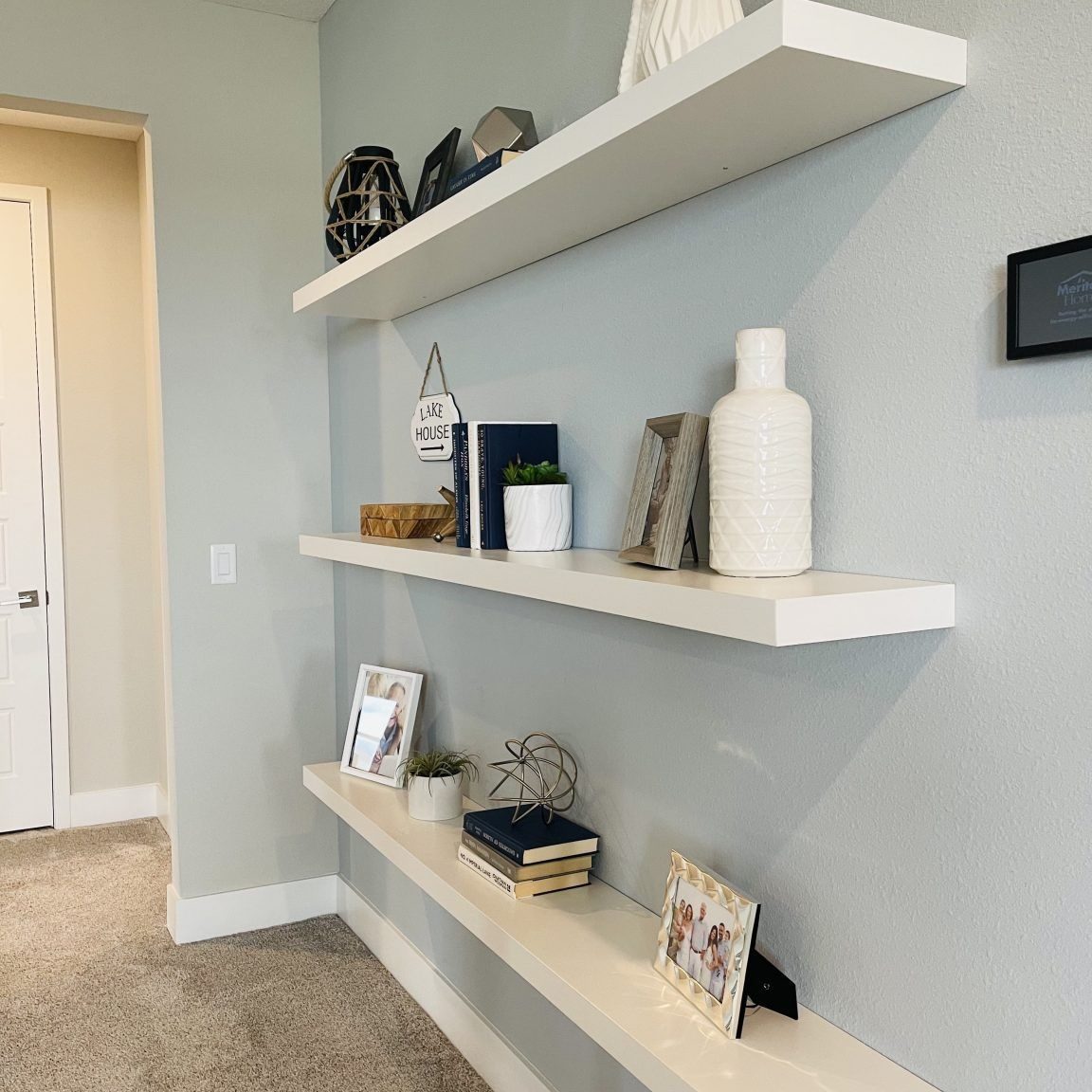 This is a sleek, stylish and functional idea! The whole set offers a stylish and elegant decor while providing a certain solidity. It is ideal for decorating a wall above a sideboard. This way you can also make the most of your vertical space. Fall in love with these shelves by creating contrasts between the light shades of the grey wall and the sparkling colours of the decorative objects.
Vases, candleholders, knick-knacks and frames are all objects that can enrich the wall decoration of your bedroom when they are harmoniously arranged on shelves. Vary their nature, while assembling them with a certain coherence in the chosen colours.
18. A corner bookcase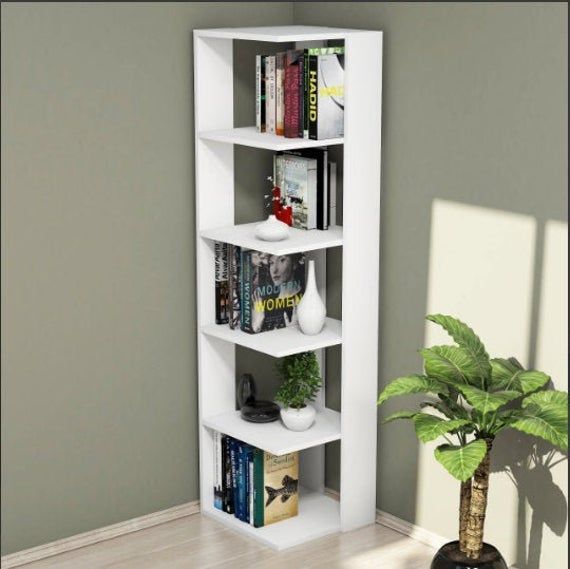 Once confined to its sole function of storage, the corner bookcase has become so popular in recent decades that it has become a must-have item of furniture and a modular decorative piece that can be adapted according to your desires. Take advantage of corners and unused spaces to install corner bookcases. This way, any innocuous corner can be easily transformed into a beautiful space to display your decorative objects.
The bookcase is the ultimate decorative and functional piece of furniture. It allows you to store books and magazines, as well as to display decorative objects and a series of frames. Choose a corner bookcase for an original bedroom wall decoration and to save space.
19. Try Light Strings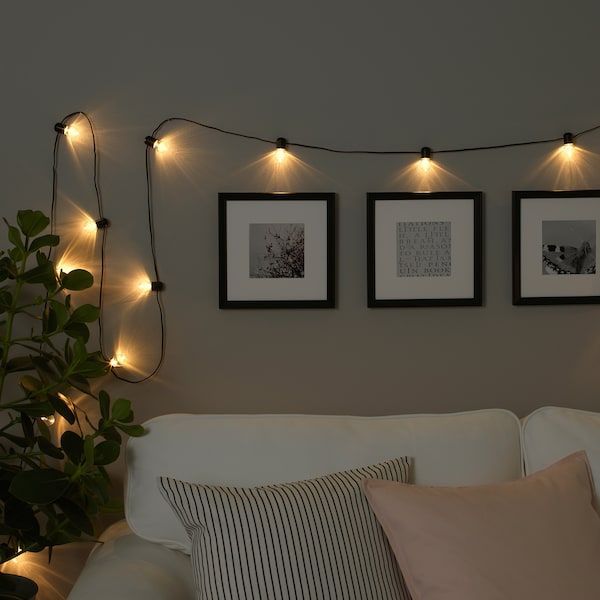 Bring a luminous wall decoration with a string of lights. The advantage of a string of lights is that they are an inexpensive and trendy way to decorate your bedroom. It is available in many colours and shapes. It can be short or very long. In other words, it offers infinite possibilities for decoration.
Once lit, this type of light creates a real enchantment. A magical, cocooning or warm atmosphere which you will love it. What type of lights should you choose? It's easy. You can find all styles, even for small budgets: bags of lights, star garlands, flake garlands, very discreet metal wires, etc.
20. Hang an accent Wall Clock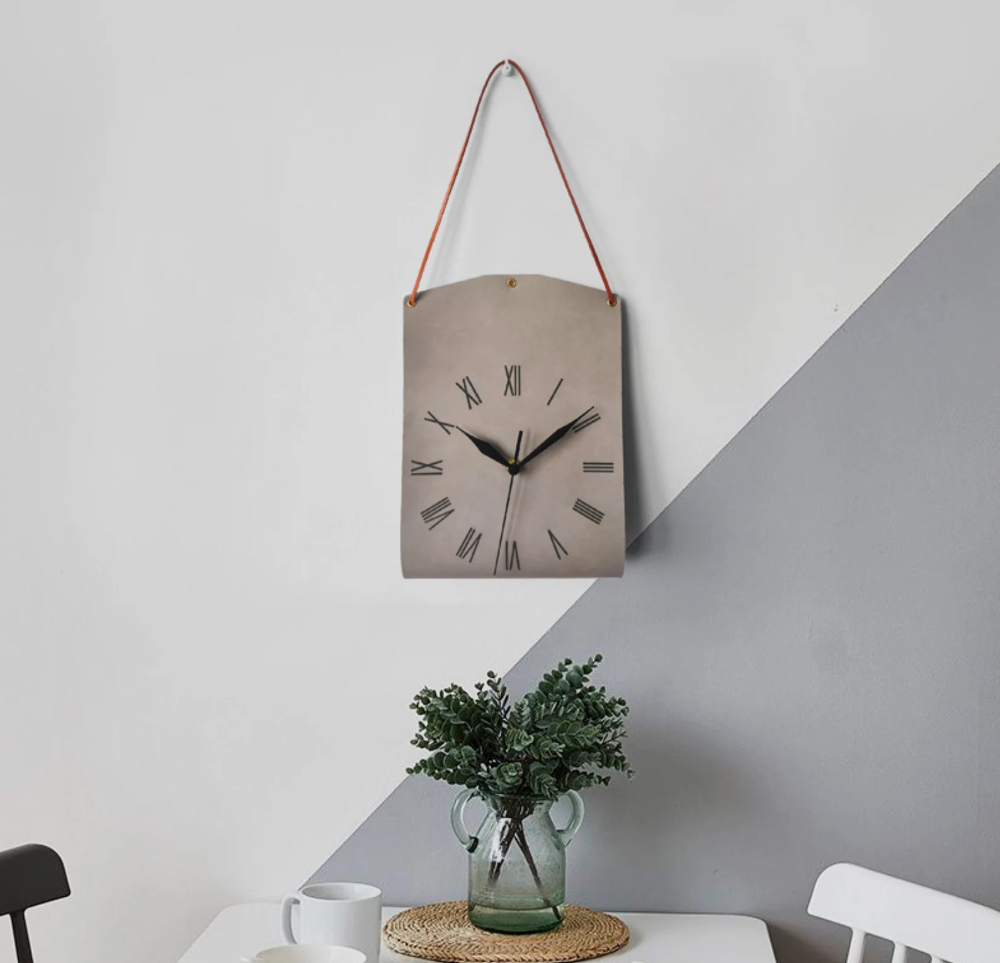 A common object in our homes – the wall clocks are being transformed. Today, its primary role has taken a back seat, as timers and electronic clocks are now present in many devices in the home, including our mobile phones and household appliances.
How to choose an accent wall clock? In recent years, we have seen an escalation of interest in mega wall clocks where they have simply the large hands and numbers (in different versions like Roman). To adopt a modern wall clock, choose them with more delicate lines. Shiny materials make a nice contrast with dark coloured grey walls. You will forget the primary function of your clock! And yet, it will tell you the time with panache.
A Pro Tip
While it is important to choose the right type of styling ideas for your walls, it is equally important to think about the paint! Paints have an unsuspected effect on the atmosphere of your bedroom and also on the impression of space. Choosing the right paint brand is the utmost requirement for this and that should be done in a well-thought-out manner.
You should take the time to examine the paint brands to make sure you find the right brand that best suits your expectations and the atmosphere you want to create. Wondering how to choose the right paint brand? To make it easier for you, we have done the research and come up with the top paint brands for the shade grey – all from the lightest to the darkest.
Asian Paints, Berger Paints, Nerolac Paints, Dulux Paints, Shalimar Paints, and Indigo Paints are the top picks with rich pigments, high covering power and a very high overall quality. It is very difficult to pick a particular one in this area, as these brands generally offer comparable quality. However, the best brands for the lighter shades of grey are generally Nerolac Paints, Dulux Paints and Asian Paints, while Indigo Paints and Berger Paints perform well for darker shades of grey.
Final Words
There is no shortage of ideas for prettying up your plain grey bedroom walls in style. You know, just adding a few decorative items to your walls is enough to bring a new look to your cocoon and make it even warmer and more welcoming. All that you require is finding a balance between a decoration that is too basic and one that is too busy.
With these ideas, are you ready to give your walls a new look? Don't hesitate to send us beautiful photos of your walls!
If you need advice on decorating, call on one of our interior designers at ZAD. We will be happy to listen to your request.