Bedroom Design Ideas
Are you stumped on how to set up the perfect bedroom space for you and your partner? Worry not, the possibilities are endless. Loading a few tricks on your sleeves and compromising on those clashing styles will help you set up your perfect love nest in no time.
Well, here you have it, 30 elegant bedroom design ideas for your shared space.
1. Improve your colour palette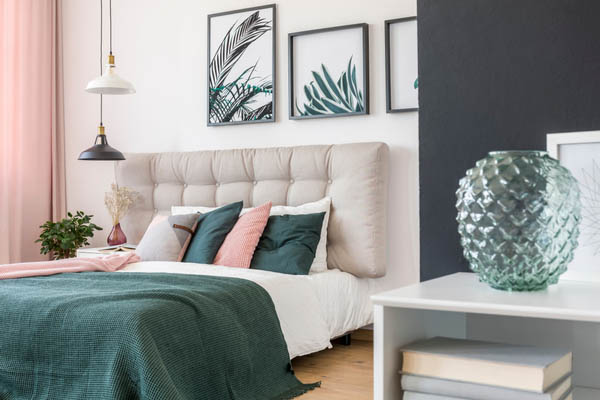 There's nothing a harmonious colour palette can't fix or deliver. From creating a soothing place to adding a romantic flair, colours can instantly perk up not only the look of the room but also how you and your partner feel when you are there in it. You can bring in one solid colour or mix and max different shades; or pick up fellow hues from the same colour family and paint three or four of them in harmony. And remember couple life is all about sharing, so along with your favourites focus on the colours that cling to your partner's heart too. If you love bold hues and your partner prefers lighter ones, why not combine them? When their choices are too dark or don't stick with your bedroom's style, use them as accents, not as the primary palette. It is advisable to go with warm shades and skip over the neon and other fluorescent colours. If you are planning to play safe with neutrals, be sure to bring in enough contrast.
2. Get creative with your bedside table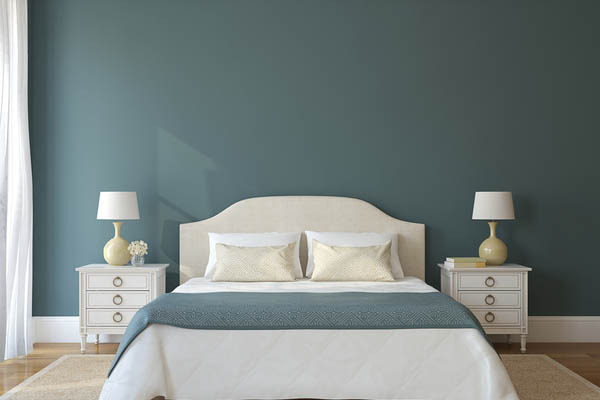 Bedside tables are more utilitarian than decorative. They hold your lamp, alarm clock, glass, books, mobile, and other essentials that you need to be close to your hands at night. To style your bedside table, it is important to start with the table itself. Pick a bedside table that has a chest of drawers at its bottom. This kind of table will work great because it has built-in storage to conceal your things, thus helping you maintain the top uncluttered. Remember, on its top, always less is best. Yes, let it not be a clutter magnet with all the unnecessary things that don't belong to it. Make space for only a few essentials like the lamp, glass, and mobile phone, and keep it free of clutter. A family photo with a simple and elegant frame will be a great addition to your bedside table. Place the frame by resting it against the wall, no hammering or hitting required.
3. Pack it all in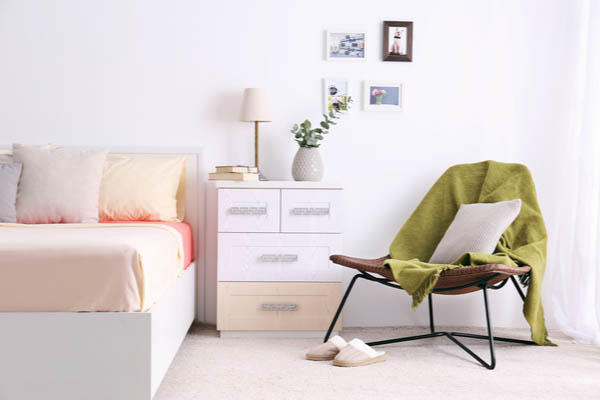 Don't let those clutters take over your space. Although the "throw it out" approach may not always work, "pack it in" will definitely help. Closets and cabinets are the first go for option in terms of storage. However, besides it, you can install hidden storages everywhere possible in your bedroom to tuck in all those items that don't want to be seen out and kept out of sight. The hidden storage can be under your bed, behind your mirror, or within any secret compartment that has got a decent amount of space to hold your stuff in. With such storage, you can hide almost everything from spare bed-sheets to out of season clothes.
4. Bring in sunlight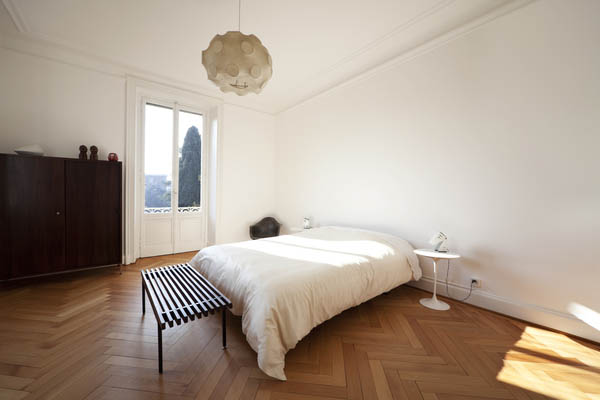 Sunlight is a must-have feature – for the reason of not only making your room brighter but also improving your mood and wellbeing by favouring a better quality of life. If your bedroom bears a large window, make the best use of it and allow abundant levels of sunlight to beam in. You can also roll some bright paint on the walls, hang more mirrors, and introduce glossy and shiny surfaces as much as possible inside your bedroom – these techniques will flood your space with ample sunlight through a simple process of reflection. In addition to it, clean the glass of your window often – both in and out – so that the dirt lying there doesn't block the light rays from beaming in.
5. Add a bedside lamp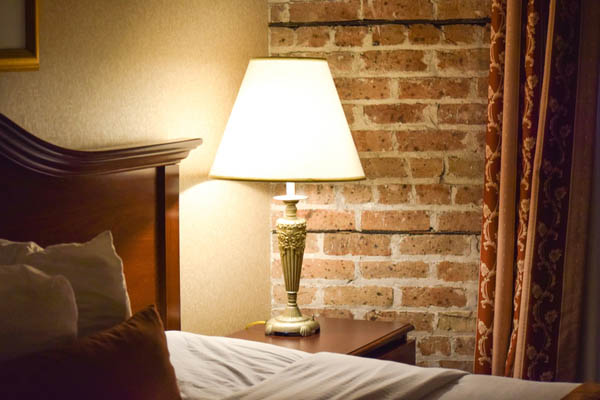 A lamp never fails to add a dose of charm to the bedroom. More often than not, without it, a nightstand or bedside table looks absolutely incomplete; at times the entire bedroom too. It is to note that the styles and designs are wide for bedside lamps, each adding a different look and value to the room. This might get you thinking about how to choose the right one and what to look for when shopping for it. Here are some tips to guide you. Start with its height. Determine the height of the lamp by considering the height of the nightstand on which it sits. The general norm is the taller the nightstand, the shorter the lamp. Next, think about its style. Choose a style which works well with the style of your bedroom; going hand in hand without drifting away. Then, figure out its width. The wider the nightstand is, the wider the lamp has to be. Finally, it's count. Since it is a couple bedroom, it's better to choose two bedside lamps, one on each side of your bed to give better illumination to both you and your partner.
6. Don't match too much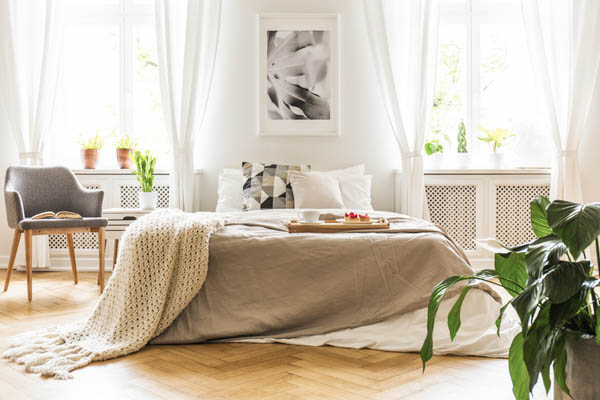 "Match everything" is an old fashioned idea that the world of decorating has thrown out a long back. Today the vogue is to mix and match; it can make your space look fresh and extravagant. That being said, how can you pull off mix and match décor in your bedroom? Though it seems like a challenging business, actually it's not that hard. Just pick everything distinct with a similar feel; it can be the colours on the wall, patterns on the rug, textures on the floor or prints on the lounge. But don't ever get into the misconception that tossing a bunch of stuff that doesn't match together will help you in bringing off the Mix and Match style. The stuff you choose should pair well with each other creating a sense of harmony and cohesion, without disturbing the visual balance and visual interest.
7. Add a Quilt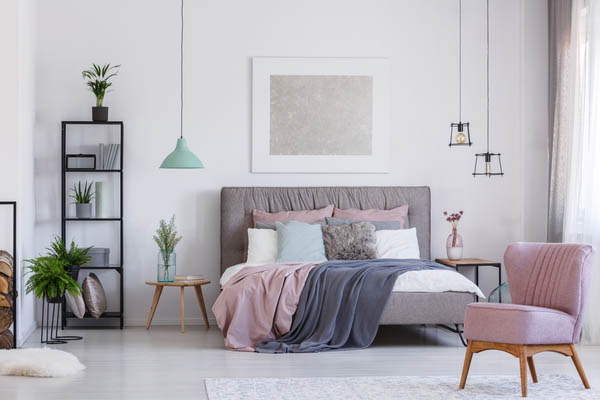 Sometimes, a simple addition is what all you need for creating the bedroom of your dreams. One such addition can be a quilt. What is a quilt? Is it just another blanket on your bed? No. Besides dressing your bed, providing you warmth and comfort, a quilt is a key player in styling your bed and its room. Yes, by throwing a quilt on your bed, you can effortlessly make a style statement. If you are planning to pick a quilt to top your bed, take note of its size and make sure it is large enough to fit the size of your bed. A perfect quilt is the one which is a few inches wider and longer than the bed, hanging over the edges of the mattress by completely covering its sides (without dragging on the floor). Remember if you don't pick the quilt of the right size, you might end up playing tug of war with your partner. Besides size, your quilt also needs your attention on its colour, pattern, fabric, and contrasts to complement and credit its overall look and make for a more interesting and cosy element.
8. Decorate your floating shelves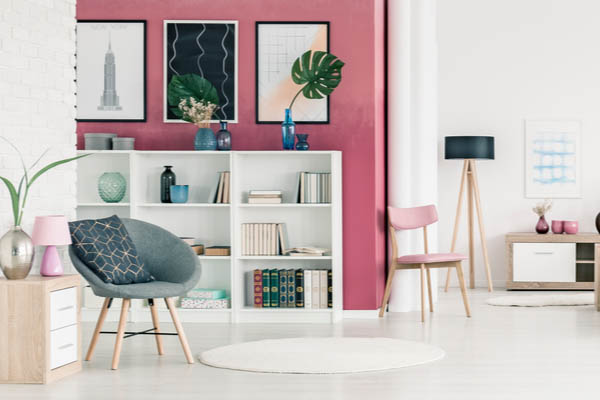 Floating shelves are perfect space extenders but forgetting to decorate it is a common mistake. When you decorate them, they will not only do their job in style but also reward your bedroom with an awesome look. Sometimes it's not always what you put on your shelf, but the shelf itself. First and foremost, get rid of those boring straight shelves; have fun with their shapes and angles and group them according to their sizes. Shelves were practically invented for putting things on, but this reason need not freeze you from styling it. Some easy ways to style your shelves are: Arranging the shelves with solid coloured items and grouping the like coloured items together; displaying your favourite books, collectibles and photographs; shelving the items by type – like books on one level, frames on next, etc.
9. Create a Seating Area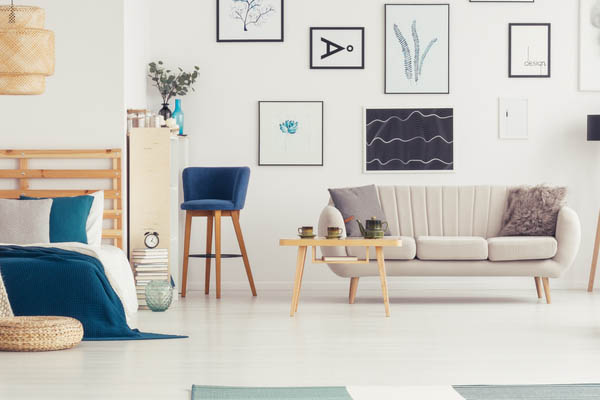 Why not create a seating area in your space where you and your partner can enjoy a cup of coffee or pass some leisure time together chit chatting about everyday happenings!? Seems to be a great idea, isn't it? Adding a stylish couch or a couple of chairs, at the foot of your bed or in the corner of your room or in empty spaces next to the windows, is the ideal way to incorporate a plush seating area in your bedroom and create a serene spot where you both can sit down and relax peacefully. By featuring a stylish rug and a couple of floral cushions or decorative pillows, you can make this area even more inviting and pleasing. You can also compliment your seating area by adding foot rests, lounge or a table for two.
10. Pay attention to the floor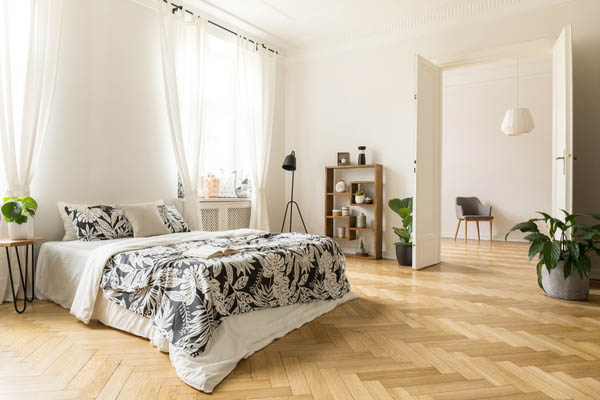 Your floor is the highly visible element in your bedroom. What you choose to design and decorate it will completely change the look and feel of your space. You can introduce beautiful colours, unique patterns, rich textures, and grand styles to beautify your floor by clearly considering your tastes and preferences. Before deciding to add decorative elements to highlight your floor, make sure it is in good condition to withstand all kinds of loads and pressures. Most importantly don't compromise on durability for style. As you put your floor through a lot, making durable choices, by understanding how long it will last, is an inevitable step in the journey of creating beautiful floors.
11. Monitor your pillow population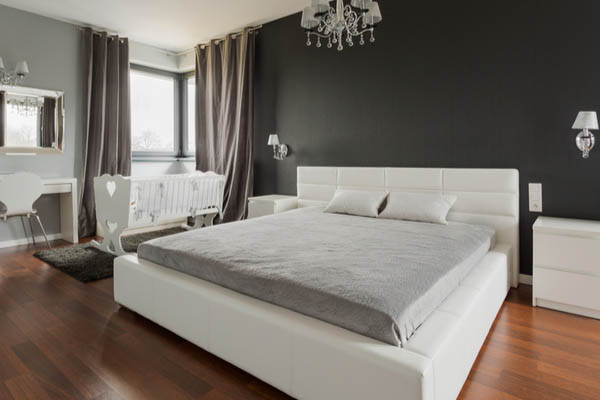 Do you have the habit of stacking too many pillows on your bed? Well, it's time to reconsider. High numbers create a mess and make your bed look cluttered. You can go for a count that is reasonable and get rid of too many. That being said, you might probably put forth the question of "How many is too many?" The answer is the number that makes your bed look crowded. To figure out the excess numbers, sit for a discussion about what to keep versus what to get rid of, with your partner. Chuck out the ones that hurt your neck and the ones that are too old and keep the ones that work for you, that match your décor, and that you truly love; just undo the extras. Your ultimate goal should be making your bed open and welcoming as much as possible and not allowing your pillows to take up your partner's place.
12. Add an eye-catching chandelier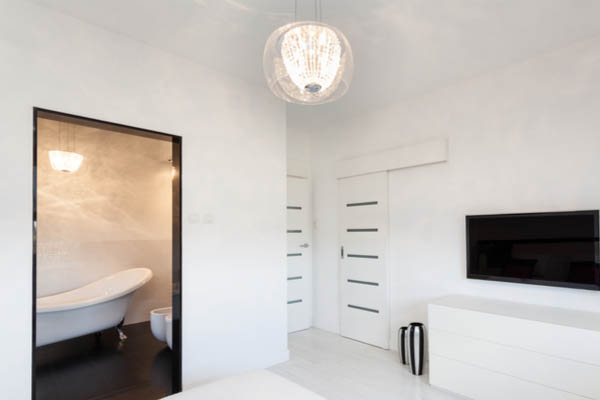 Gone are the days when chandeliers are reserved only for formal spaces, dining rooms, and grand entrances. These days, chandeliers can grace any four-walled area including your bedroom. Functionally, a chandelier will illuminate your bedroom; decoratively, it will elevate your interiors. These days, there are seemingly endless varieties of chandeliers available in the market with significant differences in size, shape, colour, material, and also cost. Before stepping out for your shopping journey, don't fail to measure the height of your ceiling. This is much needed because the height of your ceiling decides the length of your chandelier. The taller the ceiling, the longer the length of the chandelier has to be. If your ceilings are unusually low, you might need a shorter one. Upon deciding the height, you can opt for a chandelier that strikes your fancy and budget. When mounting it, make sure there is enough clearance beneath the fixture for you to walk under it freely, thus avoiding the bumping accidents when moving around.
13. Shuffle your furniture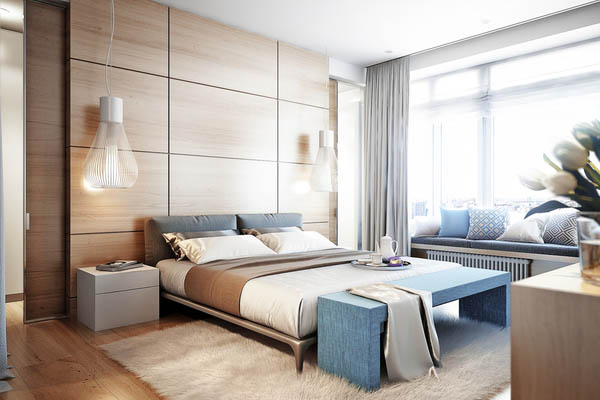 Start with your bed, because it is the largest furniture piece your bedroom holds. Place it in a spot that makes the most sense; not at a spot which just satisfies your design perspective. Next would be the second biggest furniture pieces, maybe your table or lounge. Put them in the right spot by figuring out what works best for you, your bedroom, and the furniture piece itself. In the same way, rearrange the remaining furniture pieces, going from bigger to smaller ones. While shuffling, take into consideration both the functionality of each piece and the layout of your bedroom. An ideal furniture arrangement is one which maximises both the space and function of your bedroom without sacrificing the style.
14. Tuck in some candles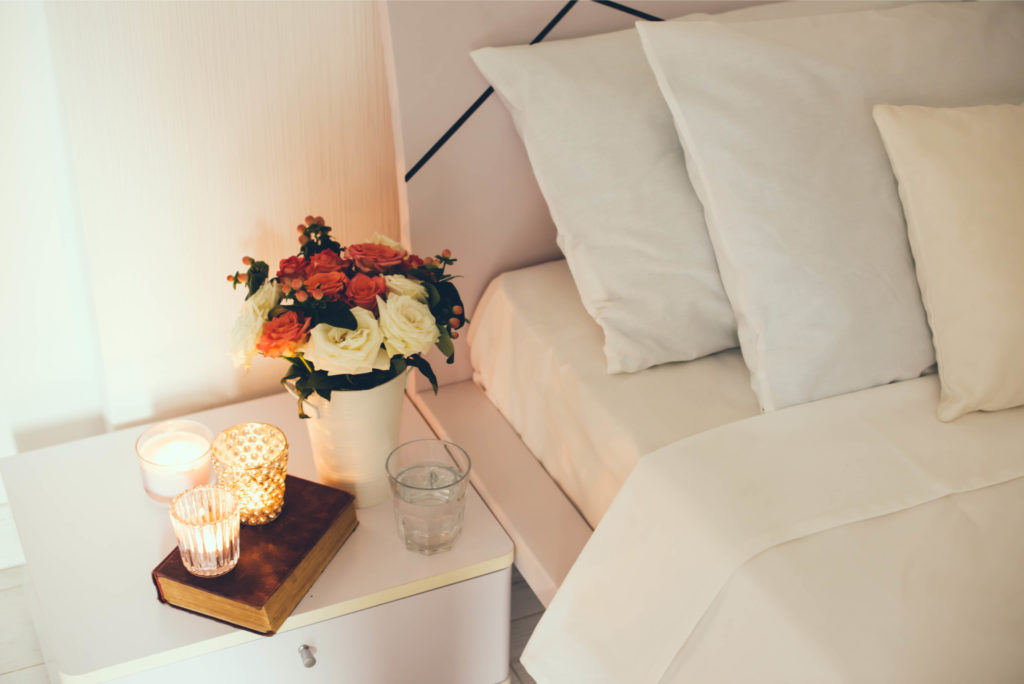 Nothing says romance as good as candles. But modern bedrooms are badly missing it. Candles have to be definitely welcomed into your bedroom for the reason of warming up the energy around you and helping release daily stress. They also improve the quality of air inside your room and bring you a lot of health benefits, if chosen to be natural and non-toxic. Besides this, these gorgeous adornments can smell as good as they look with various scents like Rose, Lavender, Lilac, Sandalwood, etc. While choosing one, just be mindful of its aroma intensity; because too much can trigger a headache. To add a pinch of decorative touch, try using candle holders that are ornate and fancily decorated; if not simply put the candle inside a glass jar and wrap it with fine lace. For a safe atmosphere, it is always good to go for flameless candles that do not pose any threat of fire, smoke, and other hazards.
15. Add texture to your walls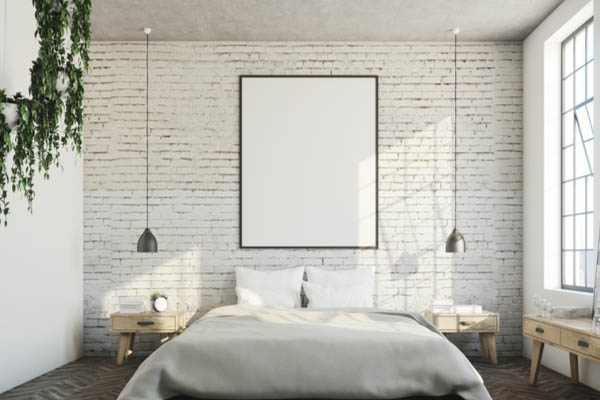 Undecorated walls are often the biggest distraction a room can have. To add a decorative effect, you can give your walls a texture of some kind, either using wallpaper or textured paint. Textures can be smooth or rough. The smooth texture is slightly light and offers a subtle effect; rough ones the opposite. Texturing not only helps to increase the visual interest of your room but also covers and conceals the minor flaws like scrapes and other marks on your walls. So, if you have a completely flat wall or plainly painted wall that is dull and boring, don't spend much time thinking about how to make it look interesting, just raise the textures.
16. Bring the outdoors in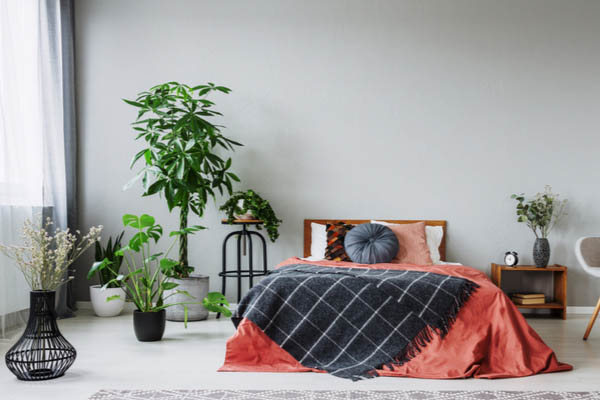 It is no surprise that homes embracing the outdoor elements are high on freshness and calmness. Growing house plants is the obvious way of bringing the outdoors in, but it is not the only way. Some easy and excellent ways to bring in the outdoors are: Bringing in natural fibres like hemp, jute, etc. in your furniture, basket, rugs, etc.; Using colours like green, blue, yellow, etc. (that are inspired by the outdoors) on your walls, bedding, etc.; installing natural flooring instead of man-made flooring; including natural items like rocks, seashells, wood, jars of beach sand, etc. in your décor. Many couples find their romantic inspiration outdoors and that's the reason natural elements have always been a part of their lives. How about you?
17. Create a gorgeous gallery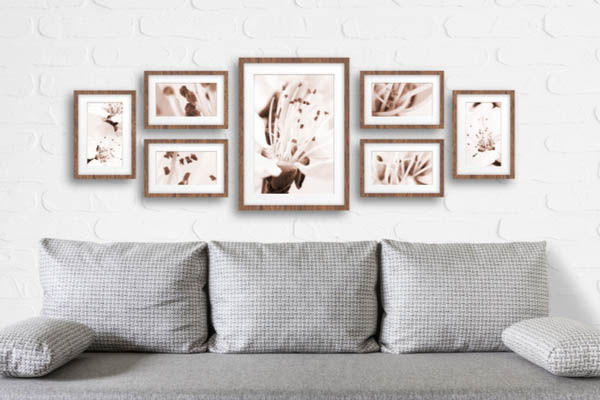 We know both your smartphones are packed with lovely photos. Why don't you get them out of your phones and put them on your walls?! This will not only decorate your walls but also add life to your bedroom. To create a gorgeous gallery, pick your favourite photos which make you smile and get them printed and framed. Don't forget to include those pleasant candids from your wedding, recent trips, and family gatherings – all laughing, dancing, and enjoying. When you hang and display a bunch of them on the wall, you will create a special atmosphere that is loaded with sweet and fond memories. Here are some tips for a better display: Don't go plain, pick a theme; group similar colour profiles together or go all black and white; match the frame styles; mix and match the shapes. Most importantly go for easy hanging frames that allow you to swap in new photos when you are coming up with new moments printed.
18. Customise your headboard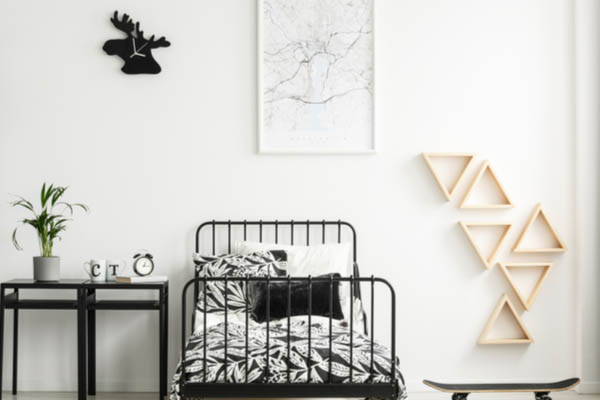 Don't let your headboard be just a backdrop for your bed; customize it to make a major style statement inside your bedroom. You can pattern it with different shapes, drape it with soft fabrics, or colour it with soothing hues to make a big impact. Also, try creating a mini gallery on your headboard for displaying your favourite photos and pictures that are close to your hearts. There is also an option for adding floating shelves which will help you to store and display your treasured collectibles, both at the same time. When opting for shelves, make sure they don't get laden with filths like dirt and dust particles, because they can pull down the charm your headboard effortlessly brings.
19. Create a Focal Point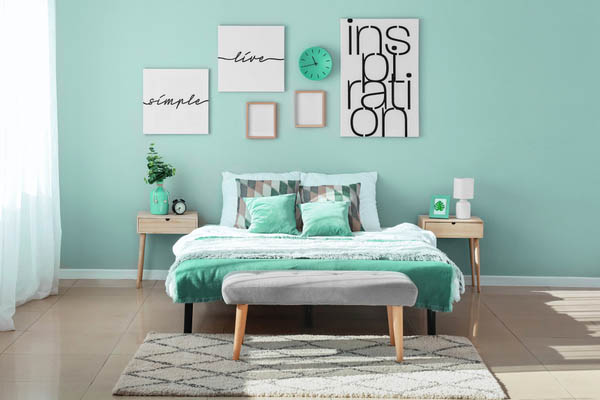 What is a focal point? It is something which is interesting to look at. It can be an architectural feature, a big artwork, a piece of furniture, or a framed mirror. For creating a focal point, it is always good to choose the first thing on which your eye lands while walking into your room; another way is to pick the biggest item that your bedroom features. Once you have determined what will serve as the focal point, the next job is to figure out how to highlight it. You can accomplish it easily by adding accent lighting, mounting stylish frames or by painting the spot a different colour. Some common mistakes to be avoided are: Don't let the focal point dominate your bedroom; it should be in harmony with other features of the room. Avoid too many focal points; it is good to have one and a second if necessary.
20. Hang Curtains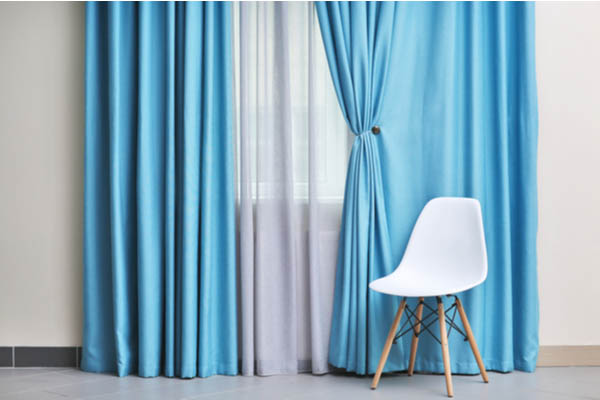 Curtains are always the fascinating point of attraction in any room. Hanging them will help your bedroom breathe personality and magnetism – but only when chosen well – with everything perfect right from the colour to fabric. This may get you thinking about how to get the curtain game right by finding the most perfect in all ways. Well, here are a few quick tips: Choose a durable fabric if your room is too sunny, thick fabric if the room is too lit, long lengths if the ceiling is low. And choose colours that will complement the existing colour scheme of the room, select patterns that will energize the room with positive vibes, create contrasts that will make it stand out from the rest. Most importantly choose the ones that cater to your tastes and preferences. The addition of a complimentary header will jazz up the look of your curtains and can also bring up the perfect pleat.
21. Don't forget a mirror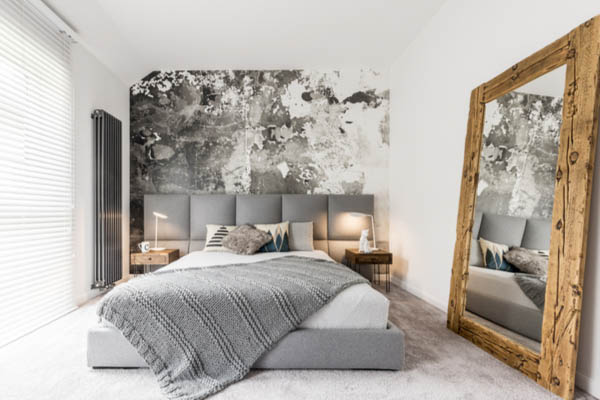 Mirrors are the magical tools that add instant glamour and style to a room the moment they are hung or placed inside it. The best trick to get most out of your mirrors is knowing how to pick the right ones and how to incorporate them appropriately into your bedroom décor. Not every mirror should be chosen rectangle or oval – some can be hexagon, octagon or any geometric shape that can make bold statements of fashion and style. And don't place your mirrors always on your closet door, consider multiple locations – put it opposite your window, over your bed, next to the door, etc. Go for varied frames – with ornate detailing or mouldings, carved out of wood or plastic or even just sleek ones without frames. Besides decorative mirrors, a purely functional full-length mirror is a must for your bedroom for the purpose of turning to it and checking yourselves before you dash out to your works.
22. Bring on some Patterns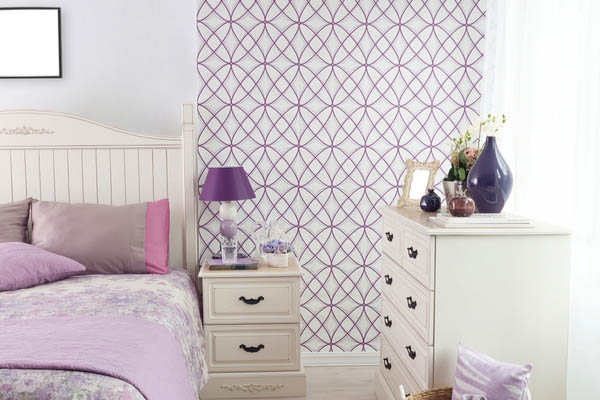 Stripes, florals, plaids, polka dots or abstracts – no matter what the pattern is – bringing it inside your bedroom can make it look gorgeous. It can be on your walls, rugs, bed-sheets, curtains, or else where you find it appropriate. To be at merry with your patterns, mix and match them suitably. Just follow the general rule of thumb: stick to similar tones, vary the scale of the patterns, pay attention to balance, pick everything in the same family because too much contrast can hurt your eyes. They say a combination of three (generally odd numbers) is a healthy mix and doesn't make your room feel chaotic.
23. Add ceiling décor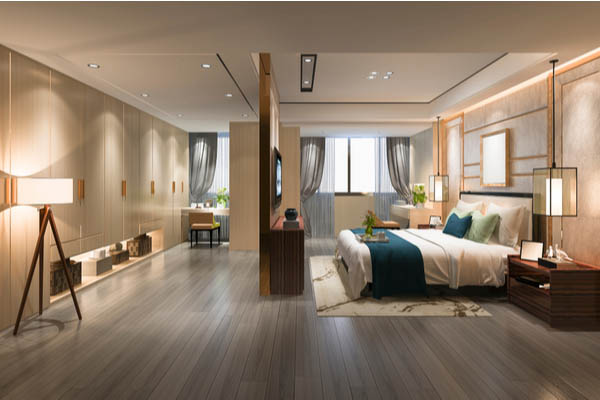 Yes, look up; you have got another wall to decorate!! Do you know how much difference it can make? Definitely, more than you think! Giving it a brand new look will take your bedroom from boring to fascinating. Some great ideas to upgrade your ceiling are: Adding molding, adding texture, installing wallpapers, adding a pop of colour, getting architectural add-ons like boxed beams, and panelling it with wood, painting it with murals, etc. Hanging decorative lights like chandeliers and other accessories can also add more colour and life to your ceiling. If you have got low ceilings, finding long curtains and affixing it to your ceiling (or close to it) can help create a taller look to your ceiling.
24. Add colourful Throw Pillows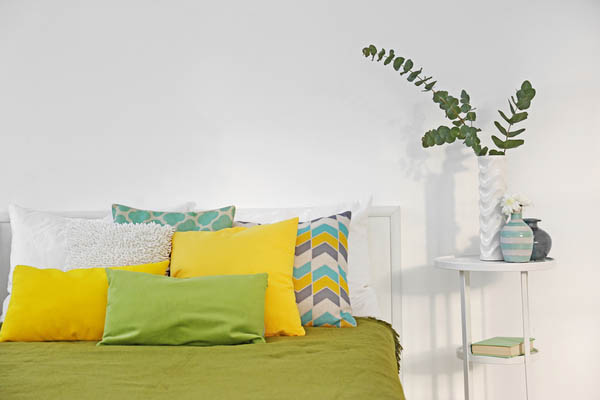 Adding throw pillows can help your bedroom seating area achieve a thoroughly grown-up look. Besides it, this addition will also help you to get all the support and comfort that you deserve while enjoying some leisure time together. To start with pick an odd number of pillows consisting of a mixture of patterns, styles, textures, and colours – with a unifying aspect without deviating much from the theme of the room. Also, don't forget to consider their fills because the type of fill with which they are stuffed will decide their appearance by holding their shapes. Finally, let no two pillows be alike; if possible get some spare ones and change them once every week to show varieties.
25. Spread rugs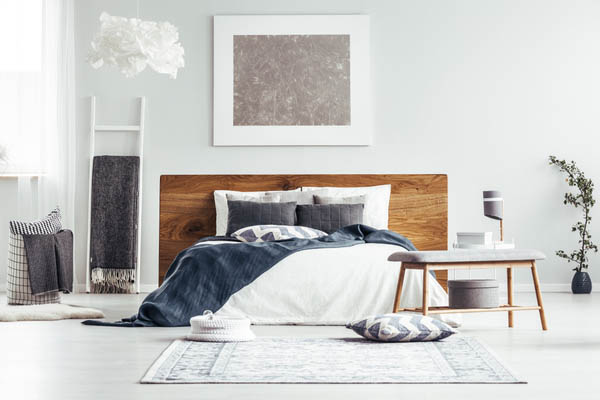 Won't you love it when your bedroom features something that looks good for your eyes and feels great on your feet? Yes, it's nothing but a super-soft rug. Choose a rug that is neither too small nor too big so it doesn't throw your space off balance. Try leaving a few inches of bare floor between the edges of the rug and the walls of the room for a perfect balance. When it comes to choosing the colour, pattern and style of your rug, pick something that works well with the existing elements in the room by finding mild similarities and interesting contrasts. If chosen well, a rug can effectively radiate the richness and uniqueness of your bedroom and make it look even more magical by casting a warm look.
26. Add Artworks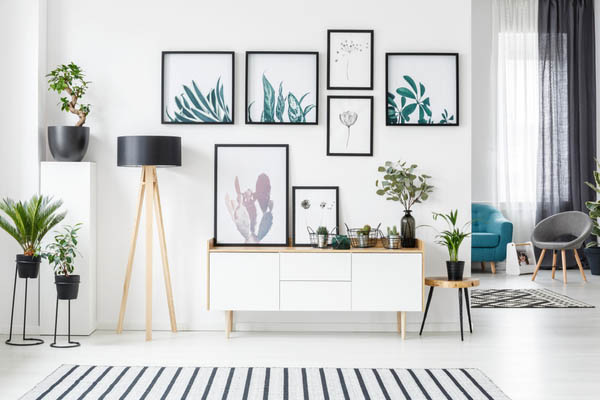 Decorating your walls with artwork is another great way to liven up your space. Always it need not be a classy painting; art of any form which is meaningful and pleasant can make for a great addition to your bedroom. Choose works that represent your likes and dislikes clearly, that make you both feel connected to your bedroom space, and that stirs you to spend more time in your room. Also, look for something that commemorates your time together as a couple – like a map with pins of places you have travelled together or cards and pictures that are close to your hearts. If you are hanging your art above the bed or any other furniture, make sure the bottom edge of the frame is a few inches above the furniture ensuring separation. You can also add accent lights or track lights to highlight the added artwork and maximize its impact.
27. Separate the areas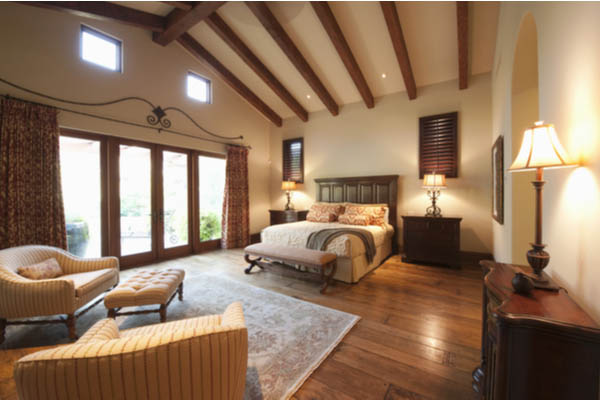 Though open spaces are gaining momentum, separated spaces with designated functions can make a room more flexible and chic. The simplest and quickest ways to separate the areas in your bedroom are: throwing different coloured rugs, installing thin and open walls, hanging some sheer curtains, using distinctive lighting, and painting the walls with different colours. It is better not to separate your areas randomly; designate and separate them by their functions and based on your needs, like your dressing area, seating area, study area, etc. It's your space, so you don't have to play by rules; go with your personal tastes and preferences.
28. Rethink your empty corners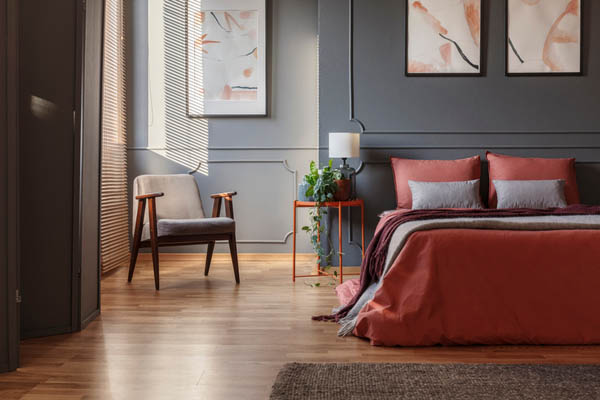 Empty corners carry a lot of weight making the space look awkward. Fill those unused nooks and underused corners with something eye-catchy and transform it into a personality-packed focal point of the room. What is on your list to magically transform the bare corner? A book shelf and a gallery? Here are some more: tuck in some houseplants, lean tall antique objects, add a comfy seat, and place a few extra storage pieces. You can get your imagination rolling and add more surprising elements and get the list going. No matter what your choice is, add accent lighting for an extra punch.
29. Give your hardware a facelift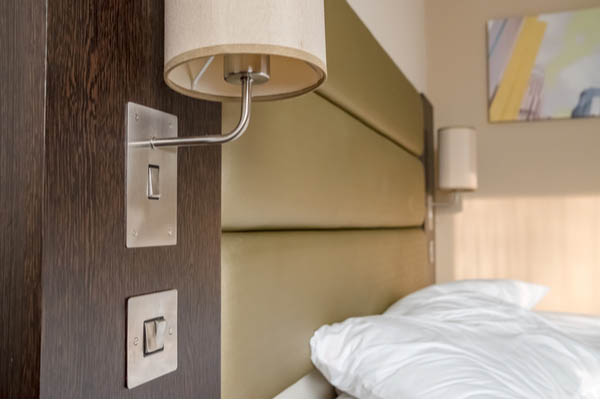 Decor ideas need not always revolve around high ticket items; sometimes small changes like swapping of hardware and replacing the old is all you need to make a big difference. This is a low-effort trick which can majorly transform your bedroom space, taking it from boring to interesting by changing the vibe from a kind of old-fashioned to fresh and new. The upgrades and changes can be as simple as changing the knobs of your closet, pulls of your drawer, handles of the door, switches of your lighting and other electronics. As you touch and use these items every day, choose them accordingly to deliver both fashion and function.
30. Make organization a priority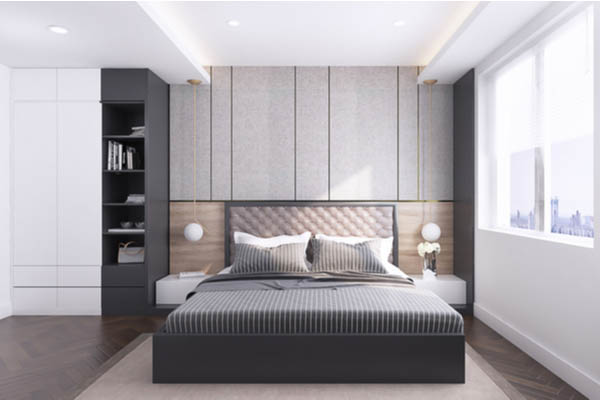 A couple bedroom often gets poor stars when rated in terms of organisation. This is because one person may be neat and tidy putting things in the right places and cleaning the mess everyday while the other tending to be less so growing piles of clothes and clutter everywhere. This creates tension and frustration over a disorganized room and results in aggressive arguments and comments taking away peace and unity. To avoid such circumstances, make way for easy organisation by following these simple tips: keep things separate, split your closet, designate the shelves, arrange separate laundry baskets, add plenty of organizational accessories like hooks, drawers, trays, etc. and most importantly make your partner understand how you want your room to be kept – organised and mess-free.