L-Shape Wardrobe Design Ideas
Most free-standing closets are either the wrong fit for your room or lack enough storage for all of your clothes, shoes, jewelry, and accessories, making designing the perfect wardrobe a difficult chore.
An L-shaped closet, which is ideal for utilizing corner spaces in the room, is a straightforward method to work around these challenges. It contains built-in closets that are individually created to meet your specific requirements.
Due to the design, an L-shaped wardrobe can be made to fit into corners. An ingenious solution for dealing with tight spaces. In this manner, you may make use of unusual corners that would otherwise go unused and incorporate your wardrobe into your current room arrangement.
Here are 30 L-shape wardrobe design ideas to provide you with some inspiration for creating the ideal wardrobe for your home.
Create a two-way wardrobe space
You can maximize the empty corner by constructing a two-way wardrobe. You may create the proper impression of order and adequate storage area without overloading the space in your master bedroom by bringing in the desired symmetry.
Triangular Corner Wardrobe
If you have an unused corner space in your master bedroom, building a triangle corner wardrobe is one of the greatest methods to make the most of it. In this scenario, taming the lines and softening the edges is the best option. In your bedroom, this closet might be a very useful storage place.
Tall & L-shaped Wardrobe
A tall corner wardrobe might be an excellent storage solution. This might be a decorative element in your master bedroom. Consider putting drawers to the bottom of the shelf to offer some diversity. To obscure the contours of the furniture, use the same hue as the wall in your master bedroom. This way, you won't have to worry about the wardrobe crowding the room or having a bad effect on the décor.
A night stand + storage space
The placement of a nightstand by the side of your bed is almost traditional. You may make a nightstand wardrobe out of the valuable vertical space over your nightstand. This is a unique design that can be put to good use as a storage solution. A freestanding wall can be used to create a very functional storage area. This pattern can be used to personalize one part of your bedroom and add a touch of glam to the space.
A wall-mounted wardrobe
When it comes to storage, you may build a series of wall-mounted wardrobes above the bed for simple access and to create a very pleasant spot in the room. This contemporary corner closet is ideal for your teen's bedroom. This is the most creative and ingenious way of utilizing both ends of a room's wall.
A floating wardrobe
A floating wardrobe may be readily put on the wall. These can be easily accessed for the purpose of storing items on occasion. You can easily create a very uniform look that does not impinge on the space of your bedroom by mirroring them in the proper shape with the nightstand. Pale floating wardrobes are ideal for showcasing a minimalistic aesthetic.
An Aesthetic Vintage Wardrobe
A vintage style in which you can use a forgotten nook of space to make a glam design statement, which can result in really attractive interior décor. This closet design is ideal for a master bedroom because it provides the ideal balance of storage and refinement to achieve the desired aesthetics. You may extend the window seat all the way to the room's corner to add additional storage and seating. This can help to bring a lonely part of a room's wall to life
.
Utilize the wall completely
The beauty of an L-shaped corner wardrobe design is that it makes excellent use of a space that would otherwise be wasted. A long L-shaped wardrobe that spans the entire wall can hold various types of clothing as well as daily accessories. This increases the overall storage capacity in the bedroom while also enhancing the room's appearance.
A two faced L-shaped wardrobe
This design is in the shape of a T, and its adaptability allows it to fit into even the smallest of spaces. This would be equally at home in a large master bedroom. The top half of the closet can be utilized to store occasionally used items such as quilts, luggage, and woolens. This form of wardrobe is built into the corner of the window wall, resulting in a very efficient storage space in a tiny bedroom or even a large master bedroom.
Sliding Corner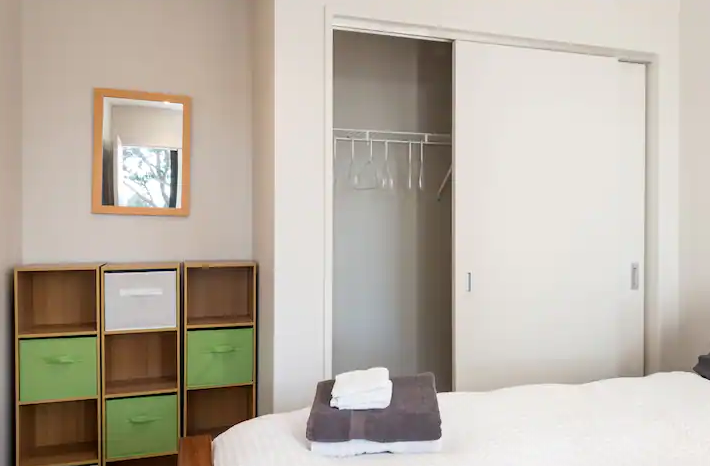 If you have limited room, a sliding corner wardrobe is a good option. This is a unit that you can easily personalize and match the décor to the current furnishings of the room. This also allows for enough storage. When it comes to storage capacity, this is a must-have for your child's bedroom. You may create an L-shaped wardrobe that strikes the appropriate blend of practicality, style, and functionality for storing your children's toys and other belongings.
Multipurpose wardrobe
A corner wardrobe in the shape of a L can serve multiple purposes. This wardrobe can be used to hold a variety of items. This is one of the greatest ways to make use of an underutilized bedroom corner and increase your storage space. A closet with a hanging rail in a long configuration. The design of this sort of closet is ideal, and the additional shelves provide more storage possibilities. This is one of the more cheap alternatives with a lot of storage potential.
A reflecting wardrobe
This wardrobe is made of stainless steel, which is a very durable material. This wardrobe has two doors that slide smoothly. This has a lot of drawers and shelves, so there's plenty of room for storing. A mirror-enclosed corner L-shaped wardrobe design. This wardrobe design features two doors with ample storage and a locking mechanism.
Play with bright colors
You can use this design if you enjoy bright colors. This is easily accessible, and you will almost certainly want to put it in the corner of your bedroom. It's especially important if the bedroom is for a child. It should blend design, functionality, and practicality to allow you to assign a spot for each and every small toy in the room.
Use Color Mix
The cupboard, which is made up of a blend of modern matt colors in tones of pink and purple, perfectly matches the room's aesthetics without taking up too much space. The floating design with cabinets and shelves built along the bed's wall conceals clutter while allowing you to relax in a divan-style bed.
A sliding cupboard
In an L-shaped closet, a sliding cupboard is constructed so that you can use a freestanding wall to squeeze in a cabinet. This easy-to-customize unit blends nicely with the room's decor while providing ample storage space.
Make use of 'hues'
Earthy hues such as brown and beige are used throughout the space to soften sharp edges and give the small bedroom a classy appearance. You can have additional room surrounding your bed by sliding the cupboard doors open from corner to corner.
Measure Dimensions
Collect the measurements of your closet space and engage a professional designer to design a closet for you! The full-length mirror sliding door is stunning. A drawer-equipped bay would also work well here. Use the organized living closet design tool to plan your customized organized space, save it, share it, or order the system.
An L-shaped wardrobe for the Staircase Bedroom
Closets with low sloped ceilings provide a difficulty to homeowners and storage professionals alike if they are located under the stairs. To make the most of the space, the storage should match the ceiling's pitch and incorporate three drawers for hidden storage. As a result, the compartmentalization of a small bedroom's closet is aided by a small L-shaped wardrobe design.
Use Shelving
The 6 back wall specifies shelves on all three walls, which is how an L'Shaped closet is designed. From the ground, so the cover wouldn't be delayed by a dress. We recommend taking three measurements across each wall at three different heights and entering the smallest. Closets come in a wide range of styles and sizes. Choose your space's footprint and have it tailored to fit the dimensions of the room.
Keep it clutter free
There is enough space between the suits, casuals, and accessories so that there is no clutter and everything is within easy reach. You can utilize a 600mm, 700mm, or 850mm size module depending on the size of the wall. Due to the fact that most walls are not completely square.
Keep all your stuff in the same place.
The closet's L-shaped form is ideal for a gentleman's needs. Shelves are supplied to store sweaters, denim, and other random items. A range of options are available for your new closet design.
Acquire the free space
There are many alternatives to make your life simpler and easier, from extra chairs for frequent visitors to a tiny study area integrated into the bedroom. An L-shaped closet can also benefit from a bay with drawers. More storage space is always preferable.
Keep it minimal & modern
90 degree home bedroom modern minimum right angle tiny apartment cloakroom cabi sho Singapore L-shaped corner wardrobe For additional wardrobe space, the bed is tucked into a corner. The concept of blending different cabinet knobs. Notes on a typical L-shaped walk-in-robe design.
Consider the clothes storage
Before you start building your walk-in closet, think about the many types of clothing storage you'll require. Use the services of a professional wardrobe designer who can personalize the design and offer closets that will fit into your bedroom comfortably.
The right placement of the wardrobe
Your bed is mostly determined by your personal preferences, the wardrobe will necessitate a little more thought. Because of the wardrobe's L-shaped closet design, you have no choice but to put the bed in the middle of the opposite side.
A built-in L shaped wardrobe
The best thing about built-in wardrobes is that you get to participate in the design process. In terms of finishes and style, you can create a wardrobe that matches the rest of your decor.
Select right material for the wardrobe
Depending on the style of your décor, choose materials for your clothing. To match contemporary style interiors, choose sleek acrylic finishes with stainless steel handles. Choose walnut wood or any other type of reclaimed wood for traditional or rustic interiors.
Customize the Internal Configuration
The benefit of an L-shaped wardrobe is the ability to personalize the internal configuration and storage accessories to meet your specific needs. If you typically wear formals, your closet should be constructed with more hanger space, trouser racks, and storage bins to carry accessories.
Keep the wardrobe Lit
When it comes to wardrobe design, one component that is sometimes disregarded is lighting. When it comes to free-standing wardrobes, external light sources are frequently required for illumination, especially on dark, foggy mornings. Built-in wardrobes, on the other hand, can be created with integrated lighting.
Multiple Shelving in the Same Wardrobe:
If you and your partner share a room, you can customize each section of the wardrobe to meet your specific needs. You may also adjust the height of the inside shelves to make them more accessible. This can save a lot of time and energy by making it easier to find clothes in deep drawers and shelves. When you go shopping for a freestanding wardrobe, you will face a number of challenges.
An L-shaped wardrobe should be built in such a way that it solves the problem of storage. The appropriate wardrobe design ideas can make your room look attractive while also making the most of every available space.
Two wardrobes are combined to form an L-shaped wardrobe. Because rooms frequently contain a vacant corner, sliding doors are excellent in any portion of a room that is considered spare.