About Engineered Wood
Let's be real: Selecting the wood for the furniture and interiors is a stressful job. And this gets even more stressful when the label description in the store stamps the wood as "Engineered Wood". Unless you are a wood expert, this technical jargon can worry you and create intense bewilderment more than that existed before. However, a little professional direction and guidance can help you stay away from this baffle and seal the deal easily. And for this reason, our enthusiastic team from ZAD is here to explain what engineered wood is and what its advantages and disadvantages are. So, to make sure these kinds of labels come as no surprise during your next shopping session, give this blog a read.
What is Engineered Wood?
Engineered wood, also known as man-made wood, manufactured wood or composite wood, is a wood-alike that is created in the factory by binding wood fibres, strands, particles, sawdust, scraps of lumber and byproducts, or veneers or thin wood boards together with adhesives under high pressure and temperature to form a really strong bond. Primarily emerged as a solid-wood alternative, this composite material has become a more cost-effective, and also more environmentally sustainable solution than solid wood. The different types of engineered wood that is popular in the market are
Plywood

Commercial Plywood or Moisture Resistant Plywood

Marine Plywood
Waterproof plywood (BWP & BWR grade)

Veneered Wood
Particleboard
HDF(high-density fibreboard) and MDF (medium-density fibreboard)
What are its applications?
Engineered woods are a highly versatile product and can be used for both indoor and outdoor applications. They are widely used in the
Construction of modular kitchen
Fabrication of furniture used in laundry rooms and bathrooms
Making of doors, wardrobes, bookshelves, etc.
Internal panelling and structural applications
Construction of outdoor furniture like lawn chairs, tables, swing, etc.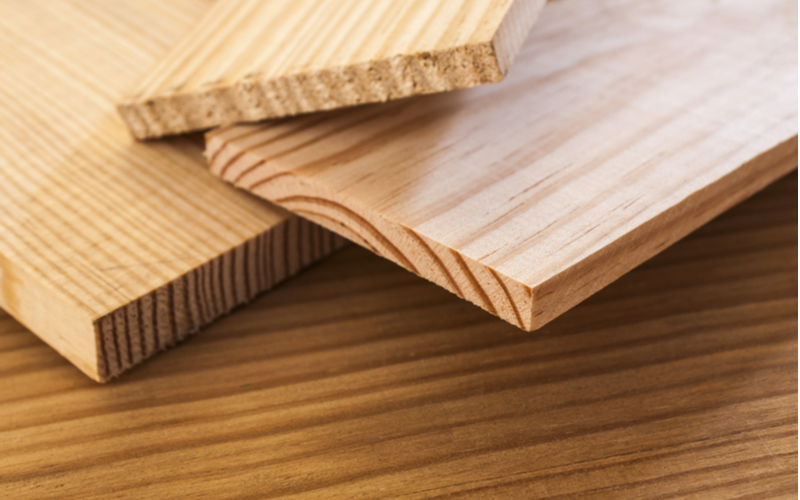 What are its Advantages and Disadvantages?
| Advantages of Engineered Wood | Disadvantages of Engineered Wood |
| --- | --- |
| Engineered woods are very versatile and also available in a wide variety of thicknesses, grades, sizes and quality. And hence it is easy to work with most design styles and also in many rooms to meet their application-specific requirements. | Some woods are dense, heavy and sturdy. So, it is difficult to work with them single-handedly. |
| Good quality engineered wood is durable and long-lasting. Hence the furniture carved out of it also has a long service life. | Certain woods such as plywood have layers of veneers showing at the edges, and hence the edges have to be finished either with laminate or veneer. |
| They are less expensive than solid wood and so they are pocket-friendly. | In most cases, the manufacturing process involves the usage of urea-formaldehyde resin. This may make the boards toxic and the off-gas can also deteriorate the air quality indoors. |
| Most engineered woods have a smooth and flat surface without any knots, which makes them take paints, polishes and stains well. | The resistance to moisture and humidity is low with particle boards. As a result, they expand, warp and discolour easily. |
| Their surfaces can also be enhanced with decorative laminates and attractive finishes. | A major drawback of MDF is they are not water-resistant and hence exhibit a tendency to soak up water and swell. |
| With enormous flexibility for cutting, drilling, and fastening, they give a lot of room for customisation and also allow for many design explorations. | |
| As they are mostly made from scraps of other lumber products and require no additional logging of trees, they are environmentally friendly. | |
| With laminated surfaces, the furniture carved out of engineered wood is relatively easy to care for and clean. | |
| Having multiple layers in its core, engineered wood is less likely to expand or warp, when exposed to moisture, humidity and temperature fluctuations. | |
| Being a look-alike of solid wood, engineered woods are aesthetically attractive too. | |
| Under proper chemical treatments, these woods become termite and borer proof and also rot proof. | |
| Furniture made out of engineered wood is comparatively lighter than solid wood. This makes moving, shifting or transporting them simple, easy and quick. | |
Engineered Wood: Final Words
Engineered woods are really exciting addition to the wood family. They have both: An extensive list of advantages and also a small handful of disadvantages. So, going for it depends on three factors: your budget, purpose and location of use.
If you have any more questions rolling in about engineered wood, we are here for you. Send in your queries and our team will be happy to answer them for you!
Have your say
Have you ever tried engineered wood in your home? Did it work for you? Share your experience in the comments below!