Engineered Wood Vs Solid Wood
In spite of making its entry into the interior design world ages ago, wood still wows everyone and soars high on the interior style radar. It can be used virtually everywhere – both indoors and outdoors; and it is also versatile enough to team with any colour palette, any style and any finish. But when it comes to its selection, many of us are surprised to learn that there are two categories of wood: Natural and Man-made. The selection will affect the lifespan and durability of the interiors and furniture, their design and aesthetic features, the time it will take to install them and not to mention the number of rounds it will allow to sand and re-polish too. So, if you are looking to educate yourself about these two types of woods by understanding their differences, continue to scroll – today's blog thoroughly talks about these two types of wood i.e. – Engineered wood and Solid wood.
Before we dig deep, let's have a look at what actually they are.
What is Engineered Wood?
Engineered wood is a man-made product obtained by binding wood veneers, strands, particles, fibres, sawdust or scraps of other lumber products together with adhesives to form one single sheet. This wood can take various forms like
What is Solid Wood?
Solid Wood is a natural product obtained by logging fully grown and matured trees that have fallen or been cut off. It can be of two types: Hardwood and Softwood. While hardwood species like oak, maple, teak, rosewood, etc. take a long time to grow and have a high density, Softwood species like fir, rubber-wood, white cedar, juniper, spruce, pine, etc. grow faster than hardwood and have a comparatively low density.
Solid Wood & Engineered Wood Comparison: Based on Various Parameters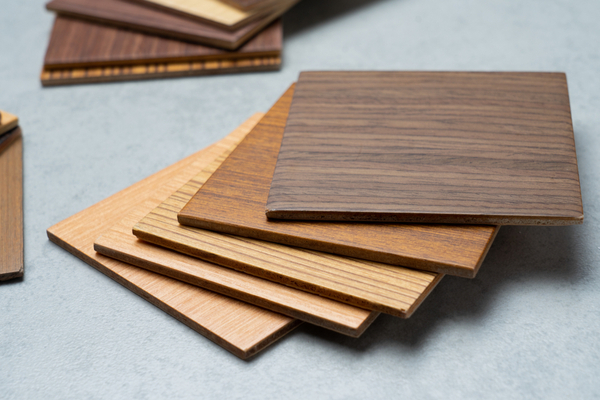 1. Resistance
| Engineered Wood | Solid wood |
| --- | --- |
| Most engineered woods don't warp, expand, or contract with changes in temperature, humidity and moisture. And due to the various treatment methods employed during the manufacturing process, they also stand better against rotting and termite attacks. | Solid wood cannot withstand extreme temperatures and moisture. When exposed to high humidity levels, they warp, expand and contract, losing their dimensional stability. They are also not impervious to termite attack, unless chemically treated. |
2. Ease of work
Engineered Wood
Solid wood
Due to its lightweight nature, structure and consistency, engineered woods are easy to cut, drill and fasten. So, ease of work, installation and customization is generally high with these woods.

It is also easy to move and shift the furniture carved out of engineered wood because of its weightlessness.
As it is sturdy, dense and heavy, it is difficult to work with solid wood single-handedly. And due to the same reason, it does not give much room for customization.
3. Cost
| Engineered Wood | Solid wood |
| --- | --- |
| Engineered Wood is slightly less expensive than solid wood and hence it is the winner here. | It is relatively pricey and the price tag may vary depending on the variety of wood you choose. For instance, Hardwood is typically pricier than softwood. |
4. Durability
| Engineered Wood | Solid wood |
| --- | --- |
| Compared to solid wood, Engineered Wood does not score well in terms of durability. | Solid wood exhibits high durability and longevity and hence the furniture made out of solid wood survives for decades and generations. Before the wood gets exhausted, its surface can also be sanded down and refinished several times. |
5. Strength
| Engineered Wood | Solid wood |
| --- | --- |
| When compared to solid wood, it is slightly low on strength. However, it is stronger than many inferior softwood species of natural wood. | Generally, solid wood is stronger than all engineered woods. However, its strength depends upon the species of wood you choose. |
6. Environmental- friendliness
| Engineered Wood | Solid wood |
| --- | --- |
| Since it is made from wood scraps and demands no fresh timber, it makes for an environmentally- friendly product. However, the use of a tremendous amount of energy and also toxic materials like formaldehyde during its manufacturing process may raise environmental concerns. | It is not environmentally-friendly unless the timbers are sourced from renewable and sustainable forests. |
7.Application
| Engineered Wood | Solid wood |
| --- | --- |
| As it can be cut, drilled and fastened easily, it is best suited for making customised furniture. Plywood of BWR-grade is the most preferred choice for making cabinets and furniture of high moisture areas like kitchen, bathroom and laundry room, due to its water resisting property. | Its durability and strength make solid wood a perfect choice for busy households and high traffic areas. |
Engineered Wood Vs Solid Wood: The Short
| Parameter | Engineered Wood | Solid Wood |
| --- | --- | --- |
| Constituents | Wood scraps, sawdust, wood veneers, strands, particles, fibres | Natural logs |
| Ease of work | High | Low |
| Strength | Low | High |
| Resistance against weather conditions | High | Low |
| Cost-effectiveness | Less expensive | A bit pricey |
| Weight and density | Light | Heavy |
| Environmental-friendliness | Yes (relatively) | No |
| Durability | Low | High |
| Application | For the construction of customised furniture, for the fabrication of cabinets and furniture that belong to high moisture areas like kitchen, bathroom and laundry room, etc. | For the construction of furniture in busy households and high traffic areas. |
So, which wood solution is the best?
Both wood solutions are great options and settling on one really comes down to your personal preference. So, take a moment to consider your lifestyle, your room's needs, your region's weather condition, location of use, and your budget and find out which one comes out on top.
Still not sure which wood would work best for you? Get in touch with our wood experts at ZAD and let's discuss your requirements and decide on the perfect wood solution that ticks all the boxes in your checklist.