Normal Kitchen Vs Modular Kitchen
"Which one fares better? A normal kitchen or a modular one? " – A never-ending debate which you have probably heard of or may have even been a part of with your family members. Definitely, there are plenty of adherents of both kitchen concepts, all claiming that their choice of the kitchen is the best. However, the fact is both kitchen concepts have their own set of strengths as well as shortcomings. It is up to the individual to decide which kitchen would work best according to his/her needs and usage. Having that said, which one is ideal for you? In case, if you are struggling to pick one, glance at this blog and reach a clear decision.
A Quick Comparison Between Normal & Modular Kitchen
| Modular Kitchen | Normal Kitchen |
| --- | --- |
| Can be shifted | Cannot be shifted |
| Installation is quick and easy | Installation is tough and time-consuming |
| More systematic and organised | Not as good as modular ones |
| Comparatively expensive | Comparatively cheap |
| Has features to fit-in kitchen appliances | Has no such features |
| Provides high functionality and good ease of use | Not as functional as modular ones |
| Offers a sleek and modern look | Not as good as modular ones |
| Design flexibility is high | Design flexibility is low |
| Cleaning and maintenance is easy | Not as easy as modular ones |
| Offers ample customization opportunities | It is hard to customise |
What is a Modular Kitchen?
Modular kitchen is a modern kitchen concept in which each unit or module is pre-made in the factory and assembled and fixed on-site according to the space, usage and needs of the user.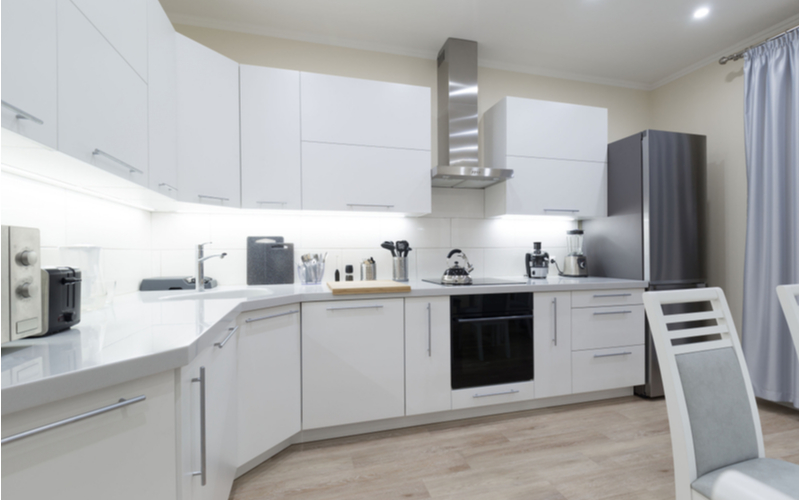 Pros and Cons of Modular Kitchen
| Pros of Modular Kitchen | Cons of Modular Kitchen |
| --- | --- |
| A Modular kitchen gives you the freedom of carrying your entire kitchen with you if you plan to shift your home or move to a new location. And this is obvious since its modules can be dismantled and reassembled easily. | High-end fittings and components may raise the cost of modular kitchens. |
| As all the features are machine-made with precise sizes and finished to perfection, the kitchen will get a neat and sleek look with flawless edges and smooth finishes. | Since the modules are machine-made with modern techniques, repair or replacement requires technical assistance. |
| From refrigerator to microwave oven, to pots and pans, to spices and supplies, every kitchen essential will get a designated space through effective space utilization. | |
| Colour, texture, pattern, size, shape – everything of every module can be customised and personalised to your taste as well as to match the décor of the rest of your home. | |
| With pre-fabricated modules, the installation gets simple, easy and quick. | |
| Individual units can be easily repaired or replaced without even slightly disturbing the rest of the units. | |
| Due to its detachable fittings and smooth surface, cleaning and maintaining the modular kitchen is very simple and easy. | |
| Since these kitchens are designed by interior design experts, they help visualise your kitchen in 3D and make amendments to the design according to your needs, all before even the actual work commences. | |
What is Normal Kitchen?
Normal kitchen is a traditional kitchen concept in which the kitchen is built from scratch by locally available civil professionals or carpenters.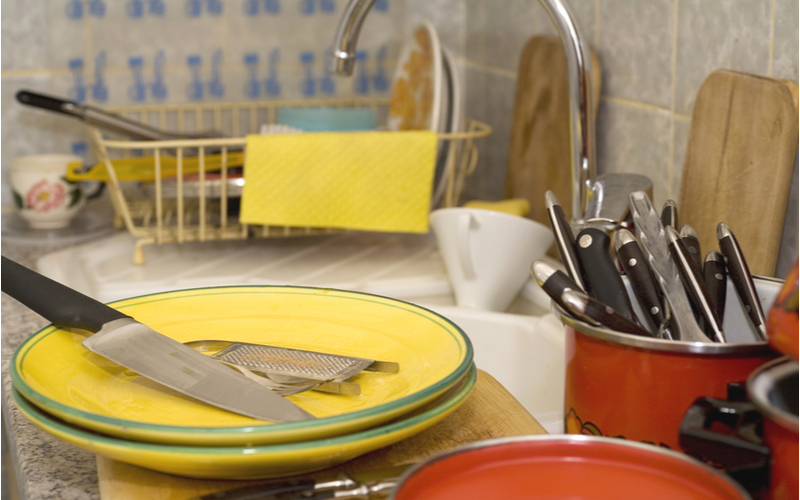 Pros and Cons of Normal Kitchen
| Pros of Normal Kitchen | Cons of Normal Kitchen |
| --- | --- |
| These kitchens are cheaper than modular kitchens and hence they are economical. | These kitchens are non-portable and hence they cannot be shifted to your new home or apartment. |
| | As it undergoes a traditional method of building and involves manual measuring, cutting and finishing processes, these kitchens are generally low on look and style quotient. |
| | With these kitchens, the options for customisation are minimal and limited. Also, tailoring the kitchen according to your requirements requires a lot of effort. |
| | With carpenters and civil professionals, you will have to encounter challenges like: No 3D visualisation, no warranty, behind the times ideas and designs, cost fluctuations, etc. |
| | Construction of these kitchens requires a good deal of time and effort. |
| | You will have extra duties on your shoulders like hand-picking the materials, co-ordinating various professionals like plumbers, electricians, etc., regulating the process, and so on. |
| | As it involves hand-work, the timeline may get lengthy and delivery can be delayed. |
| | Since these kitchens are built on-site, the wood-work and civil work would generate a lot of mess and cause immense inconvenience to you and your family. |
Over to you
So, now that you are aware of the pros and cons of the two kitchen concepts, modular and normal, we hope that you will easily pick the right one. Modular kitchen is the wise choice if you are after the aspects like ease of use, less maintenance, modern look, etc. On the other hand, the normal kitchen is a clear choice if you have budgetary limitations.
Still having a hard time deciding between the two? Then seek the help of a professional interior designer and make a wise choice.