Types of Engineered Wood
There is an increasing trend for engineered wood at the moment in the construction and interior design industry due to its tremendous versatility and extraordinary adaptability. Primarily developed as a cost-conscious alternative to solid wood, this wood solution is now extensively used in the production of all types of furniture, false ceilings, paneling, and flooring and for a variety of exterior applications as well. However, before investing in engineered woods, it's good to put their types into consideration and select the right one wisely because not all woods are created equally. Their strengths vary, costs vary, properties vary and most importantly their locations of use and purposes vary. To give you a deeper insight, our experts bring to you right here the complete details about the various types of engineered wood, so that you can invest in the right one smartly. Keep reading!
What is Engineered Wood?
Engineered Wood is a man-made wood obtained by heat pressing veneers, wood scraps or wood residuals, sawdust, fibres or particles together with binders to create one solid piece. The basic types of engineered wood are
Plywood
Particle board
Blockboard
Medium Density Fibreboard (MDF)
Plywood
Plywood is an assemblage of thin sheets or fine layers of wood veneers with a binding agent, to form a strong board.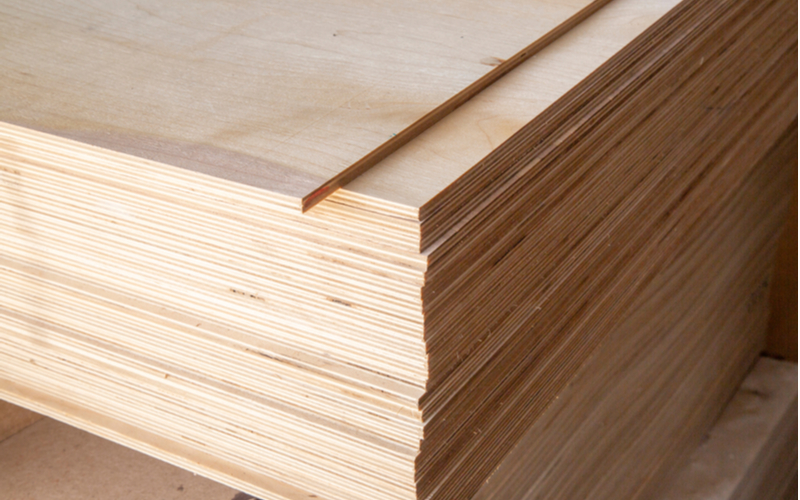 | Pros of Plywood | Cons of Plywood |
| --- | --- |
| Plywood is the strongest amongst all engineered woods. | Long pieces of plywood have a tendency to bend and sag. So, it is not suitable for fabricating lengthy furniture like bookshelves, tables, benches, etc. |
| It is less susceptible to damages and has good dimensional stability with reduced expansion and shrinkage. | It is pricier when compared to particle boards and blockboards. |
| It can be polished, stained and painted easily. | Layers of veneers are visible at its edges and so it gets necessary to finish the edges with either laminate or veneer. |
| Due to its cross-grain pattern, it holds nails and screws well. | |
| It is highly durable and long-lasting. | |
| It is low on cost when compared to solid wood. | |
| It is available in different thicknesses, grades, and not to mention different Wood Species as well. | |
| Best suited for making custom-built furniture, internal panelling and structural applications, and also for the construction of cabinets and furniture that belong to high moisture areas like kitchen and bathroom, etc. | |
Particle Board
Particle board is wood chips, scraps or sawmill shavings bonded together to produce a flat sheet.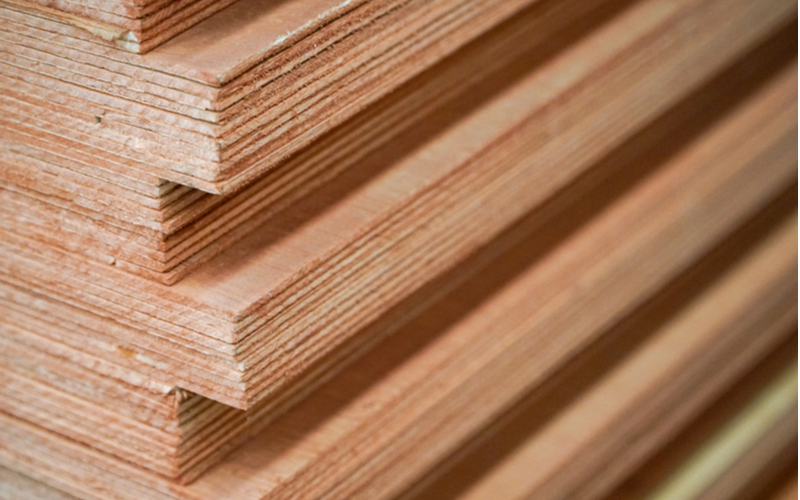 | Pros of Particle Board | Cons of Particle Board |
| --- | --- |
| Particle boards are aesthetically attractive and decently durable. | It is the weakest of all the engineered woods and hence it cannot support heavy loads. |
| Because of its smooth surface, sticking laminates or veneers gets easy with particle boards. | In moisture-rich areas, it expands and discolors quickly. |
| It is more economical than plywood and medium density fiberboards. | Particle boards also exhibit a tendency to soak up water, which makes it not a great option for wet areas and outdoor applications. |
| Owing to its lightweight, it can be easily handled, shifted, and transported. | |
| Made from wood wastes, it makes for an eco-friendly wood solution. | |
| Due to its light-weight and thermo-acoustic insulation properties, particle board is widely used in the construction of false ceilings of auditoriums, theaters, and also in the fabrication of accent pieces, modular and portable furniture, etc. | |
Blockboard
Blockboard is made from strips of softwood and veneer. Firstly, the softwood strips are joined edge to edge and sandwiched between veneers and then this sandwich is glued together with high pressure to form a blockboard.
| Pros of Blockboard | Cons of Blockboard |
| --- | --- |
| Blockboards are light in weight and hence the furniture made out of it can be moved or shifted easily. | Since it is made of softwood strips, the blockboard doesn't score well in terms of strength. |
| It is more cost-effective than plywood. | If the core is filled with gaps during its manufacturing process, these boards do not hold screws and nails well. (As the screws get into the gaps instead of the core). |
| When compared to MDF and particle boards, blockboards are more durable and also resist wrapping and cracking. | |
| As these boards are light-weight, stiff and resist bending and sagging in the middle, they are preferred for constructing long bookshelves, benches, doors, panels, and partitions. | |
Medium Density Fibreboard (MDF)
Fibreboard is a material made by breaking down the wood into individual fibers and then hot compressing the fibers into stiff sheets.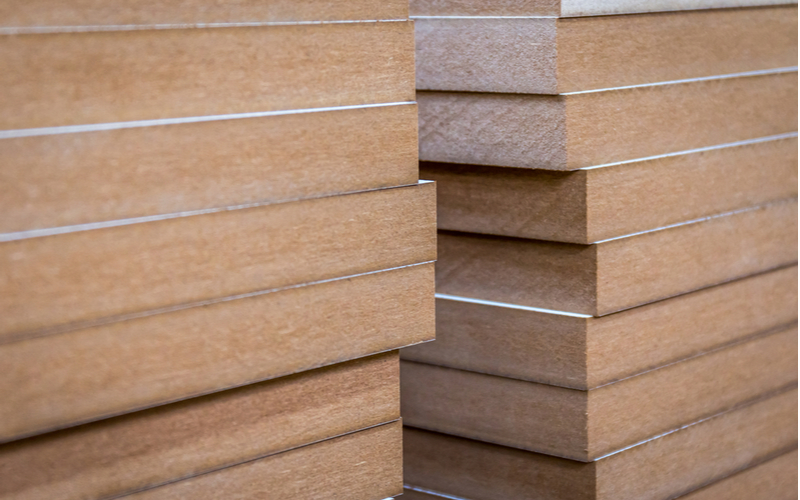 | Pros of MDF | Cons of MDF |
| --- | --- |
| It is a dense, flat, smooth, stiff and also affordable material. | As it is made up of fine fibers, MDF does not hold nails and screws well. |
| Due to its smooth surface and consistency, it takes paint easily. | It is not water-resistant and soaks up water faster than plywood. So, it is not ideal for wet areas. |
| As wood is recycled during its manufacturing process, it gives rise to an environmentally-friendly product. | |
| It's easy to cut, drill and fasten these boards without damages. So, ease of work and customization is high with them. | |
| It does not warp or crack with humidity and temperature fluctuations. | |
| It is an ideal choice for making ready-made furniture, decorative wall cladding, partitions, etc. | |
Final Words
Now having got into the wood details, we hope you can make an informed buying decision. When deciding, remember to take into account the purpose and location of use, and budget as well.
In case, if you are having a hard time choosing the right wood, reach out to our wood experts at ZAD. We will be happy to join your conversation and help you pick the right one.