Modular Vs Carpenter Made Kitchens
Are you struggling to decide between a Modular kitchen and a Carpenter made kitchen? Stress not, here is everything that will help you pick your winner.
What are Modular Kitchens?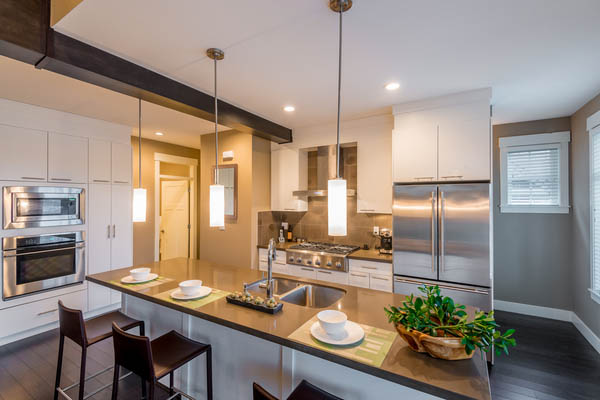 Modular kitchens are those that have ready-to-install premade cabinets and accessories which are manufactured in factories and assembled at site to suit the dimensions of the culinary space.
Pros and Cons of Modular Kitchen
| | |
| --- | --- |
| Pros of Modular Kitchen | Cons of Modular Kitchen |
| As modules are machine-made, your kitchen will get a perfect finish with neat edges. This, in turn, will impart a flawless and neat look to your home. | With rough handling, it may sit for repair sessions frequently. (Unless high-quality materials and accessories are chosen). |
| With 3D visualization, you can get a clear picture of what your kitchen will look like once done. So, any amendments or alterations in the design can be done in advance, even before its construction begins. | It is more expensive than a carpenter-made kitchen. |
| As it is easy to dismantle and reassemble the modules, you can easily take them with you if you relocate. | |
| As modules are ready-made, installation is easy, hassle-free and also not time-consuming. | |
| With a variety of sizes, colours and finishes, it offers a greater degree of customisation and design flexibility. | |
| There will be no major change in the cost estimate, provided no considerable changes to design occur. | |
| Functionality and storage will be maximal as every kitchen essential gets a designated space. | |
| As factory work is very quick, the timeline is short and better maintained. | |
| It comes with a good warranty period (if reputed and reliable modular kitchen manufacturing brands are approached). | |
| Since it has a smooth finish and all fittings can be detached and attached again, cleaning and maintenance becomes easy. | |
| The business of cooking gets much easier and simpler with close at hand cooking essentials and convenient storage. | |
What are Carpenter Made Kitchens?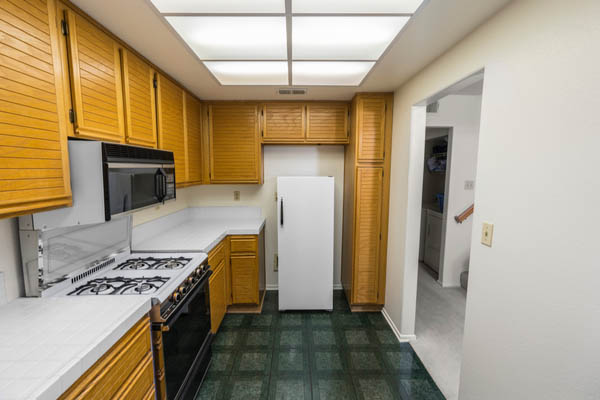 Carpenter made kitchens are those that are built by locally available carpenters who follow traditional methods of making kitchen i.e. by manual measuring, cutting and finishing processes.
Pros and Cons of Carpenter Made Kitchen
| | |
| --- | --- |
| Pros of Carpenter Made Kitchen | Cons of Carpenter Made Kitchen |
| It is cheaper than a modular kitchen and hence it will be easy on your pocket. | As it is hand-made, quality and finish of the kitchen can be a concern. |
| With carpenter made kitchens, alterations can be made at any stage when the work is in progress. | The cabinets are fixed permanently and hence they cannot be shifted anywhere else. |
| | As it is constructed on-site, the carpentry work will generate a lot of mess, noise and dust at your home, which, in turn, will be a great disruption to you and your family. |
| | Maintaining timelines can be hard as it involves hand-work. |
| | As the work is done by locally available carpenters, most often this kitchen doesn't come with a warranty. |
| | If the carpenters are not familiar with the designs that are in vogue, you may end up with an old-fashioned kitchen. |
| | With carpenters, you will not be able to visualise your kitchen in 3D. This, in turn, can affect the final output and look of your kitchen. |
| | There may be a significant difference between the initially quoted amount and final cost due to various factors like slow work progress, delay in raw material procurement, design changes, etc. |
| | The final look of the kitchen will depend majorly on the skills of the carpenters. |
| | You will have to pick up many additional tasks like overseeing the entire process, coordinating carpenters with other professionals like plumbers, electricians, etc., handling the purchases, keeping a check on the quality of the materials used, etc. |
A quick Comparison between Modular & Carpenter Made Kitchens:
| | |
| --- | --- |
| Modular Kitchen | Carpenter Made Kitchen |
| Can be dismantled and reassembled | Cannot be dismantled and reassembled |
| Has high precision and good finish as it is machine-made | Not as perfect as a modular kitchen since it is hand-made |
| Only assembling is done at the site | Entire work is done at the site |
| No major cost fluctuations | Costs keep fluctuating with carpenters |
| Requires shorter time frame for completion | Requires a longer time frame for completion |
| 3D visualization is possible | Won't be able to visualize the kitchen in 3D |
| Cleaning and maintenance is easy | Not as easy as a modular kitchen |
Who is the Winner?
Many people go with a modular kitchen for their homes because of its ease of use, efficiency, less-maintenance, and other magnificent features it offers. For some, a carpenter made kitchen is the preferred choice because of the cost factor. So, ultimately, picking the winner depends on one's kitchen requirements and budget.
We hope this article has provided you the necessary insights about the two kitchens and simplified your selection process. If you are still muddled about making the right choice, reach out to a professional interior designer or an experienced carpenter.