Wooden Wardrobe Design Ideas
Wooden wardrobes are a classic, antique bedroom decor style. The massive detailed solid wood wardrobe, which gives the bedroom a vintage atmosphere, will make you feel like you're in an old movie as the main character living your dream life every day.
Wooden wardrobes survive for years, serve as a reminder of your childhood memories, and assist you in creating new ones with the next generation.
Modern wooden wardrobes are simple, small, and minimalistic in design, but they all have the same vibe. They're also more adaptable in terms of design and appearance, thanks to their textured and two-toned appearance that blends in with the environment.
When it comes to choosing a wooden wardrobe for your bedroom, there are a lot of possibilities. To help you out, we've put up a list of the top 20 wooden wardrobe design ideas that will look great in your bedroom.
1. A Freestanding Wooden Wardrobe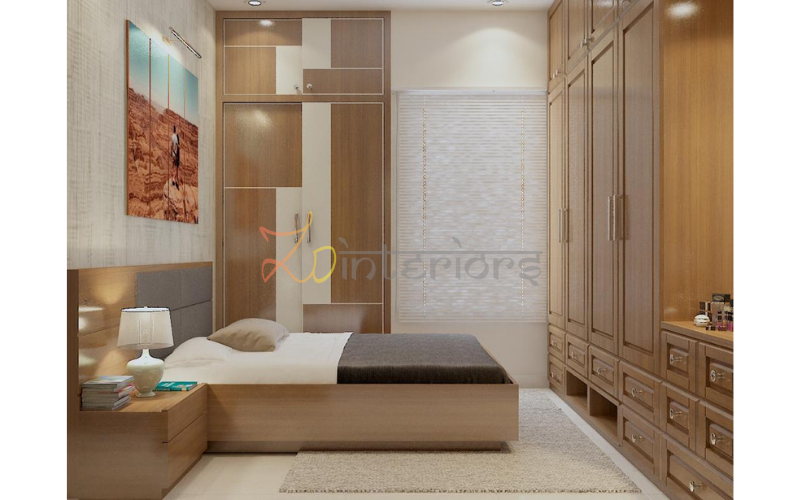 If you enjoy traveling or if your job requires you to move from time to time owing to a change in location, a freestanding wooden wardrobe makes a lot of sense. The finish is silky smooth and goes with almost any design.
2. One with sliding doors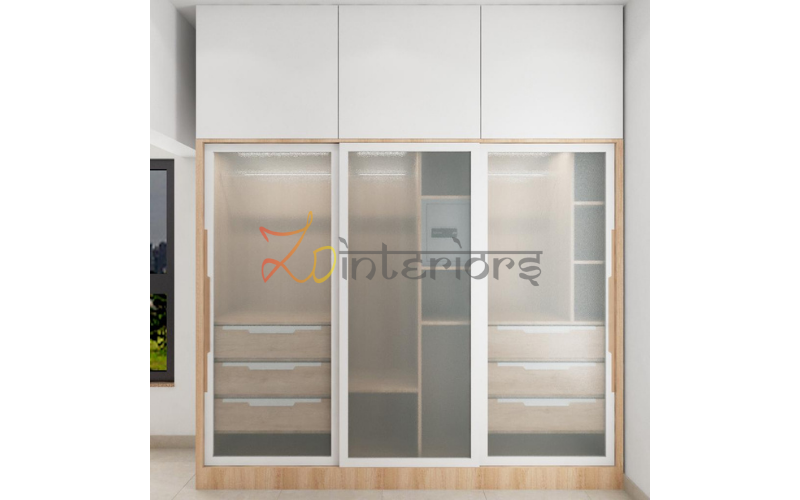 A sliding-door wooden wardrobe style is ideal for Indian houses. As the ethnic feel created by the cloth blinds nestled behind the glass inserts. The dark wood tone works well in both traditional and modern settings, and the sliding doors conserve space on the floor.
3. Imbibe a dresser
As it integrates a dresser, a three-door cupboard is a perfect blend of style and function. You'll have plenty of room for your cosmetics thanks to a tabletop space, two drawers, and a cabinet beneath the mirror. The rich oak finish adds a stylish touch to the wardrobe.
4. A Soft Wooden Wardrobe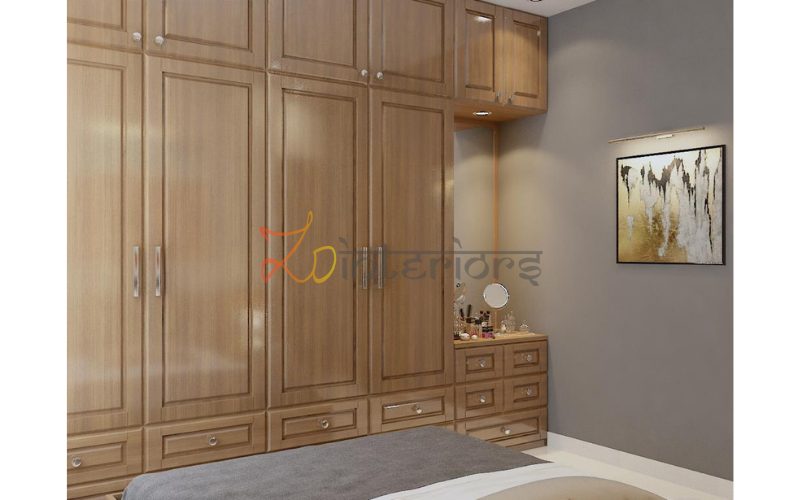 Choose wood with gray undertones if you prefer muted colors and textures. This wooden wardrobe, for example, does not shout for attention. The light flooring complements the beige on the foot drawers, and the whole design complements the headboard and bedside tables.
5. Use different shades 
On the door of the most recent wooden almirah designs, there are more than two colors. It can be stained brown, with three rows of drawers painted white to match. The color of the doors peeking through the channels of each drawer serves to bring the overall appearance of the cupboard together.
6. Paneled Shutters
It has a very contemporary style with panelled shutters, making it ideal for urban Indian flats. The lack of handles adds to the contemporary feel, and the design blends in perfectly with the dresser, the main door, and the furnishings.
7. A Herringbone Pattern
In modern Indian homes, a herringbone pattern is one of the classic woodwork designs for bedroom cupboards. This wardrobe would provide a beautiful touch to a bedroom with a simple décor or style. It's subtle while still making a statement, and it's a crowd-pleaser.
8. Embody mirrors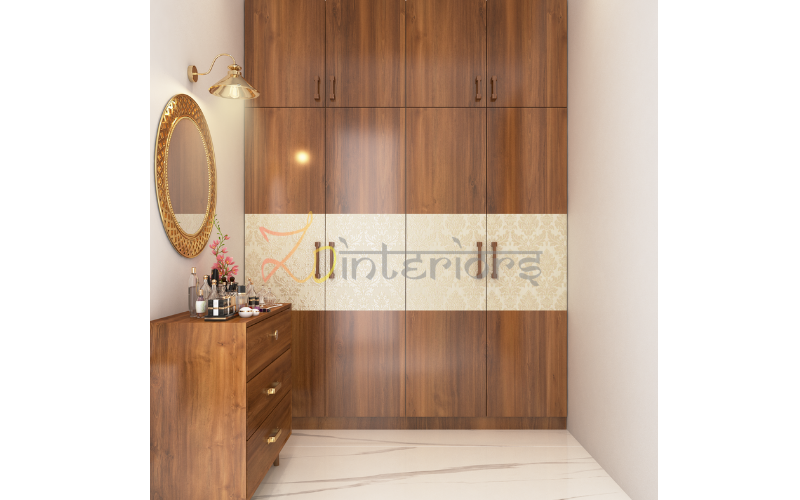 Mirror panels with wood frames add panache while also making the area appear larger. While a full-length mirror is the most common way to incorporate mirrors, this wooden cabinet design offers a more flamboyant approach.
9. Modular Wooden Wardrobe
These modular designs offer handy compartments for all of your needs and may be customized as well. The design includes tinted glass embedded within it to offset the light tan tone of the wardrobe, which is made of MDF or HDF boards.
10. Contemporary Wooden Wardrobe
A set of wooden wardrobes for bedrooms is popular for giving bedrooms a sophisticated appearance. Along with other wooden furniture, a bedroom wardrobe and drawers give your space a clean and basic appeal.
11. A portable wardrobe
If you're usually on the go, the portable bedroom wardrobe design ideas are perfect for you! This is the ideal pick for you because it has a lot of drawers and is DIY-friendly.
12. For a small room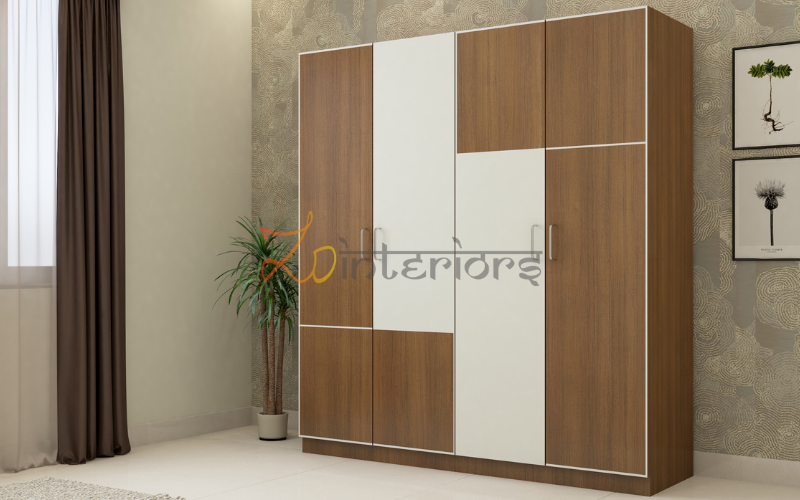 A single door closet is a great style to have in your room if you are seeking wardrobes for small bedrooms. This is one of the tall bedroom wardrobes with a mirror on the front side that are specifically built for single people's bedrooms.
13. Wooden Wardrobe with a Hinge Door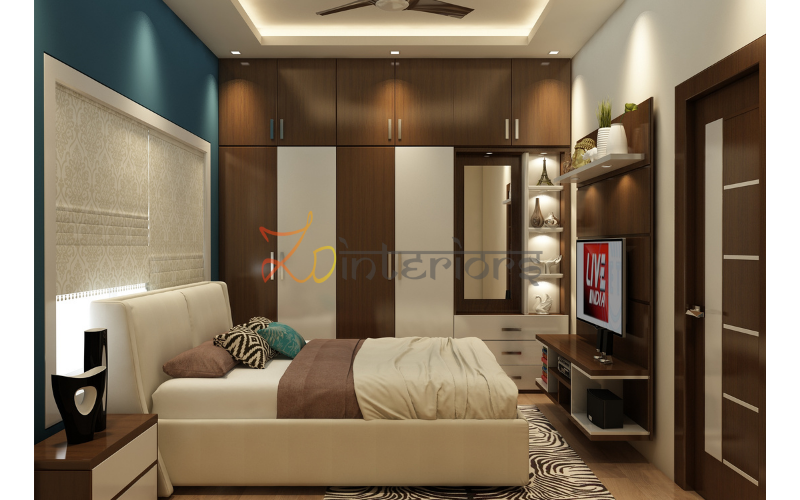 The bedroom wardrobe with a hinge door is manufactured with standard quality material and German hardware and comes in a variety of internal fittings and combinations. The wardrobe is widely used to increase the amount of storage space in a room.
14. A multipurpose Wooden Wardrobe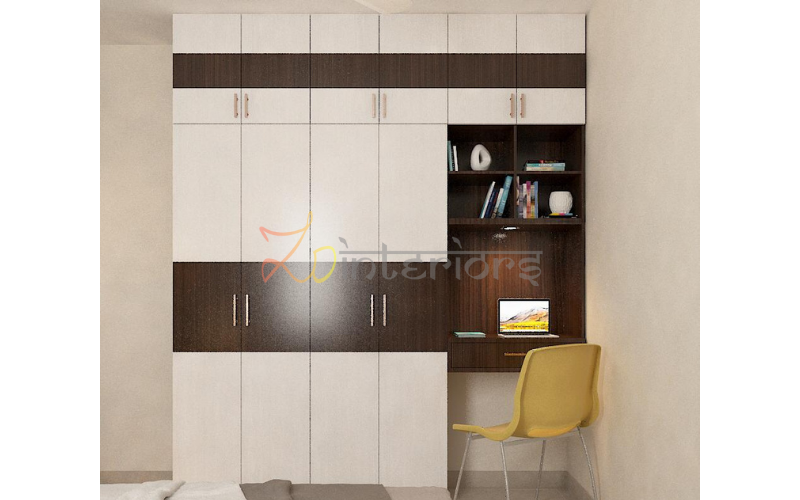 If you desire a wardrobe that can be used for multiple purposes then this style of bedroom wardrobe furniture became popular, allowing you to store a variety of items. On the side open shelves of this bedroom wall wardrobe, you may store not only clothes but also other required items.
15. Creative Designs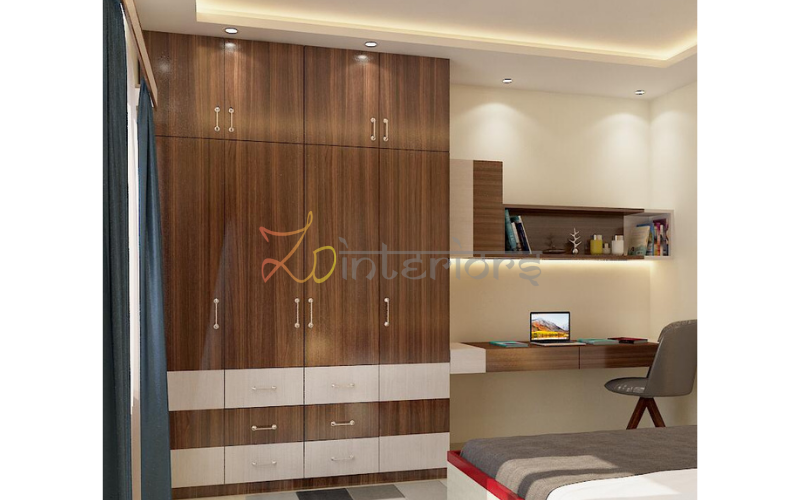 The door closes smoothly, the door panels are glossy, and the decorations are appealing. By picking modern wooden wardrobes for the bedroom, you can get any look in your room. Creatives in the bedroom wardrobe offer a stylish touch to the space in a simple way.
16. An L-shaped Wardrobe
An L-shaped wooden wardrobe bedroom design is ideal for storing useful items while keeping in mind the safety standards for children. It fits into the corner and makes use of all available space.
17. Choose the right colors
Colors can transform a drab wardrobe into something beautiful, and they'll get you happy every time you walk into your room. If you have a gray-toned bedroom, a minimalist pure black will look fantastic. To make it more appealing, experiment with different colors and designs.
18. Use Plywood for durability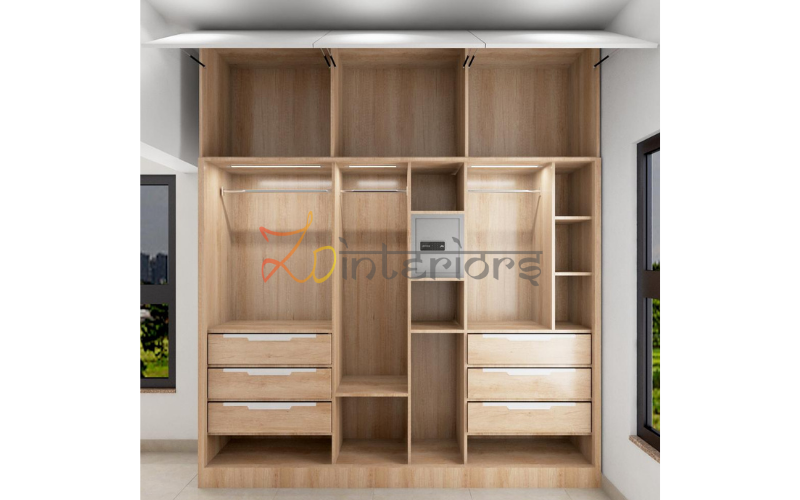 Wardrobes made of plywood might have two or three doors. Their flat surfaces make them ideal for many types of veneers. A normal 18mm ply provides adequate thickness and sturdiness for these wardrobes to be made moisture-proof. Plywood is a durable material that can last for many years.
19. Be smart, compartmentalize
When correctly built, a simple wooden wardrobe design that is compact can actually store twice as much. This necessitates the division of areas for hanging clothes, accessories, and daily wear. Adding small drawers to the lower levels allows for easy access to accessories. If space allows, a shoe cabinet can be used to keep everything in one area.
20. Combine design with functionality.
Woodwork wardrobe designs put a lot of care into making sure the overall appearance matches the purpose. On the outside wardrobe doors, it might be latticework. Along with the design, make sure everything you need is stored in the same area and in a logical order.
Always keep in mind that storage and empty areas are both equally important in the grand scheme of things. To put it another way, you require storage just as much as you require empty space in your home. They must be complementary to one another.
The bedroom has traditionally been the favored location for a wardrobe. With a little forethought, you can put together a stylish wardrobe that isn't too large.