Modern Balcony Design Ideas
In urban landscapes in particular, the balcony is a dreamy, cozy and beautiful outdoor space. It doesn't matter if the balcony is large or small. What actually matters is how we decorate and design it and transform it into a beautiful little retreat for natural relaxation – a place where we can breathe fresh air and see the sky without having to step out of the house. The most wonderful thing about designing a small balcony is that it can have a design independent of the home decor. Take a look at these fantastic balcony designs and derive inspiration and ideas to decorate the small balcony in your house.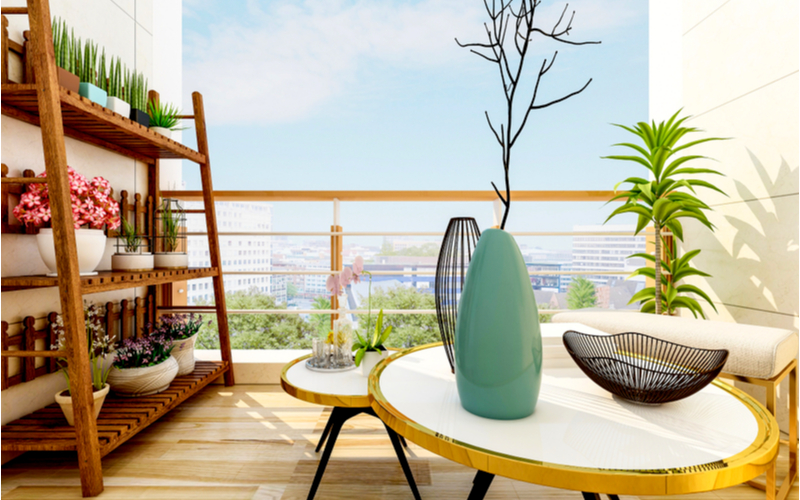 1. Bright Colour In a Small Balcony
Painting your small balcony in bright sunshine yellow will brighten up the day and night. A bright colour will elevate the mood even on gloomy rainy days and make your balcony look lively. 
2. Extending the Living Room Into the Small Balcony
Carry through the décor of the living room to the balcony in case of houses where the living room opens into the balcony. You could follow the same decor theme as the living room in the balcony, and separate it with a sliding glass door. This way, you will be able to enjoy the view both from the living room as well as from the balcony. 
3. Minimalist Design for a Small Balcony
You could jazz up your balcony and keep it comfortable and simple at the same time, by covering the floor with a patch of artificial grass and with just a swing for seating. This minimalist and simple design is great for a narrow and tiny balcony that has a maximum accommodation capacity of only 1-2 people.
4. Comfortable Living in the Small Balcony
All one needs to make the balcony stylish and functional, especially when there is a view to enjoy is a couple of recliners or chairs and a side table to rest drinks on.
 5. Rainbow Splash in the Small Balcony
To make your small balcony resemble a bright and beautiful rainbow, play around with colours on the planters in the balcony. The impact they make will take you by surprise.
6. Make a Statement in the Small Balcony
What can you use to make a statement in your balcony? Custom-designed chairs and a table undoubtedly, with their elegant presence. You could also go sustainable and rustic by using natural bamboo guardrails to provide safety.
7. Contrasts in the Small Balcony
Use a warm wood ceiling and natural stone flooring with floral patterns of hand painted tiles to create a contrast in your balcony. The stone flooring also gives you an effortless carpet effect. When enjoying the view from the small balcony, a high table can serve as a perfect little bar. 
8. Set Up a Rustic Dining Area in the Small Balcony
A great option for those who love to eat al fresco is to set up a rustic style dining table in the balcony. You could consider introducing some colour through a few plants or through the splashes of contrasting hues on the door.
9. Low Seating in the Small Balcony
Choose low furniture for your balcony and complement it with a glass railing. This allows an unobstructed view of the city sky. Complete the look with décor accessories arranged on the floor as well as floor cushions for additional seating.
10. A Vertical Garden in the Small Balcony
Enjoy the benefits of greenery at home by installing a vertical garden or a green wall in the small balcony. Make sure that you choose the right type of plants based on the available amount of sunlight in the area.
11. Use the Walls of your Small Balcony 
It might be a good idea to decorate the walls of your balcony as much as possible, if you don't have access to a lot of space on the floor of your balcony. For instance, you could design a stunning balcony railing or you could try adding some trendy greenery to the wall. An added advantage of this decorating idea is that if you leave some of the space on the floor untouched, your balcony will appear to be slightly bigger.
12. Use Wood for the Floor of your Small Balcony
A lot of balconies today have concrete flooring. Try using wooden flooring instead, if you really want to stand out with the design of your small balcony. Instead of the boring concrete flooring, this will immediately make your balcony appear cozier and will give your balcony some character. If you're looking to switch things up a bit, this decorating idea is very original.
13. Get Creative with your Balcony Lighting
Lighting is a great way to add some coziness and color to any space. For instance, to brighten up your balcony, you could make use of theme lights and also add some fashionable lighting to the wall. To the ceiling of your balcony, different lampions could be hung. You could always try adding some string lights to the railing of your balcony if you're looking for more concrete ideas. You could really use this decoration tip to make your balcony truly your own as string lights are available in all kinds of shapes and colors.
Irrespective of whether you're more the type to go all-out or the more minimalistic type, you could really use balcony lighting as a way to make your personal style crystal clear in the way that you decorate your balcony.
Nothing screams conviviality and comfort than a small balcony that makes ingenious use of lighting, more so if it does it in the most creative and innovative ways possible.
Conclusion
To wrap it up, these are all nice and stylish decorating ideas that can improve your small balcony's overall appearance. However, you should keep in mind that the most important part is to add your personal style to the space – something that reflects who you are. So do not be afraid, and get those creative juices flowing!