DIY Rakhi & Home Made Recipes
Raksha Bandhan, the festival which celebrates the unbreakable relationship between beloved brothers and sweet sisters is here. And it definitely calls for a joyous celebration! Though we are into the novel coronavirus pandemic, there are many things we can do to make this rakhi a truly memorable one. So, sharing here a few ways in which you can make this special day more special amid this crisis and bring a wide smile on your sibling's face.
Make Beautiful DIY Rakhis at Home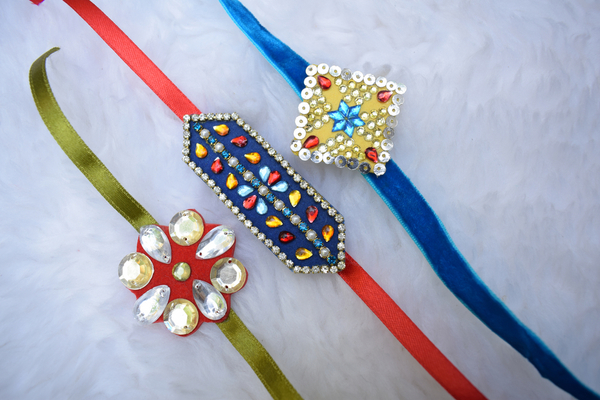 Though the market is flooded with all sorts of rakhis, it is good to halt your shopping activities this year as a preventive measure to keep the virus at bay. But, let this not stop you from celebrating the occasion; you can still shower your love on your siblings by making DIY Rakhis at home.
1. Rakhi with Woollen Threads
Materials Required: Woollen threads, some beads, glue, and scissors.
Steps:
Twist the woollen thread around your fingers for 20 rounds.
Pull the twisted threads out and tie it at the center.
Cut the ends of the bow using scissors.
Now spread and press it to form a flower pom pom.
Place a bead at the center using glue.
Finally, tie another strand of thread behind to make the Rakhi.
2. Rakhi With A Piece Of Cloth
Materials required: A piece of cloth, fabric glue, sketch pens, thick thread and scissors.
Steps:
Cut a piece of cloth in the shape of your choice (preferably rectangle) and secure the edges by folding and glueing them.
Using the sketch pens, write your rakhi wishes on the cloth.
Now stick this cloth on a thick thread and your rakhi is ready.
Prepare Some Delicious Sweet Recipes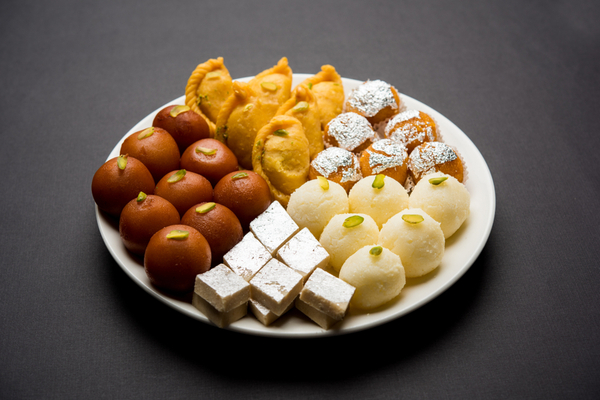 1. Kaju Katli
Ingredients: 1 cup of cashews, ½ cup of sugar, ¼ cup of water, ⅛ teaspoon of elaichi powder, 1 teaspoon ghee and Kesar strands (optional).
Method:
Grind the cashews to a smooth powder and sieve the powder.
In a pan, mix the sugar and water over a low flame and keep stirring until a syrup forms.
Add the cashew powder and elaichi powder to this mixture and continue stirring until a dough is formed.
Add a teaspoon of ghee and take the dough out of the pan onto a greased surface.
Knead the dough for about 30 seconds and cover it with butter paper.
Now, press a plate on top to form a uniform layer.
Roll the dough out according to your preferred thickness and cut the edges to form diamond shapes.
Finally, decorate it with some kesar strands and serve it.
2. Gulab Jamun
Ingredients:
For Sugar Syrup: 1 cup of sugar, 1 cup of water, 1 tablespoon elaichi powder, 1 tablespoon lemon juice
For Gulab Jamun: 9 tablespoon milk powder, 3 ½ tablespoons of all-purpose flour/maida, 1 tablespoon of rava/sooji, a pinch of baking soda, 1 teaspoon lemon juice, 1 teaspoon ghee and 4-5 tablespoon warm milk.
Method:
In a pan, add sugar and water and bring it to a boil. Keep stirring until the sugar syrup thickens.
Add the elaichi powder and lemon juice to the syrup and keep aside.
In a bowl, add milk powder, maida, sooji, baking soda, ghee and lemon juice and mix well.
Add milk little by little and knead it into a soft dough.
Roll the dough into small balls.
Fry the balls (until they turn golden brown) in hot oil/ ghee on a low flame.
Now, drop the balls into the sugar syrup and allow it to rest for about atleast 2 hours.
Finally, garnish it with chopped cashew or pista.
Prepare Some Delicious Recipes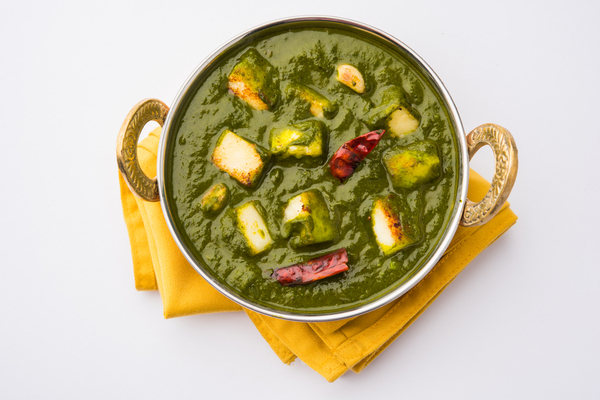 1. Paneer Kulcha
Ingredients: Paneer (grated) 200 grams, Refined Flour ½ cup, Onion 1/2 (medium), Salt to taste, Red chilli powder 1/2 teaspoon, Onion seeds as required, Butter as required.
For dough: Refined flour (maida) 2 cups, Baking powder 1/2 teaspoon, Baking soda 1/4 teaspoon, Salt 1/2 teaspoon, Sugar 1 teaspoon, Milk 1/2 cup, Yogurt 1 tablespoon and Oil as required.
Method:
In a bowl, add flour, baking powder, baking soda, salt, milk, yogurt, sugar and knead it to form a dough.
Apply oil on the dough, cover it with a damp cloth and set aside for about 50 to 60 minutes.
In a bowl, add chopped onion, paneer, salt, and chilli powder and mix them well.
Take a portion of the dough and spread it with your fingers.
Place a portion of the stuffing in the middle, gather the edges and seal it.
Now roll this into pedas.
Put a little oil on each peda and set them aside for 15 minutes.
Next, sprinkle the onion seeds over each peda and spread the peda into a round kulcha.
Heat a non-stick tawa and place the kulcha over it.
Flip, cover and cook till both sides turn equally golden.
Now serve it hot with your preferred side dish.
2. Samosa
Ingredients:
For dough: 2 cup maida / plain flour, ¼ tsp ajwain/carom seeds, ½ tsp salt, ¼ cup oil, ½ cup water
For stuffing: 2 tsp oil, 1 tsp cumin / jeera, ½ tsp coriander seeds (crushed), ½ tsp fennel, pinch of hing / asafoetida, 1 inch ginger( finely chopped), 1 chilli (finely chopped), ½ cup peas / matar, ½ tsp kashmiri red chilli powder, ½ tsp coriander powder, ¼ tsp cumin powder / jeera powder, ½ tsp amchur / dry mango powder, ½ tsp garam masala, ¼ tsp pepper( crushed), ¾ tsp salt, 4 potato / aloo (boiled & mashed), 5 cashew / kaju (chopped), 2 tbsp raisins / kishmish, 2 tbsp coriander ( finely chopped).
Method:
Prepare the dough using the above-mentioned ingredients and roll it into an oval shape.
Now using a knife, cut the dough horizontally, diving into 2 equal portions.
Grease the dough with water and make cones.
Prepare the stuffing by mixing the above-mentioned ingredients and stuff 2 tbsp of it into the cone.
Now, close and seal the edges and deep-fry the samosa on a low flame.
Once it turns golden brown, take it out and serve it hot with some ketchup or green chutney.
3. Palak Paneer
Ingredients: 500 gms spinach (pureed), 15-16 Paneer cubes, 2 tbsp oil, 1 tsp cumin seeds, 1 Bay leaf, 1 tsp ginger (finely chopped), 1 tsp garlic (finely chopped), 1 cup onion paste (boiled), grated, 1/2 cup tomato (pureed), 2 tsp salt, 1/2 tsp garam masala, 1/2 tsp red pepper (powdered), 1/2 tsp coriander powder, 2 nos black cardamom (crushed), 1 tbsp cream
Method:
Prepare palak puree by boiling the spinach and grinding it.
In a pan, fry the paneer cubes until they turn golden brown.
Remove the paneer cubes and in the same pan add cumin, bay leaf, ginger, garlic, onion paste, salt, garam masala, coriander powder, and red pepper and saute for a few seconds.
Now, to this add tomato puree and palak puree and let it cook for 2-3 minutes.
Add paneer cubes to the mix and turn it around a few times.
Finally, pour some cream over and serve hot.