Diwali Home Decor Ideas
Diwali is an Indian festival of colors, lights, and sweets. It is celebrated to mark the victory of Lord Ram over the evil Ravana. Houses are decorated and lightened up during Diwali to spread positivity. People pay a visit to their relatives to exchange sweets and have feasts. For illuminating and decorating your home this autumn Diwali season, make use of the below-mentioned decor ideas, starting from handmade lights to beautiful rangoli designs. You can also innovate your decor ideas and save on a huge amount of unwanted expenses.
1. Paper Lampshades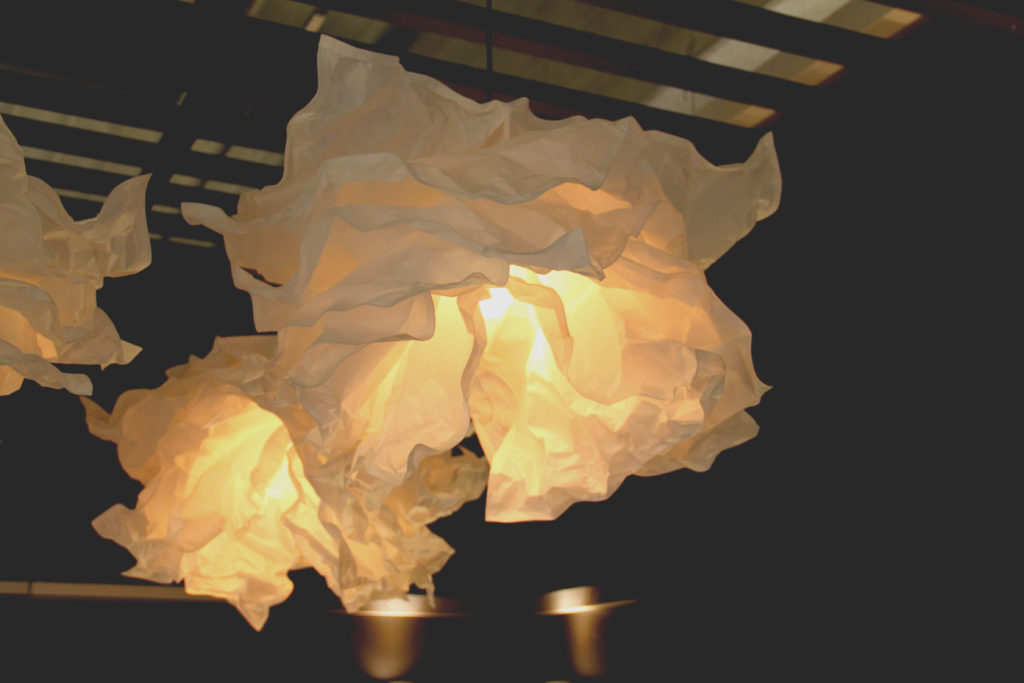 Paper lanterns are quite popular decor items that can be utilized to decorate your homes during Diwali. The good part is that you can either buy them from thrift shops or create them yourself by using variously patterned and colorful papers. Take a rectangular piece of paper, further perforating it with a compass. After this, envelop the piece of paper into a circular shape and glue the two ends together. You can decorate the lantern with sequins and sparkles. 
2. Hula Hoop Chandeliers
You can tie the flickering fairy lights at different places around a hula hoop. Hang these beautiful lighting chandeliers on the doors of your home or in your living rooms. Hula hoop chandeliers are astonishing for providing party decorations to your home.  They are easy to make, as well. All you have to do is twine the colorful lights around the hula hoop.
3. Glass Jar Lanterns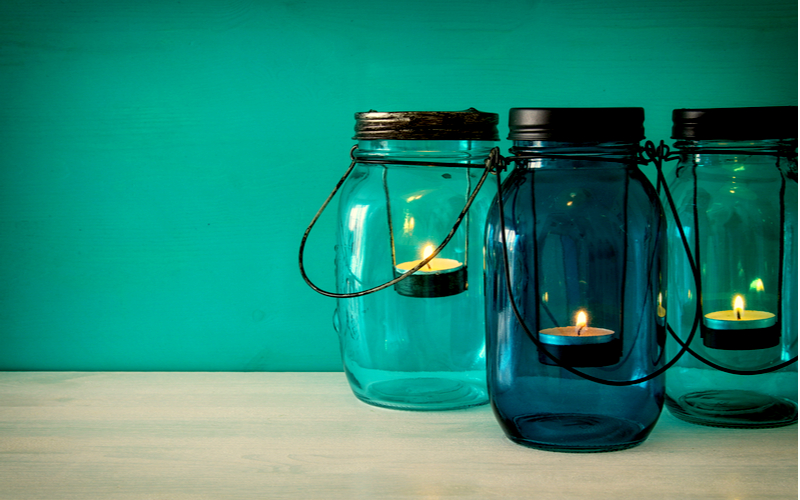 You can use the flickering fairy lights to decorate almost anything. If you have unused glass bottles or jars at home, then you can insert the lights into the transparent glass containers. Similar to hula hoop chandeliers, you can hang mason jars or bottles anywhere in your home to make it look splendid as well as appealing.
4. Beautiful Rangoli Designs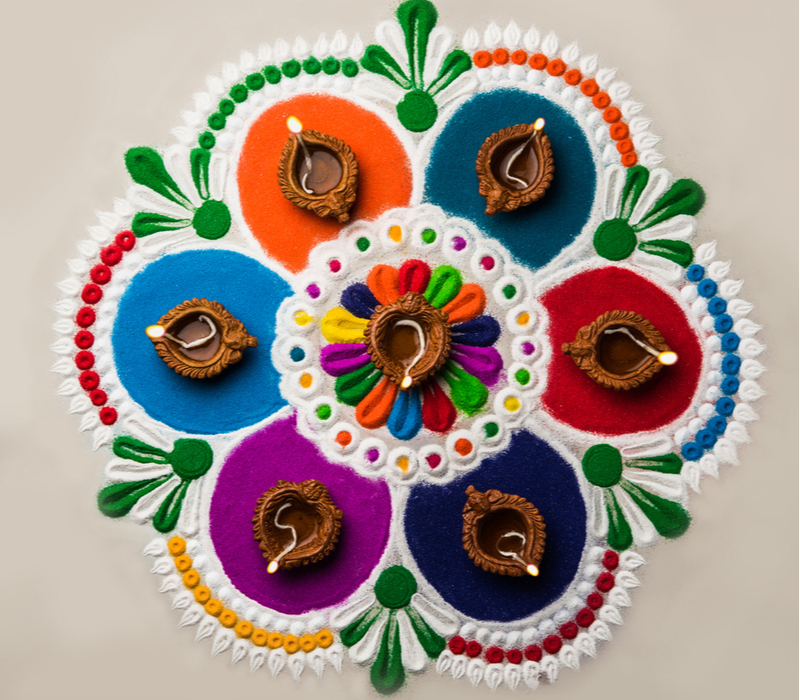 Enhance the floors and pathways to your home with colorful rangoli patterns. They are also known as the teeka or bindi of mother earth. Rangolis add importance as well as uniqueness to a place. A wide variety of designs can further add up the distinctiveness to rangoli designs. Combine the Rangolis with rice, flowers, diyas, earthen pots, and even hand paintings.
5. Flowers decoration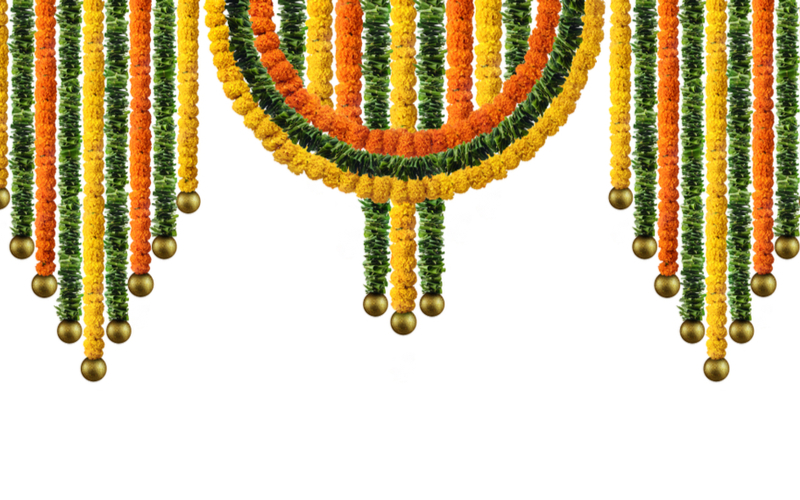 Flowers add color and fresh aroma to the Diwali celebration. Use simple strings of vibrant flowers to beautify your homes. Tie these strings on the walls of your houses. Floral decorations look spectacular on railings and staircases as well. 
6. Colorful candles decor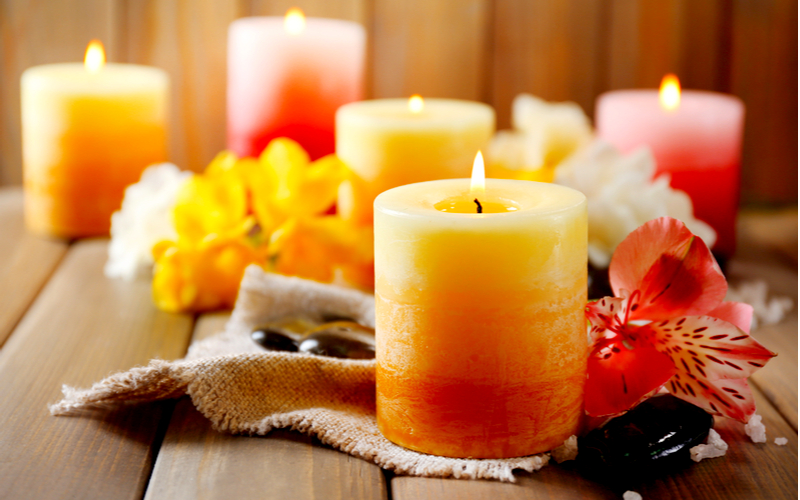 Colorful candles can be put on tables and drawers. You can keep these in tin shaped containers or water-filled flower bowls to add a warm ambiance to your guest room. Candles are pretty common to use for Diwali decoration. So, you can share this idea with your loved ones as well.
7. Sweet smelling fruit candles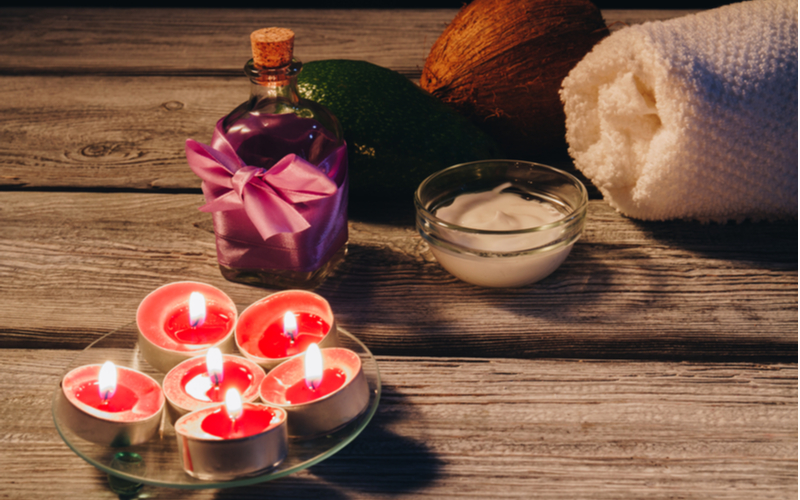 The sweet aroma of candles and flowers brings happiness and positivity around us. Ensure that there is sufficient ventilation in your home. Use sweet-smelling fruity aromatherapy and scented candles to get an additional appeal.
8. Coasters for Diwali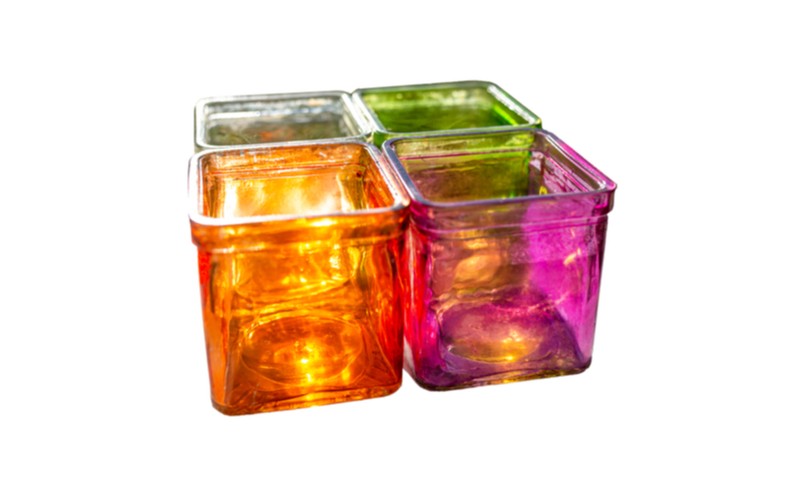 Surround your home in a mystic cover of authentic designs. Coasters are much-needed for table-setting. You can choose a unique and appealing Diwali coaster, a beautiful vase, and create a flower centerpiece to place it on the coffee table.
9. Earthen diyas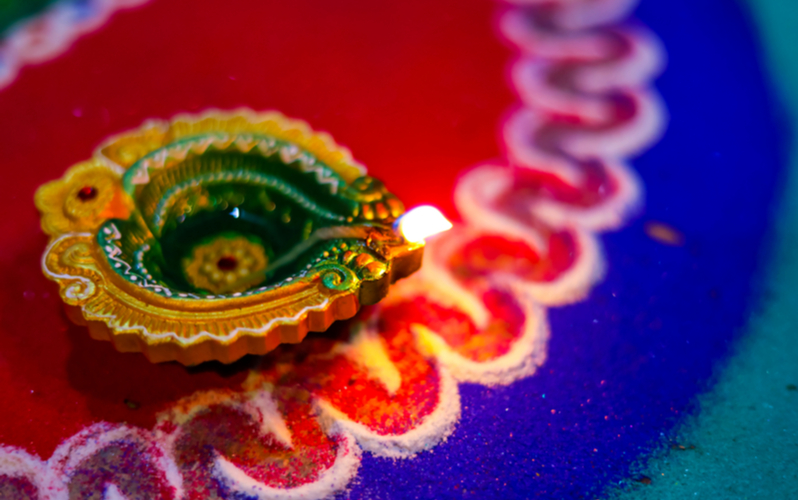 Diwali is incomplete without Diya decorations. With the help of diyas, you can enhance the appeal of your complete house. Paint your plain Diyas to make them festive and lively. You can also make use of beads and sequins to decorate the Diyas in various colors and patterns. 
10. Diwali torans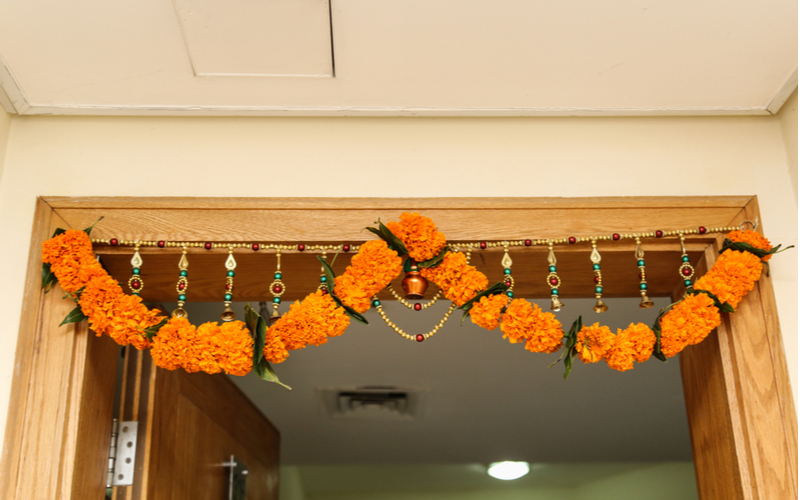 Traditional torans are wall hangings that make use of a variety of decor materials such as rhinestones, mirrors, and sequins. You can use these to enhance your doors, ceilings, or walls during Diwali. If you love crafting, then you can make torans with crepe paper and flowers as well.
11. Thread lanterns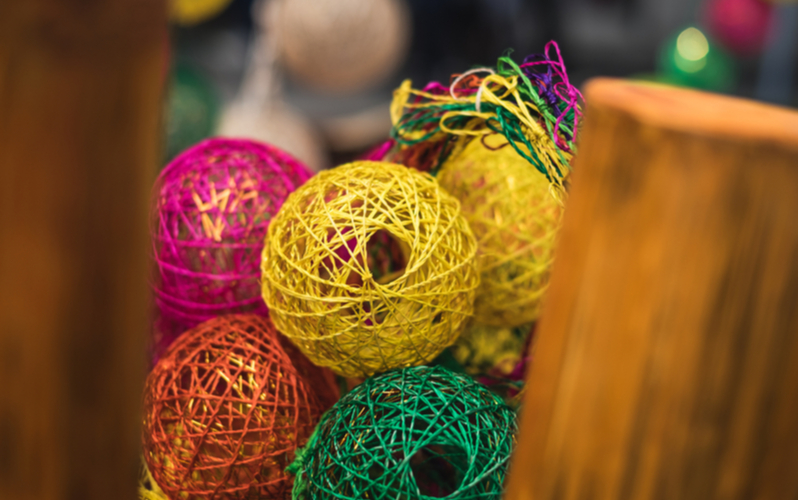 Using decorative lamps for enhancing homes is an ongoing trend. Small lights and lanterns look pretty, also enhancing simplicity in an area. Furthermore, you can uplift the aura of your house by tying threads around a globe of fairy lights. You can use simple as well as colorful lighting tones to further illuminate the lanterns. 
12. Creating hanging paper diyas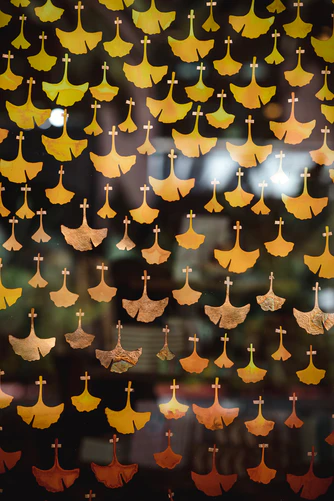 On the auspicious occasion of Diwali, why settle with plain diyas? Kids, as well as adults, can make fabulous paper diyas with crepe paper and tie the diyas in a string. Decorate your walls with unique decor designs such as flowers Diyas.
13. Lampshades with bangles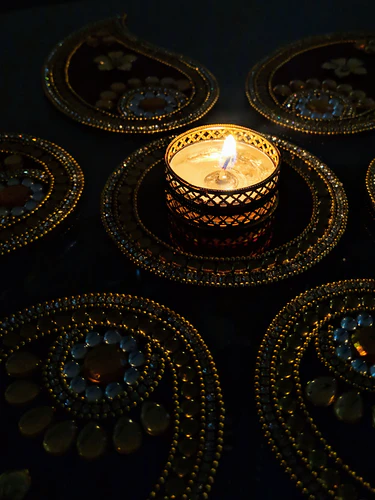 You can decorate the interiors of your house with broken bangles. Use fairy lights and disguise them with broken bangles; these lamps can bring an amazingly glowing effect to your pooja rooms.
14. Wall hangers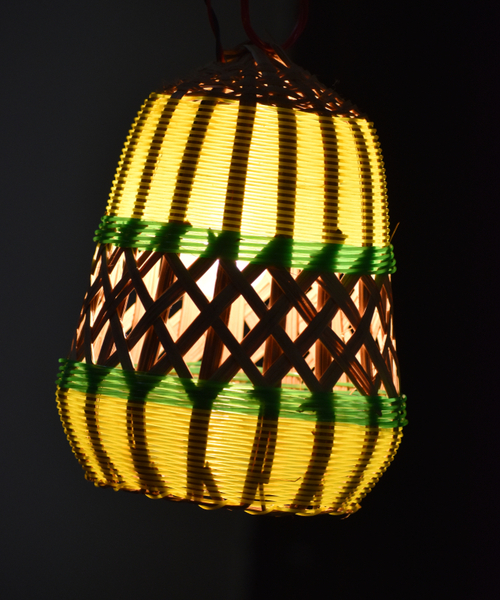 You can use different artistic and creative designs to make Diwali hangings. Wall hangings help to redesign the entire atmosphere of your home. You can use paper diyas, wooden sticks, flowers, seashells, art paintings, among others, to elegantly create picture frames or wall hangers.
15. Sticking wallpapers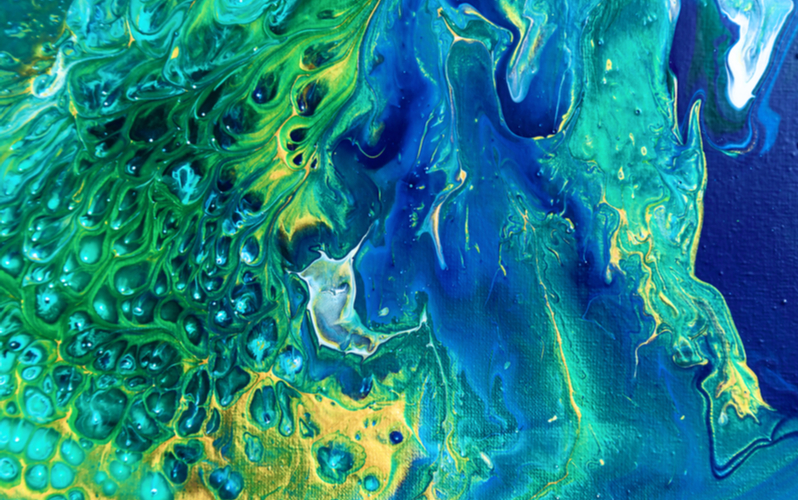 Painting the walls of your house can add glow to your home. But, painting the entire house is not budget-friendly. However, there are plenty of wallpaper designs available on online platforms. You can choose your favorite designs that will make your walls look exceptional, even without the paint.
16. Drape lights for windows and doors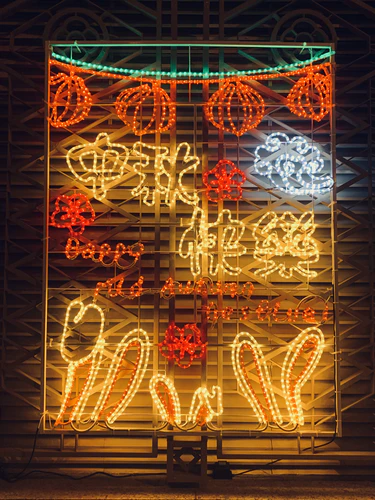 Diwali decorations mean adding lots and lots of lights to your home as lights bring positive vibes. You can drape twinkling lights around your doors and windows to add a soft and mesmerizing glow to your home.
17. Ribbons and balloons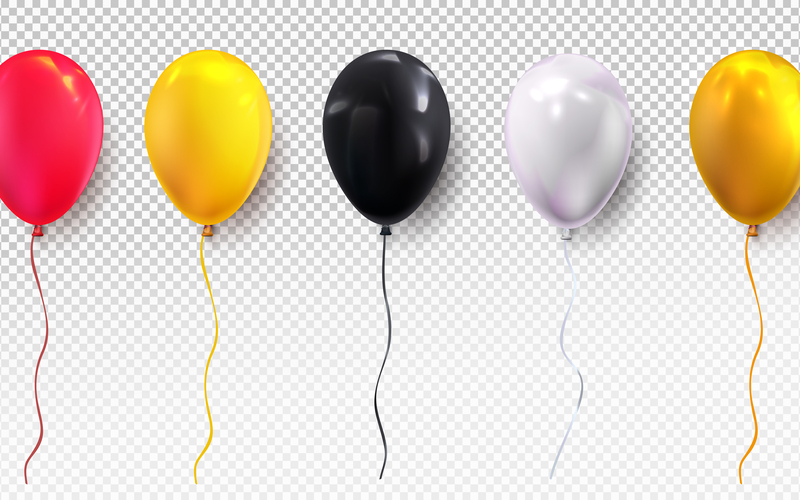 Tie balloons with colorful ribbons; balloons are perfect in drawing the attention of children as well as adults. You can combine them with colorful flowers, further, adding them to the doors of your houses. You can also paste colorful balloons on lamps and chandeliers.
18. Tinkling bells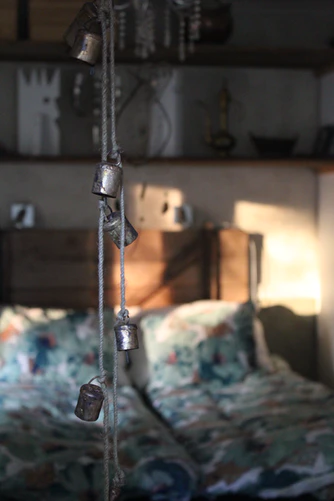 Sounds of tinkling bells and wind chimes dispels evils and welcomes divinity. Bells are also used in prayers to control the wandering mind, making them perfect to use for Diwali decorations for your puja rooms. Be creative and combine the bells with colorful ribbons.
19. Paper cup lights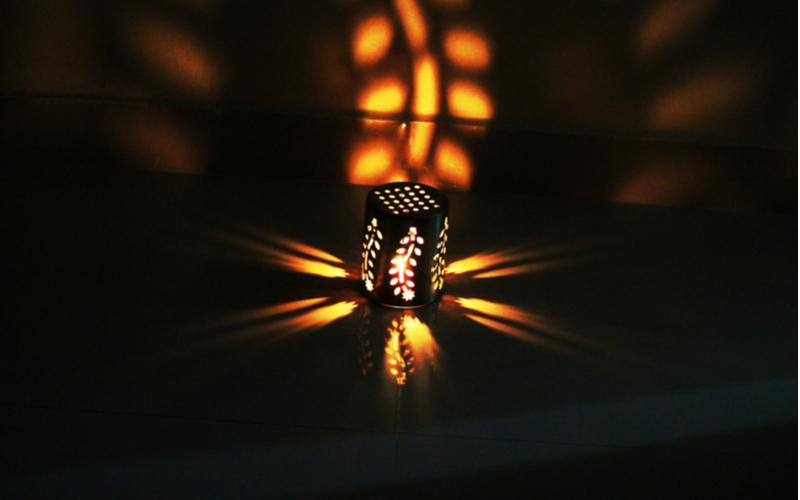 Believe us – this Diwali, make use of paper cups to decorate different corners of your house. You can add your creativity by cutting and polishing the paper cups into a variety of shapes and sizes.
20. Reusable unwanted items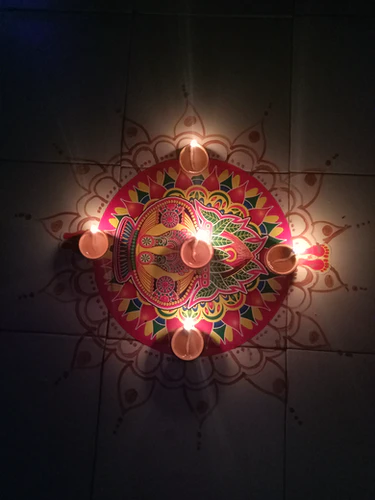 Many reusable items are often lying around your house as waste materials. Collect them together this Diwali to devise something beautiful. For instance, you can use old tin or glass bowls for lighting diyas, keeping flowers, and candle stands.
Conclusion
Aforementioned are some of our favourite tried Diwali decoration tips for your homes. You can further blend and innovate these ideas to create new artistic designs to illuminate your homes. Moreover, experiment with beautiful colors to add that glamorous spice to your home without buying expensive decor items and burning a hole in your pockets.