Types Of Bed Bases
A good mattress is an integral source for having a good night's sleep. Additionally, it affects the health of your spine which shouldn't be taken lightly. These can also be triggered by the bed bases- the foundations of the mattresses.
There are different variations available in the market. We have listed some of the important ones below.
What makes a good bed base mandatory?
A good bed base is very  important because it guarantees the optimal level of support and ventilation for the user. This minimizes muscle strain, joint pains, etc. for restful sleep. The right bed base also enhances the life of your mattress (mainly because of proper ventilation) and makes sure it gives you enough support by providing the right amount of counter-pressure exactly where you need it. Normally, you can pick from two different bed systems: a regular bed and a box spring. For both a bed and a box spring there is a wide  range of different bed bases with specific features.
Adjustable Bases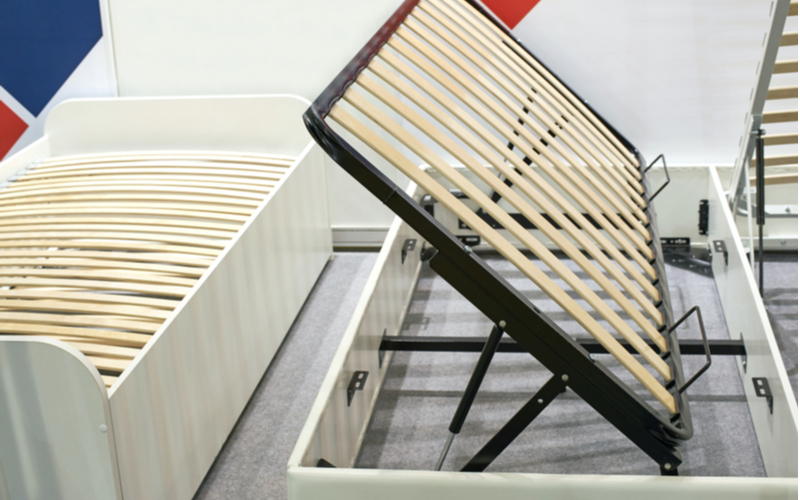 This type of bed base has moveable foundations and is used below the mattress. They lift up your head and feet to give you a comfortable posture when sitting. It is also beneficial for the back and neck, as there is no direct pressure. In all, they provide good support and good ventilation for the mattress, so it's kept cleaner and hygienic. Moreover, they are apt for people having health or mobility issues, as it increases the comfort for them. There are different variations also- single or double beds. Some companies manufacture these model pieces which can be controlled via Bluetooth, massaging features, and additional lumbar support.  
Bunky Boards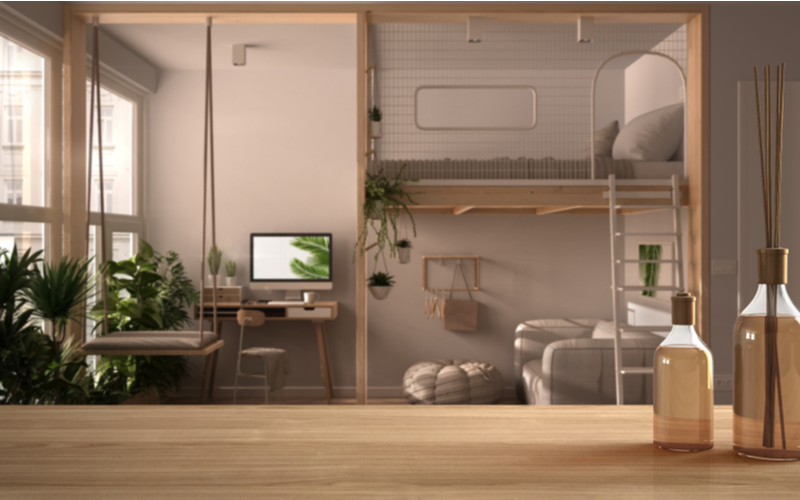 These are the lowest profile choices to choose for the bed base type. They don't have much height. The materials used are wood, plywood, or MDF that is the same size as your mattress. The wood is covered with fabric to protect your mattress from sliding. It is one of the cheapest available options. The overall look of this bed type comes out to be modern. Due to its less cost, you can invest in a memory foam mattress that can give you good support. It can also be used in the children's rooms. 
Platform Bed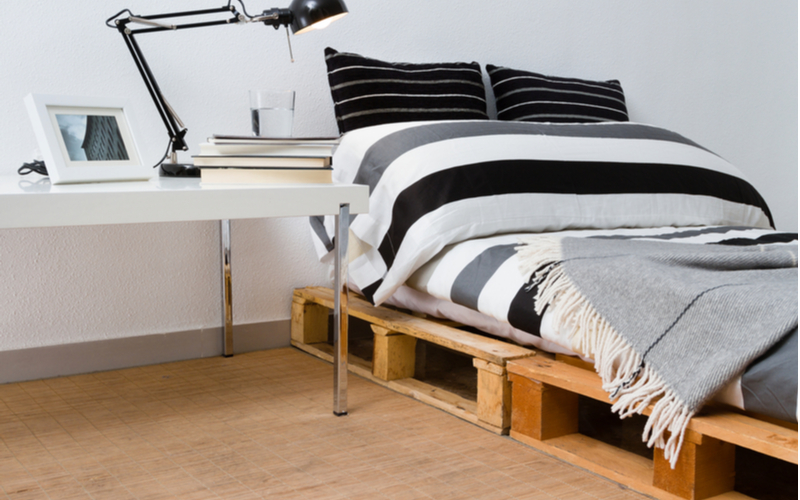 The platform bed base looks simple and modern. That's why it's getting more popular day by day. It is cheaper than most of the other types of bases. It is a simple low flat solid wooden base with no springs or slats. Although, it doesn't compromise on the firm feel for your back.
It can full fill the purpose for a person who likes simple bed types. Although, it cannot support as strongly the other bed bases. You can invest in a good mattress if you want both of them.
Futon Bed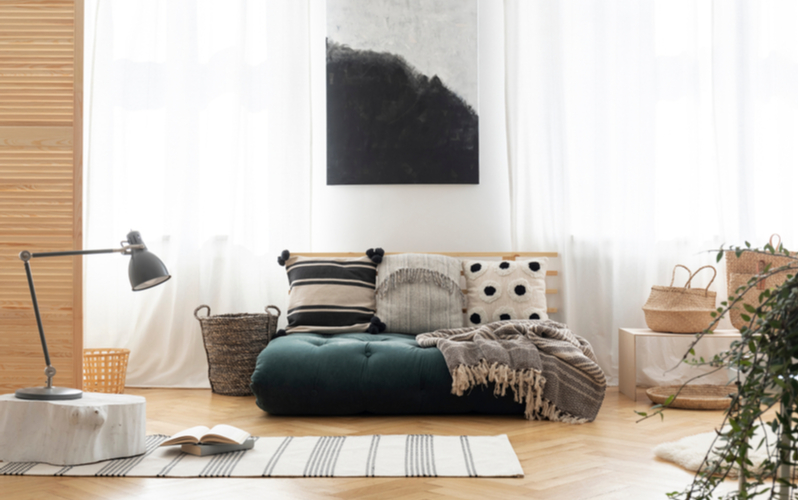 Futons are basically used as a space-saving option. The base in this type is made up of hardwood or a firm wire base. They don't provide any support in the change of pressure. Moreover, it comes with large pillows filled with fluffed cotton. So you cannot change as per your choice. They are uncomfortable to sleep as the body had to adapt to the cushions, and there is no provision to support your spine. The positives, they are cheap and can be used as extra bedding for guests.
Ensemble Bed
Ensemble Beds are the most common beds for someone who is looking for a space-efficient modern dwelling. They are available in two types- sprung and platform. As the name suggests, the sprung ensembles consist of a boxed base with spring inners. Its function is to support and adjust the weight of the person's posture using the mattress. Moreover, it prevents the wear and tear of the mattress. They are large flat bases just a few centimeters away from the ground. They gave a soft feel with proper support. As each spring is acting individually there is no ripple effect even if the partner moves. The latter one has no springs and just has a box base for the mattress. It provides firmness but not flexibility.  The common thing between both of them is they don't come up with a head and footboards. Which gives them a minimalist and modern look. They are practical and ideal for small spaces. There are also storage spaces underneath the mattress in some models. The downside of having these bed bases is the lack of ventilation for the mattress, which as a result reduces its life. 
Wooden Slat Beds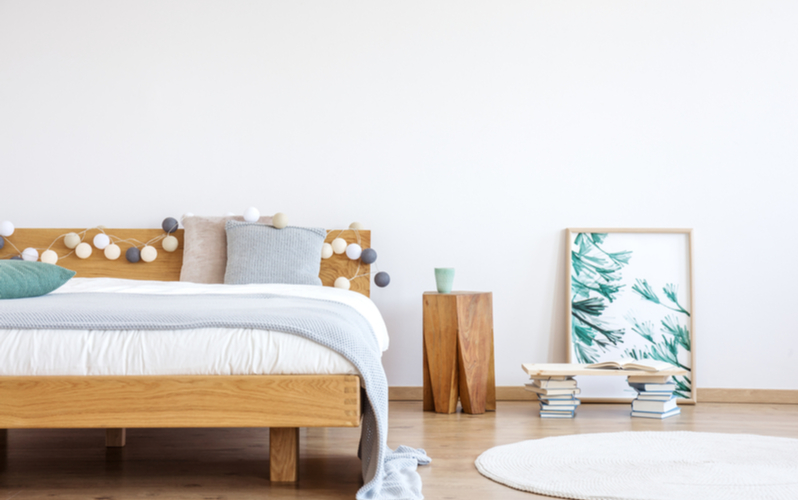 These are the most common bed bases which are used widely. There are two types: Sprung slat and standard slat. The first one uses a line of curved wooden slats that adapt to the sleeping profile person. These are flexible wooden slats that allow movement while maintaining firm support. The firmness of the slats can be adjusted to different levels as per the preference.The second one is simple. It has a frame with wooden slats placed almost together so that there is equal support to hold the mattress on the central beam. They have a plethora of options on legs, bedheads, frames, legs, and materials. They can be even customized too. Since their base is usually higher, there is an ample amount of storage space.   
Conclusion
Choose the bed type that fulfills your criteria. There are many variables to keep in mind, the health of your spine, budget constraints, and the look of your bedroom. So weigh up all the factors and come to the right decision. A mattress (no matter how expensive) is never at its full potential without the right bed base. It's important to know the importance of bed bases for your health. By placing your mattress on an optimal base, it is beneficial for your comfort and wellbeing. Remember that a poor bed base can cause sleep problems and you will end up with bad body aches.