Advance wishes everyone!! With just a few days left for one of the biggest celebrations of Bengal, the Poila Baisakh, many of us are still baffled and bewildered about how to celebrate the day under the restrictions of the coronavirus pandemic. And of-course, with stay-at-home orders, self-isolations, restrictions on movement and ban on large gatherings, this year it's going to be a different Poila Baisakh than we have seen in the past. But just because we are homebound doesn't mean this day can't be made special. There are plenty of ways to celebrate this New Year day and feel festive.
Here we bring it, the 9 ideas to celebrate Poila Baisakh at home during Coronavirus Lockdown.
1. Make Your Poila Baisakh Delicious with Home Kitchen Recipes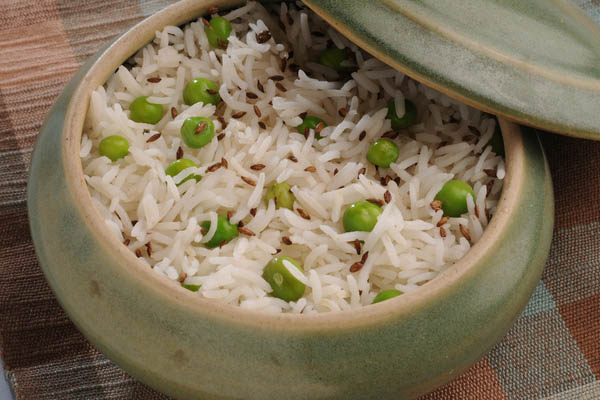 Poila Baisakh celebrations call for the preparation of a variety of authentic Bengali dishes that are consumed through the course of the day. Despite the closure of stores and steady hunt for essentials, you can prepare some tummy-filling recipes like Basanti Pulao and Homemade-Paneer Dishes in your own kitchen with the possible supplies available during this lockdown. Also, try your hands at Doi Chicken, the most important non- vegetarian dish that steals the limelight in the Poila Baisakh platter. Another recipe that cannot be definitely missed on this festive day is Fish curry, especially Rui Macher Kalia, so don't forget to add it to the list. If you are not a great cook with the best cooking secrets, you can still have these dishes on your table by checking out the videos on Youtube. As this lockdown has opened up more pockets of free time to your partner and other family members, involving them in the preparation of these recipes can make the feast more memorable and more interesting.
2. Do Karaoke of Old Bengali songs with family
This New Year day is perhaps a day of craziness for all. Why not make it even crazier by doing karaoke of old Bengali songs with family?! It is also a great way to bring the family together, have fun and encourage one and another. You can get the list of some famous songs like Coffee Houser Sei Adda Ta Aaj Aar Nei, Ogo Nirupoma, E Ki Holo, Mone Pore Rubi Roy, Ei To JibonMor Swapneri Saathi, etc. and unleash the inner rock star in everyone. To make the family karaoke time extra special, transform your hall/terrace or any other room into an exciting karaoke club by using stuff that you find around your home.
3. Clean and dust the house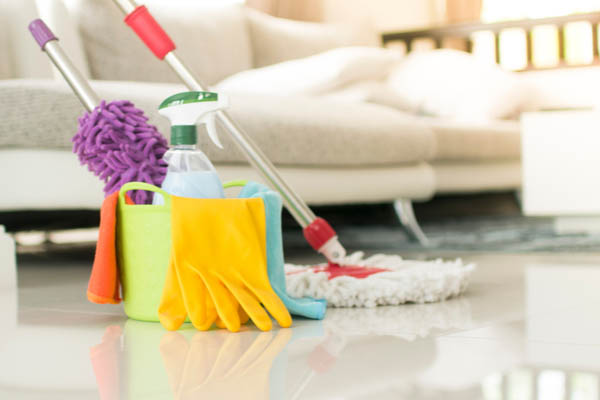 In our land, every festive occasion calls for cleaning and dusting of the house as untidy homes are said to attract negative energy. So, start the year with a clean and sparkling home. Do a good thorough cleaning a few days before the New Year day to get rid of all the clutter and items that were weighing you down in the past year. Before rolling up your sleeves, get the cleaning tools ready: Sweepers, broom sticks, ladders, glass cleansers, duster, non-abrasive cloth, water, and your preferred cleaning agent. Clean every room by paying deep attention to furnishings, furniture, doors, windows, curtains, floor, wardrobe, bed, home appliances and especially your modular kitchen cabinets.
4. Perform puja at home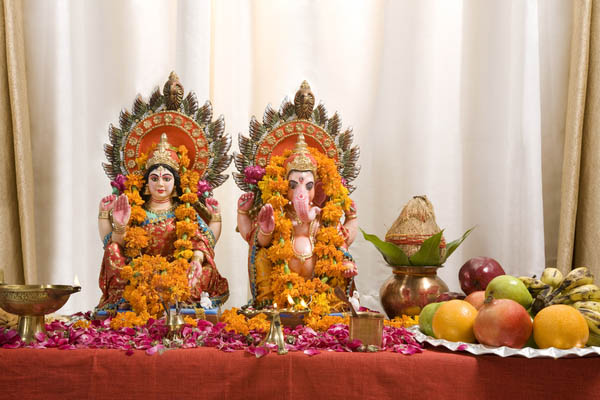 On the auspicious day of Poila Baisakh, worship Lord Ganesha and Goddess Lakshmi by performing puja at home as this ritual is believed to grant good health, long life and prosperity. Though a grand scale puja is not possible during this lockdown, you can keep it simple by offering flowers (if available in your home garden), lighting lamps and doing aarti. For merchants, shopkeepers, traders, retailers, and businessmen, this Lakshmi Puja holds an extra significance as they open their fresh accounts of the year. So, if you or anyone of your family members runs a business, don't miss out on this puja.
5. Rearrange your furniture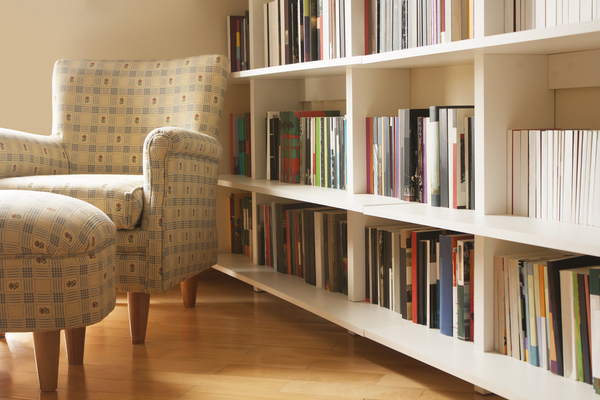 Furniture rearrangement shouldn't only be reserved for home makeover and boredom fighting, but also for occasions like Poila Baisakh. For many, this is a daunting and overwhelming task as they are not aware of the basic principles of furniture arrangement. If you are one amongst them, just follow these common rules, you will find it easier: Measure the room and note all the outlets, don't push your furniture against the walls, don't group all the large or small pieces in one area as it create visual imbalance, allow for traffic flow, keep the eye lines clear, and most importantly choose function over form.
6. Use some old discarded objects to do some DIY activity at home
Why not pull out and open up the bag that you filled with no longer usable items during your home cleaning and clutter check and try some DIY activity at home?!
a. Make kites and enjoy with your children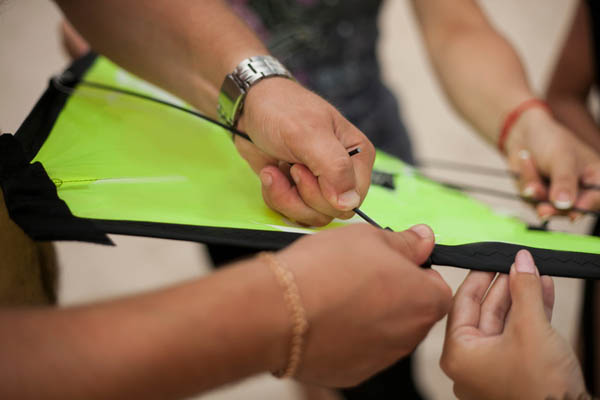 Materials needed: Two sticks, a plastic bag, string, ribbon, tape and scissors
Directions: Tie the two sticks together, forming a "T" shape, with a piece of string. Make notches in both ends of the two wooden sticks. Wrap the string carefully along the circumference of the kite, making sure it goes right into the notches. Now the frame is done, it's time to affix the bag. Cut the bag to fit the frame of the kite, leaving extra one inch on each side. Now, place the bag on the floor and put the frame on top of it. Fold the edges of the bag over the string and tape them down. Tie ribbon to create a tail for the kite and also to help balance it. Finally, poke holes, add strings and get the kite flying.
b. Make Utensil Bins using Tin Can To Manage Your Kitchen Stuffs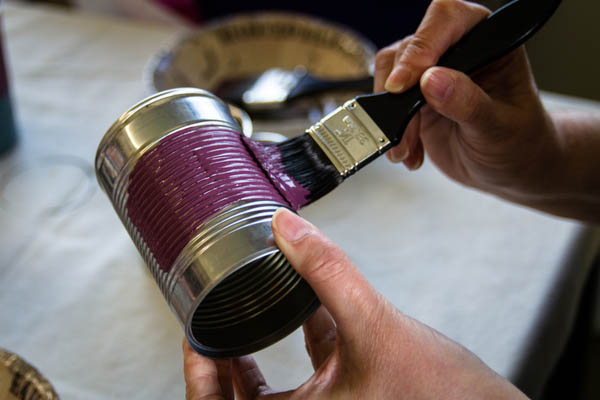 Materials needed: Tin cans, scissors, electric drill, spray paint, stickers, washi tape, or tags, and S-hooks.
Directions: Drill holes below the rim on the back side of each tin can. Coat the cans with spray paint in the colour of your choice by turning the cans upside down. Next, embellish the cans with stickers, washi tape, or tags of your choice. Hang the cans using S-hooks onto a bar. Now, your utensil bins are ready to hold your kitchen stuff!
c. Turn Plain Glass Jar Into Classy Flower Vase By Creative Drawing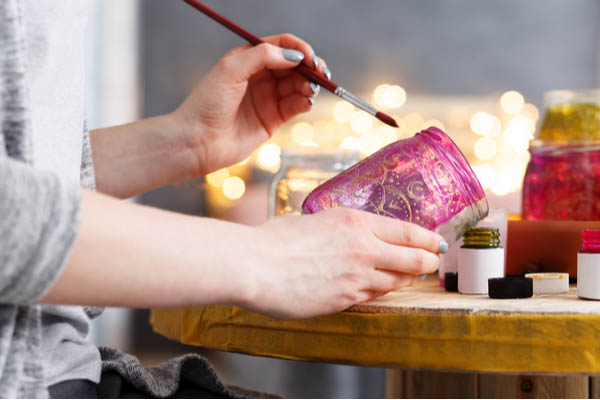 Materials Needed: Clear glass jars, oil-based paint marker in the colour of your choice.
Directions: Create designs on the jar with the oil-based paint marker. Add details by trying out different motifs, flower patterns, geometric shapes, etc. Once the entire jar is covered, use it to display various items like flowers, lengthy leaves, etc. that you find in your garden. If your kids love and enjoy drawing, involve them too as it will improve their drawing skills, keep them engaged and also help them remain creative in this lockdown.
d. Create Table Runner By Your Embroidery Skill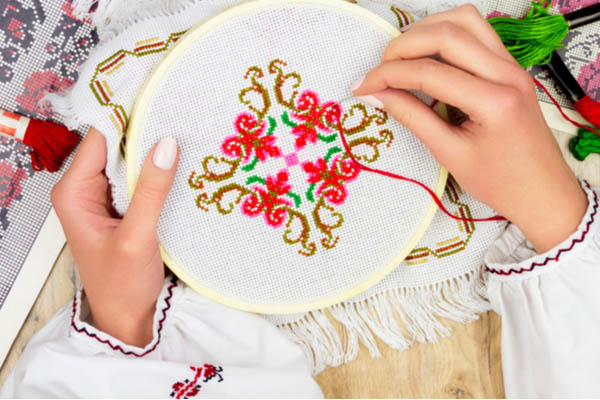 Materials Needed: Sewing thread, washed and ironed fabric, embroidery needle, sewing pins, and scissors.
Directions: Create patterns and designs on the fabric with your embroidery skills. Customize it by adding the right personal touches. Finally, snip away the extra threads and stitch the corners. What's next? Your table runner is ready to dress your table.
7. Homemade Mishti Doi and Sandesh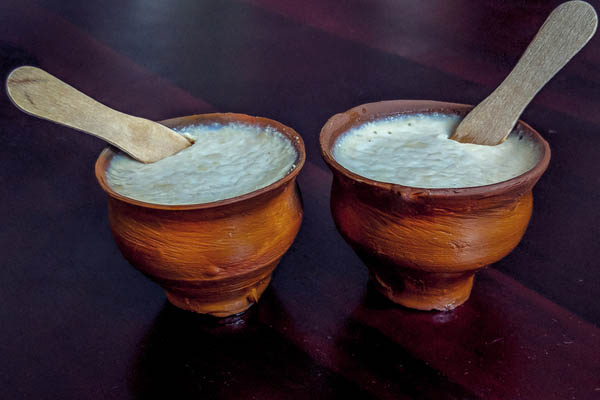 No festival is ever complete without sweets and for the same the Naba Barsha menu is also laden with unbeatable sweets for dessert. Sandesh – the ultimate delight of Bengal is one such delicious sweet not to be missed on this special day. You can prepare it in your own kitchen by kneading up just three ingredients – powdered sugar or jaggery, paneer (chenna) and cardamom powder. Another perfect sweet which melts in the mouth and makes its way to the heart forever is Mishti Doi. Prepare this festive favourite by thickening the milk, sweetening it with jaggery, and allowing the mixture to ferment overnight.
8. Design Alpana for your home puja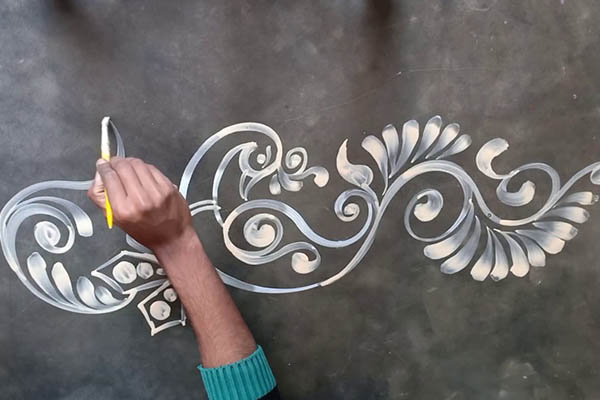 Beautify your home with alpana or rangoli – the traditional floor patterns. You can try your hands at some general patterns like flowers, leaves, sun, owl, fish, lotus and also a special pattern called "kolka" – on the floor in front of the idols, at the entrance by the door, veranda or hall – by using a small piece of cloth that is dipped in diluted rice paste. You can also place a small earthen pot filled with water, and capped with mango leaves in the middle of the alpana to serve as an auspicious symbol on this festive day.
9. Add some new household furnishings to decorate the home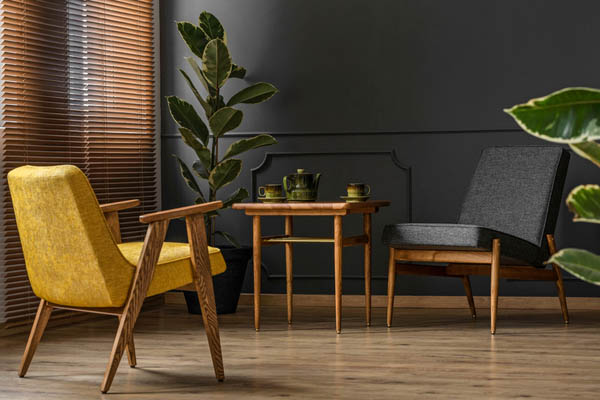 While you deck yourselves and your family to shake off the past and welcome the future, spare a thought about your home too. Don't you think it also deserves to appear alluring and attractive? If so, deck it up with some new and fresh household furnishings. It can be a small coffee table to enjoy some coffee time with your partner or a new bookshelf for your kids or the living room sofa that meets and greets your guests. As the furniture stores have shuttered their doors due to the coronavirus pandemic and also not everyone is fortunate enough to have stocked these furnishings in advance, execute this plan after the coronavirus crisis is controlled.