Increase Space in Your Kitchen
If you sense that you do not have sufficient space in your kitchen despite having a lot of drawers and cabinets, it might be because of how you store stuff. If the objects within- are jumbled, all the storage capacity on the planet won't really help. Explore the top kitchen storage organizational solutions to help you optimize your storage capacity while also allowing you to create so much more. To make the kitchen more utilitarian and far less hectic, try out these brilliant tips for eliminating clutter and storing culinary materials.
1. Decluttering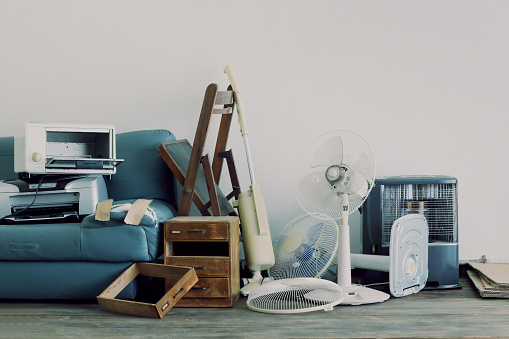 First and foremost, discard anything that is past its expiration date, is unclean, or is rancid. Tidy your fridge and closets thoroughly (yes, even the ones underneath the sink).
2. Cutlery Trays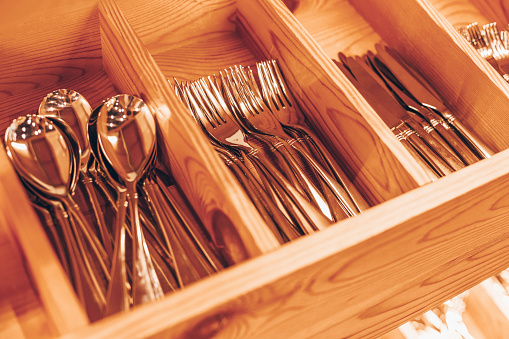 You isolate your skewers, cutters, and silverware, so why not do the same with your cooking utensils? Forks, wooden spoons, and whisks should all be kept in their own containers so you don't have to rummage through a jumble of equipment to find just the one that you need.
3. Hooks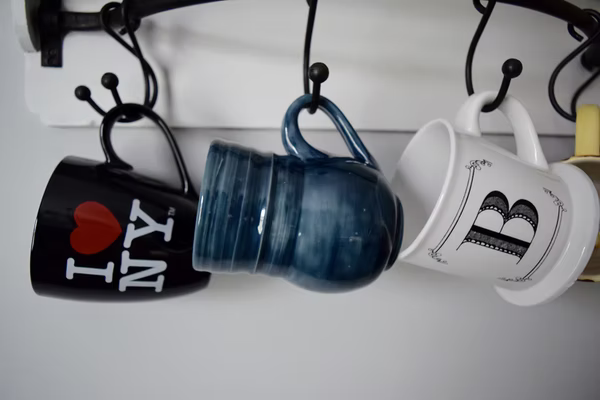 Tea or coffee demands the use of mugs, but these consume shelf area and don't stay stacked nicely. Installing hooks underneath a shelf or cupboard and hanging mugs by their stems is a simple option.
4. Cutting Boards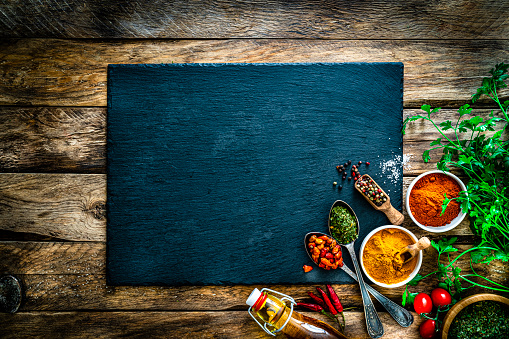 There will always be a shortage of storage space, so here's a simple solution: find a chopping board that slides over the sink to generate more chopping room. Many come with inbuilt colanders to facilitate easy preparation.
5. Mason Jars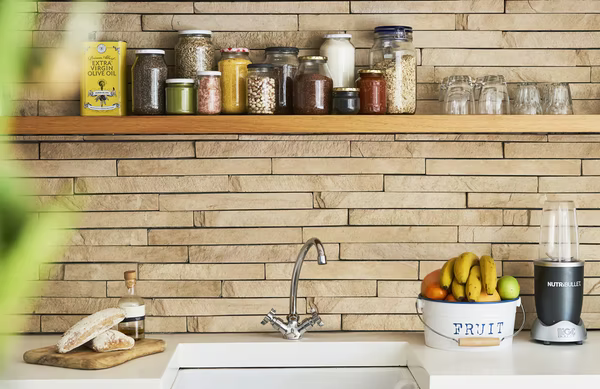 Plastic boxes or huge mason jars can come handy. To keep things tidy and noticeable, decant bulk products into jars.
6. Magnetic Shelves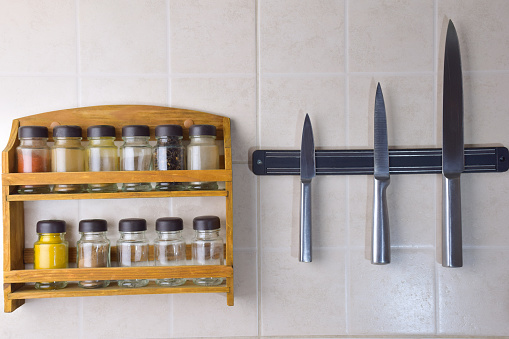 A magnetic shelf is not only simple to set up, but it is also detachable, making it ideal for renters.
7. Pot Racks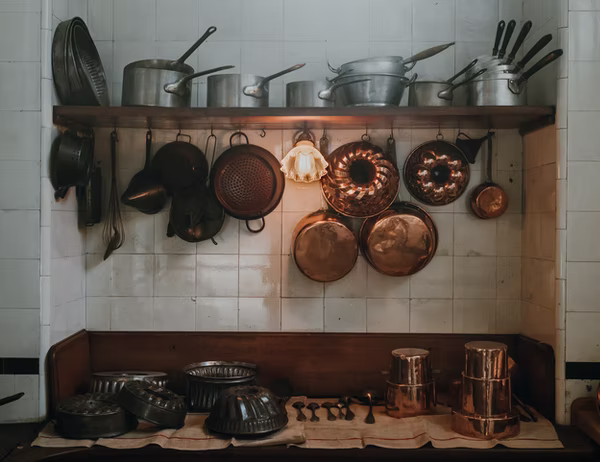 Add a pot rack to contain all the pans that are lying on the burner or eating up more space in your cabinets by making use of vertical space. Think about putting it above the kitchen sink if your ceilings are low.
8. Dividers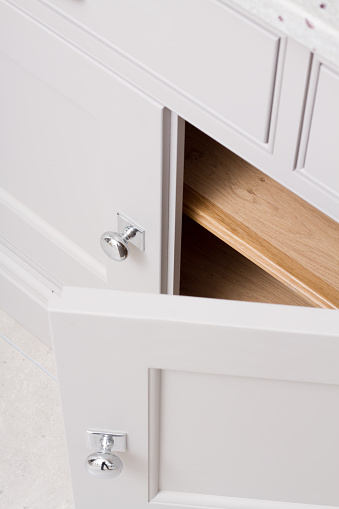 If you unlock the cupboard door and hear a loud clanging or a landslide of lids, it's time to organize those cookware. Inside the cabinet, place a few pan separators and arrange pots and lids.
9. Cabinet Risers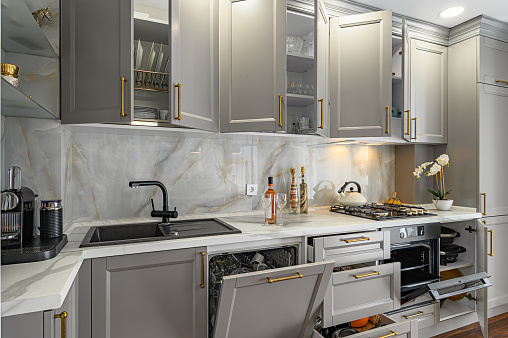 Place risers in cupboards to take use of the vacant space available. This will keep stuff sorted so that you wouldn't have to dig through a large stack to find something.
10. Drawer Spice Storage
11. Mount your Glasses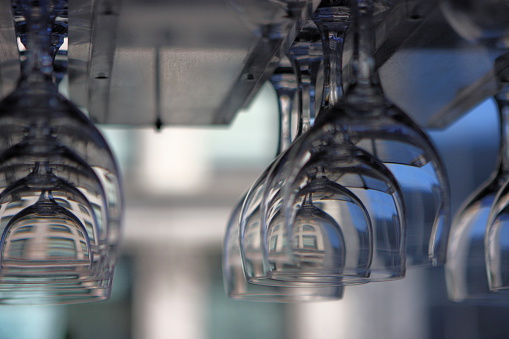 This bartender's approach preserves your stem-ware in a stylish manner. You may display the wine glasses by hanging them behind a cupboard, or you can hide them away within for covert storage.
12. Hang your Dish Rack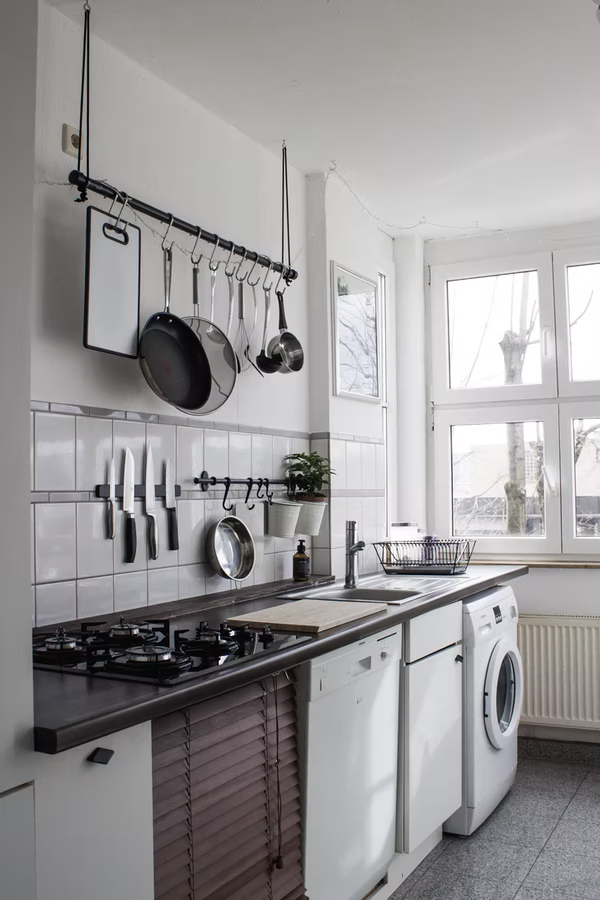 Add a ledge just above the sinks for air-drying dishes to save what minimal prep space you have over the counter—even better if it's a dedicated dish tray that stands them vertically.
13. Magnetic Knife Bar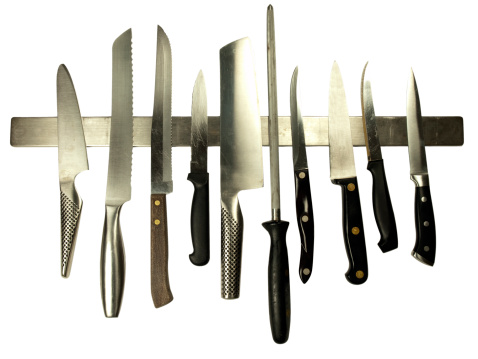 This is a terrific substitute for a knife-block and another space-saving method.
14. Hampers and Bins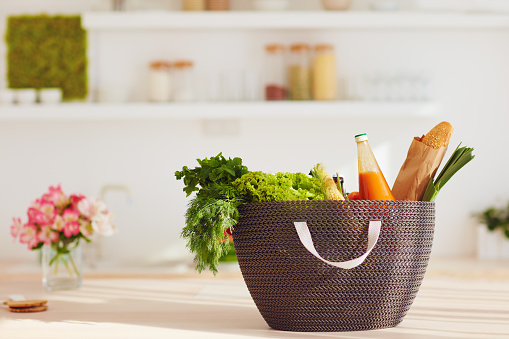 Keep stuff orderly if you can't seem to keep them out of view. Indulge in some attractive hampers and bins to keep your counter free of clutter.
15. Cabinet Doors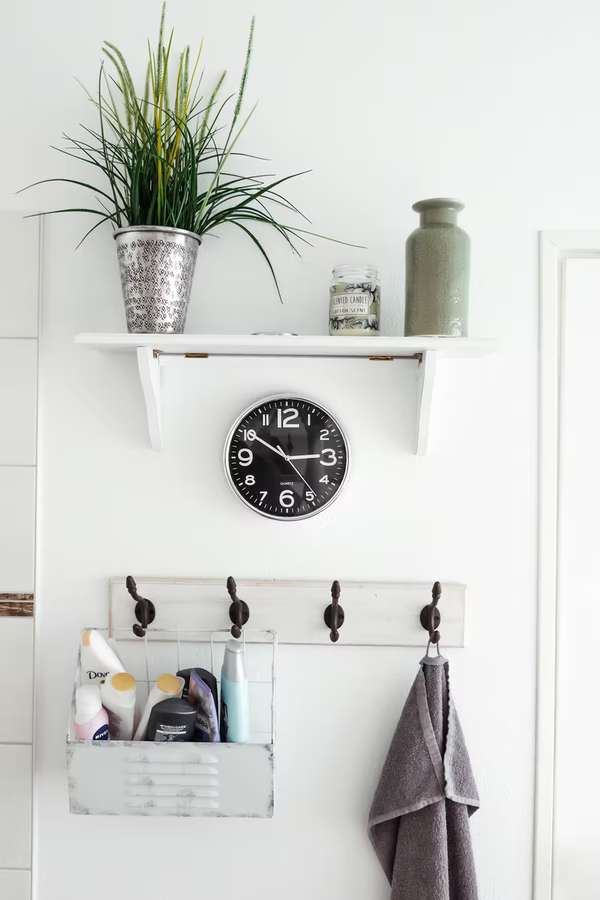 Your cabinet doors have a lot of storage space on the inside. Install hooks to hang pans, lids, and serving and measuring spoons, or a slender rack to hold pot lids and foil and plastic wrap boxes. Sure, you'll have to move the contents of your cabinets back a few inches, but you'll be glad you did when you open the door and discover this immaculately ordered condition.
16. Rolling Shelves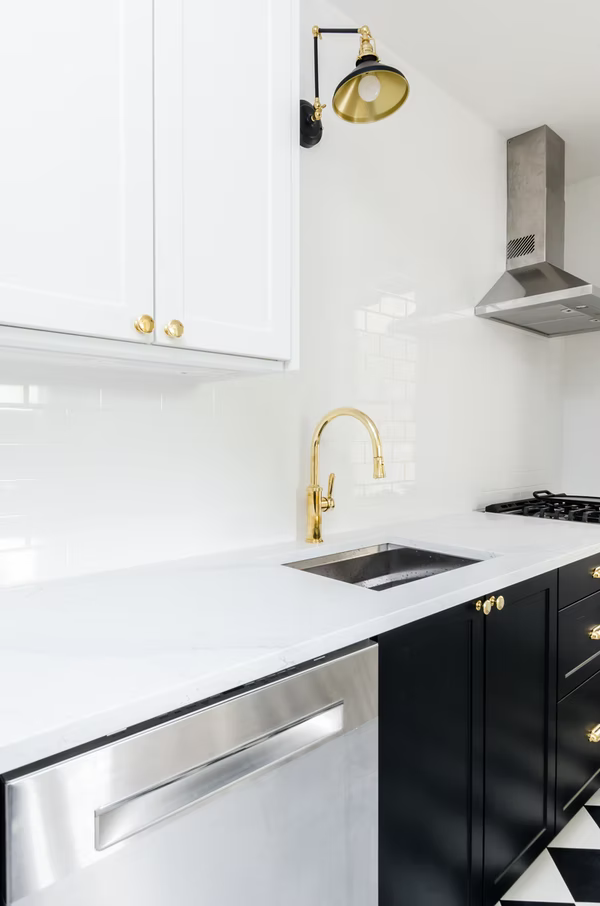 Deeper cabinets have the disadvantage of requiring you to literally climb in to grab what you want from the rear. Employ low-sided mobile shelves to keep goods tidy and handy.
17. Lazy Susan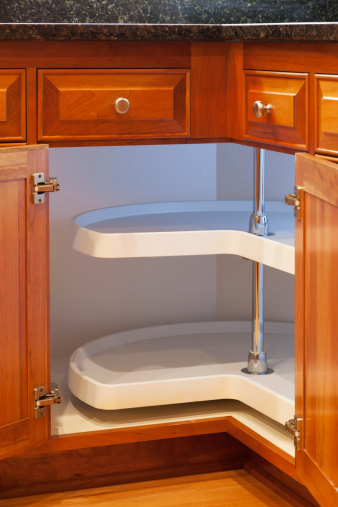 Within your kitchen cupboards, place a small-scale lazy Susan. It may be used to keep spices and oils arranged, or it could be placed beneath the sink to hold cleaning supplies.
18. Dangling Fruit Basket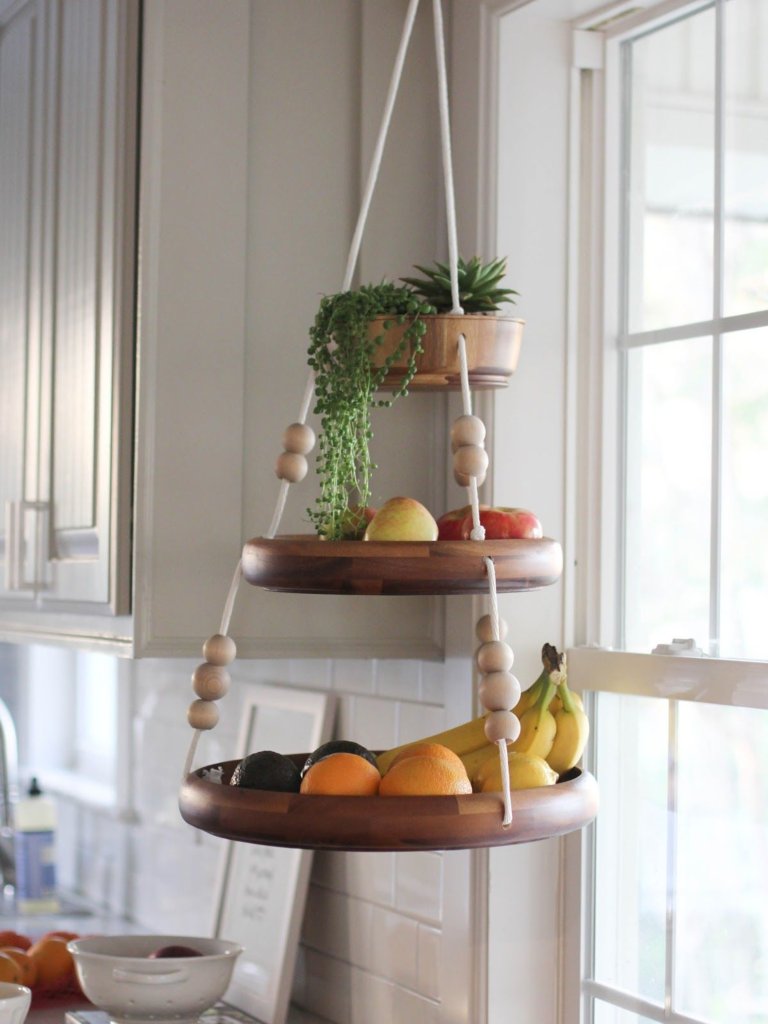 This 3-tiered fruit basket dangles from the ceilings, freeing up storage space underneath. Furthermore, when the fruit is hanging, it receives greater air flow, which aids in its ripening.
19. Shelf Liners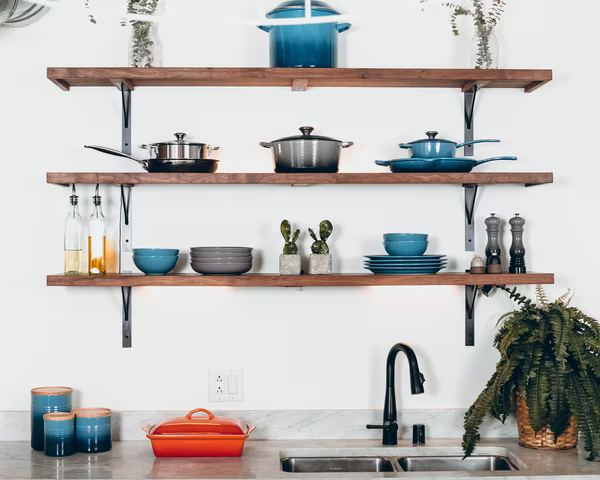 Kitchen organizational ideas don't just have to do with adding extra space; they also have to do with making the area clutter-free and simple to maintain. Shelf liners come into play. They can liven up the room while also preserving your cupboard shelves. Shelf liners are available in virtually every color and design imaginable, as well as sticky and non-sticky versions.
20. Create Space for Everything
Bags have a habit of piling up in different drawers and cabinets. Set aside a pail or bucket for any stray bags. Even an empty coffee jar could be used. Cut a slot inside the lid so that you can simply pull out each bag one at a time (and then cover the can with the remainder of your sticky contact paper to renew it).
21. Command Station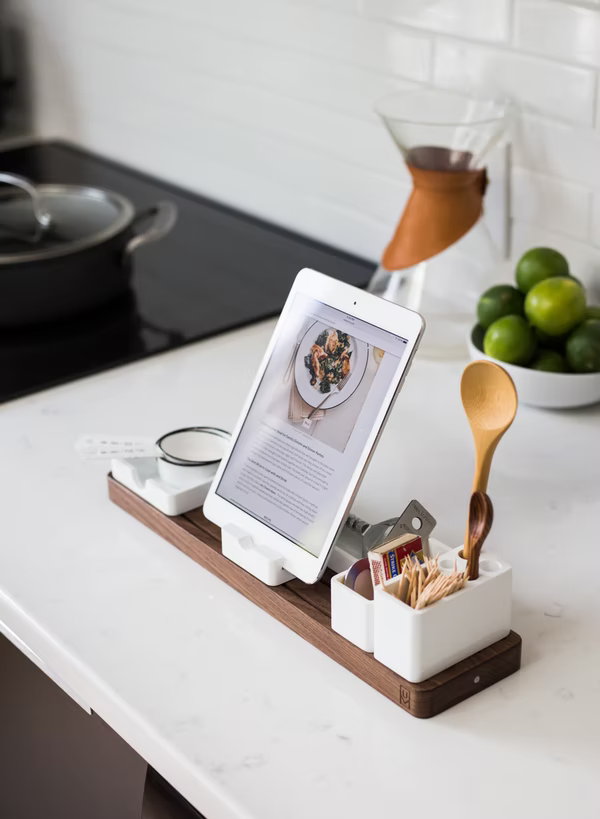 Attach chalkboard contact paper and sticky spots to the interior of one amongst your cupboards so that everybody in the family understands where to go for the shopping lists, vouchers, menus, and WiFi passwords.
22. Pegboards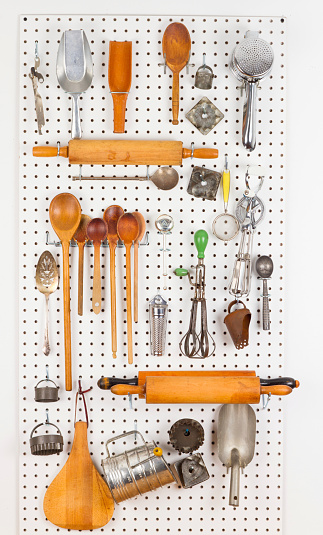 Pegboards are a utilitarian centerpiece when coated in a vibrant accent color. Mount glasses, measurement cups, and other kitchenware with a variety of slanted, flat, and curvy hooks.
23. One Space for Two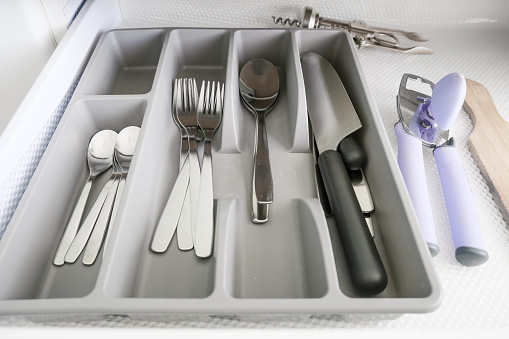 When you arrange plates and casserole dishes atop one another, you lose a lot of room. With a collection of plastic/wood configurable drawer dividers, you can reclaim valuable kitchen drawer space.