Using PVC For Modular Kitchen
Appears to be a simple question, right? And yet it's a very crucial one too! Why? Because when you are planning a new modular kitchen for your home or renovating the existing one, unarguably the most important part which deserves your scrupulous attention is the selection of the right material for your kitchen cabinets. Your choice of the material is the key factor in defining your kitchen's character, in bringing a difference to your culinary atmosphere, and in deciding how and how long you will use your kitchen. So, let's get down talking about how good PVC is for your modular kitchen by deeply discussing its Pros and Cons.
PVC (Polyvinyl Chloride) boards for the kitchen are available in two types: PVC hollow boards and PVC foam boarmaterds. As the name suggests, the former one is hollow inside, thus being lightweight and economical. Whereas, the latter one is thick, making it strong and sturdy comparatively. Although they have few differences and many similarities, both have equal role and importance to play in kitchen modelling and renovation works.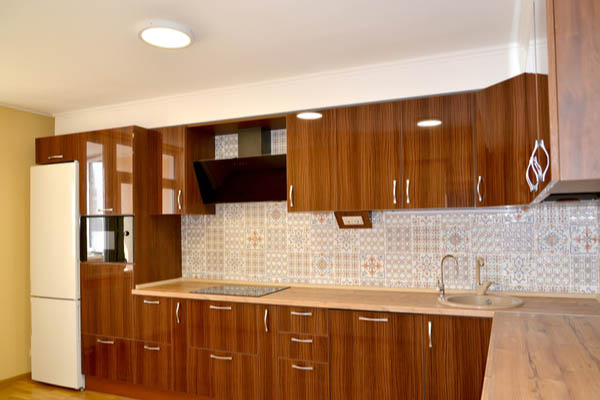 What are the Pros of using PVC for Modular Kitchen?
As PVC has low water absorption property, it is less prone to warpage, shrinkage, expansion and other damages by moisture and water – making it a great fit for Indian kitchens.

PVC boards are much cheaper than solid wood and other engineered woods and hence they are economical and affordable. So, if you are planning for a short-term stay or moving into a rental home, this material can be the best option for your modular kitchen.

These boards are very light in weight, which, in turn, makes its handling and installation easy, simple and hassle-free.

As they are light, they are also a great option for hanging and wall cabinets.

These boards are easy to drill, saw, screw, bend, glue and nail.

Since they are ready to fit boards with an array of colours, they don't require separate finishing for their surfaces and thus avoid the need for laminates and other add-ons.

They are non-toxic, anti-chemical and corrosion-resistant material and hence these boards are safe for kitchen cabinets – giving you a hygienic environment to work in.

Sourcing and replacing the PVC boards is not an arduous job. Due to its easy availability, such tasks can be done effortlessly.

As insects and pests cannot infest PVC, the cabinets made out of them are free from termites.

With PVC, the chances for the occurrence of bacterial and fungal activities are null, which makes these boards rot proof.

They are oil-proof as well.

Since PVC is a plastic material and water or moisture can have no effect on it, your kitchen can be rust free too.

As they are waterproof, they are easy to clean on a day-to-day basis and also require very low maintenance. Just a wipe with a wet cloth can keep the stains and spots at bay – thus making you save big on time and effort.
What are the Cons of using PVC for Modular Kitchen?
PVC cabinets have very low fire and thermal resistance and hence they cannot withstand excessive heat.

They are also not so durable and have a short life span. If used for long, they can end up sagging.

They are not scratch-resistant and can also discolour after a couple of years, thus creating an unpleasant look and an eyesore eventually.

PVC boards are not as sturdy as solid wood or engineered woods as they are low on strength (comparatively).

They cannot withstand high physical pressure and tend to bend or break.

As PVC is a synthetic plastic polymer, it is not environmentally friendly.

They cannot adapt well with all types of kitchen designs and styles, except for a few.

These boards require skilled labour for its fixing as improper screwing or handling can cause sagging and other damages which are often irreversible and permanent.

Its screw holding and nail holding strength are poor when compared to that of the solid wood and engineered woods. As a result, the hinges of the cabinets and hardware of the shutters may come off or loosen over a period of time and demand for a rework.

With PVC, the options for customization are less when compared to other materials.

PVC boards have less weight-bearing capacity, which means the shelves and racks made out of these boards cannot hold or store kitchen items, accessories and appliances that weigh high.
Hope these details help you in making an informed decision. Though it seems to be a judgment call, it is necessary to select your kitchen cabinet material wisely. Just weigh the aforementioned pros and cons of PVC based on the frequency of your kitchen use and your personal kitchen habits and conclude if PVC can seep into your modular kitchen.