Types of Kitchen Countertop Materials
A kitchen is a space where family bonds while cooking food. Open and bright kitchen space is a welcoming sight of your home. Moreover, an attractive kitchen countertop makes your kitchen more appealing. When you go shopping for kitchen countertops, the number of choices might make you feel overwhelmed. There are plenty of choices within the countertop materials as well – quartz to acrylic to natural. Out of all these, there are only a few basic choices. You can pick the right countertop for yourself by looking at your needs, the pros and the cons of each type of material. The choice of your cooking style can also help you to determine the right countertop for your kitchen. Keep reading to know more about the types of countertop materials available in the market.
Natural Stone Kitchen Countertop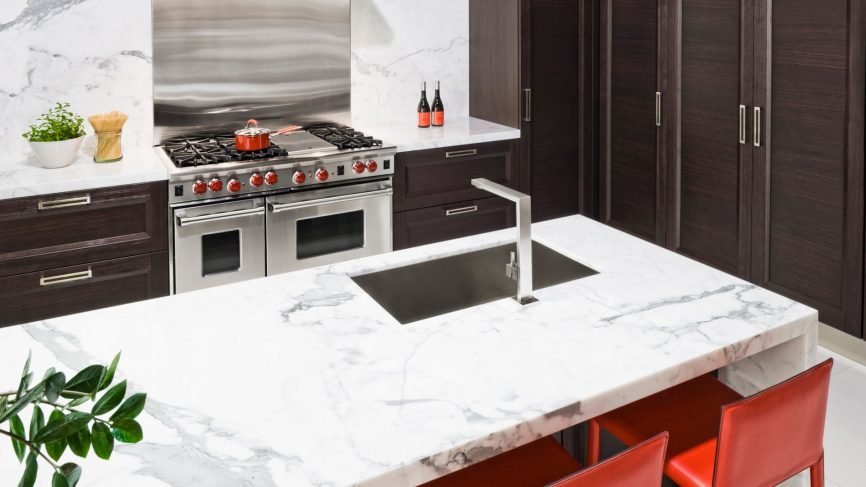 There was a time when such types of countertops were only available in elite homes. But, nowadays, natural stone countertops have become quite common in households. The use of natural stone in your kitchen will make it look luxurious.
Pros & Cons of Natural Stone Kitchen Countertop
Pros
They are inherently durable and hard igneous rocks.
This type of material is easier to clean and maintain.
They are heat and scratch-resistant.
Cons
One of the most expensive materials.
Regular sealing must be done to avoid stains.
The material can break if poorly installed.
Corian Kitchen Countertop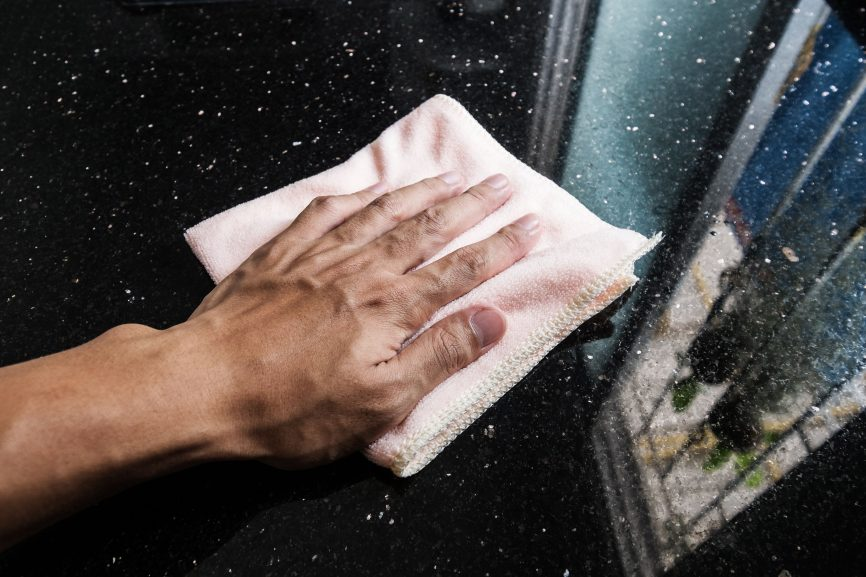 Corian was the first solid-surface material that was marketed by the brand Dupont Corporation. These solid-surface materials are man made. Companies manufacture them by mixing epoxide, polyester raisins, and acrylics with different pigments & filler materials.
Pros & Cons of Corian Kitchen Countertop
Pros
Effortlessly sand away scratches & stains from the material.
Can be efficiently blended to manufacture sinks & backsplashes with a smooth exterior.
Long-lasting & enduring.
Cons
The material is not resistant to heat.
Prone to scratches & stains.
A skilled professional can only install them.
Dekton Kitchen Countertop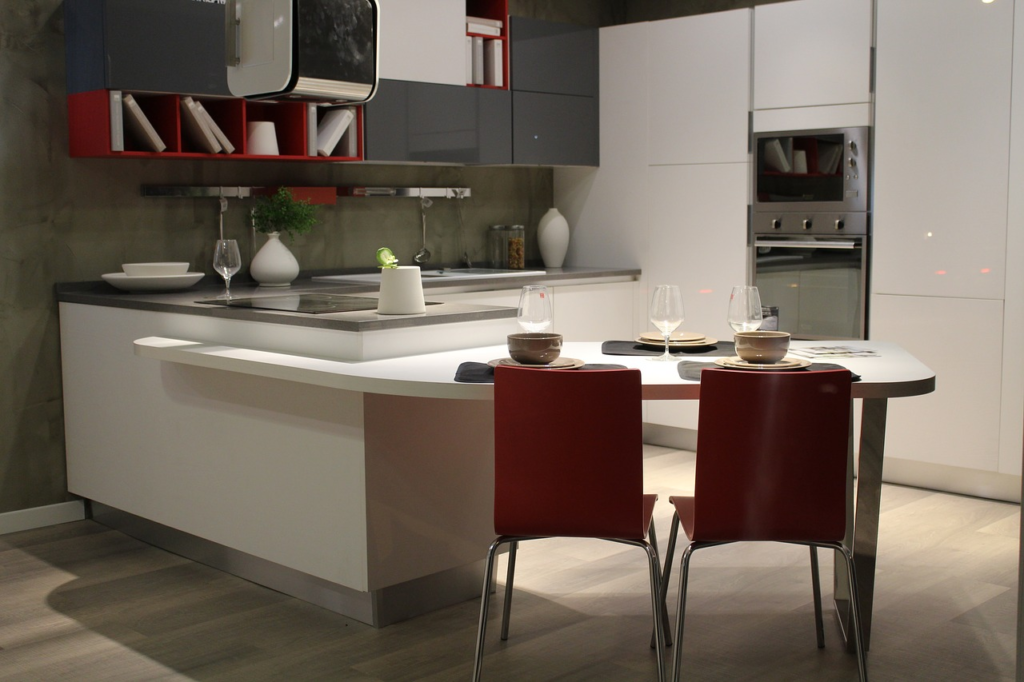 These types of countertops are known for their ultra-compact surface. The raw materials for these countertops are similar to the ones used for producing glass, porcelain, and quartz countertops. Companies manufacture these by using a unique technology- Sinterized Particle Technology.
Pros & Cons of Dekton Kitchen Countertop
Pros
The material is super durable.
Highly resistive to stains & scratches.
They are heat-proof.
Cons
Not cost-effective (expensive).
Not easily available in the market.
Very few people know about the installation & fabrication of these countertops.
Quartz Kitchen Countertop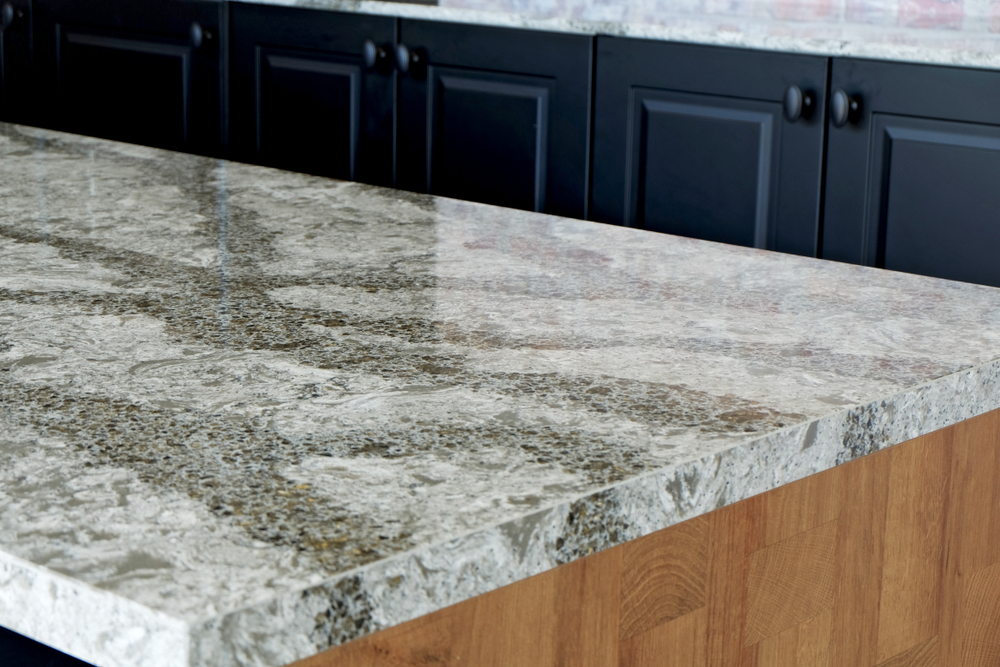 These types of countertops are one of the newest man made artificial surfaces. Manufacturers produce these by mixing raw materials with resins. Quartz is known to be a cheaper replacement for natural stones.
Pros & Cons of Quartz Kitchen Countertop
Pros
Available in many stylish options as compared to natural stones.
They are non-porous, which makes them low maintenance.
A cost-effective option for every household.
Cons
Susceptible to damage from sunlight and stains.
Can be used for indoor kitchens only, as they are not heat resistant.
When used for large surfaces, it does not give the desired finish.
Solid Kitchen Countertop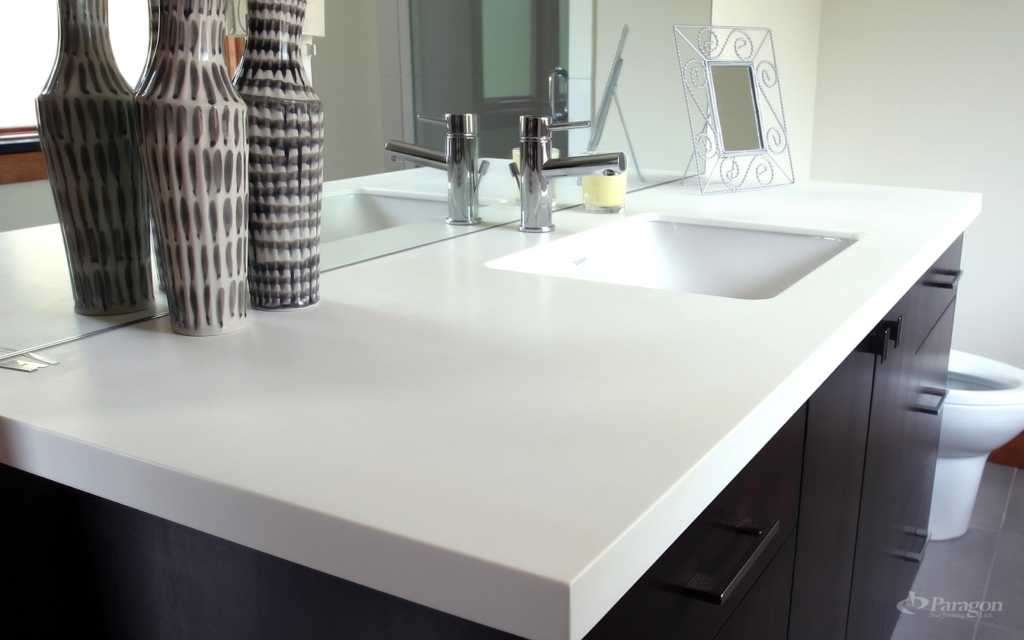 Different companies manufacture their own style of solid-colored countertops like swanstone, Corian, etc. People make these by mixing polyester and acrylic. This type of countertops is excellent for mid-tier kitchens.
Pros & Cons of Solid Kitchen Countertop
Pros
Can use Sanding tools to sand away the damages.
Can fabricate the material to integrate sinks & countertops.
They are available in different patterns & colors.
Cons
Not easy for DIY installation.
Not resistant to heat.
Moderately expensive.
Laminate Kitchen Countertop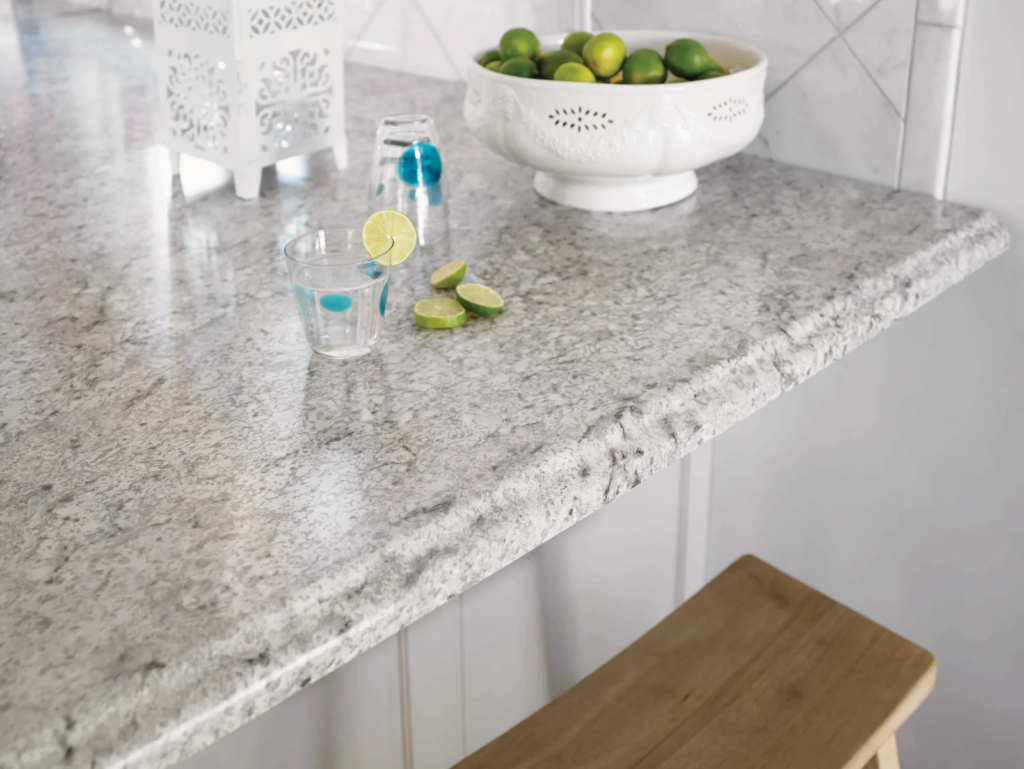 Laminate is one of the most easily affordable countertops, also known by the brand name Formica. They can imitate the material similar to natural stones. Using this type of countertop is a viable option for renovating dirty and quick kitchen overhaul.
Pros & Cons of Laminate Kitchen Countertop
Pros
Available in different colors.
Obtainable from the market in a broad range of varieties.
Effortless to clean.
Cons
The material can develop cracks.
Not resistant to heat.
Repairing is considerably complicated.
Steel Kitchen Countertop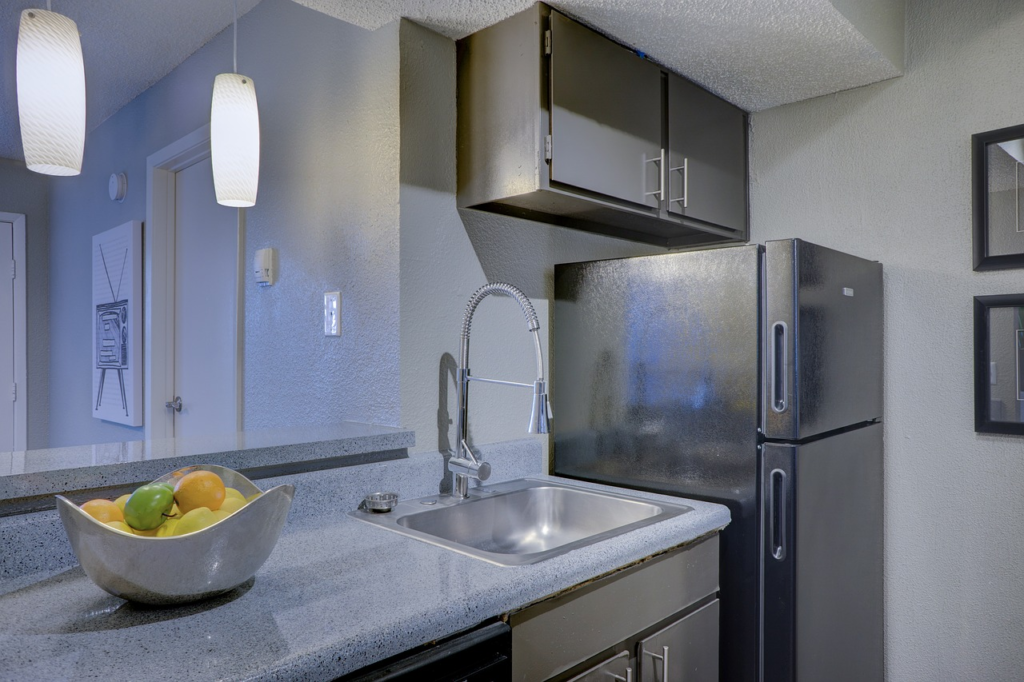 Stainless steel is one of the industry's most strengthened materials. It provides a sleek and perfect finish to the kitchen countertops. It can be cleaned easily with soap and water; it is low maintenance.
Pros & Cons of Steel Kitchen Countertop
Pros
Aesthetically appealing for your kitchen.
Resistive to heat and water.
Anti-microbial, Anti-bacterial, and Anti-fungal in nature.
Cons
Not resistant to scratches.
After a few years, it might develop dents.
Clashing of steel utensils with stainless steel counters can result in a lot of noise.
Tiled Kitchen Countertop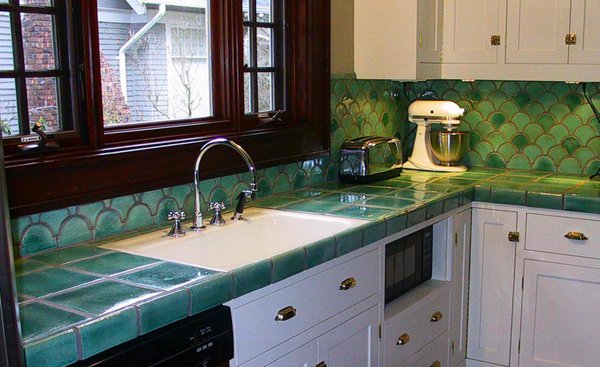 Nowadays, there is an extensive amount of choices when it comes to selecting tiles – different colors, textures, patterns, and shapes. Tiles can complement different types of countertop materials.
Pros & Cons of Tiled Kitchen Countertop
Pros
Resistive to heat.
Easily affordable.
Non-porous in nature.
Cons
This type of material requires regular sealing of grout.
Not stain resistive.
Tiles can develop cracks.
Wood Kitchen Countertop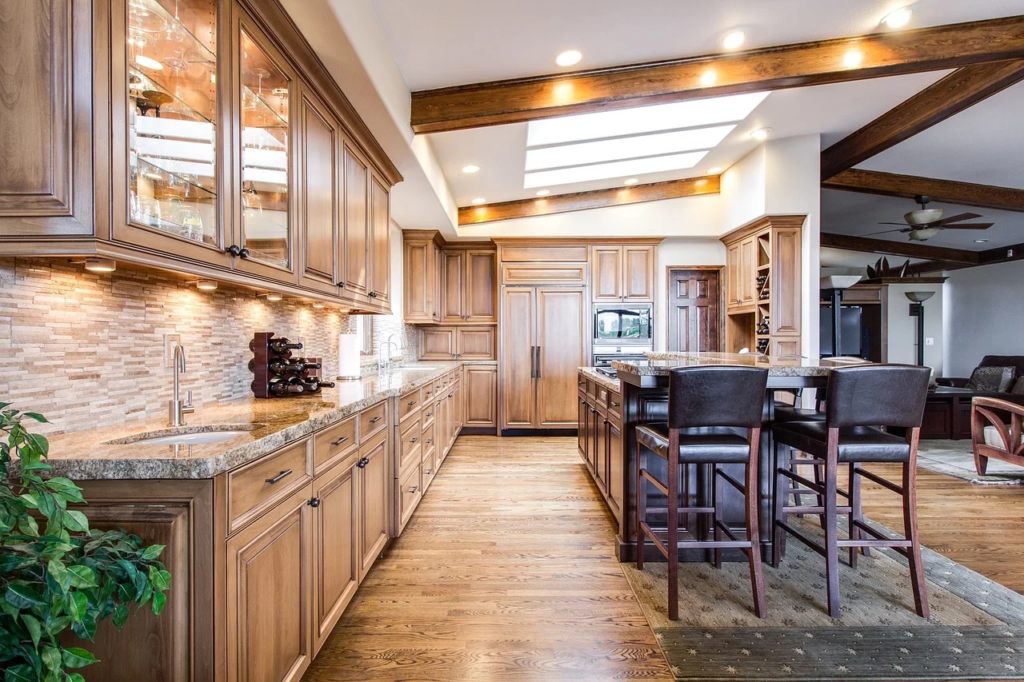 These countertops are an excellent choice for work kitchens like hotels or restaurants. Wood countertops are built with a dense rock maple material. This type of countertop can provide your kitchen with a rustic, as well as a contemporary look.
Pros & Cons of Wood Kitchen Countertop
Pros
Anti-bacterial and safer to use.
Conveniently affordable.
Resistive to heat.
Cons
Need proper sealing at regular intervals.
Knife marks are visible.
When left untreated, the material is susceptible to water damage.
Concrete Kitchen Countertop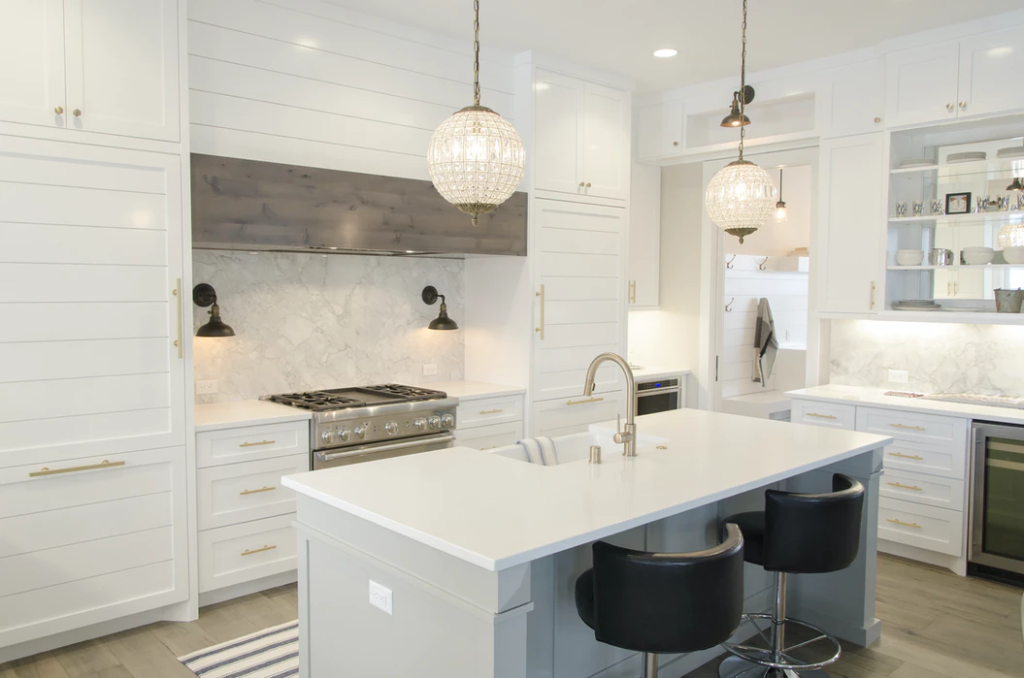 Pros & Cons of Concrete Kitchen Countertop
Pros
Durable & long-lasting.
Cracks are pretty easy to repair.
The option of customization is available.
Cons
High-maintenance material.
Not cheap
Time-consuming to build this type of countertop.
Granite Kitchen Countertop
If you wish to boost a sense of luxury in your kitchen, then granite is your go-to material. Granite is nature friendly as it is a renewable source. The repair should be done only by a skilled professional.
Pros & Cons of Granite Kitchen Countertop
Pros
They have an extremely long life.
The natural surface of granite adds a luminous look to your kitchen.
Anti-bacterial and heat-resistant.
Cons
Require regular sealing to control stains and the growth of bacteria.
Quite expensive.
The installation of granite is labor-intensive.
Marble Kitchen Countertop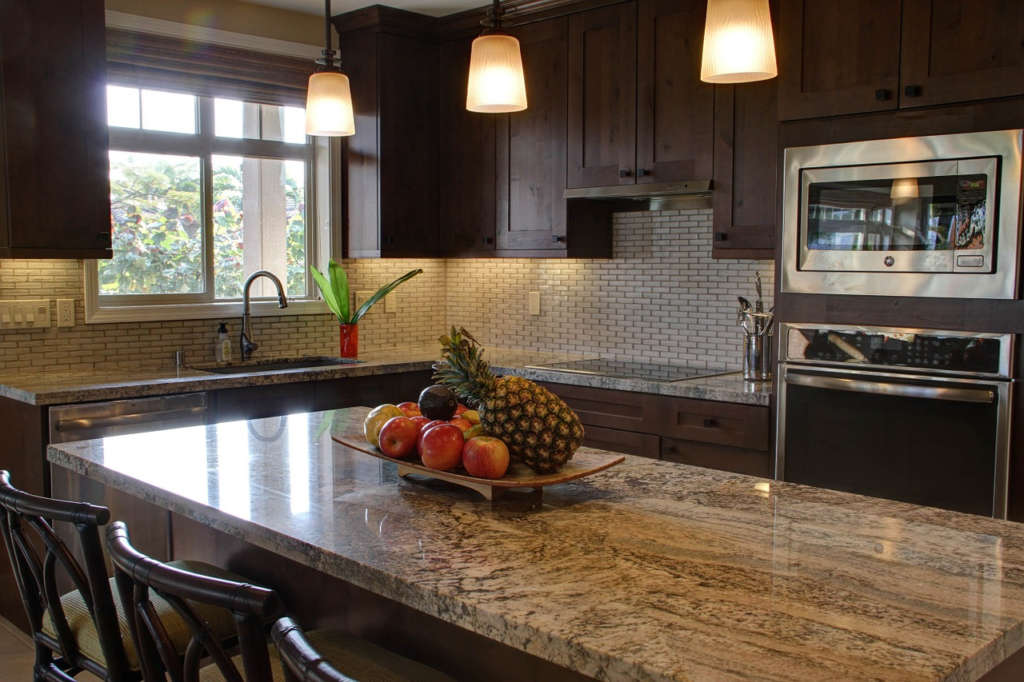 Another natural stone that kitchen countertops make use of is Marble. Each sheet of marble countertop has its uniqueness. Marble is more susceptible to breakage as compared to granite.
Pros & Cons of Marble Kitchen Countertop
Pros
Water and heat resistant.
With a unique appeal, it adds decorative value to your home.
Many options are available, from classy gloss to honed to leather.
Cons
Extremely expensive.
Not possible to install without a skilled professional.
If scratched, then challenging to repair.
Kitchen Countertop Materials: Conclusion
With so many options available to choose from, it becomes tempting to make the wrong choice. Do not go by the looks alone; make sure to check a material's cost, maintenance, and durability before selecting the right countertop for your kitchen.