Unique Home Decor Ideas For Christmas
Handmade décor for your house and Christmas tree are known to bring a little more zest and flavor to your Christmas. Don't consider yourself a creative person? Don't be concerned! We've got a variety of simple and enjoyable ideas on how to make magnificent handcrafted Holiday decorations that will impress your loved ones. The following DIY Christmas embellishments can save you a great deal of money without sacrificing the elegance of your decor.
1. Design Your Own Christmas Wreath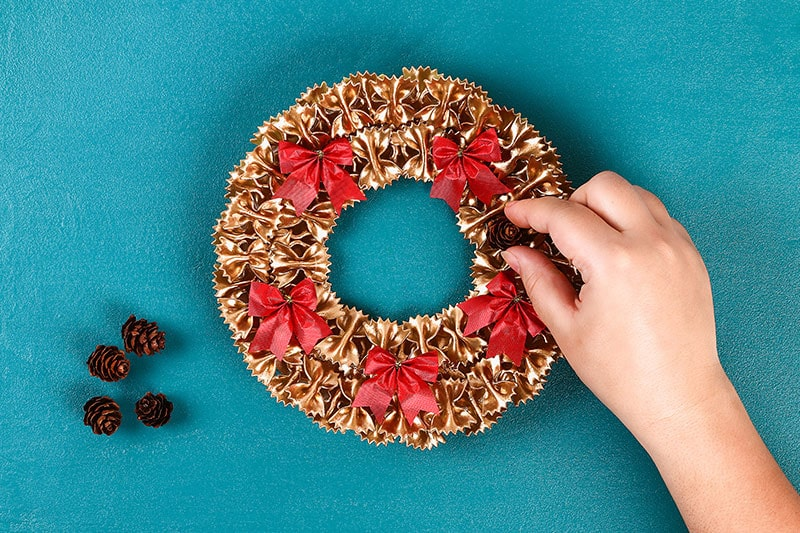 Outside the home, lovely wreaths look warm and welcoming. This year, stand out from the crowd and craft a beautiful homemade wreath at home. This wreath, like it or not, is created using spaghetti! Paper plates, adhesive, spray paints, and farfalle pasta are all you'll need! Ribbons and pine cones can be used to decorate it. It'll undoubtedly make your neighbours envious!
2. Homemade X-mas Tree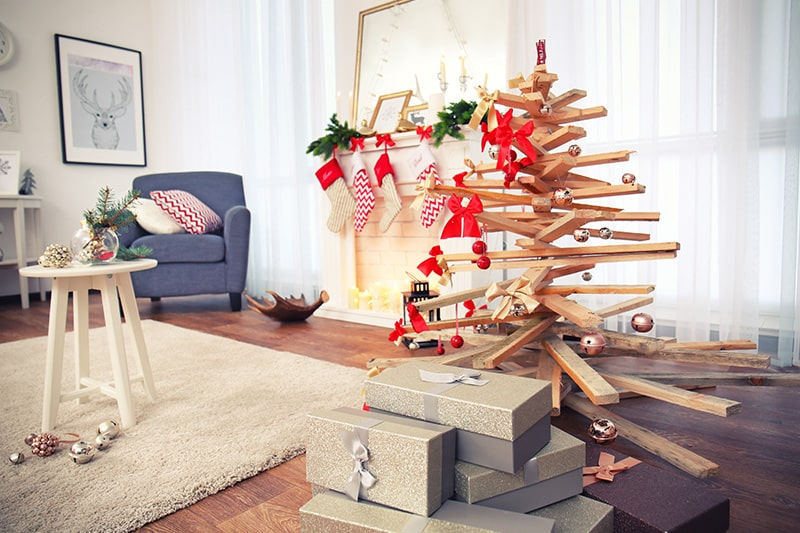 If you desire to really be the talk of your block, skip the fir/pine this year and create your homemade Christmas tree. This simple tree is both elegant and rustic in appearance. Spare bits of wood or little hardwood dowels of varied lengths, as well as a hot glue gun, are all you'll need. Large ribbons and other handcrafted dangling ornaments, as well as a chain of fairy lights, can be used to adorn it. And there you have it! You've got your own custom-made Christmas tree!
3. Minimalist Christmas Tree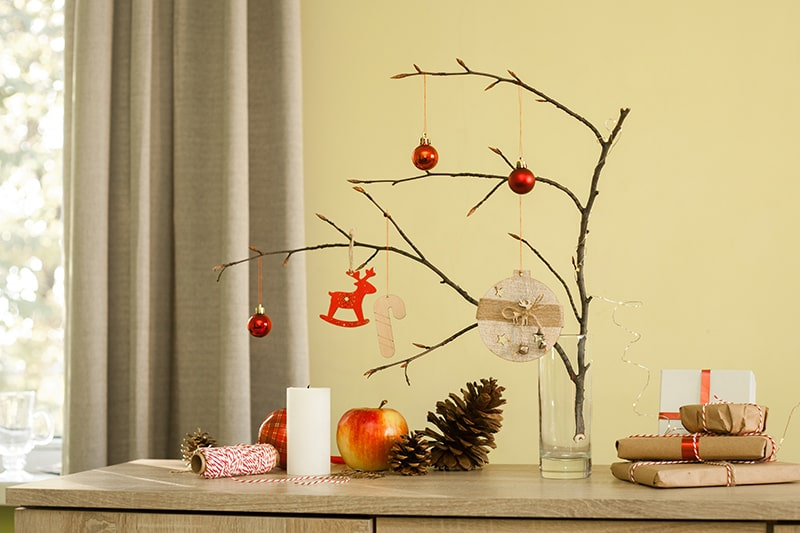 If you do not have enough time or room to go all out with a tall Christmas tree, consider this simple DIY Christmas tree alternatively. Repaint a branch and place it in a vase or glass container. Personalize it with a few Christmas accessories — the idea is to keep it simple. It's stylish and fashionable.
4. Homemade Candle-Holders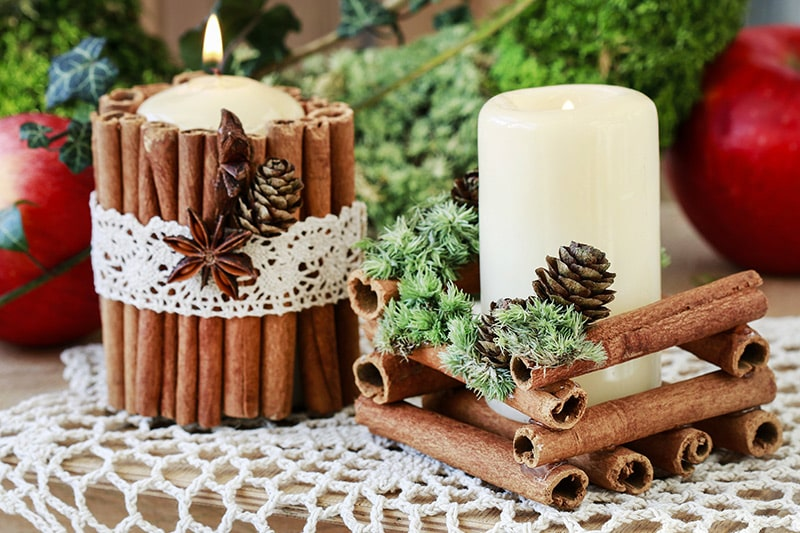 In 2021, rather than using disposable bells, beads, and tinsel, create your own Christmas ornaments. Felt is interesting to work on, and you could take it as far as your DIY abilities would permit. Anything you make looks merry, charming, and interesting when created with brightly-coloured felt! You could cut, stick, stitch, and decorate (or not) – let your creative side run wild. Trees, figurines, candy canes, roses, sparkles… the list goes on.
5. Display The Cookies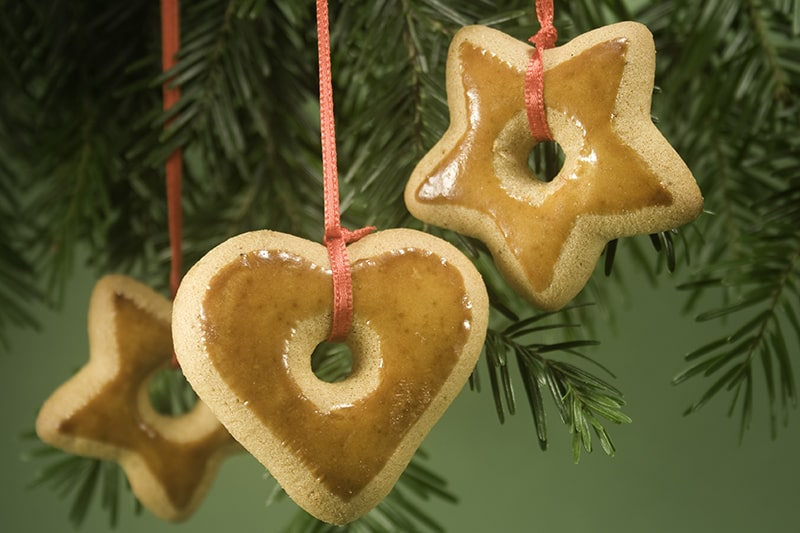 Making decorations out of salty dough or gingerbread cookies is a great family Christmas activity. The fact that creating them yourself would save you a great deal of money is an added bonus ! Use cookie cutters to make some brightly coloured decorations.
6. Orange Santa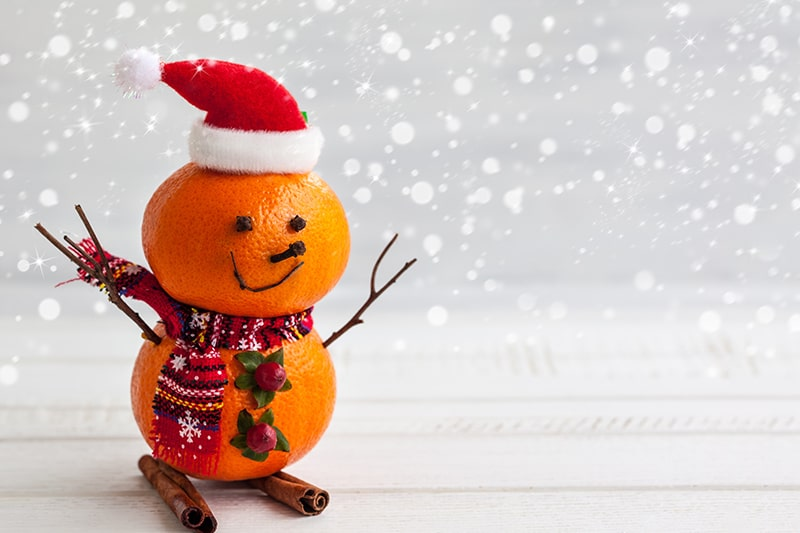 This adorable snowperson could not be simpler to create — just a few oranges, some seasonings, and some pieces of fabric for the hat and scarf! Make a full Santa household for your fireplace or put him in the midst of your coffee table!
7. Citrus with Cloves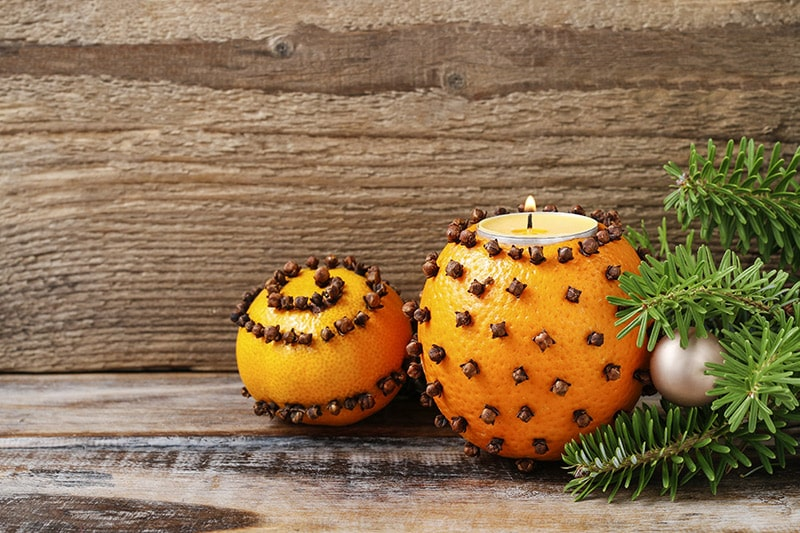 Citrus fruits with cloves adorned make excellent tea light holders. They could just be strewn about as part of your Christmas decorations.
8. Pasta-Cone Ornaments
Source: Pinimg
These tiny pasta cone ornaments will add a lovely touch to your Christmas decor. They are, once again, really simple to create yet appear to be rather elegant. A newspaper cone, spaghetti, spray paint, and adhesive are all you'll need. You may decorate them using curled golden metal balls, beads, and ribbons.
9. Get Creative with Mason Jars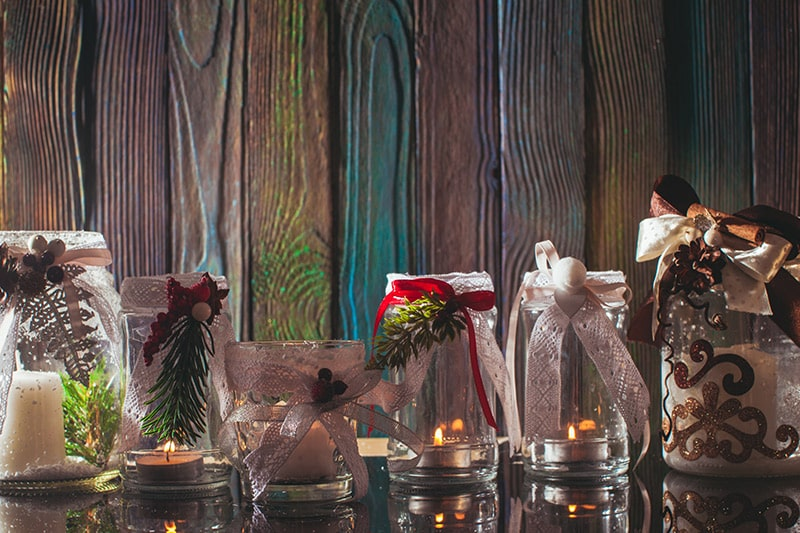 These simple canning jars, simply embellished with ribbons, tulle, pine needles, and several sprigs of greenery, would make a pleasant addition to the window ledge or desk. They could be used as inexpensive yet attractive lights to liven up any home interior. A snowy look may be achieved by adding some Epsom salt underneath the tea-lights or candlesticks.
10. Faux Fireplace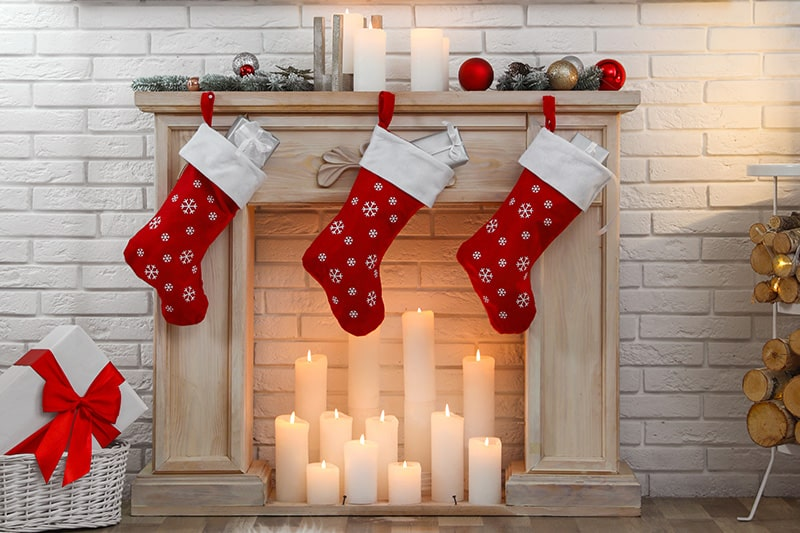 Is there no fireplace? It's no trouble! Make your own artificial fireplace by lining up a variety of pillar candles of various sizes. You'll practically feel the warmth radiating from the fireplace — a clever and stylish take on the original thing!
11. Cardboard Roll Figurines
If you are looking for a craft to do with your children to get them all in the Christmas spirit, look no further. These adorable and simple cardboard roll figurines will keep kids occupied and entertained. All you'll need are some cardboard scrolls, some paint, and some creativity!
12. Stairway Decoration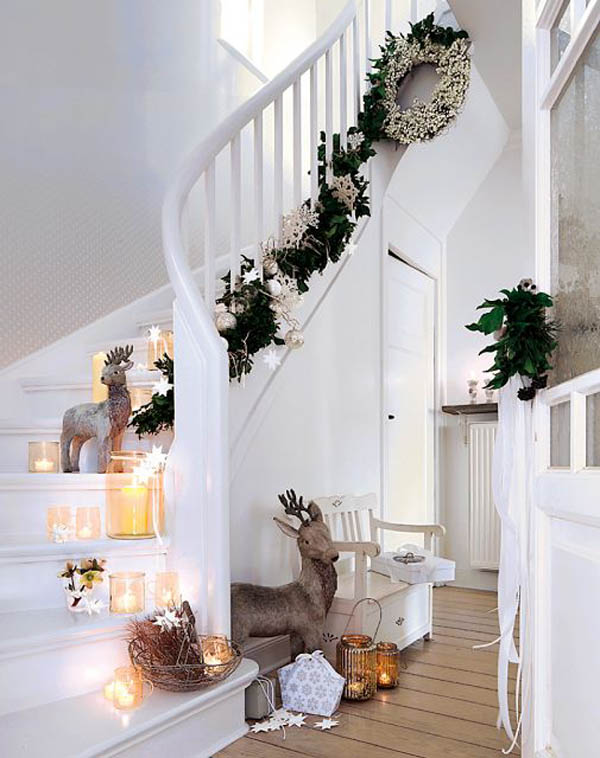 This Christmas DIY design is perfect for your interior décor if you have a stairway in your residence. It's actually rather simple and appealing. All you have to do now is wind the garlands around the railing. When you're finished, decorate it with pine boughs, fruit, and fairy lights. Take family photographs and hang them from the railing using ribbon. And with that, you've completed this project.
13. Make Paper Snowflakes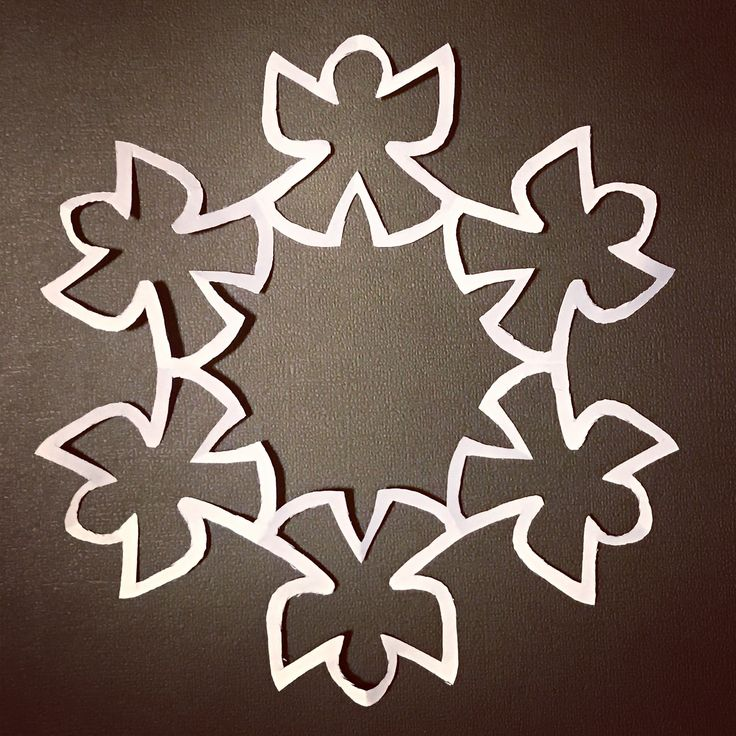 Making paper snowflakes is simple and enjoyable. If you really want to put them on display, all you really need is sheets, shears, as well as some string and tape. Now you may create them whatever you like and slice them out with scissors. Creating paper flakes with the children is a nice activity.
14. Use the Red-Green Colour Palette
Because the hues of the Christmas feast are usually red and green, any party concept with this color palette will make your home appear more festive, and there are plenty of interior Christmas design concepts! Red and green products may be used in a variety of ways around the house. You could use green and red cushions, ribbons around door handles, Christmas chimes, kitchen hand towels, and candles, for example. Purchase a Poinsettia shrub to lend red and green accents to your decor!
15. Light up your Corridor
There are several commonly overlooked areas in our residences that could be lighted up for the Christmas holiday or eve. The corridor, which is the area between the rooms, is the most noticeable! Simply hanging some style lighting over the ceiling can transform it into something spectacular. Hang lights along the tops of the panels, where the roof joins the wall.
Christmas is a wonderful opportunity to spend amongst family. What better approach to achieve that than to unite forces and make your personal fireplace and home décor? It's time to break out the crackers and ring in the New Year with Jingle Bells! Integrate your décor with a little bit of your personality and watch the magic of Christmas blossom in front of the eyes