Uses Of PVC Laminates
Today's post is all about a surfacing material that has become a ubiquitous part of interior design by lending an elegant touch to an array of elements like kitchen cabinets, furniture, wardrobes, and a lot more than you can imagine. It's PVC Laminates.
Packed to the brim with endless advantages and attractive benefits, PVC laminates are a great choice for all types of projects from residential to commercial and for all types of elements from flooring to furniture. To understand this decorative and fancy final layer better, let's get talking about it now.
What is PVC Laminate?
PVC laminate is a flat sheeting material made by compressing synthetic plastic polymer – Poly Vinyl Chloride, thin layers of flat paper and resins under high pressure and temperature. It is widely used in residential, commercial and industrial furnishings to decorate, ornate and protect the furniture. These laminates can be easily made to sit on any good-quality substrate like Plywood, particle board, MDF, natural wood, etc. using a strong adhesive and a simple pressing process.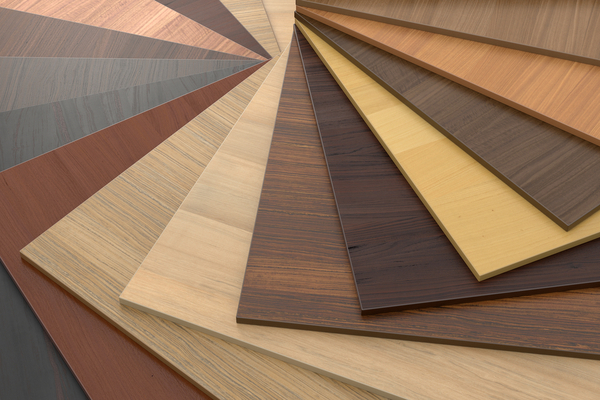 Why choose PVC laminates?
1. 90° flexibility
PVC laminates are 90 degree bendable, which means it can be folded and bended up to 90 degrees and easily applied at the edges too. With this simple bending technology, these laminates can give your furniture a smooth and seamless edge and also a single sheet look and feel. So, do you have concerns about those edgy joints visible in your kitchen cabinets, wardrobe or any furniture? If so, forget them with PVC laminates.
2. Resistance
These laminates are termite resistant, borer resistant, corrosion resistant, scratch resistant, stain resistant, water resistant, moisture resistant, abrasion resistant and bacterial resistant. They are also resistant to wear and tear and highly appreciated for their weatherproof property. This makes them an ideal choice of finish for kitchen units, bathroom units and also for furniture in high-traffic areas.
3. Non-toxic
PVC laminates are lead free, toxin free, harmful emission free and also don't off-gas or leach harmful chemicals if they come in contact with moisture or water. Therefore, these laminates pose no harm to the health and hence they are preferred more for kids' rooms, elders' rooms, hospitals and laboratories.
4. Durable
Due to their flexibility and resistivity properties, these laminates last long and offer a high degree of durability. PVC laminates are also capable of retaining their quality and look for years, as they can stand against everyday wears and tears and moderate scratches.
5. Ease of cleaning
As it is stain resistant, PVC laminates do not give much room for marks or spots on its surface and hence retaining its shine takes just a few measures – Dust their surfaces regularly and give a quick wipe with a damp cloth. And now they are ready to sparkle again.
6. Cost-effective
As they serve with decorative and protective surfaces and do not take up scratches or stains, PVC laminates are highly regarded and preferred for
Kitchen Cabinetry Units
Wardrobe
Bathroom units
Wall panels
Office cabinetries
Conference rooms
Home and office furniture
Home and Office interior decoration
Hospitals and laboratories
Commercials spaces and showrooms
How to maintain PVC Laminates?
As aforementioned, PVC laminates are easy to clean and maintain. But for a healthy and longer life of the laminate, you need to follow the basic dos and don'ts during its maintenance.
DOs:
Always prefer diluted mild liquid detergent or organic cleansers for cleaning
Use soft damp clothes for wiping
Wipe off the spills immediately, if they happen.
Treat any difficult stains with a mixture of water and baking soda
Dry clean the surface after cleaning to prevent marks or spots
DON'Ts:
Avoid cleaning agents containing acids or any harsh chemicals
Avoid cleaners that leave behind a soapy residue
Avoid excessive scrubbing as it can damage the surface
Avoid abrasive cleaning tools like steel scrubbers, knives or any sharp objects, as they can leave scratch marks on the laminate surface
Final Words
We hope this article has thrown enough light on PVC laminates.
Considering its advantages, do you want to use PVC laminate sheets to manifest your dream decor? If so, then talk to us! With a great creative breadth, our expert team here at ZAD Interiors will be happy to provide you with customized solutions harmonizing with your preferences, specific needs and requirements.