11 Hall and Dining Partition Ideas
Living rooms and dining halls are the areas commonly accessible to your guests. If you are someone who likes hosting soirees, then an open floor plan is what you are looking for in a living room. With an open floor plan, it is quite difficult to create simple and classy partitions between the two spaces. You need something cheap, adds to your aesthetic and limits light but doesn't completely obstruct it. Following are some great and easy ideas for creating hall and dining partitions in your homes.
1. Display unit
Creating a partition without using an opaque wall is a popular trend. This partition can be achieved by using display cases. It is the perfect place to keep your collectable figurines for all to admire. Another way to utilise this space is a bookshelf. The shelf could be standard design or with a unique lattice structure. Using a display unit or bookshelf helps ambient light and sound move between rooms. This gives a porous feel to the partition and also acts as a chique storage space.
2. Wooden Frame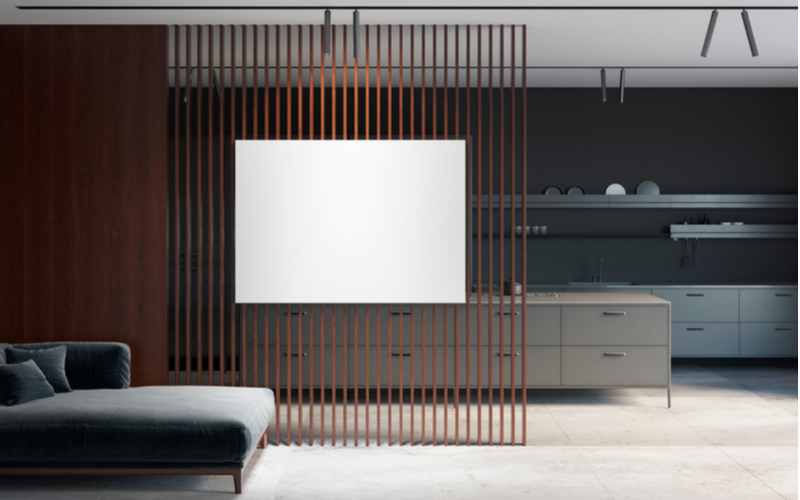 Wooden frames act as an unconventional but effective partition. They are designed wall-to-wall and are empty in the between. Though absent of a divide, they do an elegant job of giving the feel of a partition. They provide natural light to enter the rooms, bounce off of the wood giving a rustic feel. One can always opt for foldable frames, for example, Chinese style foldable screens, to merge the two rooms now and then. Wooden frames can also be used to arrange decorative pieces.
3. Swing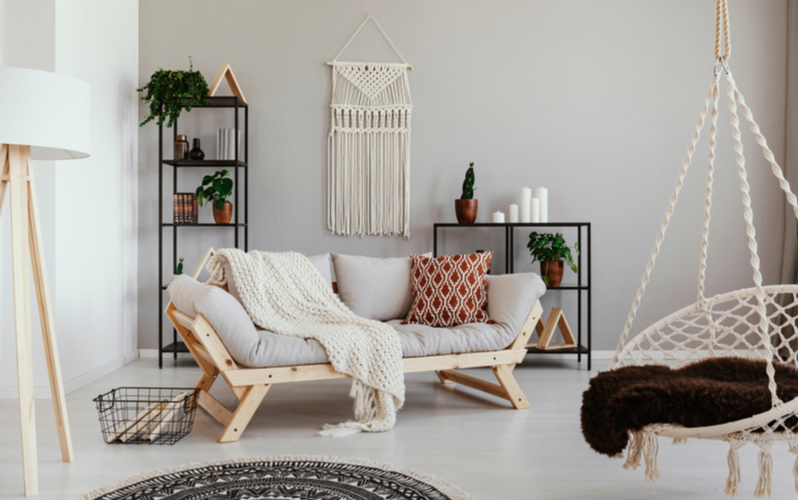 Adding a swing to divide two functional areas is a good move. It keeps the space open for light and sound to pass seamlessly. Simultaneously, the swing gives the feel of an invisible wall being present separating the two rooms. There are many options available for a swing type which corresponds to your interior style. For a more relaxed look, one can go for a hammock style net swing. For a more regal and ethnic look, people can opt for the brown bamboo style or Rajasthan style long swings with a backrest.
4. Planters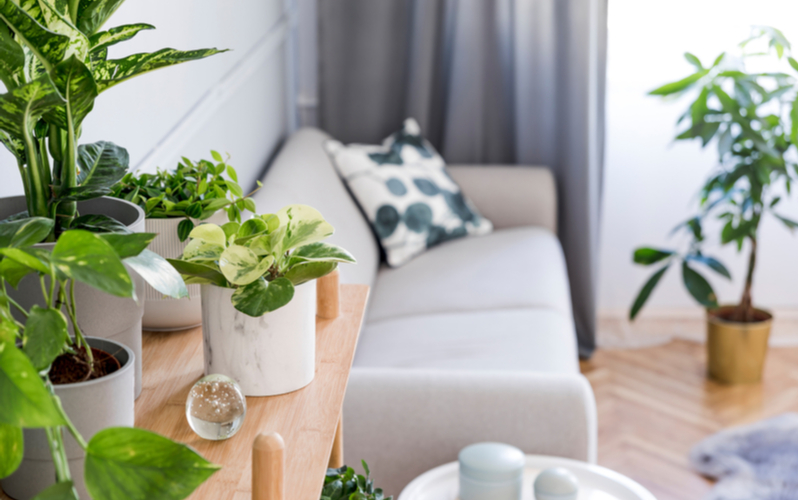 Using partition with plants is a great way to bring some nature into your living space. It has the bonus of making the air inside your house cleaner. One can get creative with their plant-based partition. You can either use terracotta pots or hanging pots on an opaque partition. Using vines and creepers, like a money plant, to form a green curtain on a metal frame can also work well. However, fair warning, there will be some upkeep necessary liking watering and cleaning. Make sure to use plants like money plants, cacti, ferns, etc which thrive indoors.
5. Glass Partition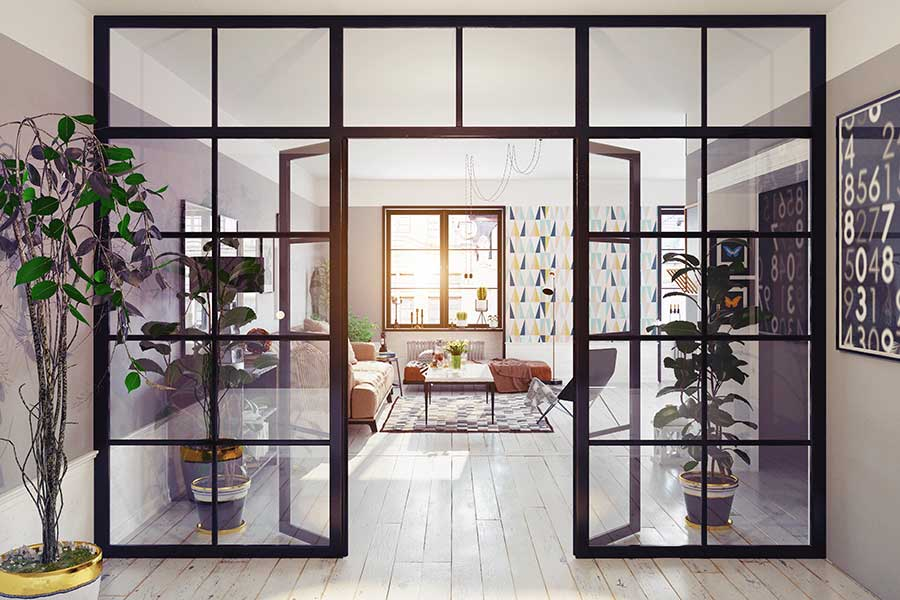 The glass partition is best suited for people looking to create partitions which let through unobstructed natural light. They add great aesthetic value to the home decor and compliment the space. One can play around with shapes and designs, trims, frames and also tinting. As glass goes with everything, you need not worry about it spoiling the mood you are trying to set.
6. Stairs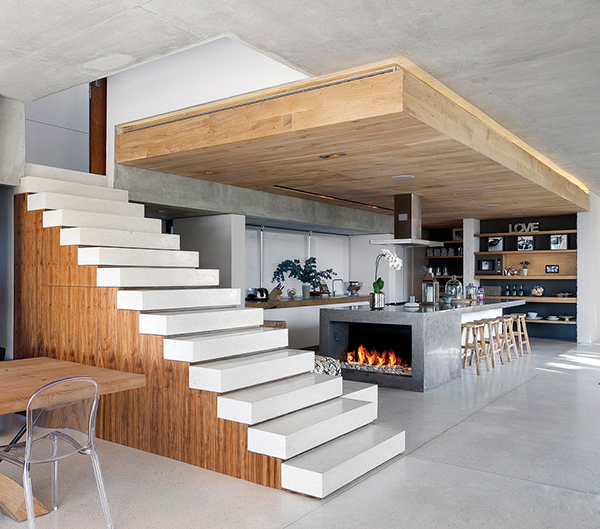 An out-of-the-box approach to creating a partition without creating one is the use of stairs. A few steps leading upto or down to the next room acts as a great partition device. You can ask their carpenter to create a platform with stairs which leads to your living room. It is naturally separated from the room, giving the feel of a partition.
7. Closely Placed Wooden Slats
Closely placed wooden slats help create a see-through wall. It acts just like any other wall with the bonus of deciding the distance between each slat. One can choose closely spaced for limited lighting or wide space for more ambient light. You can also choose a wood type which best fits your needs. Wood also helps give a rustic feel to the home environment.
8. Laser-Cut Panel
While many like their home decor to be simple, homeowners have the opportunity for bolder design patterns. Laser cutting tools are used to carve complicated designs and intrinsic designs in the wood. You can choose from the predetermined catalogue or design your stencil to create a unique partition for your home space.
9. Bar Unit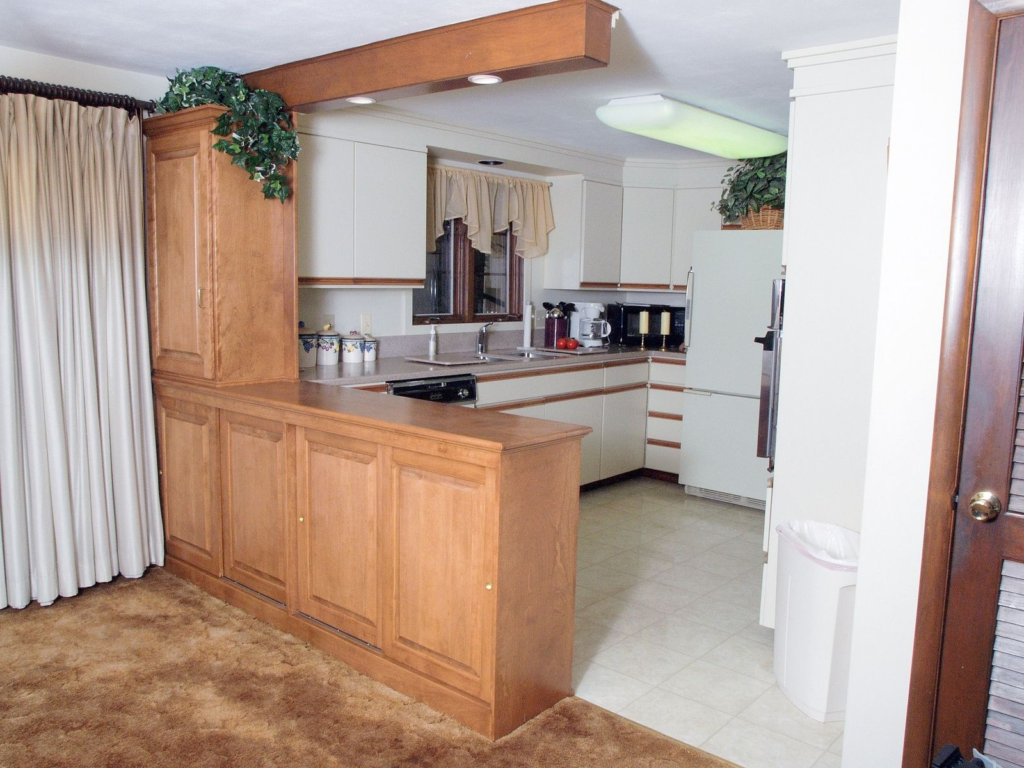 As the standard apartment areas keep shrinking every year, it is important to utilise every space in the area. One way to create a partition and save space is to use the bar. If you like to host parties then this helps open up space to entertain guests. A simply lighted wood and glass bar-cum-rack can be used to create a classy partition between the dining and living rooms.
10. Collapsible Partition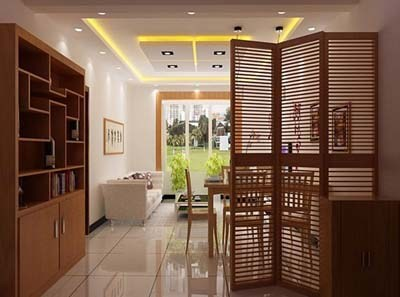 Setting up a partition is a little too permanent for some people. There are techniques around this problem. Wood-based collapsible partitions are all the rage today. They are simple to set up and can be adjusted to fully open or collapsed as necessary. One great example of these is the jaali type screen partition. The partition gives a great ethnic feel and when open still lets in some natural light.
11. Metallic Divider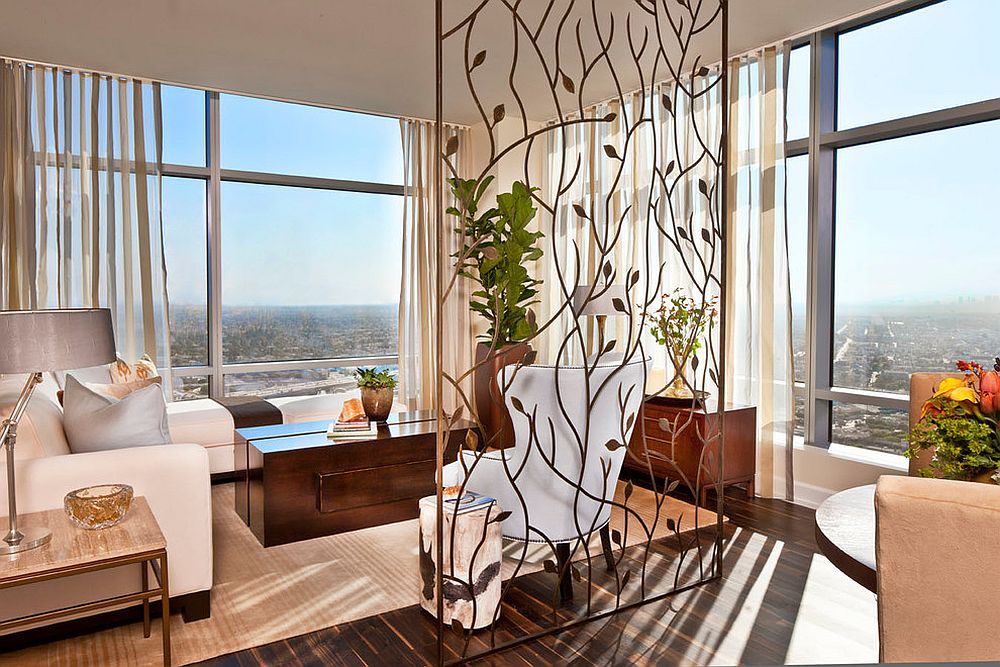 Metal dividers have arrived a little late to the party, but they are doing a great job getting noticed. Metal dividers are a great decorative addition to the house. They provide a glossy sheen to the home's decor. Metal panels can be paired with glass for a great opaque-transparent contrast. However, they do not provide privacy that well.
Conclusion
An open floor plan creates a natural flow in your home. There are immense amounts of space which gives the house more breathability. However, there are ways to create a simple divide between dining and living hall without completely obstructing the view. Following the ideas given in this article, you can easily achieve partitions and add to the overall aesthetic and ambience of the living space.