Living and Drawing Room Ideas
The living room is often considered as the most important space in a home. Indeed, this status can be highly justified – as we all know most of the "living" happens in this room. Yes, it is the place where you entertain your family and friends, binge on your favourite book, watch your popular TV show, and enjoy some leisure time, comfort, and togetherness. On the other hand, a drawing room is primarily dedicated to receive and entertain the guests and other visitors. With increasing inclination towards compact and cosy spaces, the term drawing room and living room have become almost synonymous and so their purposes. With countless decisions to make and various styles to choose, decorating this centrepiece of the home can be quite challenging and overwhelming most of the time. To help you with this, ZAD brings here 20 unique living room ideas that can enhance the look and feel of your space by many folds.
Equip Decorative cabinets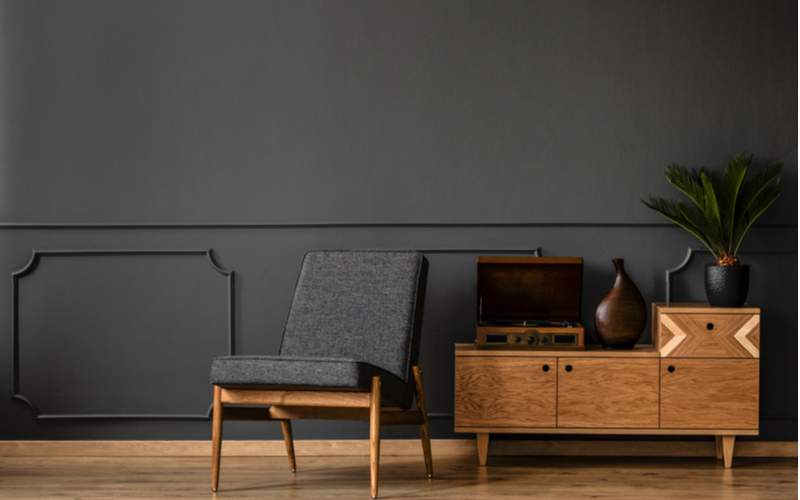 Unlike other rooms, cabinets in the living room are more decorative than utilitarian. They can go from small to big, light to heavy, open to closed, short to long, simple to elaborate, ordinary to embellished and can hold a variety of items like a bunch of books, paintings, vases, photographs, candles, planters, arts and handicrafts. One of the biggest decisions you will have to make when you plan for a cabinet is: whether it has to be free standing or built-in. You can choose the befitting one by analysing the pros and cons of each and also by considering your living room's layout, theme and your lifestyle needs. Fancier cabinets of modern times feature inbuilt LEDs and lighting to focus statement pieces and lit up space subtly for a more elegant look. Inlaying your cabinets with mirrors, stones and metals can add a more decorative effect to your space and uplift its mood in no time.
Get little crafty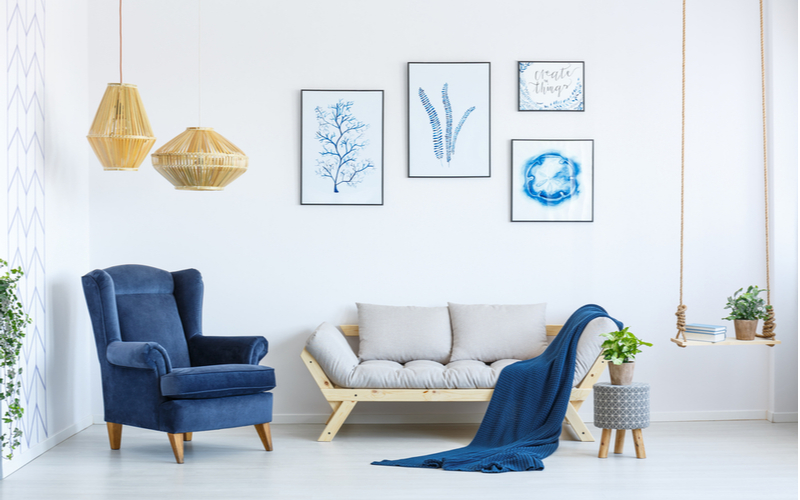 If you are someone who enjoys doing things by yourself, why not create some cool projects and get them to decorate your living room?! Self-made decors can be highly rewarding because they help you bring in your unique style, personalise the space to your taste and also give you the satisfaction of making it yourself. Besides it, just imagine how great it will be when your guests ask where your cushion covers or wall hanging (designed by you) are from?! So, just pick some free time, get your creative juices flowing and make your living room more personalised, more pretty, and more pleasant. The transformative difference in the look of the room can be brought by your hand embroidered cushion covers, self-designed centrepieces, painted bottle vases, stencilled images, own wall hangings or creative planters.
Think beyond sofa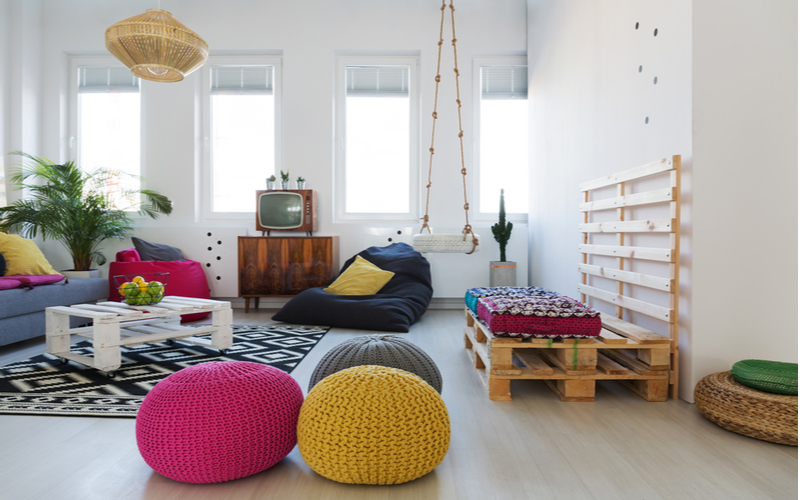 Let your seating area be more than just a traditional sofa. No book of rules says that only sofas can decorate a living room. So, free yourself from the old-fashioned ordinary sofa sets and bring in some fresh seating alternatives. It can be a swing, accent chair, sectional, ottoman, futon, pouf, bean bag, swing chair, armless sofa and chaise lounger. Even a daybed, lined with throw pillows, can get added to this list if you love hosting a larger group of friends. Try opting for seating that varies in shape, size and colour, if you are someone who thinks variety is the spice of life.
Incorporate your passion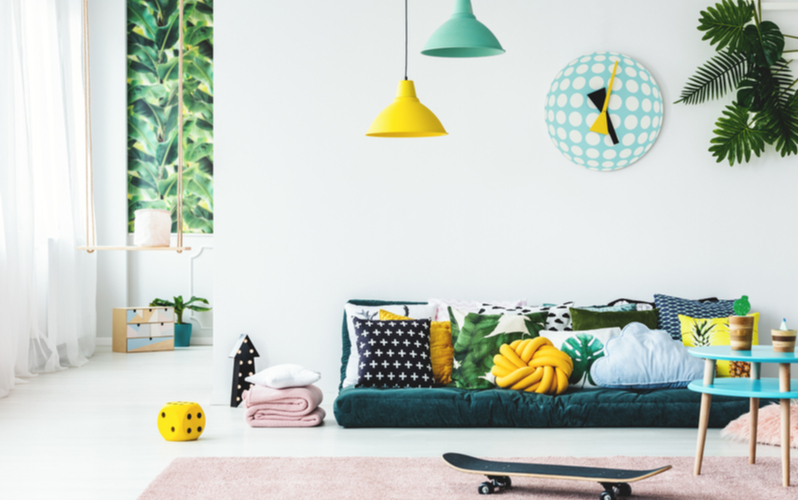 Why hide your talents and passion when you can bring them to the foreground?! Making them as a natural part of your home décor will make your space more meaningful and more personalised. Travel, yoga, gardening, photography – no matter what your passion is – bring out the objects that reflect your passion and let them shine in your everyday life. Many creative passions come with great tools. Match those tools to the vibe that you want to create in your living room. Be it paint brushes, camera, guitar, books or even sewing needles – put them on your display creatively and give them a room to shine. They can sit on your table, hang on your wall or lay on your sofa.
Incorporate sculptures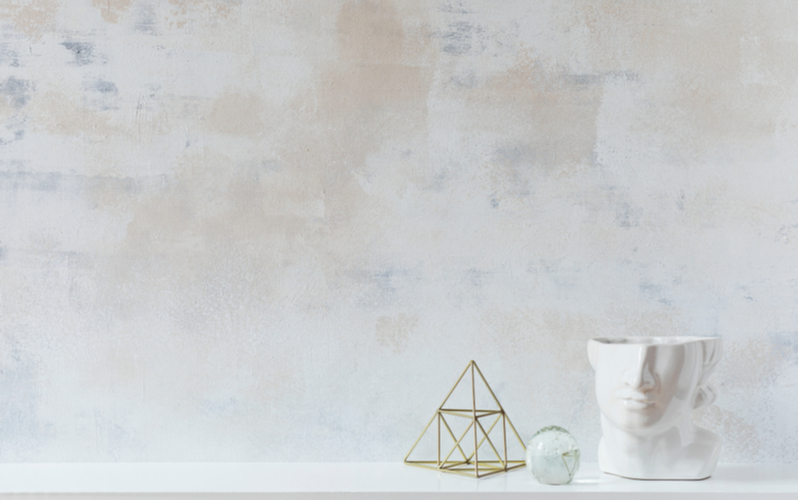 Not a 6 or 7 foot statue touching your ceiling or blocking your way; Just something that is small enough and good enough to make your space feel great. It seems that many people have one common misconception about sculptures – They are confined to classical style and need to be too artsy always. It is absolutely false. Sculptures are the greatest form of fine art that cannot be confined to any style or bounded by any rules. They can be modern, minimal, contemporary, bold and whimsical or any style you name it. While planning for it, just follow these simple tips: Don't have too many; give your sculpture it's breathing room; avoid busy backgrounds; give it some light or highlight it; keep it out of your way.
Prettify your ceiling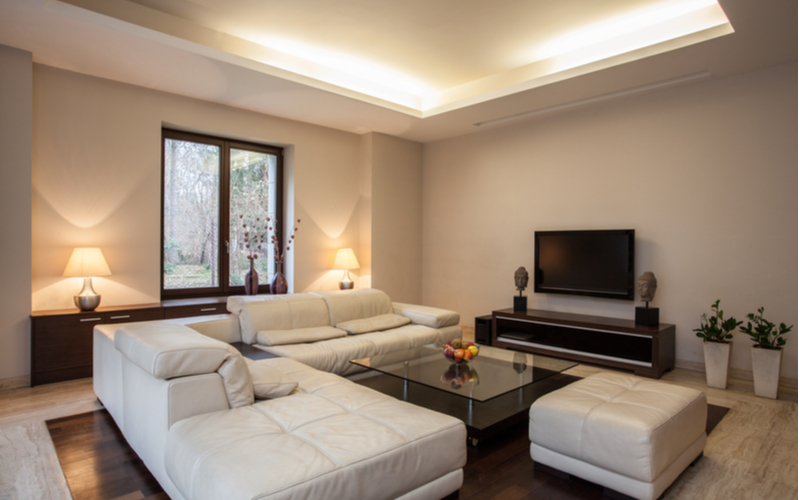 White, plain, bland and boring – This is how most of the ceilings in Indian homes look like. We are very used to decorating the walls, floors, and everything else in our home, but why not the ceiling? From lighting to architectural details, the options are close to endless for your ceilings to make a statement. You can pattern it, paint it or wallpaper it; create false ceilings; add tiles, translucent screens; take advantage of wood; try mouldings; experiment with lights, hanging objects, etc. With these ideas your ceiling will ever be the same again – white, plain, bland and boring – but more attractive, warm and alluring.
Lit it up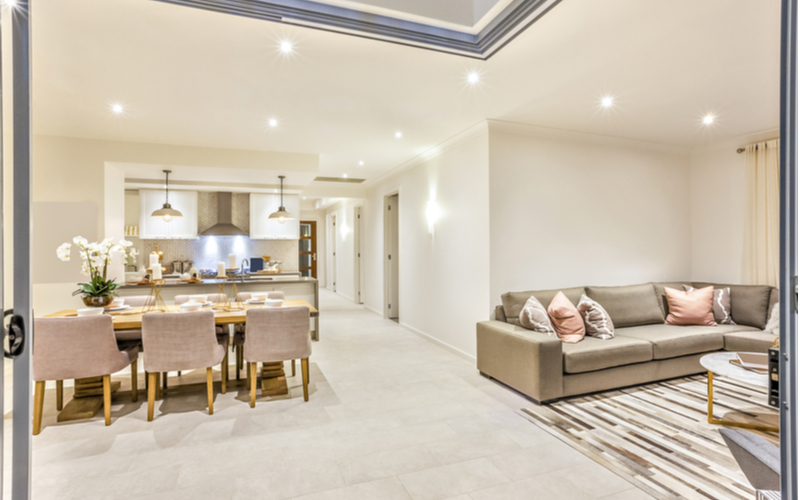 Right lighting enhances the character of space by many folds and also helps experience the interiors to the fullest. Are you having the right light plan for your living room? If no, try layering your living room with three types of lighting: Ambient lighting for basic illumination, Accent lighting for highlighting specific objects or areas, and Task lighting for some extra brightness in specific task areas. Before making your lighting decision, take a moment to think about the most performed activities in your living room – Is it Television watching? Social gathering? A lot of reading? or all the three equally? Depending on your activities, layer the lightings by having the right mix of all three. Table lamps, hanging pendants, recessed lights, chandeliers, wall sconces, floor lamps, spot lights, track lighting, and cable lighting are some of the lighting ideas that can shed bright light for your living room. For further enhancement of the ambiance, use dimmers which can control the level and intensity of the light as per your requirements – high for study and work, low for party and movie screenings. Also, take advantage of the newer energy saving lighting solutions for minimal bills.
Use cushions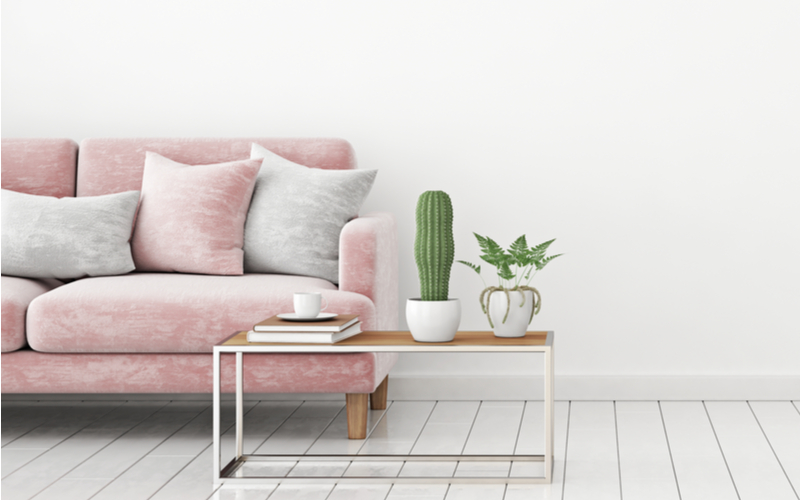 A set of designer cushions can take your living room from regular to extraordinary. Before you get stuck thinking about how to pick the right cushion, try deciding how it should look in terms of colour, pattern, size, shape and texture. Select your cushions according to the features that already exist in your living room and subtly bring together all the hustle and bustle of the room and help them complement each other, instead of working against each other. For a more decorative effect, wrap your cushions with attractive covers and swap them periodically to show varieties. Go a little out of the league and swap them according to the seasons, festivals and functions. For instance, go for floral prints in summer, traditional motifs during festivals, bold colours for parties, etc.
Perk up the bare wall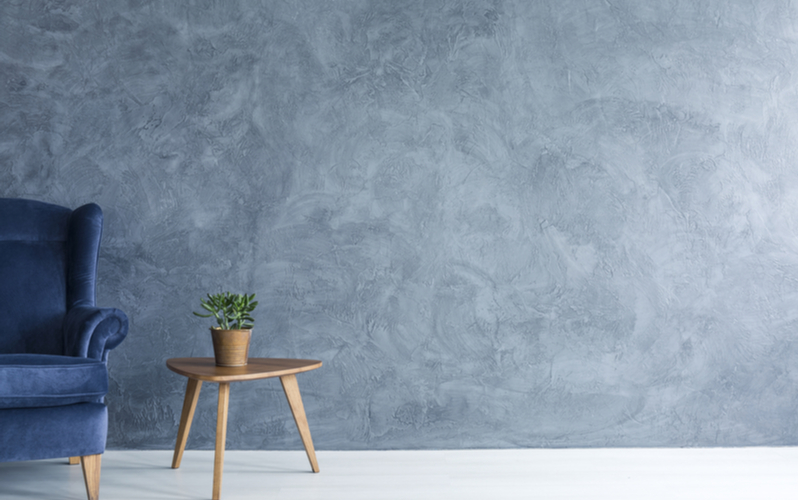 Do you have blank walls staring at you in your living room? Perk it up with a bit of personal and decorative touches to transform the vibe in your living room and make it burst to life. Your wall can serve as a backdrop for a variety of design elements like art, drapes, furnishings, photo frames, decorative mirrors, wall lights, wall plates, decorative wall panels, etc. To completely change the look of your wall without much effort, try pairing your walls with some eye stealing wallpapers. If you are longing for a little indoor greenery or if you want to breathe better, bring in a green wall by adorning it with leafy plants. In case, if you are looking for something that combines usefulness and design, try opting for super chic and practical shelves. And don't forget to pack the most important element of a living room – a beautiful wall clock.
Hang Chandeliers
Chandeliers are the fanciest lighting option your living room can have to make its most stylish appearance. These fancy lighting fixtures are not just a source of illumination for oodles of brightness, but also a fascinating decorative option that can grant a tremendous facelift to the overall look of the room which otherwise would have been in the bare minimum. Yes, the decorative presence of a chandelier adds a dash of drama, glitz and glamour to your otherwise bland living room, thus demanding your guests to look up as soon as they walk into your space. Amidst so many models with different styles like modern, vintage, rustic, classical, contemporary, and eclectic, inclining towards one and picking a perfect chandelier can be quite tricky. Though there are no hard and fast rules, bring home the fixture that goes well with the style of the room and matches your personal taste.
Lay down the rugs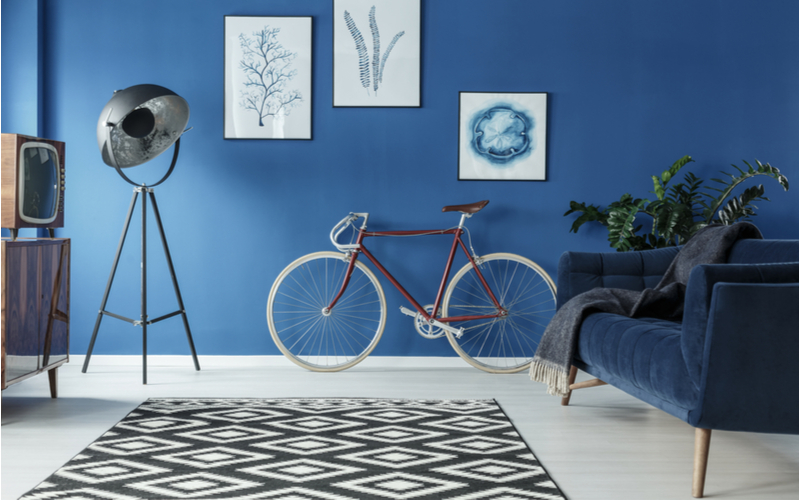 Rugs are the artwork for your floor that have the potential to frame your living room. From wool to linen, round to oval, small to big, patterned to plain – the choices are vast for finding the rug that will perfectly complement your living room. Here are a few tips to avoid getting lost in this heap of choices: Between the materials – wool, synthetic, cotton, linen, etc. – opt for a material that can make your toes feel great when you sink them into it. If your living room is small, avoid oversized rugs as it will make the space more cramped. On the contrary, in large living rooms, have fun with shapes and dimensions. Choose patterns that are in harmony with other patterns in your living room (on the walls, curtains, cushions, etc.) – preserving the desired decorative effect. Also, avoid designs that will bring down the pep and originality of your interior. Remember – No matter what your style is – there's always a rug for you.
Perfect Your Palette
Trendy colours or a more classic colour palette? What should you fall for while choosing the colours of your living room? The answer is simple. Just stand by what your heart loves and what the world of interior designing never gets tired of seeing. Although Indian living rooms have a preference for white and neutral tones, today there is an increasing drift towards warm, natural, radiant, and vibrant colours that can be fresh and subtle at the same time. In the living room, colour can be brought not only by a new coat of paint but also in many different ways. Of course, you can bring the splash of colours on your curtains, cushions, rugs, furniture, couch, etc. Whether it is applied on the walls or just on the cushion, colours never fail to offer the unexpected vibrancy to space and take the entire decor scheme to the next level. So, go beyond the standard neutrals and add some transformative colours to your living room.
Tuck in some lush leaves
What better way to brighten up your living room than with green plants? Beautiful touches of green in your decoration will bring freshness and cheerfulness to your space, add a natural touch and give a lot of charm to your decor, also contribute colour to your living room and most importantly let out fresh oxygen to help you breathe better. Having that said, we hear your obvious questions of how and where to place the green plants in your living room. Place them on the ground, on a piece of furniture or hang them from the ceiling or wall using hanging planters with special hooks and rails, incorporate a ladder and put them on it, or just find the unused corners. Make sure your plants get enough sunlight and they don't impede the traffic in the room.
Decorate with your photos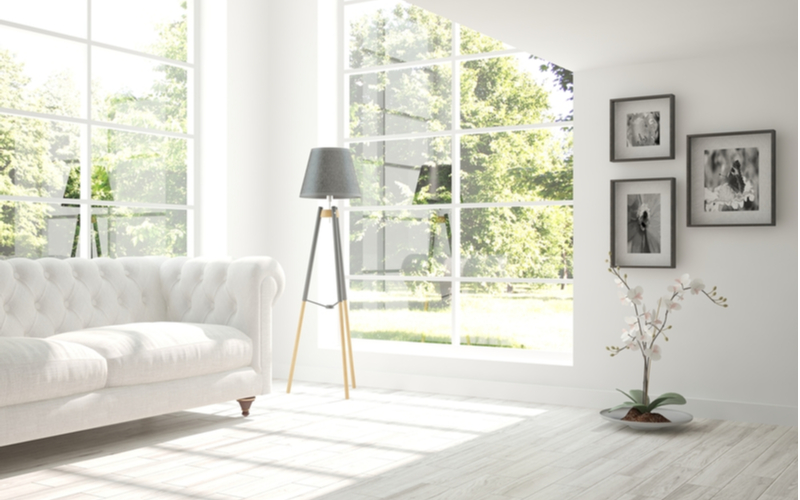 Gather all your favourite photos that have been lying dormant in your hard drive or in your smartphone for years and get them on your wall. One of the most classic tricks is to frame them with different shapes, sizes and styles and hang them on the wall or simply place them on a piece of furniture. Today, the imaginations run wild and seem to have no shortage of ideas. Yes, they have given out some unique ways to showcase your photos. For instance, including family photos, marriage photos, travel photos, etc. in the personalized calendar, photo printing your most favourite picture on a cushion, customising the wallpaper, tailor making pretty jars by integrating the close-to-heart photos, etc. Don't you think they make for more charming and personalised decorative objects?!
Mix styles and designs
Traditional and contemporary, contrasts and similarities, neutral and bold – such successful and interesting combinations can make your interior live with harmony and elegance. The resulting style should unify the whole decor and create consistency and soulful impression by pulling together all the elements and features of the room without moving them away by big lines of differences. However, mixing styles that have nothing to do with each other will make the decoration of your living room suffer. Also, inappropriate mixing can draw your eye to one particular object (unless it is a statement marker of the room) and unbalance the whole décor. So, beware of overly large differences and mix styles in harmony for a balanced décor.
Invest in classic pieces of furniture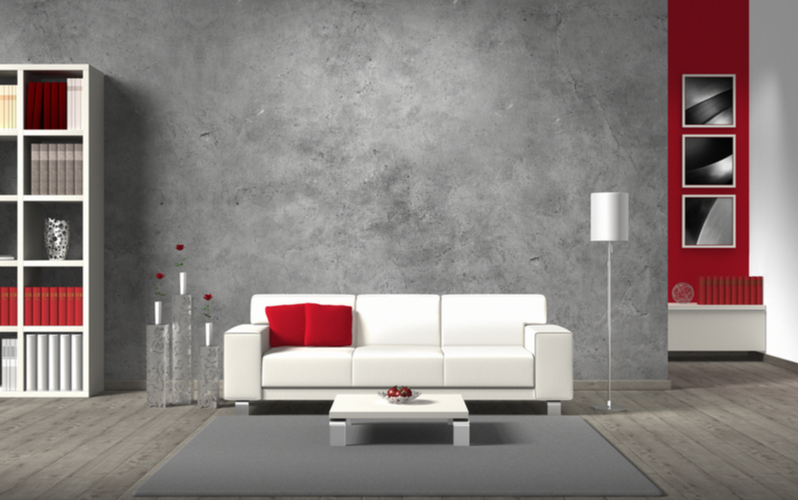 More than any other room, choosing the furniture of the living room is of paramount importance because it is the place where you gather with your family, chit chat with your friends, watch your favourite show, binge on your favourite book and also receive and entertain your guests. Though the sofa and coffee table are the basic elements of a living room, these days it is possible to bring a variety of new additions for every nook and cranny of your space. Before adding the furniture pieces to your cart or billing them in your furniture store, doing a little homework is inevitable. First and foremost, know your requirements (utilitarian or decorative), then calculate its length, breadth and height by measuring the dimensions of the room, research the styles in vogue, determine your budget and finally head to the store. Needless to say, custom-made furniture is another great option for adorning your living room. Whether it is ready made or custom made, opt for pieces that are good in quality and deliver you the desired lifespan because wrong pieces will serve as a daily reminder of the money you wasted.
Add a Focal Piece
Who doesn't love to grab the attention of the guests with unique focal points? Focal points add focus to a room which it has been lacking. What are the striking focal points ideas for your living room? A well-decorated ceiling, a big mirror centered on the largest bare wall, a bold wallpaper, seating area, an artwork or huge wall clock, a gallery wall, light fixtures, a big houseplant and almost anything can become a focal point if it has the potential to attract people's eyes as soon as they step into your living room. And focal points need not always be placed at the middle of the room; it can sit in the nook or hang in the corner. All you have to do is just choose the right spot for this showcase.
Change your layout
Switching up the layout gives your living room an instant makeover. A successful transformation is the one that is more comfortable and more functional to better optimize your well-being, rather than that makes your space too narrow or too dark. In order to refresh your living room correctly, good lighting and spacious arrangements are to be favoured. Because your space can quickly become cluttered if the positions of various items like sofa, coffee table, TV set, etc. are wrongly arranged. Some quick tips to note: Try to keep the room as free as possible; don't overload the room with bulky items; consider traffic flow; include mirror and shiny surfaces to enlarge the room; group like objects together; and divide your space into multiple zones.
Play with patterns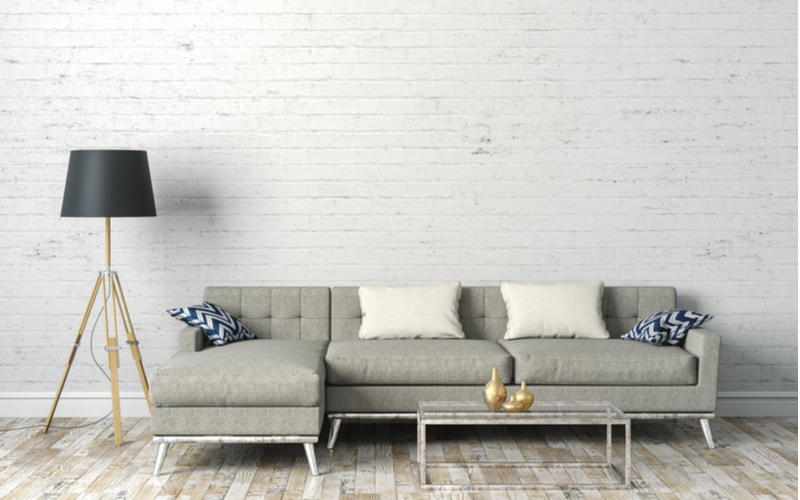 Patterns can break boundaries and provide a great way to add interest, colour, and depth to a room. For many, the task of selecting patterns is quite tricky; and the task of pairing and mixing it with others is even trickier. But, mixing patterns is an easy job if you can bear a few points in your mind – always work with an odd number of patterns; vary the scales of each pattern; select the largest pattern first and then go for the smaller ones; balance them equally throughout the space. And finally, don't be afraid to break the rules if it looks good to you.
Add Antique Accents
Elements of history and heritage reflect a sense of style that is timeless and enduring. Incorporating them into your décor can make your living room big on class, beauty and sophistication. What can be affixed with the label "antique"? All those that are aged? No. The pieces that deserve to be described as antiques are those that have a distinctive character, a good quality and a simple history in their origin. While incorporating antiques in your décor, using everything as it is in its original form can sometimes make your space feel boring. So, hunt harder, look longer, interweave the old with something new and bring an unexpected twist to your décor goals. It is not necessary that you have to rush out to high-end, overpriced antiques to decorate your space, just look for something that can closely fit your bill and give a consistent look.