POP False Ceiling Designs For Living Room
Today's post is all about your fifth wall, the ceiling. And to be more precise, it's about (POP) false ceiling.
False ceiling is a smart, practical, structural and aesthetic addition that is taking the world of interior design by storm with its recent surge. Sitting perfectly with the in vogue décor ideas, it definitely beats the old, boring, flat, featureless, plain, white and too common traditional ceilings and makes a world of difference to the space, whether it is a commercial or residential erection.
In this blog, let's see how this crowning character adds visual intrigue to the living room.
The Basics: POP False Ceiling Design
What is False Ceiling?
False ceiling is a secondary ceiling that is affixed below the roof slab or main ceiling of a room with the support of suspension cords or wooden or metal frames. Primarily designed for concealment, it is a great solution for back-staging all the ducts, wires and other structural elements that hamper the beauty of the room.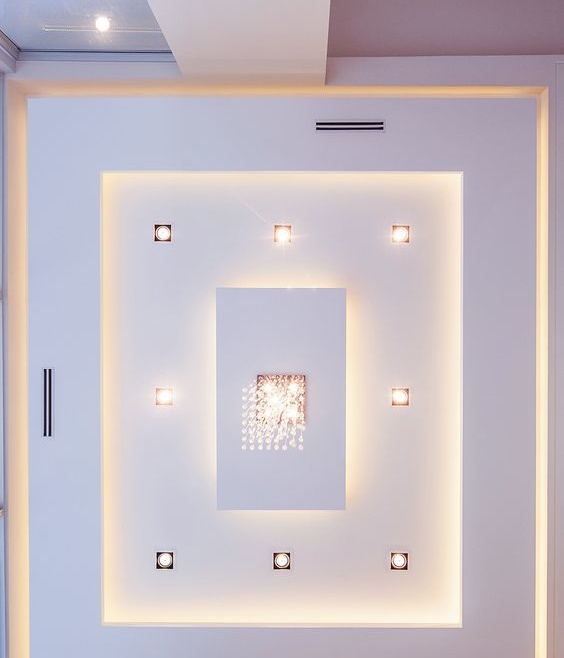 What is POP False Ceiling?
To jazz up a room, the false ceilings can be constructed out of a diverse range of materials like gypsum board, POP (Plaster of Paris), particle board, steel or aluminium panels, wood, etc. The type of false ceiling in which Plaster of Paris is used as ceiling material is POP False Ceiling. Since POP is easy to source and shape, this type of ceiling is widespread and has become a part of modern commercial buildings, office spaces and even households as well.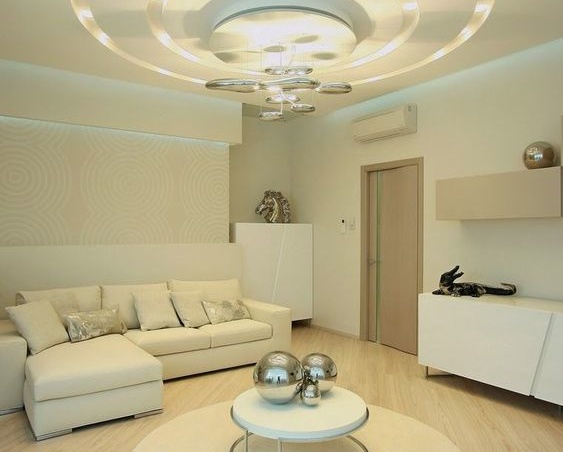 What Are The Benefits Of Installing A POP False Ceiling In Your Living Room?
This neat solution houses away all the wires, vents, etc. that hinder the elegance of your living room and improves its aesthetic appearance.
With its sound absorption capability, it acts as an acoustical barrier and keeps your living room quiet and peaceful, away from the noisy atmosphere.
Another main feature of the POP false ceiling is it has a smooth finish which further enhances the look of the room.
With this type of false ceiling, ease of construction and customisation is extremely high.
Its surface takes paint easily. So, with a fine coat of paint, you can easily increase the visual interest of your living room.
You can also play with lighting and add depth to your living space.
They are lightweight and long-lasting as well.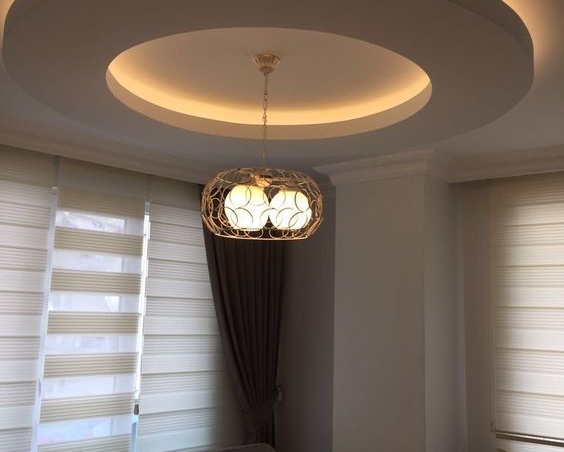 Some Unique POP False Ceiling Design Ideas For The Living Room
1. POP False Ceiling With Creative Lighting Options
Illuminating treatments are here to stay and they show no signs of extinction any time sooner. When it comes to playing with the luminaries, there is no limit to the design ideas as they give ample opportunities to experiment with their size, shape, count, colour, placement, distribution, paring, and even leveling.
2. POP False Ceiling With Interesting Carvings
The interesting and intricate carvings on the POP never fail to give a sense of grandeur, even to a minimalistic living room. When paired up with fascinating ambient lighting solutions, these carvings can give an additional facelift to the top of the living room and add to its beauty.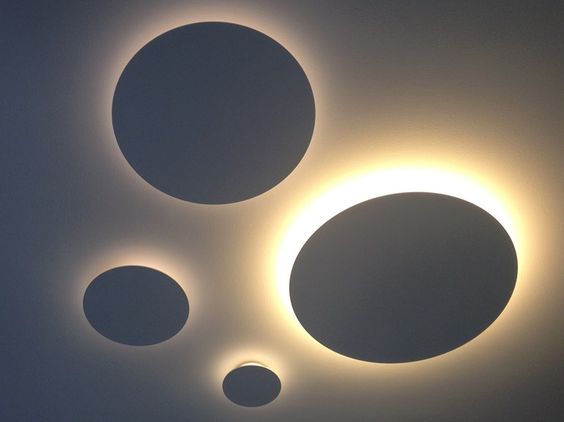 3. POP False Ceiling With Geometric Appeal
If you are someone who loves to play with lines and angles, then this design idea is a perfect choice. To achieve a better and tasteful geometric appeal to the whole space, it is wise to match the geometric elements on the ceilings with the rest of the geometric elements in the room. For eg: If your ceiling houses straight parallels lines, it is good to balance it by bringing the same pattern on your rugs, draperies, or upholstered couch.
4. POP False Ceiling With An Ethnic Touch
Honestly, Indians and Indian ceilings, both crave for this touch. So, by including Indian-inspired design elements on your ceiling, you can quench your thirst for ethnicity, and also transform your dropped ceiling into a perfect focal point for your living room.
5. Colour Coordinated POP False Ceiling
As the trend of white ceilings has fallen wayside, it is good to consider some unique and stunning colour options for your living room false ceiling and add an extra element of visual appeal to your space. Choosing an aesthetical colour combination that blends well with the rest of the hues in the living room can make your space more cheerful and perky. Coloured ceilings also give a feeling of expansiveness and width and make the space feel more airy and spacious. Furthermore, experimentation with lights complementing the colours will help create an interesting effect on the space and also give it a serene makeover with a rich glow.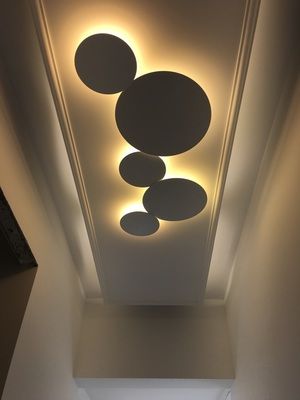 6. POP Ceiling With Multiple Layers
Final Words
With a mix of decorative, architectural and illuminating treatments, an innovatively designed POP false ceiling definitely adds to the décor of the home. Want to get designed one for your home too? Connect with our interior design experts at ZAD. We guarantee you will love looking up to your ceiling!