Small Room Interior Design Ideas
If you're a student living in a dorm or sharing a small apartment with your roommates, or just starting your career in a metro city and living in an overpriced tiny apartment area, you know the struggle in making a small room look more spacious is real. With bedrooms that are barely large enough to fit a bed, living rooms that have to hold a home office/desk, and a TV, accommodating everything you need into a cramped space is definitely going to be tough.
Worry not, as there are numerous easy solutions that can help make your small space look more elegant, multi-functional, and stylish, all at the same time. Simple changes like the way you organize your furniture or adding curtains can make your home seem bigger. Read on for some of our favorite tips to make a small room look bigger without breaking the bank.
1. Clear Clutter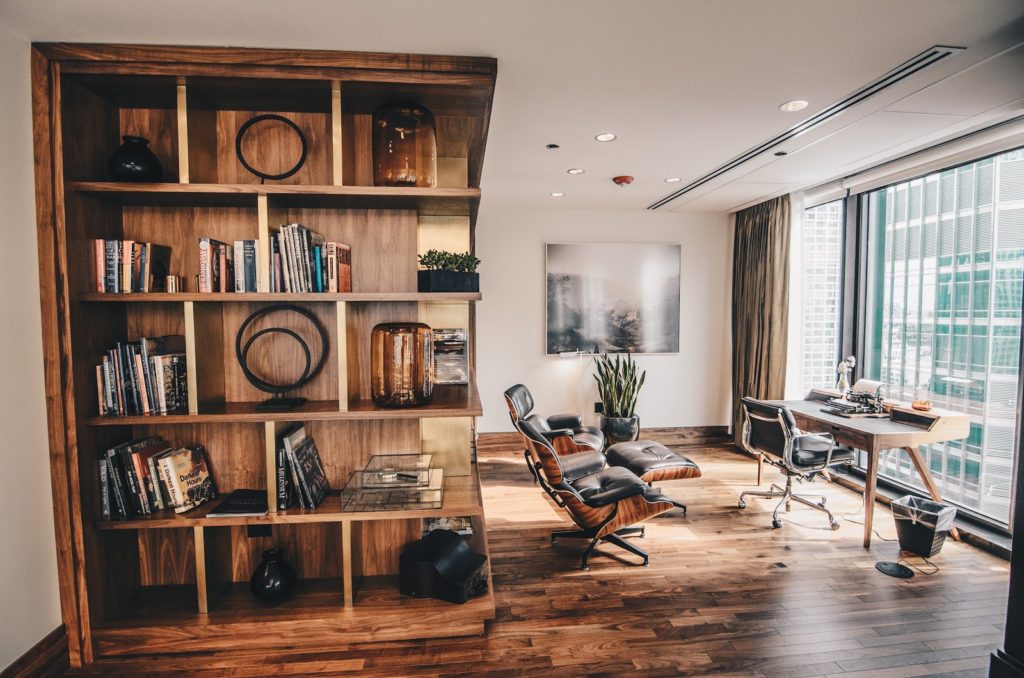 Usually, clutter is the culprit behind making your room look small. Sort through the things you actually need and throw out or donate things that are unnecessarily taking up space. Figure out ways to get your collection of things out of view, out them on up on shelves or cupboards.
When things are neatly arranged and kept out of sight, the empty space that is in view will feel well-ordered, spacious, and tidy.
2. Make the Floor Visible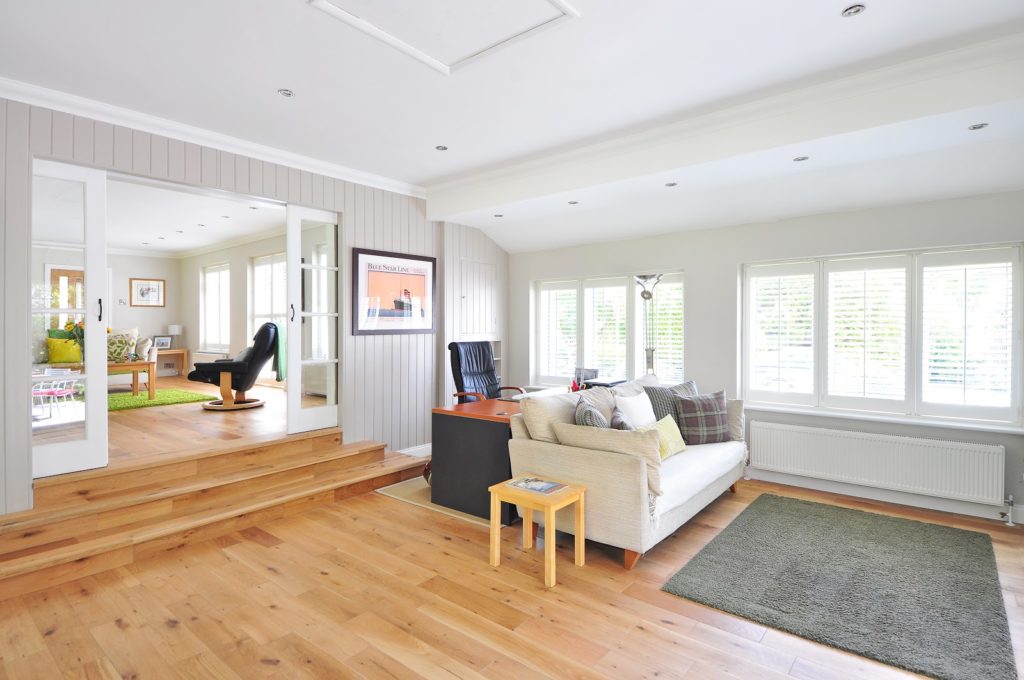 The room would look smaller, if you can see the surface You can also add a striped floor to make it seem like a longer room. When you have a lot of furniture or decorative items in your room that block the view into a room, it will look confined. Move furniture around and put them away from walkways, this opens up the space, makes the floor visible, and gives the illusion of a larger room. Choosing shorter pieces of furniture like ottomans, low tables, and placing larger decor along a wall instead of out in the open space makes the room look spacious.
3. Choose Lighter or Monochromatic Wall Colours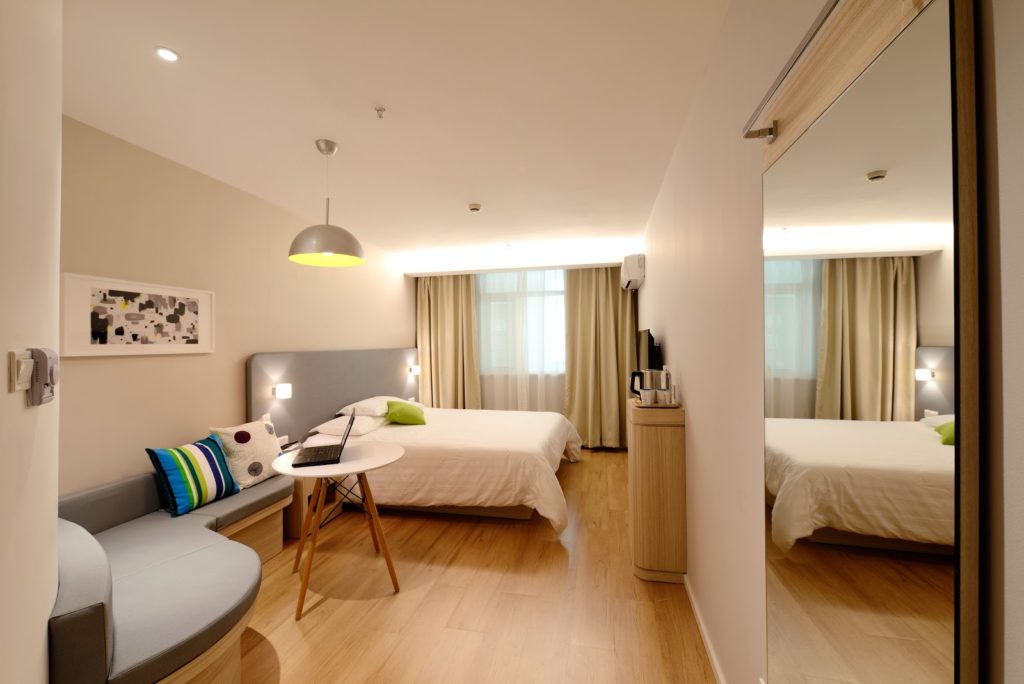 Dark, warmer colours like red, orange, and yellow make the space feel smaller. Lighter, cool colours like light blue, lilac, and baby pink make the space feel open and airy. For the best results, we recommend selecting softer tones of blue and green. Another good option is to choose colours that are in the same family (light to dark tones of blue or green, etc). You also can use tone-on-tone woven upholstery fabrics, sofa cushions, and textured curtains to give the room a more tidy look. You can also pair cool colors with delicate warm colours (light yellow, mild orange, etc), but remember that contrasting colours tend to make a space appear even smaller than it is. Choose furniture that matches the colour of your walls, this makes them less likely to stand out and makes the furniture blend with the space, making your room look spacious.
4. Let in More light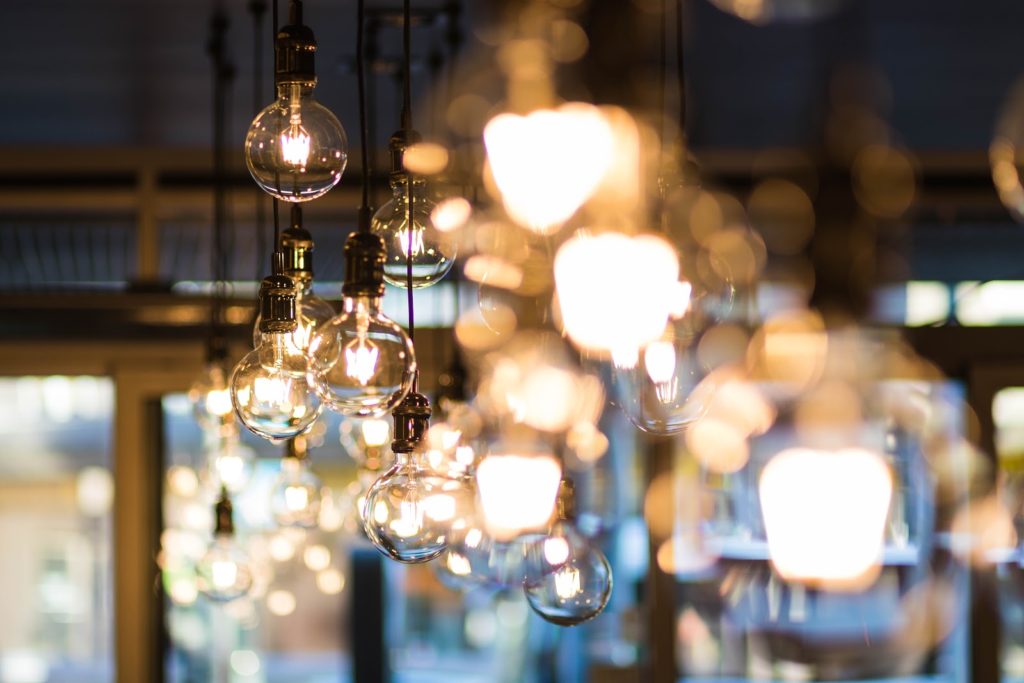 Any room will look sizable if it's well-lit, it can be natural light or even artificial lighting. Getting rid of thick and dark coloured draperies and curtains, and opening up windows to let the light from the outdoors flood into the space can brighten up your space while making it look larger.
If your apartment has small windows, you can add more lamps or install embedded ceiling or wall lighting. For example, in a small bathroom, you can use a clear glass shower enclosure instead of an opaque enclosure to make the room look larger since you can see all the way to the wall behind the shower. It may be just a few extra feet, but the difference it can make is dramatic. You can also add glass tabletops with a firm base of wood, stone, or metal. This makes the area around the table more visible.
5. Add Mirrors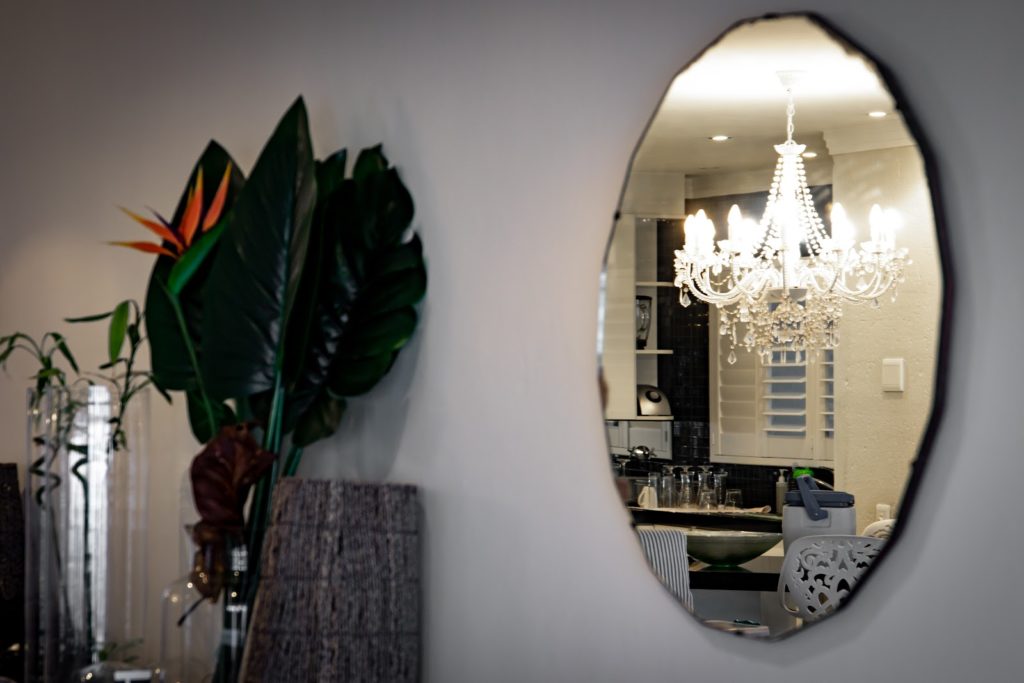 Adding mirrors to dark rooms can bring in more light. Add a large framed mirror on the wall, or place an oversized framed mirror on a stand against a wall. You can opt for plain ones or mirrors with intricate frames, they can add aesthetic to your room while making it look bigger.
When a large mirror is placed in a room, the room and light will be reflected, causing a more open feeling. A mirrored wall has the best room-enlarging effect but it may not be feasible for most people. You can add smaller mirrors on coffee tables or side tables, or install a mirrored cupboard to create a similar effect.
6. Go Big on Furniture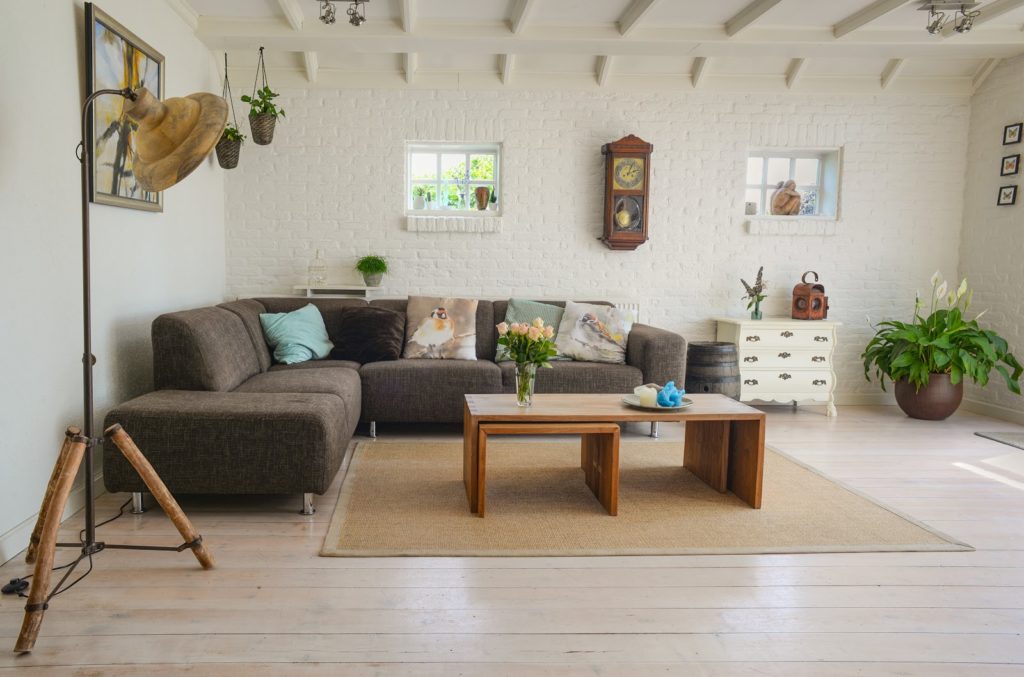 You may be tempted to buy smaller pieces of furniture and place it around your home, since you may be living alone. However, this makes your room look smaller and more cluttered. Instead buy a few big, plain pieces of furniture or decor and place them around your room, preferably against the wall as it creates open space. The room will appear to be more peaceful and comfortable. However, don't place all your furniture against the walls, try placing a few at an angle or in between an open space. This will make a room appear larger.
You can also install a built-in desk that runs through the entire length of a room or long counters in your kitchen, this will create the illusion of a longer room.
7. Hang Ceiling to Floor Curtains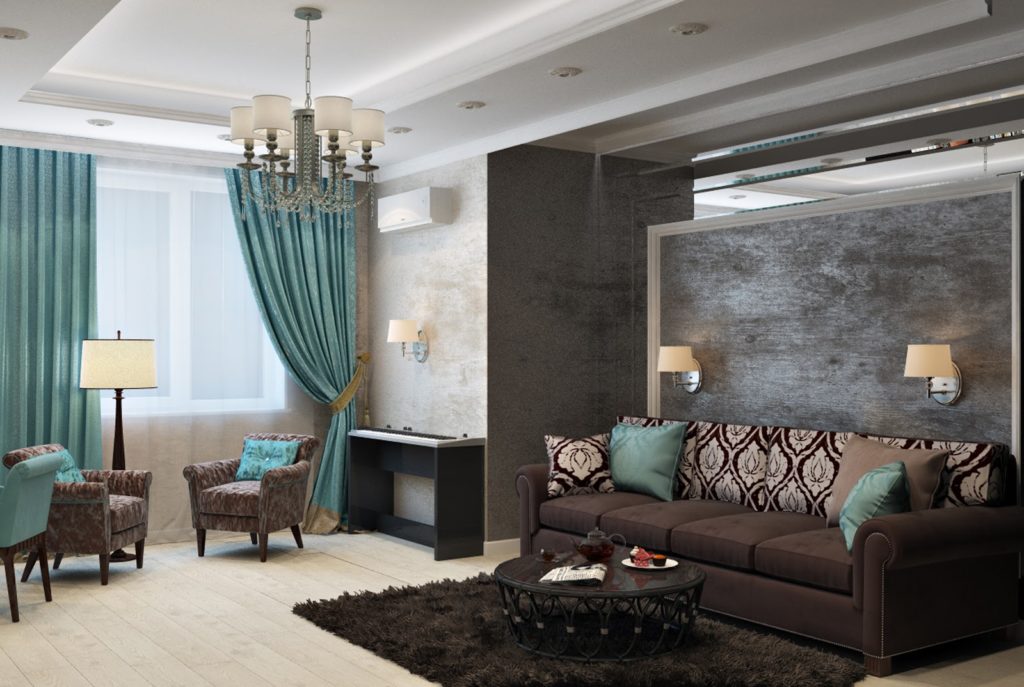 Adding long curtains to your room will make your room look bigger by making your ceiling look higher. Hang the long curtains right below the ceiling so that they glide all the way down to the floor. This is kind of like adding stiletto heels to your room. It looks taller and chic. Adding ceiling to floor or wall-to-wall bookcases or shelves will also make your walls seem longer.
8. Have an Empty Shelf
It's good to organize your stuff on shelves to reduce clutter, but make sure that you don't use up every available shelf and leave some shelves empty in your room. This empty space will give your small place an airy and open look.
Conclusion
Living in a small, cramped apartment may be frustrating at times as you realize that the lack of space is a disadvantage, especially when you want to decorate your small room, however, there are numerous reasons why smaller apartments are better. Smaller spaces are easier to redecorate, to keep clean, and simpler to organize. All it takes are some clever choice of colours, the way you place your furniture, and some lighting tricks to transform your tiny room into a large and spacious living space.