Best Design Ideas For Home Office
Whether it's a pile of documents or a macbook, almost everyone needs to carry work home with themselves at some point. If you don't work in an office, you may want a separate space to handle your domestic bills and letters. Even the children require a place to sit and focus on schoolwork or web research. Notwithstanding your requirements, you'll almost certainly require an office space; whether this takes the form of a whole room, a corner, or a pull-out shelf is all up to you. Here are some contemporary home office design tips to help you choose and stimulate your office décor.
1. Look for a window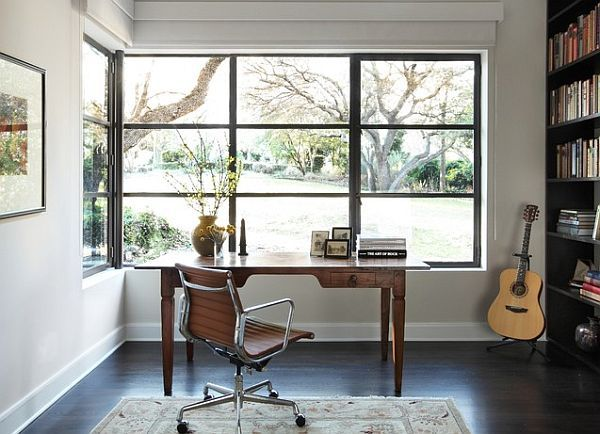 A Lucite table underneath a window offers an excellent well-lit office in this small area of a bedroom, where utility meets style. 
2. Construct a Nook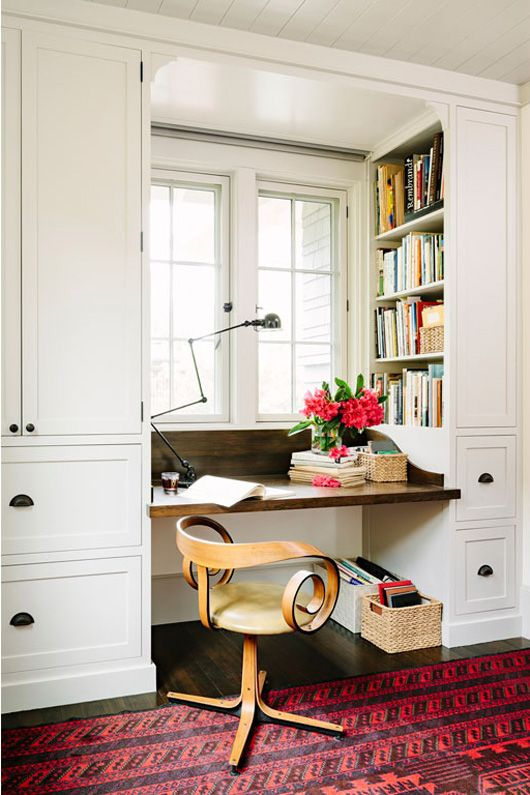 Designer Kira Obermeier developed a tucked-away working area using the built-in that serves as a wall. 
3. Layer one pattern on top of another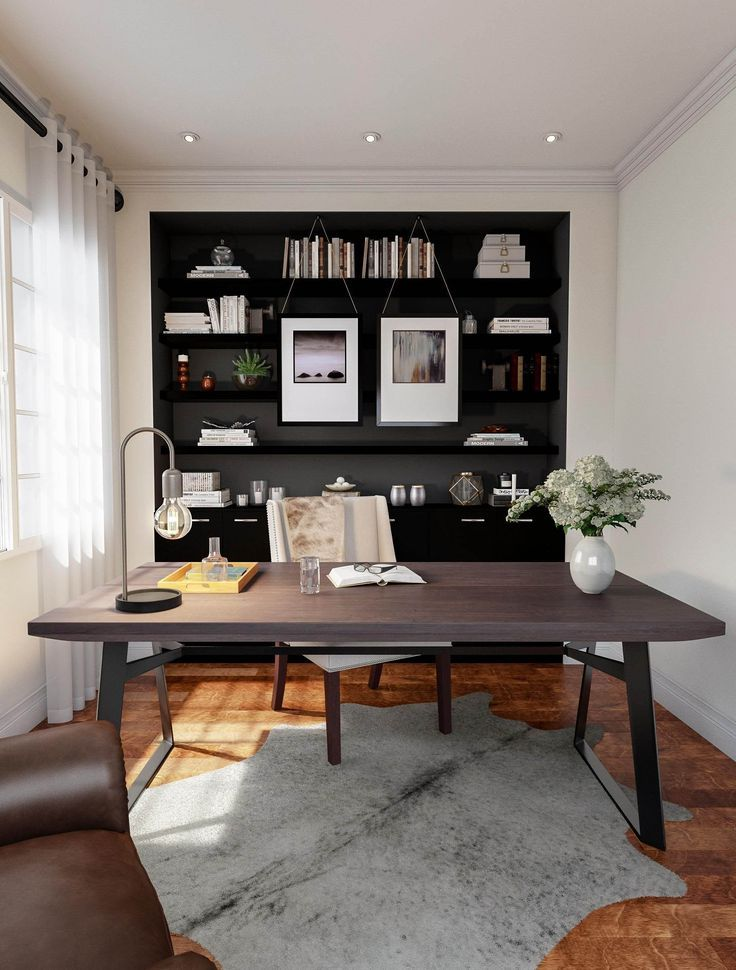 Palms bloom on white wall paneling, a gray desk, and pebbled leather winged armchairs on matching wallpaper and draperies.
4. Closet Makeover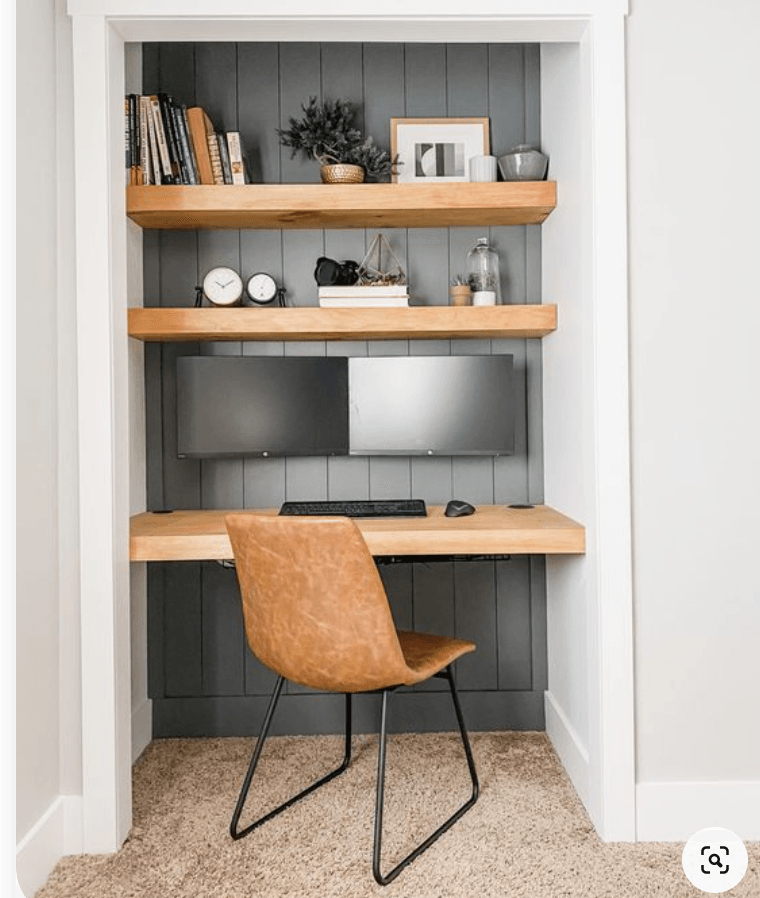 The closet is brightened with small-scale furnishings, vibrant paint, and streamlined lighting.
5. Warm up the white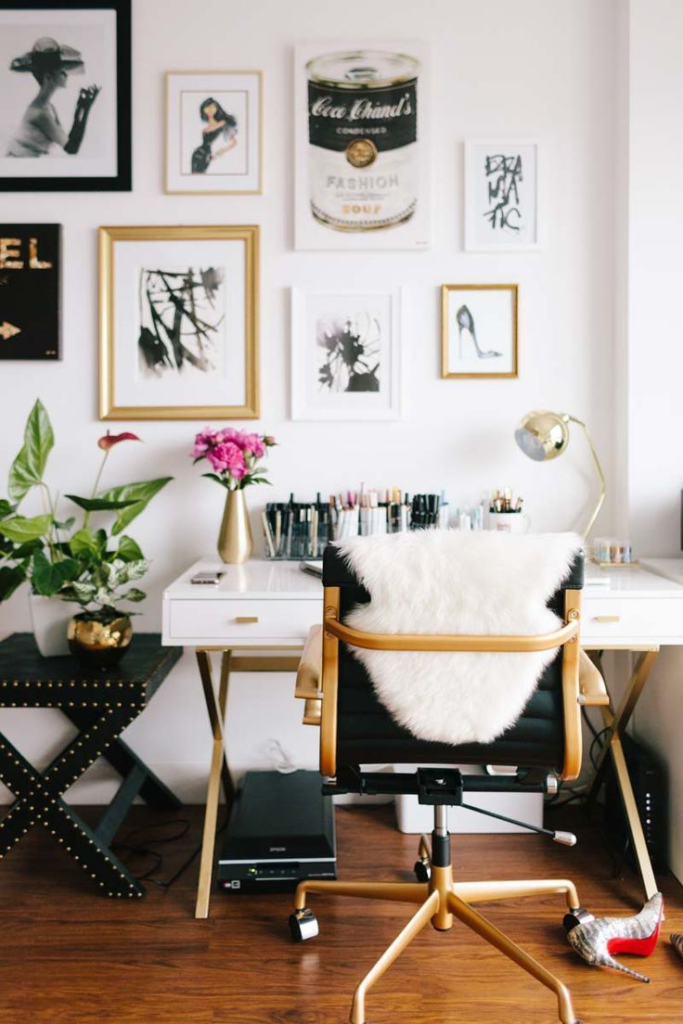 It is not necessary for a white workstation to be cool. The simple color scheme is complemented with burnt orange and gold accents.
6. Conceal in Splendor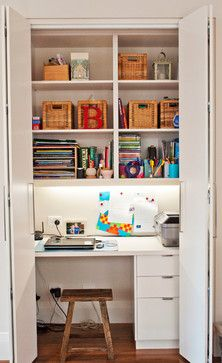 When the fissure carved veneer doors are opened, an office area with a desk, wooden shelves, and work supplies is revealed.
7. Pair up your decorations.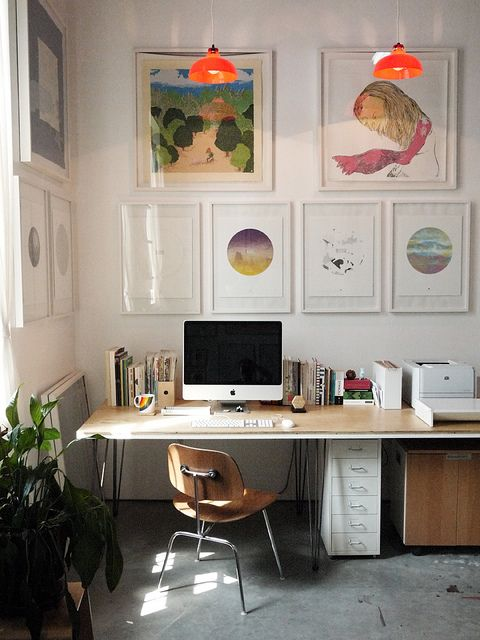 The attention is drawn to the double abstract expressionism, which adds a touch of chill to an otherwise bland multipurpose work area.
8. Break the Monochrome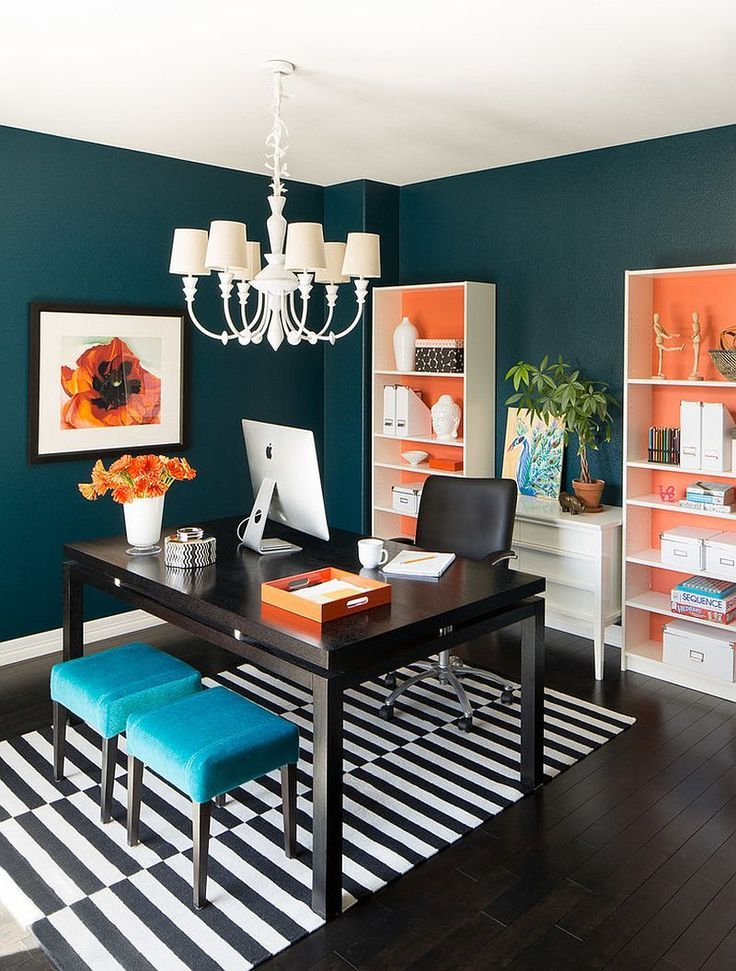 Hang bright artwork to provide contrast to a color palette.
9. Patterns
The design on the armchair is complemented by a brown and white cowhide laid over a seagrass mat, while the knitted window curtains lend even more complexity to the area.
10. Increase the level of serenity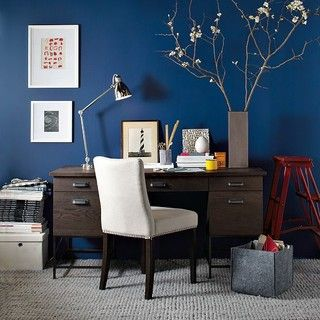 In this serene open office layout, cornflower blue streaks and neutral furnishings provide a sense of serenity. Sprinkle in golden accouterments that reflect sunlight for an extra-serene look.
11. Make a Statement Wall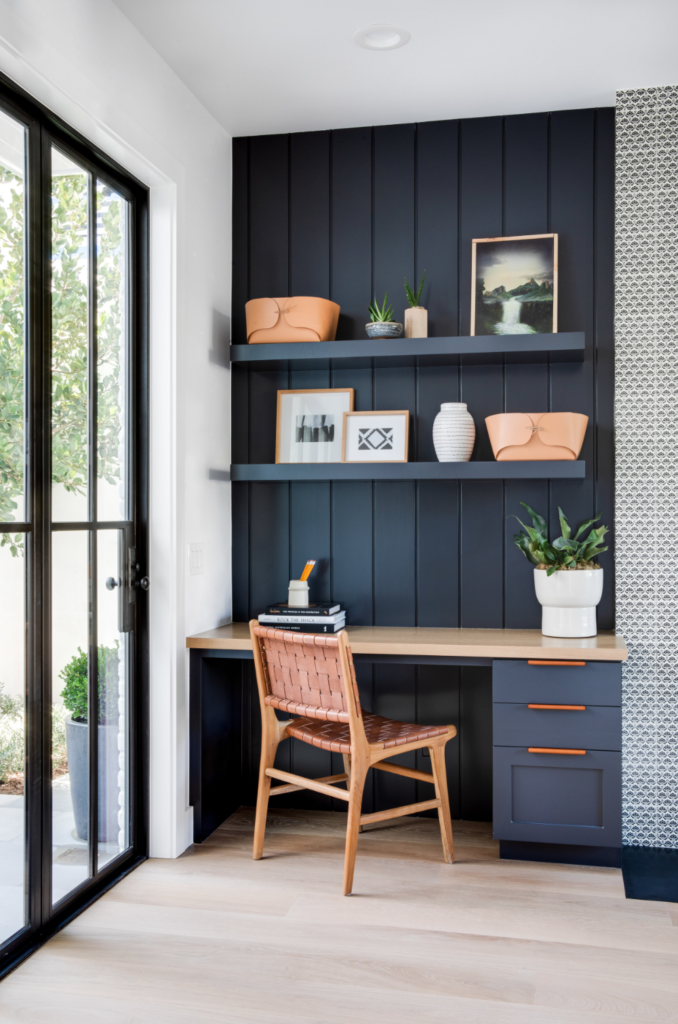 Keep your decorations basic and tidy to have your accent wall work. A patterned rug serves as a grounding element in the room. It's all brightened up with brass accents.
12. Combine tradition and modernity
Consider a sofa with a plaid pattern. Then add a touch of contemporary with a stylish crystal chandelier. Combining two styles creates an extra-cozy atmosphere.
13. Add Metals to the Mix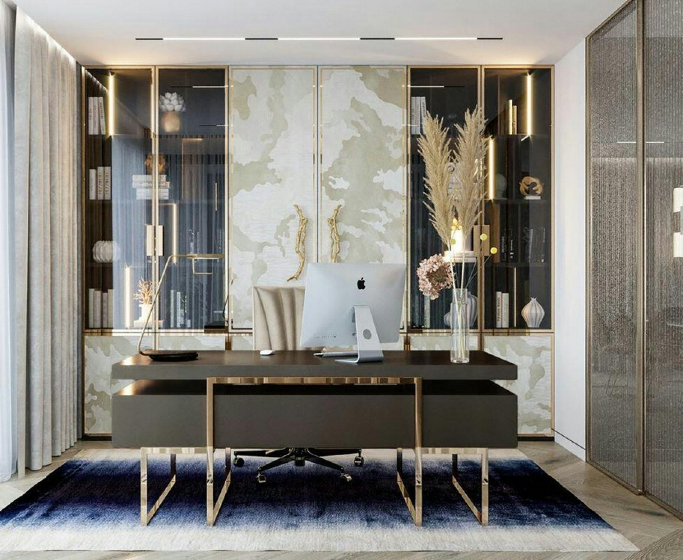 Gold, bronze, and silver highlights may be found in the mirror, upholstered chair frame, carpeting, and decorations. These dazzling moments bring the room's other neutral tones to life.
14. Consider putting up a Gallery Wall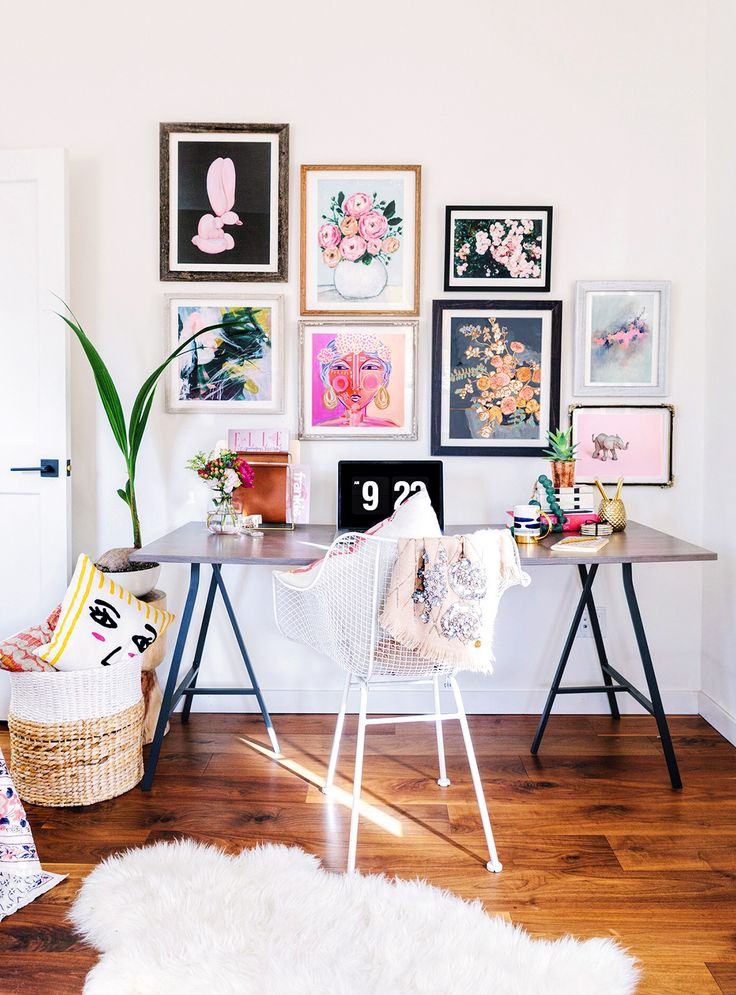 A sleek gallery wall with quotations, images, and art adds style, while storage bins positioned around the circumference of the floor and a hardwood side table give fashionable storage for papers and documents.
15. Create a Stylish Environment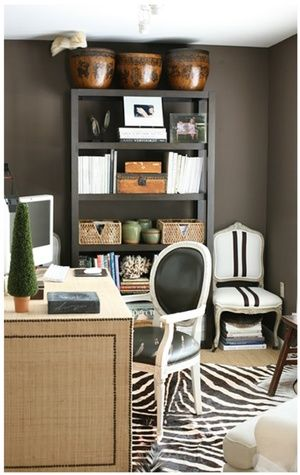 The use of a neutral color palette is essential. Combine taupe and caramel tones with an antique recliner and bejeweled jute mat to create a dramatic look.
16. Add a Touch of Vintage Chic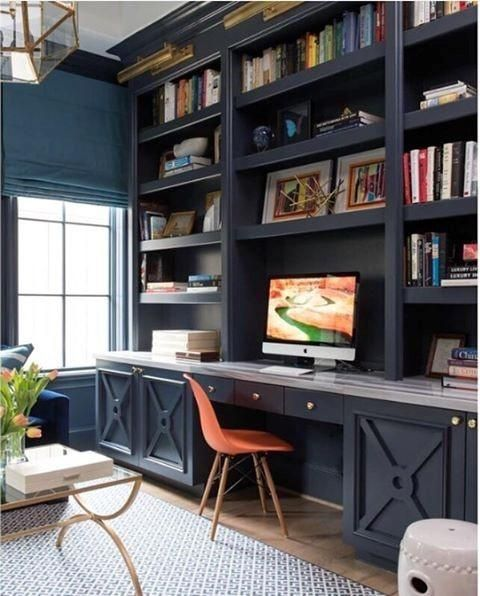 Sturdy bookcases and leather furniture are the key. The workplace decor is elevated towards something absolutely elegant with a marble-topped coffee table and chandeliers.
17. Highlight the Ceiling
Paintings or wallpaper, together with lighting, can be used to highlight the ceiling. The ceiling is brought to life with vintage floral wallpaper and a four-globe chandelier.
18. Don't affix your artwork to the wall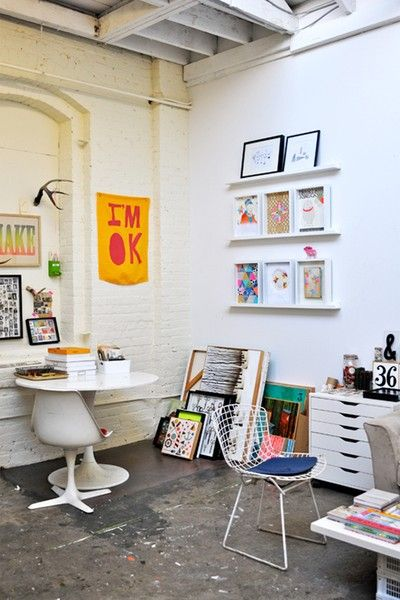 Designers prefer to show art on the carpet, which is a wonderful, tiered option. The casual-cool mood is enhanced by a white grass fabric desk and faded rose-colored poufs.
19. Throw in a dash of the bohemian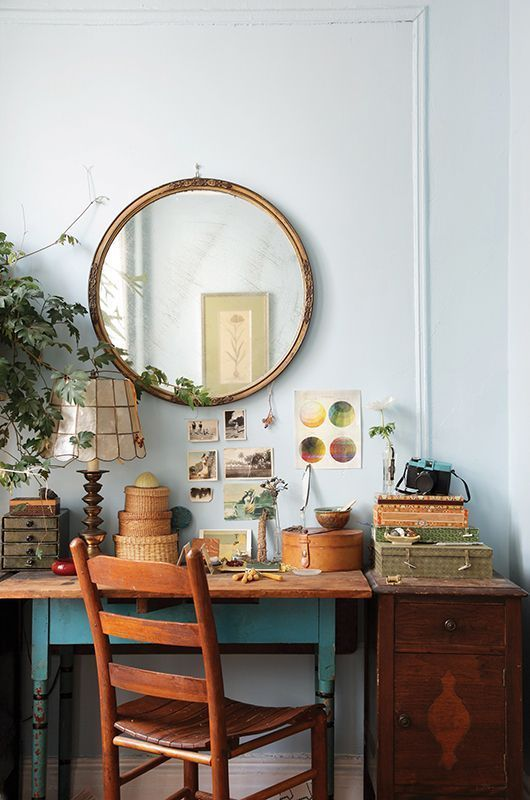 A woven cream rug, chocolate-colored draperies, and a taupe velvet armchair complete the look.
20. Coastal Contemporary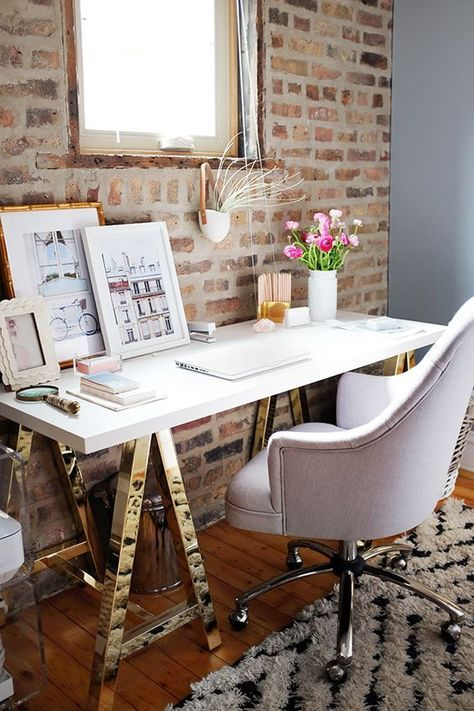 Walls of brick bring in a gothic stance to this home office, with the library adding to its statement.
21. Reveal the Allure of the Rustic
A lovely area is created by combining different materials. Shiplap with a pine tint offers a cabin-like atmosphere. Add a marble slab or brass table, a leather armchair, and a peacock blue barrister bookshelf to amp up the comfort.
22. Experiment with Dark and Light.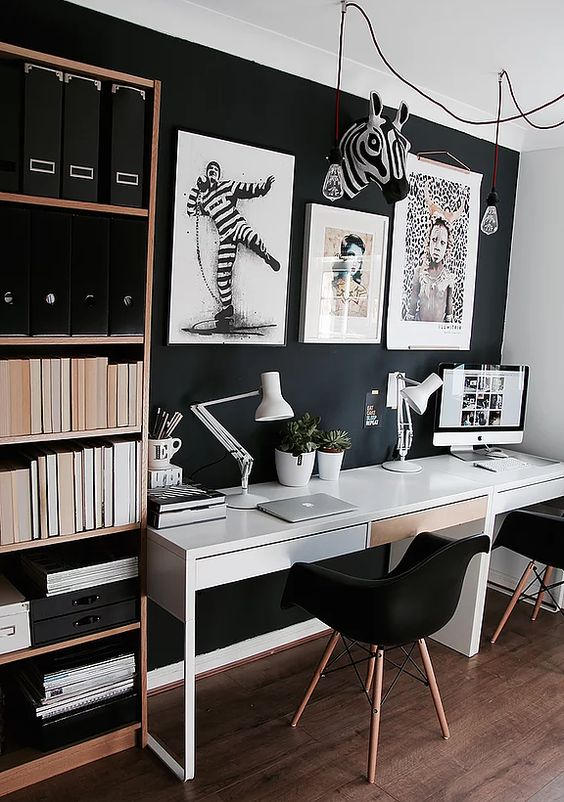 The somber, monochromatic workspace is set by black walls. White cushioned metal chairs with a light-colored floor and ceiling are a good choice.
23. Concentrate on Metallics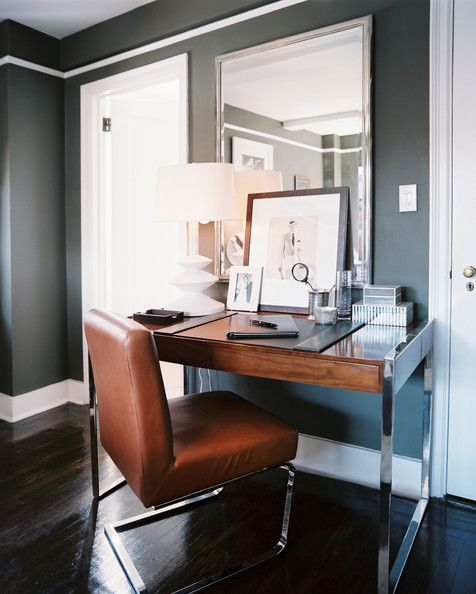 Small, glistening details go a huge way. A beige boucle rotating chair with white and blue cushions help to balance the area.
24. Patterned Polishing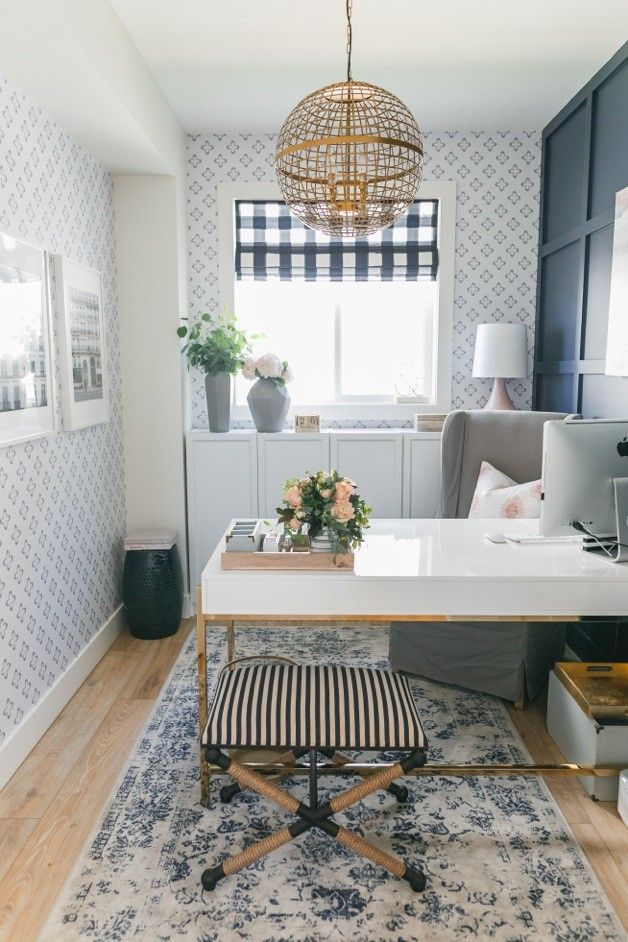 Mixing and matching patterns isn't a bad idea. Monochrome cowhide, striped gray curtain strips, a blue ikat pillion seat, and fuchsia and tangerine block art adorn this vivacious workplace.
25. Decorate from the floor to the ceiling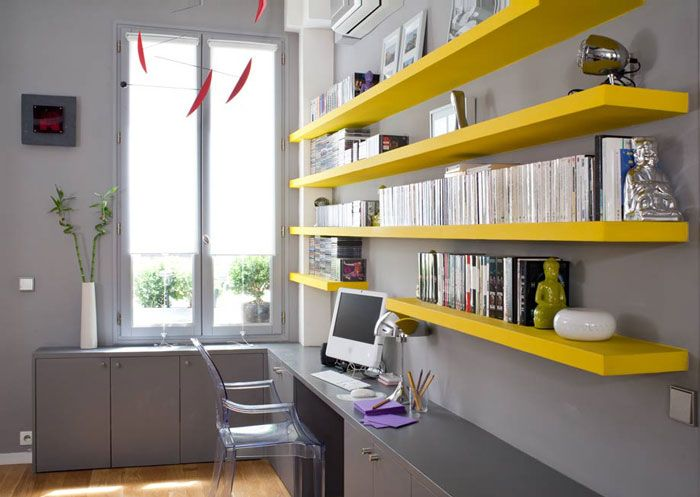 Built-ins with colorful bookshelves and clutter-cutting hampers are featured in this design.
26. Seating with a Difference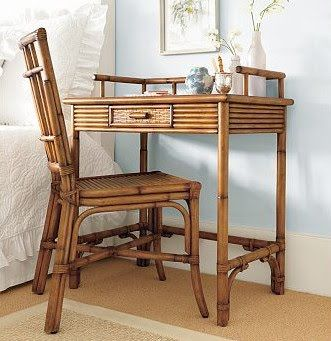 In this home office nook, a striking monochromatic rattan patio chair comes to the fore. Storage cases, books, ornamental dishes, and other trinkets are hidden behind the patterned cabinet doors.
27. Make More Desk Space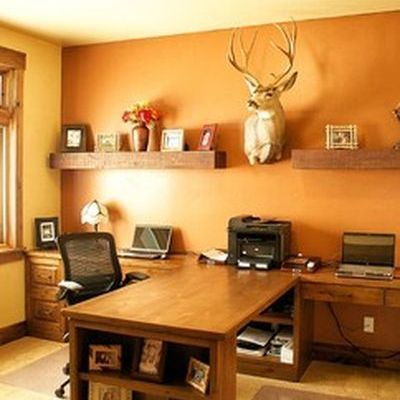 Grab a seat at the meshed wood desk or the dark maple built-in in this contemporary home office.
28. Create a Cozy Set-Up 
This home office has a cozy atmosphere thanks to plush seats with modern modifications. To make it even more welcoming, add a sleek end table between the seats and angle the chairs towards each other.
29. Use earth tones to your advantage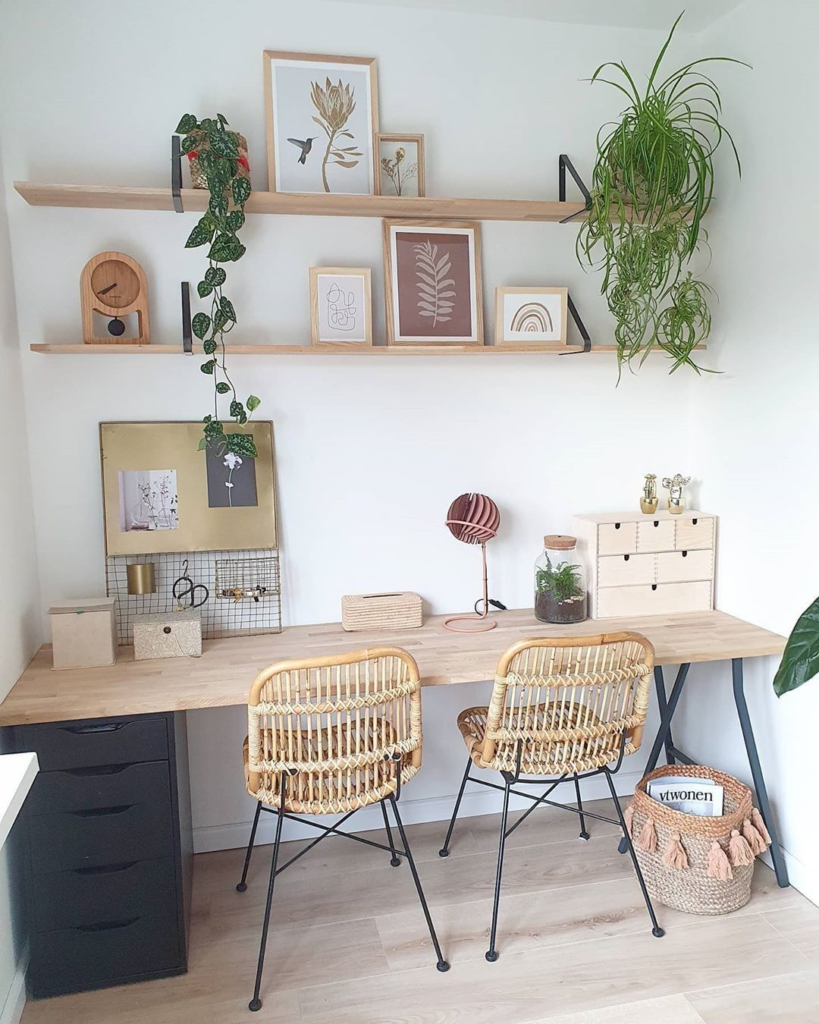 Alongside neutral-toned panel walls as well as a hutch stocked with novels, pictures, and blue ceramics, a vibrant azure velvet armchair and blue accouterments sparkle.
30. Blend the Creativity In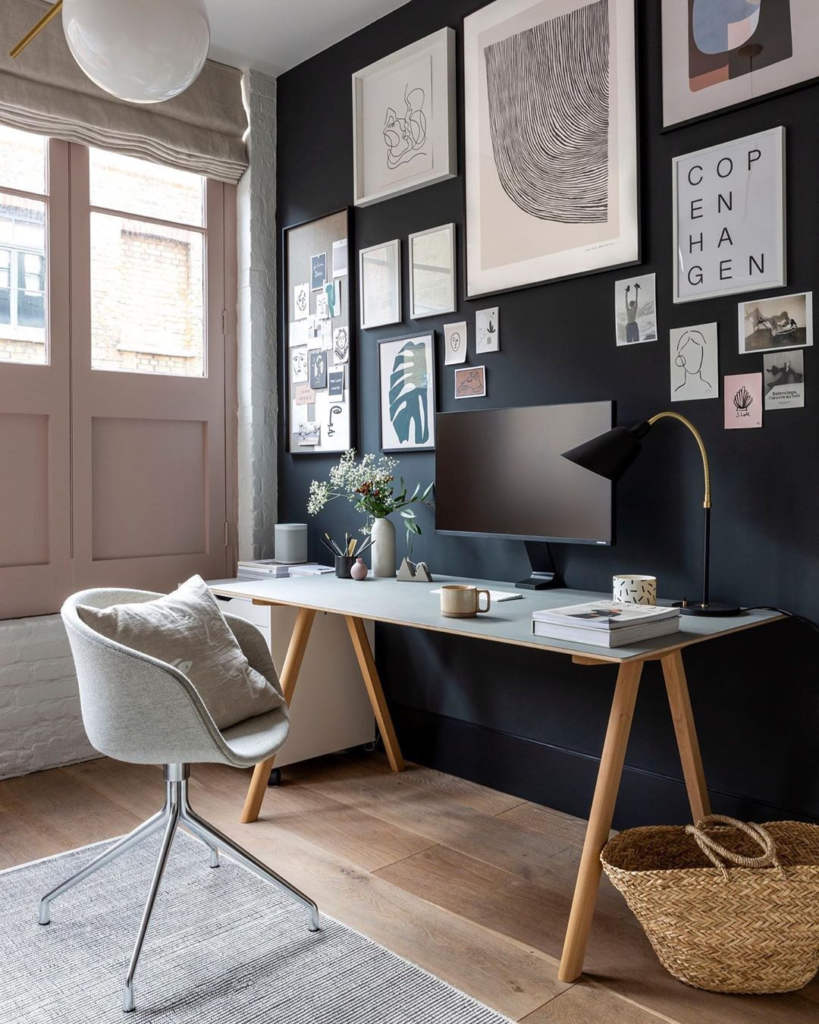 The library collection matches the mellow, earth-toned color palette all throughout the modern California lounge room created by Corinne Mathern. The ornamental pieces on the bookshelves help provide visual flow, giving the built-ins the appearance of being completely integrated.
We hope that these tips and design ideas will be useful to you.