Dining Table Top Materials
A dining table functions as the centre of a family home. It is the place where everyone gathers at least once a day. It is a safe space to share food and stories of the day. As it is so pivotal it must be constructed with the best of materials. There are many options available when it comes to dining tabletops. Before making a decision, it is important to have all the facts. Read on for an overview of factors to consider when purchasing a dining table and the different materials it can be constructed out of.
Things to Consider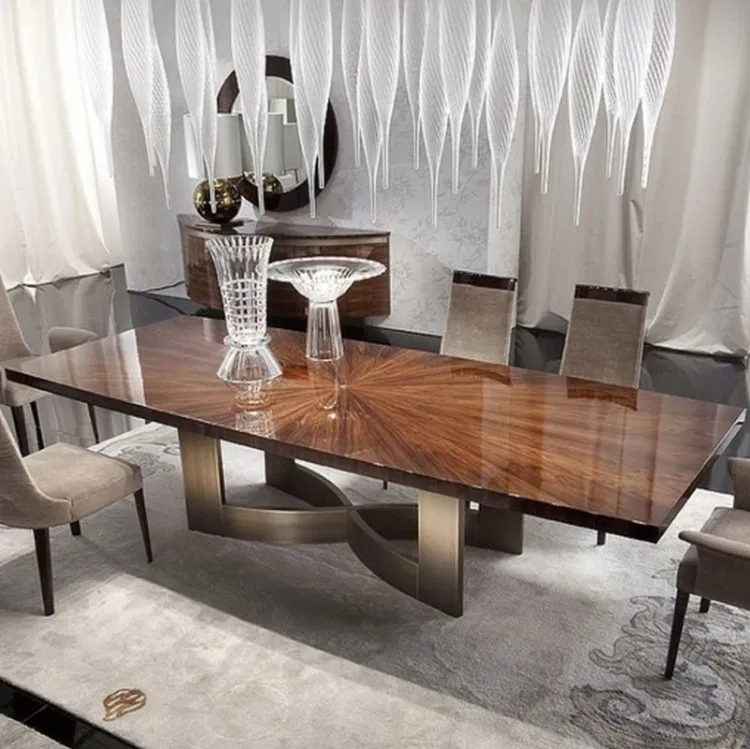 1. Size
One factor that is continuously overlooked is the size of the dining table. A dining table is deceptively larger than assumed and one must always keep the dining area in mind. As a general rule, a dining table should be placed in such a way that 3 feet of breathing space is available on all sides. To calculate the dimensions of your dining table, measure the dimensions of the room and subtract 6 feet. Furniture need not be big to feel bulky. Chart out the area the dining table will take in the hall using tape to see if it seems to be taking more space than usual.
2. Shape
The shape and size of the dining table affect its usability and the mood it sets in the room. The standard shapes for dining tables are round and rectangular. While rectangular is most common, homeowners are turning their focus towards round or oval shapes. Oval dining tables can accommodate more people. It cuts out the corners while maintaining a good surface area. It is suited for smaller spaces and best fitted to entertain guests.
The base of the table must also be considered. They come in three forms; trestle, pedestal and legs. When sitting, make sure that there is enough leg room underneath the table. Your knees should have room if you are pulled in close to the table. While a trestle gives space along the length it is restrictive at the ends. A pedestal base is best suited if you want to squeeze in more people.
3. Reliable Construction
A well-constructed dining table will go a long way. There are a few components one can look into. The rule of thumb is simple is always better. If the wood is joined directly with wood, then the table will remain sturdy. Too many connections and linkages will weaken the structure. When purchasing, make sure to check the connection points for any gaps which may exaggerate over time.
Top Materials Of Dining Table
There are many options available for making dining tabletops. Each comes with their properties which must be considered before purchasing a table. Here are some of the common options available.
1. Wood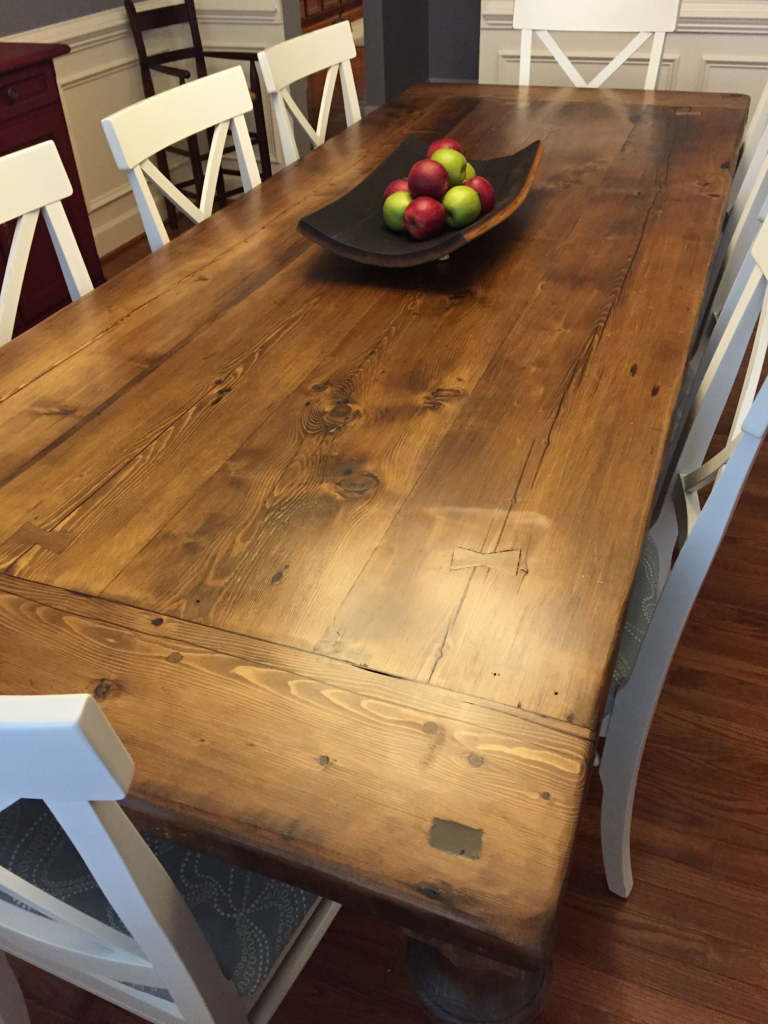 Wood table tops are a common and popular option. Wood is a very versatile substance and easy to work with. It makes for sturdy construction and a rustic feel in the dining hall. They are commonly made of hardwood, softwood or composite wood. Hardwood options available are mahogany, oak, maple, walnut etc and is best suited for dining tabletops. One advantage of using wood is that it can be sanded and refurbished over the years. This way your dining table has a fresh look throughout the years. Though hardwood is a better option, it is costlier than its counterparts.
2. Glass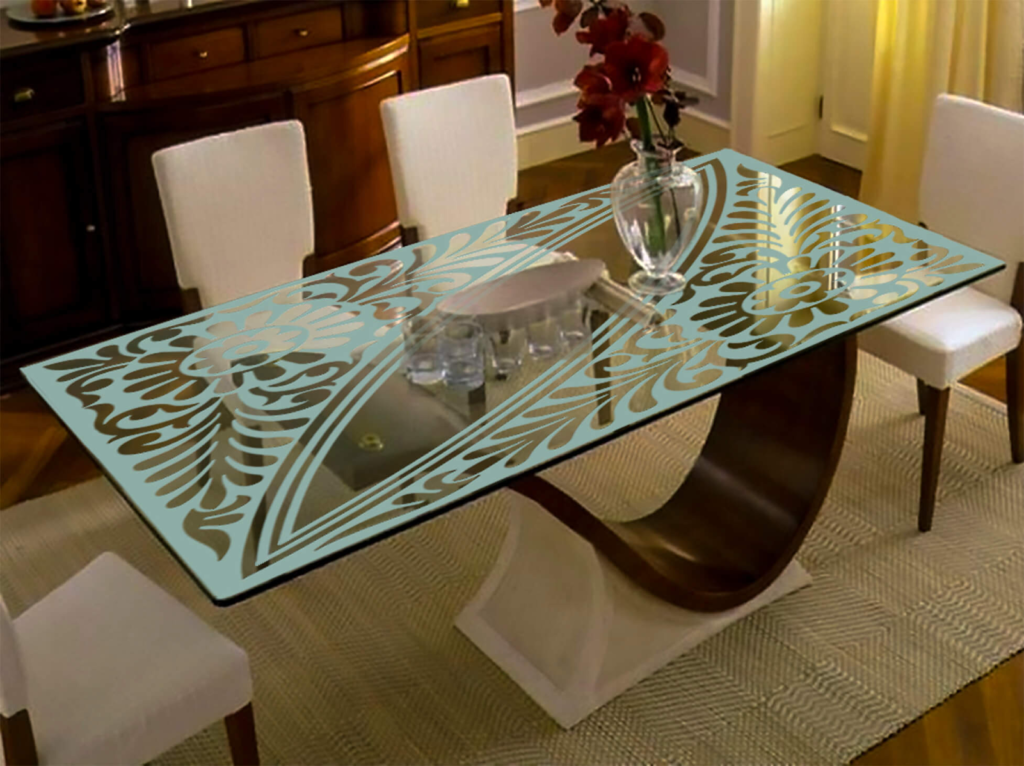 Glass tabletops are known for their elegant, open and airy feel. They are easy to maintain and require little upkeep. The versatility of glass means it can be cut and shaped in many ways to enhance its look. Glass dining tables come with varying frame options. Most common frame options are metal, graphite or wooden. Being see-through, glass table tops provide a more open and airy look to the dining hall. Other than see-through, one can also go for stained or smoked glass. The only drawback is that fingertip stains and dust is more pronounced.
3. Metal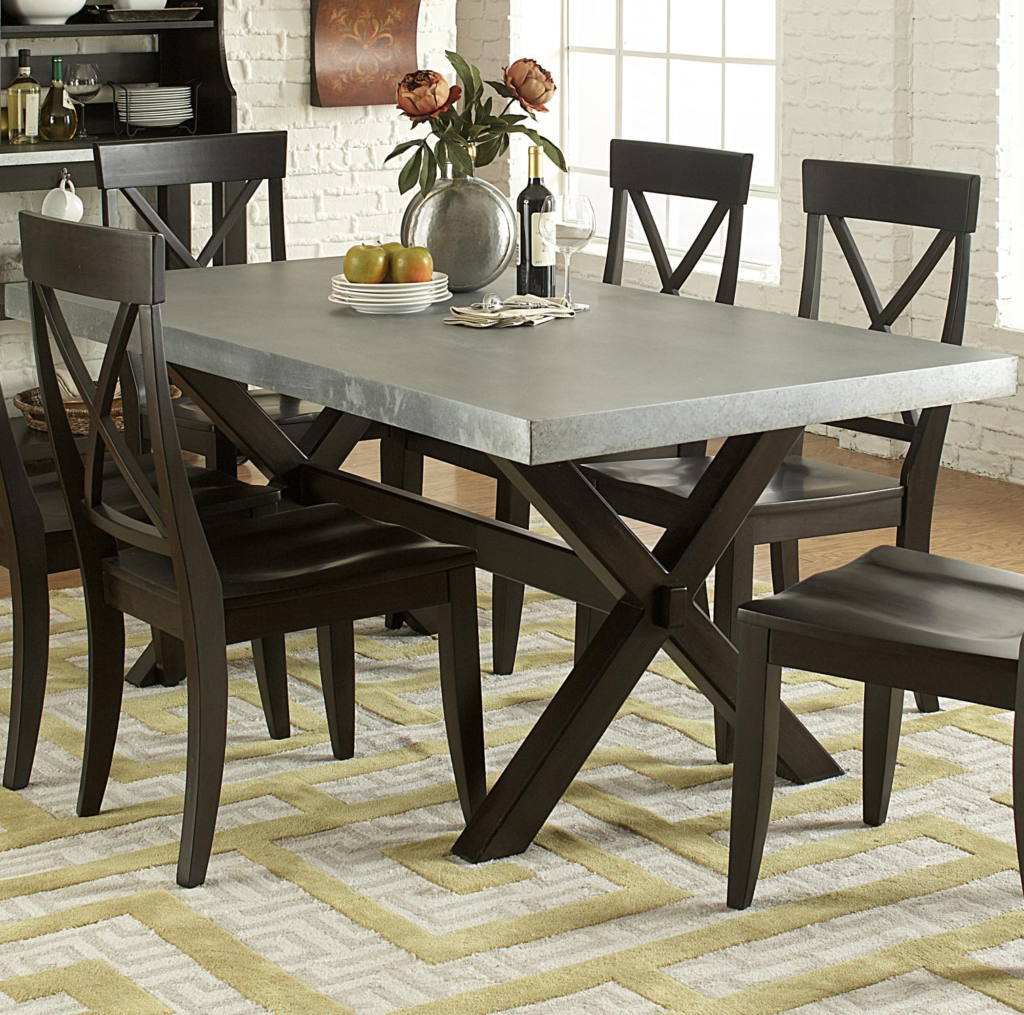 Metal dining tabletops are a bold and elegant material for a dining table. They are very sturdy, require no maintenance and cool to the touch. However, it is not a good fit for a warm space like a home or a homely restaurant. These tabletops go perfect with an industrial ambience or a contemporary space.
4. Marble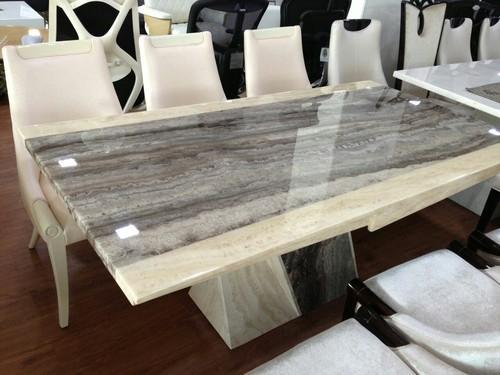 Marble tabletops add a feel of luxury to the surroundings. Other than tabletops, marble is a popular option to be used in spaces like kitchen islands and countertops. It comes with a rich tone due to the varying colours and patterns. It is very easy to maintain and clean. It doesn't stain or scratch as easily. Some of the common options available in marble are white Indian marble and Italian marble.
5. Quartz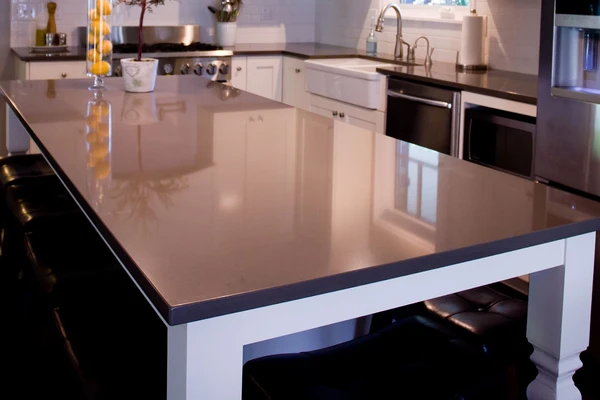 Quartz is a cheaper option for people who want a natural stone look to their tabletop. Quartz is crushed and mixed with resin to form slabs of varying colours and patterns. This gives a variety of options in looks. It is a good option for a family home where things can get messy but which also love to entertain guests. Though easy to maintain they are prone to chipping or discolouration due to prolonged direct sunlight.
6. Laminate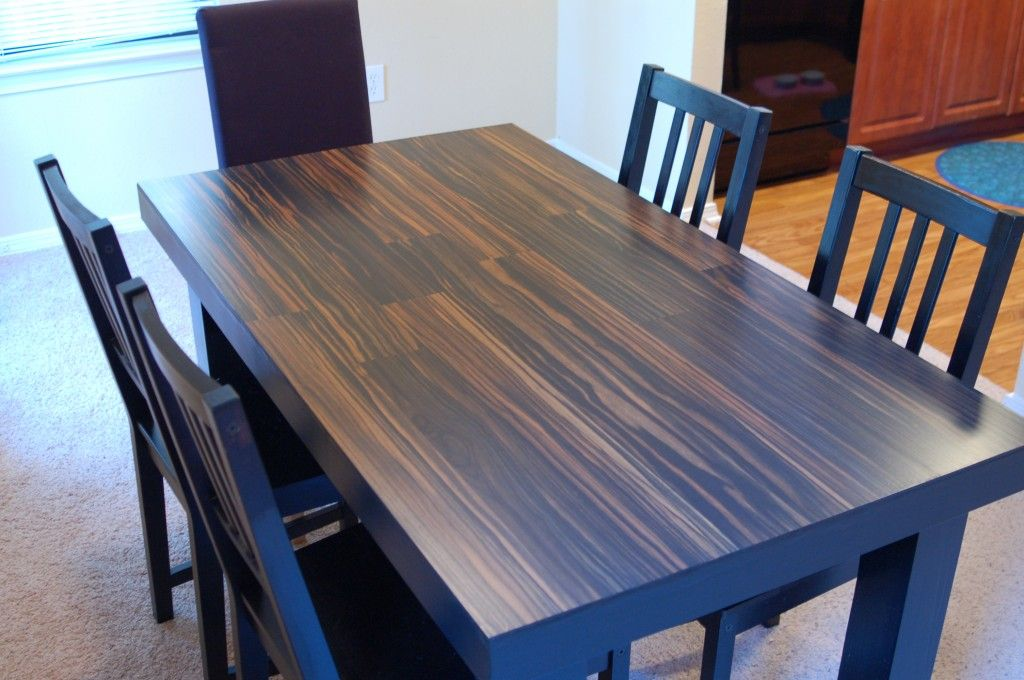 Laminate tabletops are designed to fit the needs of the customer. They come at varying sizes, designs and prices. Laminate tabletops are created using layers of materials like PVC, high impact melamine and wood grain finish. They are sturdy and easy to clean but susceptible to damage. They are suited best for a commercial environment like a cafe or restaurant.
7. Synthetic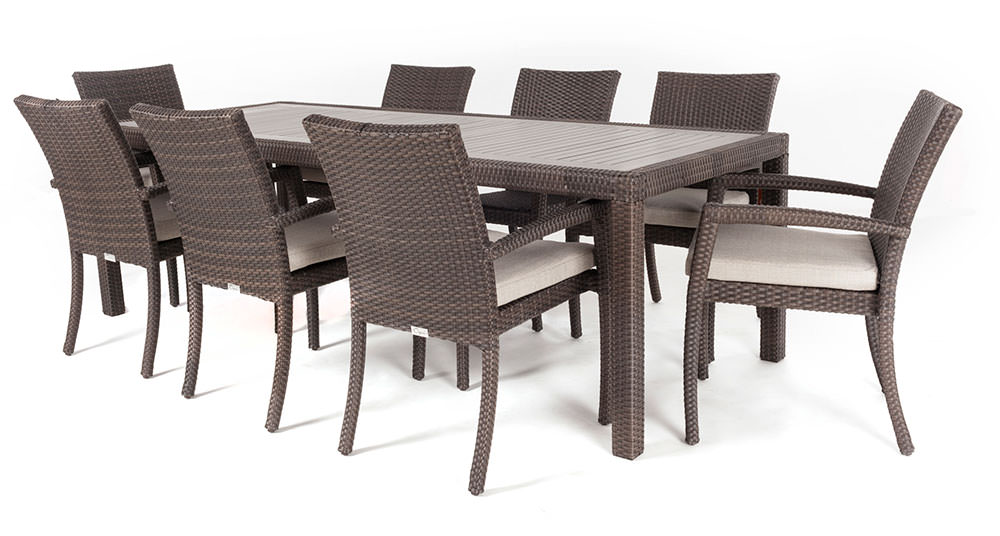 Synthetic materials are very versatile and can be moulded into any form necessary. They are lightweight and cheap but don't compromise in strength. There has been some hesitance in buying synthetic dining tables as they disrupt the aesthetic of your home. However, done correctly, synthetic tables can enhance the overall look of the room.
Conclusion
A dining table is an important investment, one that is going to be with you for a long time. To gain the most from such a piece of furniture, one must know all the factors. Many different materials can be used to construct a dining table. Using the above-mentioned list you can now make an informed decision