Small Bathroom Interior Design Ideas
The bathroom is a space used by everyone but neglected when it comes to its design and ambience. It is a space where one goes to begin their day. It is important that the bathroom feels warm and welcoming. While large bathrooms do this without trouble, small bathrooms feel too cramped. Following are some of how a small bathroom can be transformed into a luxurious abode. 
1. Use Wood for Warmth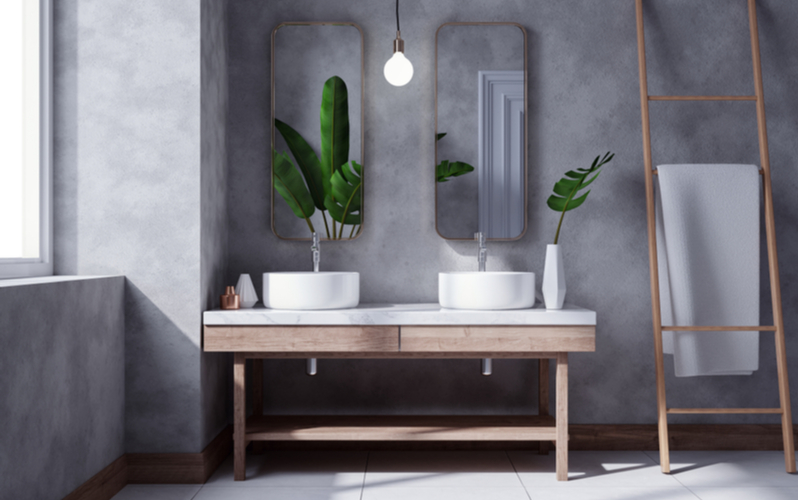 One of the best ways to spruce up your small bathroom is by adding wooden accents. It gives a rustic feel to the bathroom, no matter how small the object. A wooden vase, bath tray, shelve or holder can do the job. Timber and white is a great combination and wood would work as a great juxtaposition with your bathroom utensils. 
2. Floating and Open Vanity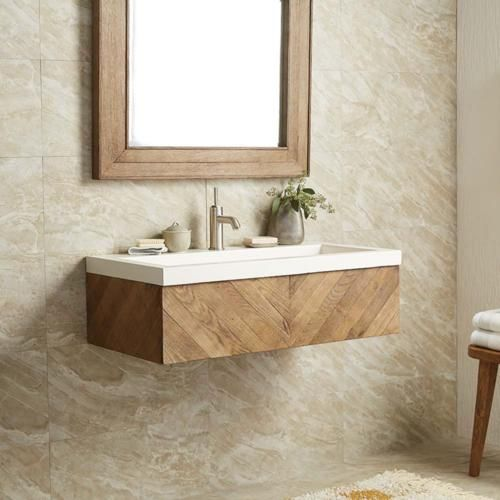 Replace a standard sink with floating vanity. It gives a chic look to the bathroom, especially if it comes with a marble or quartz countertop. Another way to enhance your vanities look is to make it open. However, one must keep their vanity neat with minimum things on it for a graceful look.
3. Use Glass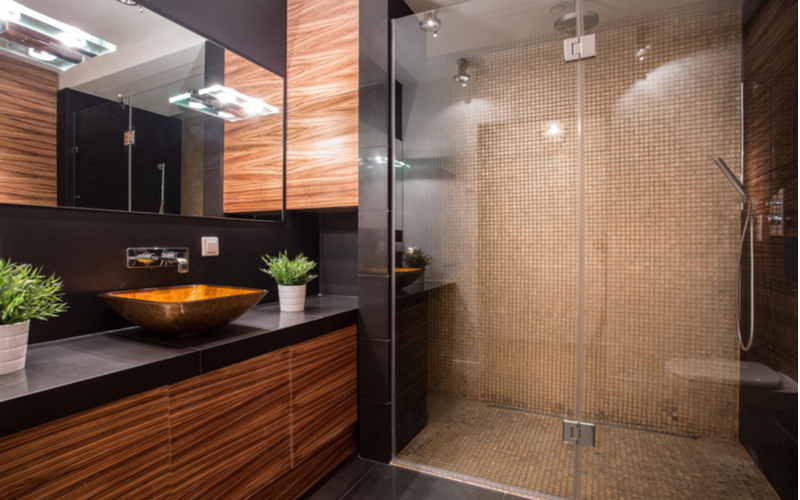 If you have a good budget, go for a long glass for the shower. Make sure it is all glass with no steel frames. The glass adds some aesthetic sense to the bathroom. It also creates the illusion that your bathroom is larger than normal. Using a glass partition also helps the bathroom feel more illuminated.
4. Dim Lighting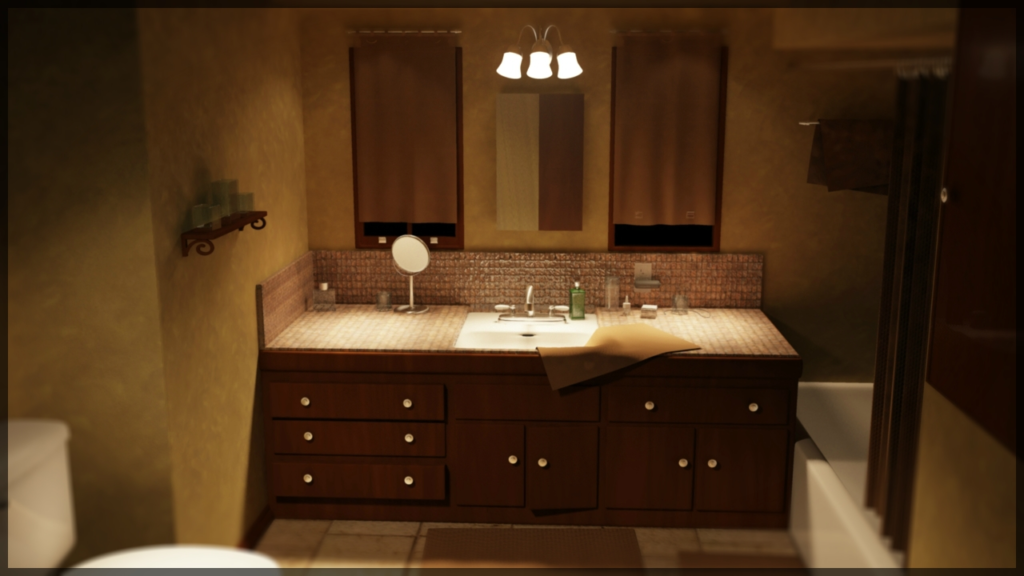 The best way to set the mood is by using dim lighting. It will give your bathroom a warmer feel, like at a spa. Another way to utilise light is by using natural light in the morning. If going for dim lighting, make sure to install multiple lights for a comfortable glow. It's a simple installation and an electrician can complete the work within a day.
5. Use White or Grey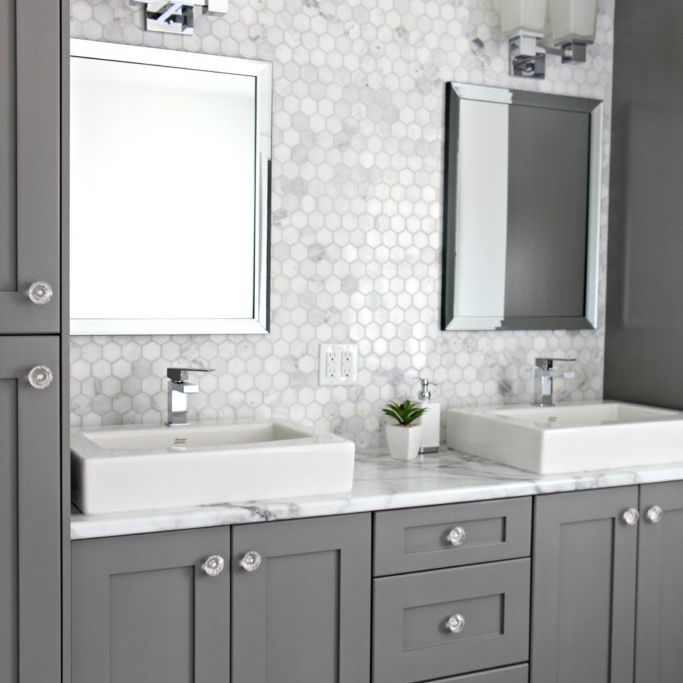 Using strong white accents help create a beautiful look. White cabinets and countertops help create a simple yet elegant backdrop to the bathroom. To keep it simple, one can use neutral paint and stark white bath linens and rug for a hotel bathroom feel. It also works as a clean easel against which even the simplest addition would pop. Another colour that pairs well in a bathroom environment is grey. Grey is a soothing and welcoming colour when done correctly. There are varying shades of grey available and it's advisable to check pallet cards before finalising. Giege, a shade of grey, is famous for adding warmth to a cold bathroom. It goes well with wood accents and brushed silver fixtures.
6. Walk-in shower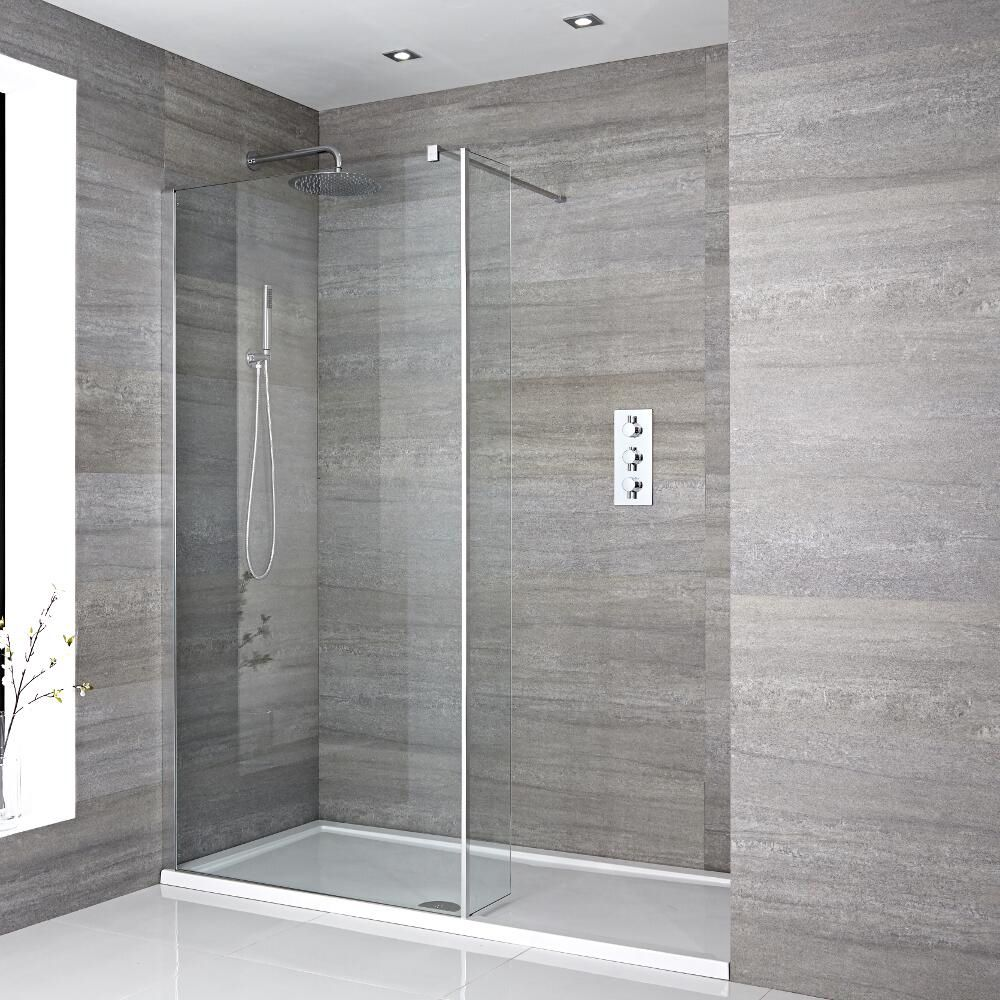 A good bathtub adds to the luxurious feel of a bathroom, but difficult to place in restricted space. One direction that you can go in is using a walk-in shower. Using a glass door for the shower helps give the bathroom a more open feel. It is a smart use of space. Paired with a good overhead shower head, the walk-in shower is a luxurious addition to the bathroom.
7. Work with Height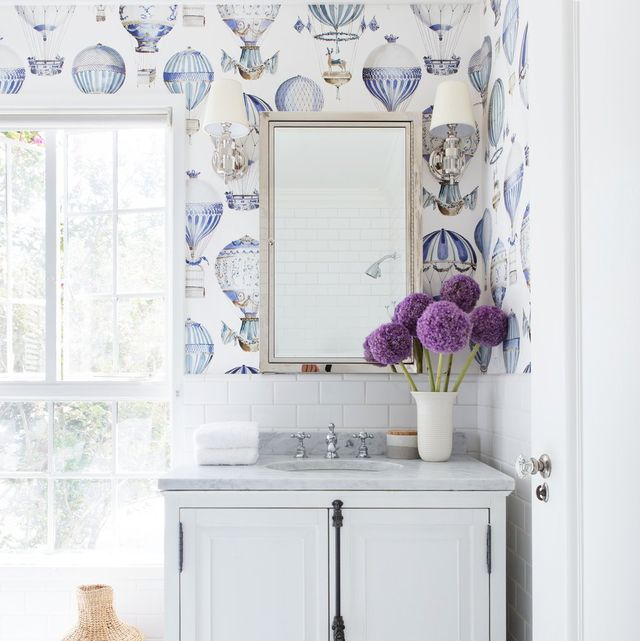 To make a small space feel larger, designers like to work with height. One way in which this is achieved is by using wallpaper with vertical stripes. Vertical stripes help with giving the illusion that space is larger than it is. Wallpaper is generally avoided on the account that it faces water damage and needs to be replaced regularly. There is bathroom specific wallpaper which doesn't have this problem. Another option is using vertical strip patterned tiles.  
8. Faux Marble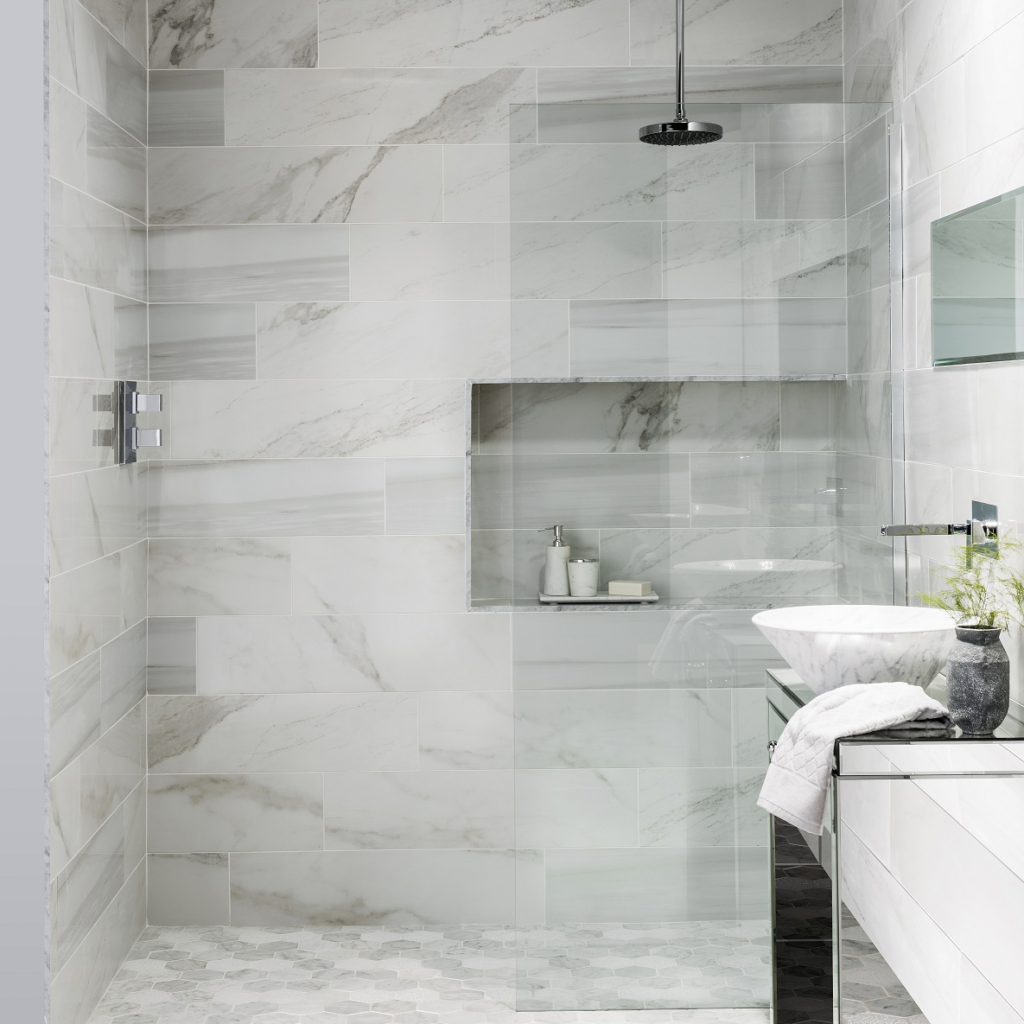 Faux marble, or fake marble, have the same look and feel like real marble. However, it is much cheaper. As the bathroom is going to stay behind closed doors there is no need to spend as much. Faux marble is also easier to clean and maintain.
9. Tiling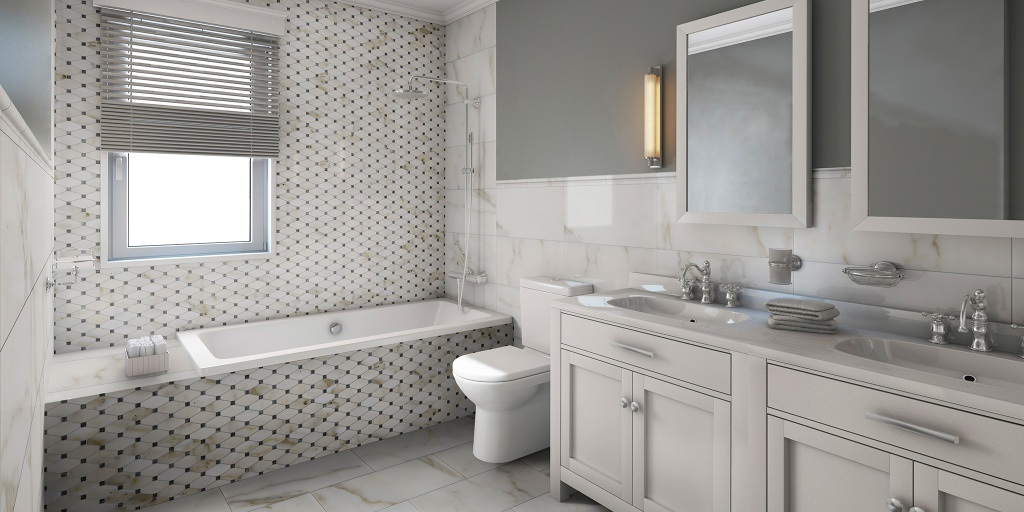 There are a few ways in which tiling can be used to make your bathroom feel more luxurious. One way is to keep the shower wall tile and tile behind the sink and toilet the same. The tiles showed to be so placed that they transition from shower to behind the sink without interruption. This gives one linear motion to the wall. Another tiling option is to use a different shower floor tile. Penny tiles are a good option as the texture feels good on your feet. The different coloured tiling accentuates the wall tile. Using the shower tiles as baseboard can help bind the two different areas together.
10. Heated Floors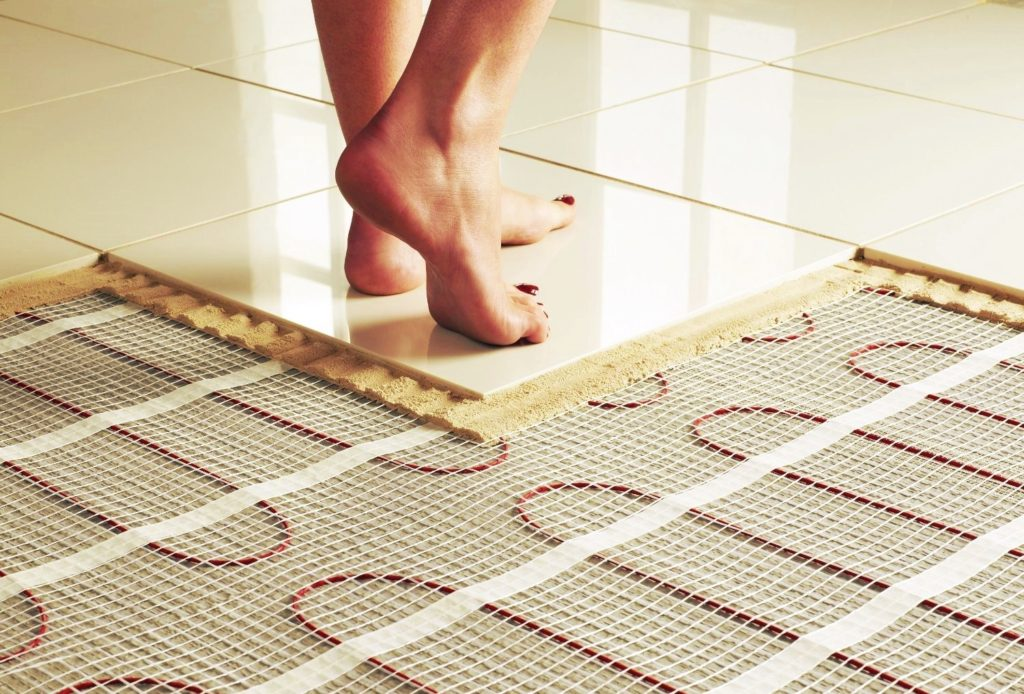 The cold tiles in a bathroom wake you up. You cannot create a luxurious feel with that frigidity. Heated flooring is the best option to counter this problem. The control panel is placed near the sink and one can change the setting as they feel comfortable. Since the bathroom size is small, the cost of heating the floor will be cheap.
11. Update Fixtures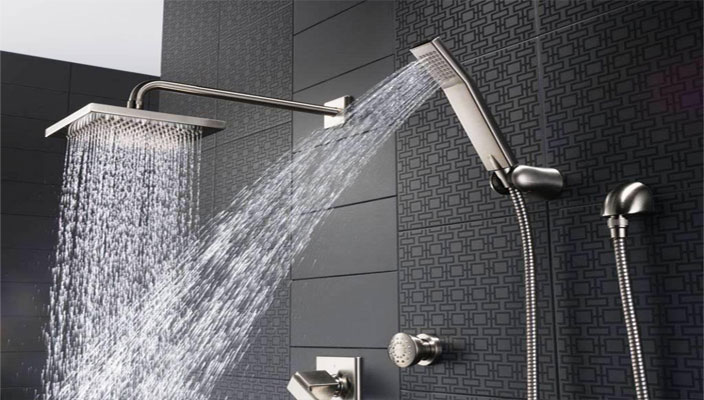 Even the smallest thing can make a difference in the feel of a room. Same applies to a bathroom. Using the right metal for fixtures can make all the difference. Though brushed silver is a great fit, you can go a little bolder. Using rose gold, copper and matte black fixtures is a great direction. It is very simple to replace the pre-installed fixtures.
Another simple way to make your bathroom luxurious is to use the same fixtures everywhere in the bathroom. While in large spaces diversity works best, but in small and enclosed spaces sameness goes a long way. Another fixture to update is a towel rack. Towel racks next to the shower/tub give a cluttered look to the bathroom. Either place them behind the door or replace them completely by using towel hooks.
12. Large Artwork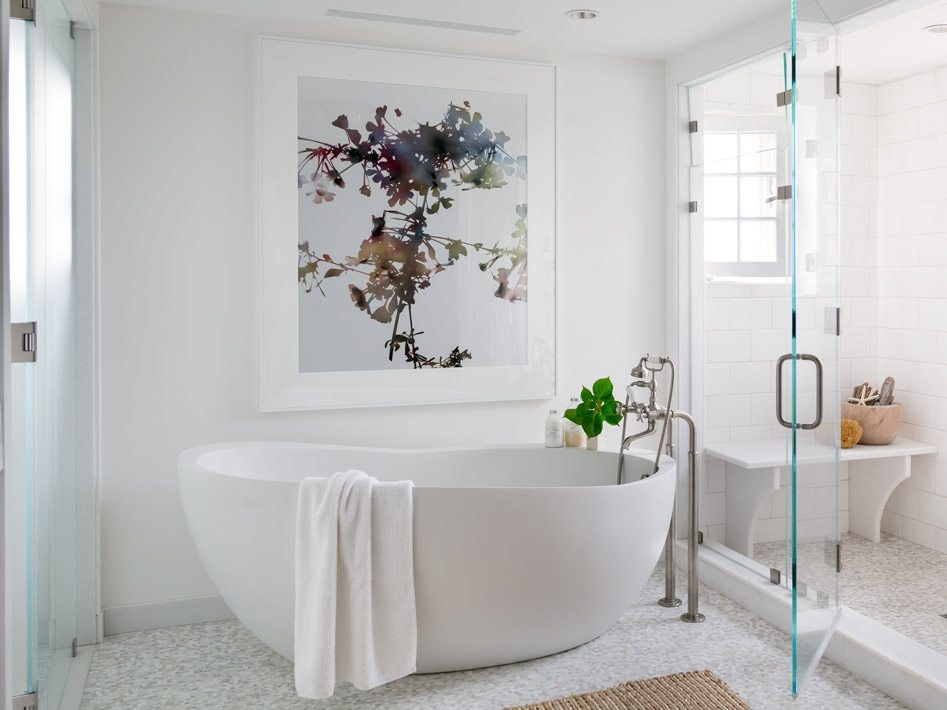 Seems like a bad place to keep art, but it works. Put up a large piece of painting or photograph in the bathroom for a luxurious look. You can also use a collage of a few frames or a large mirror instead. If you have a picture of a scenery or the beach, preferably in an antique-looking frame, it will give a warm touch to your bathroom.
13. Storage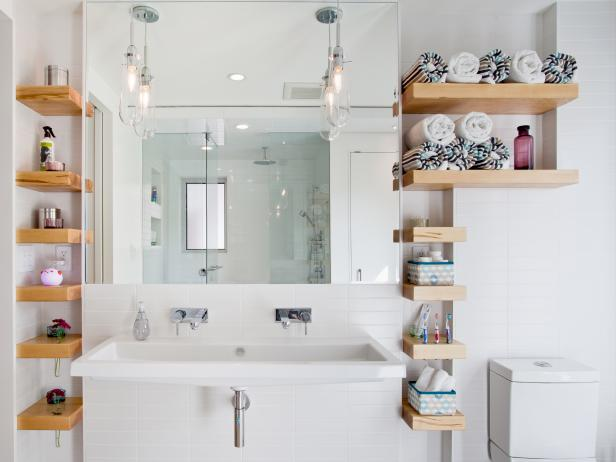 The best way to make a small space look large and luxurious is reducing the clutter. Same goes for bathrooms. Using floating shelves create a contemporary bathroom design and have good storage capacity. Utilise small baskets and hampers for creating more floor space. Keep the counters clean by storing all your toiletries in the vanity or recessed niches.
Conclusion
Only because a bathroom space is small doesn't mean you can't create a luxurious ambience. By using the above steps you can transform a small bathroom into a beautiful and warm space for you and your guests to use.