Modular Kitchen Interior Design Ideas
Modular kitchens have made cooking life easy for many by focusing more on space utilization, convenience, storage, accessibility, functionality, durability and also maintenance. A successful modular kitchen is not just about appearance or style but it goes much beyond it. And we hope any serious cook can understand this simple equation i.e.
Great Kitchen Design = Great Kitchen
So, before you embark on the journey of shaping your modular kitchen, settling on a good design that is in conjunction with your needs and necessities is extremely important. To help you with this, we have rounded up some of the best 15 modular kitchen design ideas that work both practically and aesthetically. Keep reading and adopt the one that best suits you and your family.
L-shaped Modular Kitchen Design
If you are planning to have a larger kitchen working space, then an L-shaped Modular Kitchen would be an ideal choice. Besides some extra workspace, there are also a lot of things to love about this kitchen, like – it works well for small to medium kitchen space, accommodates multiple cooks, sits easily at corners as well as open space, remains unobstructed at all times and most importantly grants easy working triangle.
Let's go ahead and check out some amazing L-shaped modular kitchen design ideas.
L-shaped Modular Kitchen – Design 1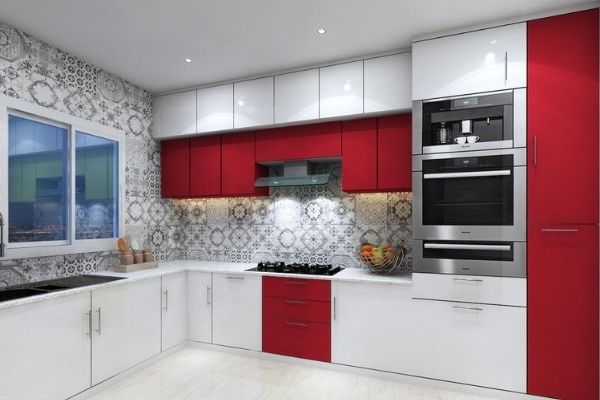 This beautifully unfussy L-shaped modular kitchen with clean lines, sufficient storing space and efficient ergonomic features is a perfect example of beauty and comfort. Since most of the appliances are mounted on one side of the kitchen, this L-shaped modular kitchen frees up a lot of floor and countertop space, which is most essential if you have got a huge family or guests visiting often for a dinner or a party.
Here we present some of the tried and tested combinations of colours for this L-shaped modular kitchen design for you to draw inspiration from! Take a look
Dark Gray L-shaped modular kitchen
Dim Gray L-shaped modular kitchen
Firebrick L-shaped modular kitchen
Wooden shade L-shaped modular kitchen
Yellow green L-shaped modular kitchen
L-shaped Modular Kitchen -Design 2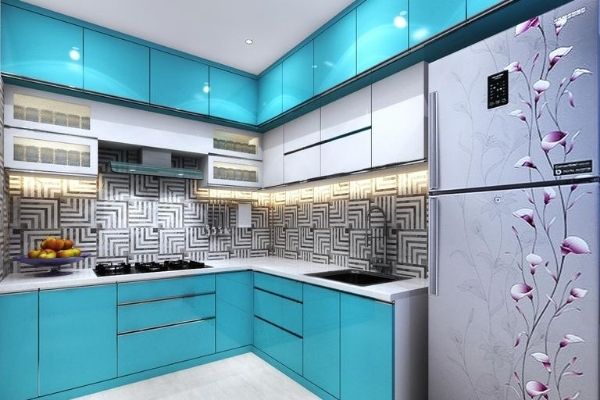 In this kitchen, the space is actually falling short of sq.ft but the L-shaped design making use of the two adjacent walls gives some extra working space for the kitchen and makes it look more spacious! Its elemental design and perfectly coordinated colour scheme are also to be appreciated.
Let's take a look at this L-shaped modular kitchen design in some of the warmest shades.
Cadet Blue
Deep-sky Blue
Dim Gray
Royal Blue
White and burgundy
L-shaped Modular Kitchen – Design 3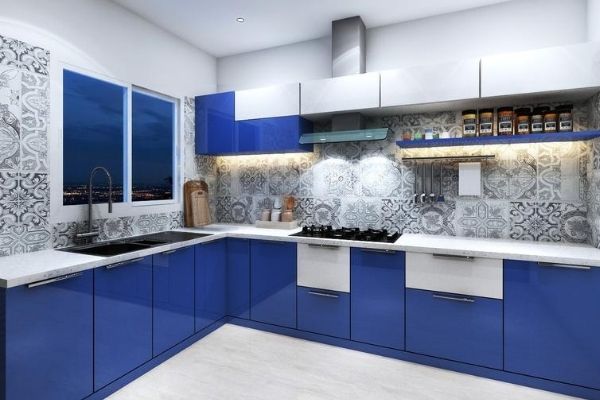 With deep tones paired with pleasing whites and patterned backsplash, this kitchen space is just fancy! We also spot an open wall-mounted shelf below the overhead units. It's great for both display and storage options.
Check out this L-shaped modular kitchen design in varied dual tones.
Alabama Crimson
Angels Red and white
AZ Cardinals Red and white
AZ Polynesian Blue
Duck Blue and white
L-shaped Modular Kitchen – Design 4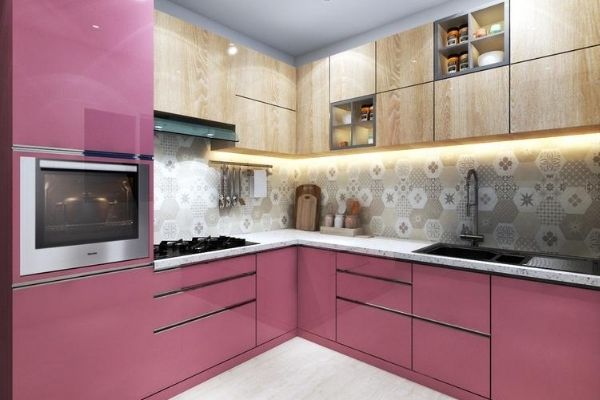 Don't you just love this compact kitchen?! If you have got a smaller space, we recommend you to keep it aesthetically light and practically convenient with this kind of design. Don't forget to look at the two open overhead units which break the monotony of closed cabinets.
Here are some unique shades for this L-shaped modular kitchen design.
Asparagus
Braves Navy Colour
Dimgray
Pale Violet Red Colour
Sienna
L-shaped Modular Kitchen -Design 5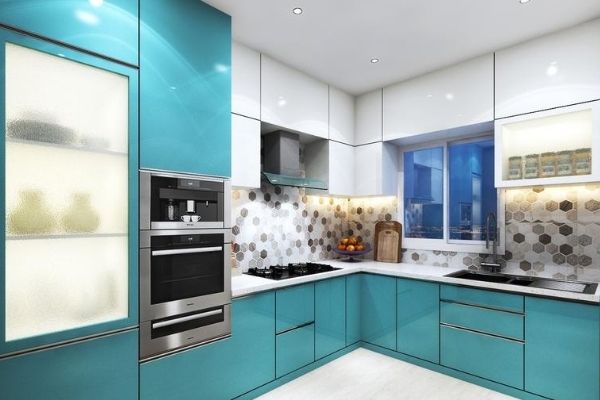 We love the frosted glass cabinet in this kitchen along with the in-built appliance unit. Though the kitchen is relatively medium-sized, it is packed with plenty of cabinets to conveniently hold all the kitchen supplies and utensils. The colour options for this kitchen design are
AZ Cardinals Red Colour
Burlywood colour
Cambridge Blue Colour
Dolphins Aqua Colour
White and olive colour
Straight Modular Kitchen Design
If you are living in a small apartment or studio, having a straight modular kitchen may just be the right option for you. It is the most basic type of modular kitchen and holds all the kitchen ingredients, from monthly supplies to crockery items, in a linear fashion. This single-walled kitchen is also very economical and very much suitable for single users. It does not employ any work triangle and hence works well for compact and linear spaces.
Now, let's have a look at its design options.
Straight Modular Kitchen – Design 1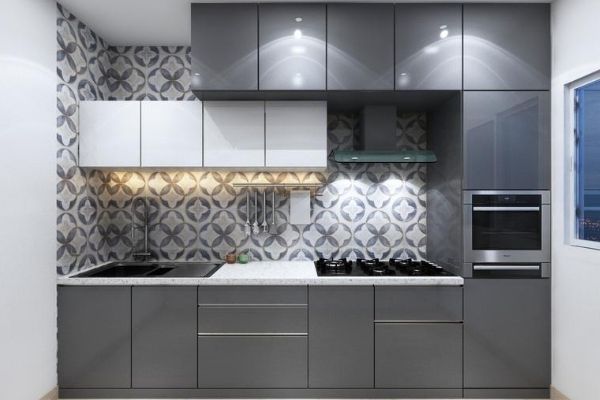 With a plain run of cabinets, this kitchen crisply sits on one wall. Though the glossy cabinets make a statement, the showstopper here is the uniformly patterned backsplash. On the whole, this visually as well as practically light kitchen is perfect for bachelors and small families.
This straight modular kitchen is gracefully recreated in various shades. Let's take a tour!
Yellow
Gray
Dark Pink
White
Wooden
Straight Modular Kitchen – Design 2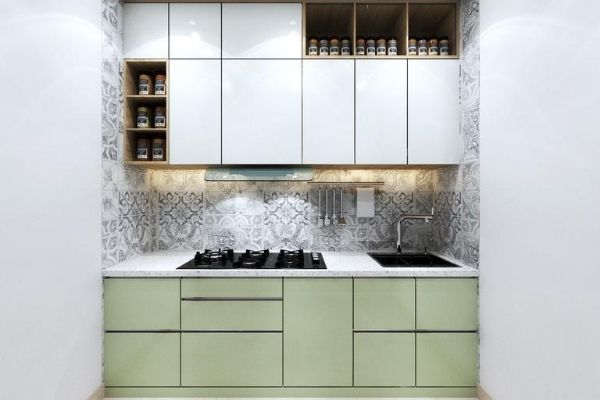 Look at the out-of-the-ordinary open shelving among the closed overhead units! These shelves are calculatedly kept open to make the narrow kitchen space feel wider. Brilliant, isn't it? We too love this unconventional yet smart design!
How does this straight modular kitchen look when colour swapped? Check it out below
Dark Gray
Red
Light green
Light Gray
Dark green
Straight Modular Kitchen – Design 3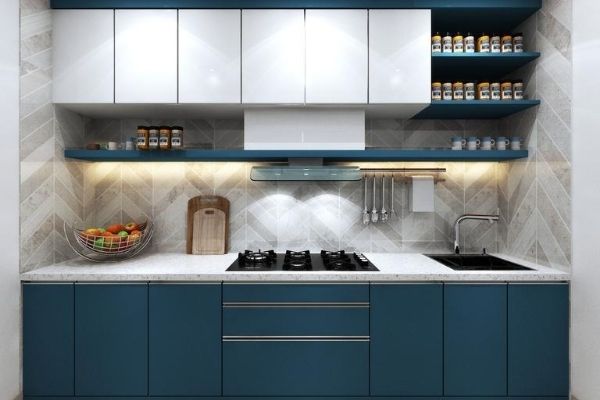 Minimalistic kitchens look like this! With a vertical scheme and a streamlined look, this one slays in dual-tone. The tall, narrow overhead cabinetries with modern handle-less features and single tone finish are also on-point for this simple yet elegant kitchen!
Here are some of the best hues for this straight modular kitchen.
Gray
Maroon
Duck Blue
Braves Navy
Burgundy
Straight Modular Kitchen – Design 4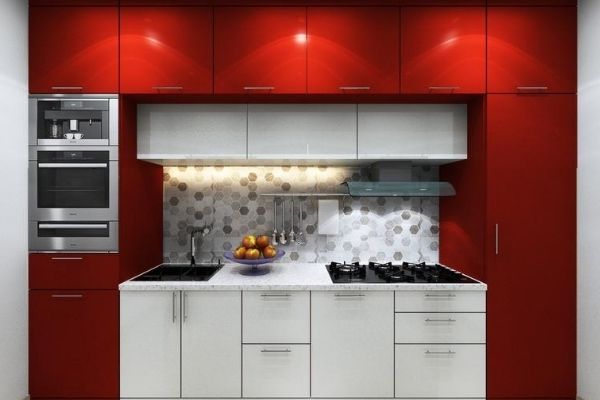 This simple kitchen sharing the same layout as our previous one turns gorgeous with its layered lighting. This well-lit kitchen is a good example of how a little thought on the lighting schemes can add a wow factor to an otherwise plain and boring space.
Lighten up the mood in this straight modular kitchen by adopting any one of the adorable hues shown below.
Beige and gray
Dark gray and yellow
Maroon and White
Wooden
Teal blue
Straight Modular Kitchen – Design 5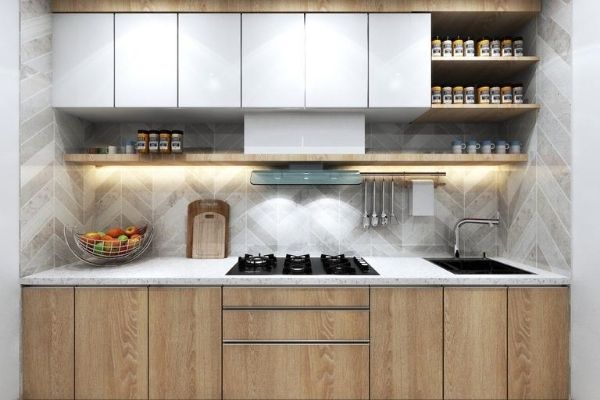 This straight modular kitchen design shakes things a little by opting for open overhead shelving and sink position interchanges just like as shown in the pictures. This kind of open shelving gives way for more function and space in this compact kitchen – thus resulting in a more fabulous and delightful culinary space.
Some of the experimented colour schemes for this straight modular kitchen design are
White and Wooden
White and Braves Navy
White and graphite
Beige and Light Gray
White and Wooden
U-shaped Modular Kitchen Design
These kitchens have one of the most practical layouts offering lots of storage space and work surfaces. They also provide plenty of design flexibility and not to mention – a unique opportunity for symmetry. With a single entry and exit point and no through traffic, this layout makes for a more safe and comfortable culinary space as well.
While the design ideas for a U-shaped modular kitchen are almost endless, we present here the top best picks. Keep scrolling.
U-shaped Modular Kitchen – Design 1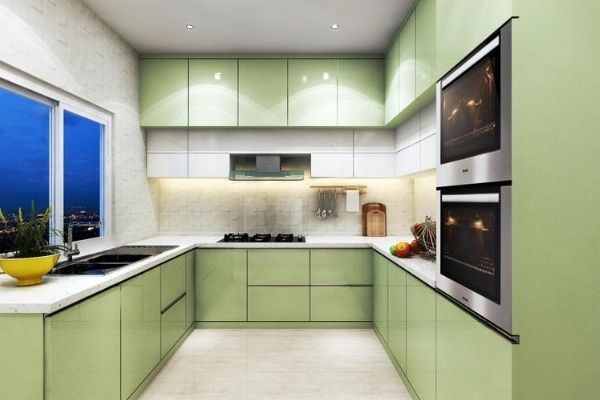 With a sleek design and minimal look, this kitchen is just stunning! The subtle focus on the backsplash also gives this beautiful kitchen a lot of breathing space. And don't you think unloading the sink will get much easier if there are glorious windows like these to capture the views outside?
Looking for colour schemes? Just scroll down.
Black
Blue
Brown
Green
Wooden
U-shaped Modular Kitchen – Design 2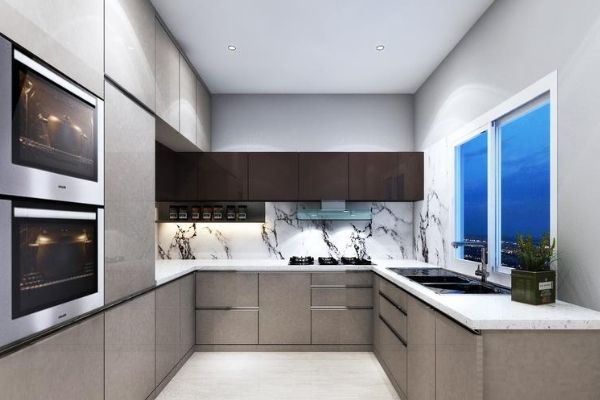 This design highly resembles the previous one except for the new facing and increased attention on the backsplash. And the successful colour schemes for this kitchen include
Black
Brown
Maroon
Silver
Wooden
U-shaped Modular Kitchen – Design 3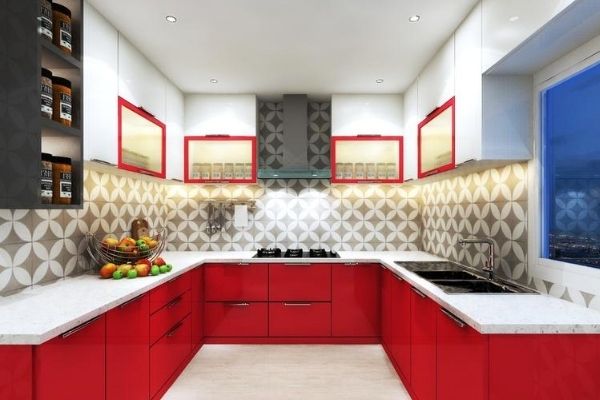 With a blend of open and closed cabinets, this kitchen makes the best use of space available. Also, note the lift-up cabinet shutters on the overhead units – they are a brilliant addition to busy kitchens. A frosted glass makes these shutters transparent which, in turn, makes the job of spotting things easy.
Speaking of hues, here are our best choices
Black and yellow
Dark Brown
Green
Red
Steel
U-shaped Modular Kitchen – Design 4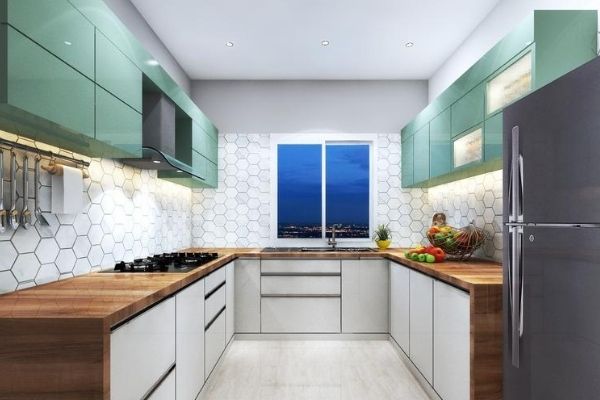 The straight central window in this kitchen welcomes people with open arms – thanks for its perfect placement. Note the countertop, and backsplash also – we just love them! Don't you? This kitchen has got a perfect work triangle too!
Some of the most eye-catching colour combinations to dress up this kitchen are
Maroon and White
White and Blue
White and jungle Green
White and Wooden
White
U-shaped Modular Kitchen – Design 5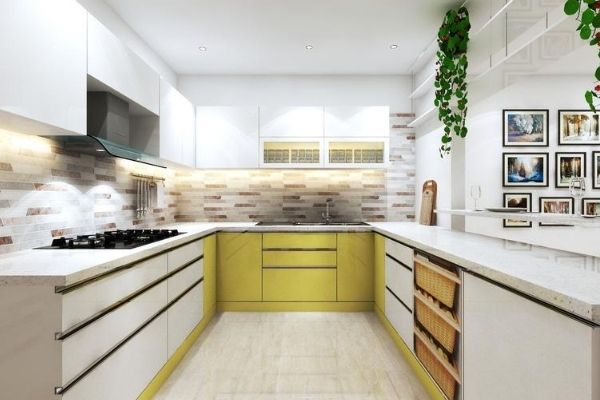 Not having a preference for a completely open kitchen? Then this half wall partition is a great alternative. And the cute sliding pass-through????…. It's a perfect complement for this partition and a good helper for you as you do not have to walk from one room to the other to serve the food; all you have to do is just slide it. This design also allows a dedicated space for the wicker baskets – which most of the kitchen designs miss out.
Here are some unique shades for this kitchen design
White and Blue
White and Maroon
White and Olive
White and Pear
White and yellow
Modular Kitchen Design Ideas – Final Words
We hope this collection has been a good inspiration guide for you. Which one of these kitchens inspired you the most? Let us know in the comments.
If you are finding it hard to settle on a modular kitchen design that would be a perfect fit for your home, reach out to our interior design experts at ZAD Interiors. Get started today.