3BHK Home Interior Designer in Behala, Kolkata
This simple and serene home in Behala is the clear definition of cosy cool.
Hey everyone, it's a tour day today. In this quick yet in-depth home tour, check out how our designers turned a plain white box spanning approximately around 1200 sq.ft into a warm and layered home at Behala in South West Kolkata. And this one is for Mr. Souvik Banerjee and Mrs. Riya Banerjee. The family of four also comprises a 20-year old daughter and a 22-year old son. Banerjee's family was clear about having sleek storage solutions and functional pieces of furniture at their home. They were also keen on having some feature walls and stunning wall treatments. And since the family told the gist of what they wanted for their 3 BHK, our designers at ZAD interiors harmoniously blended all these requirements into the design plan and delivered a customised makeover which the family would cherish for its lifetime.
Without more ado, let's take you through this smartly designed 3BHK at Behala that shines with some note-worthy design elements and stunning features!
A formal yet casual Living room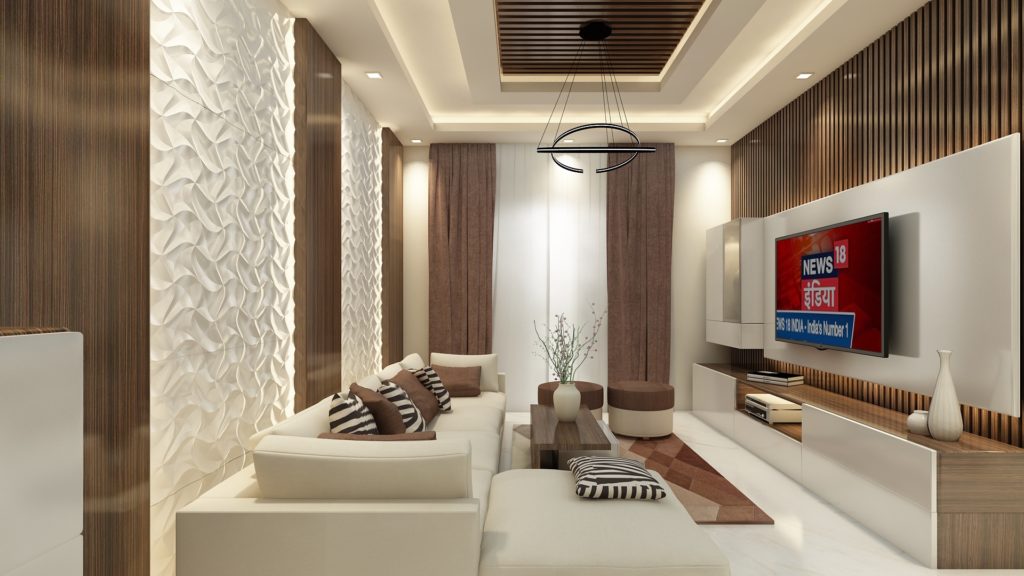 Delicate and Delightful – that's how we describe this dual-toned formal yet casual enough to be inviting living room. Strong colours on the floor to ceiling draperies, cushions, rug, wall cladding, and ottoman harmoniously pull together the tone of this room and set the stage for an active space. The brilliantly introduced textures on the walls add depth and dimension to the room which otherwise would have been fallen flat. Hanging from the ceiling, the fancy lighting fixture in its unanticipated shade adds a whimsical touch to the space. And the low back and deep seat sectional sofa topped with wrapped cushions is sure a conversation starter and interaction encourager.
A Complementing False-ceiling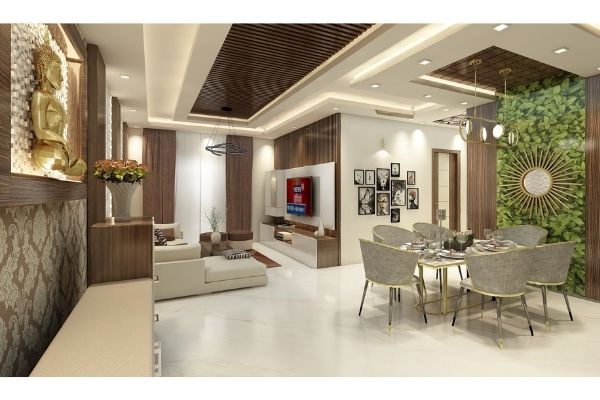 For a living room extending to a larger area like this, the contemporary false ceiling is styled to integrate the living and dining area into a single space. To bring a little bit of visual segregation, the centre of the false ceiling that shelters the living area is featured with an array of thin linear wooden strips and the dining area with cross-checked ones. Further, the ceiling is uplifted with the glow of hidden lights all around.
Simple and Streamlined Kitchen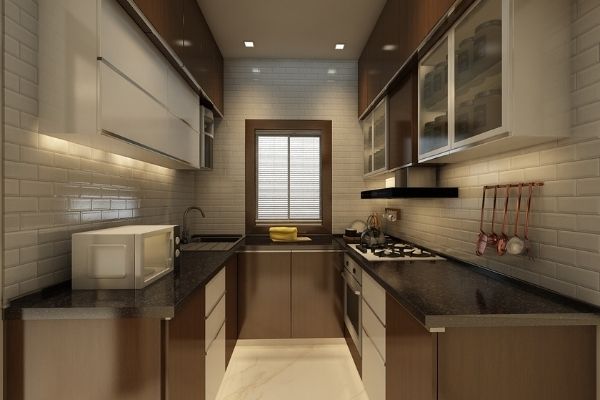 Tucked into a lengthy linear space, this two-toned U-shaped kitchen proves that balance is everything. The dark finishes on the base cabinets, countertops and loft units advocate an undeniably glam aesthetic while white tones on the overhead unit, backsplash and wall ground the space and strike a balance. The recessed lighting under the over-head cabinets is a lot more than just a design frill and brings some good illumination to the countertops that hardly receive any ambient lighting.
An interesting dining space without visual chaos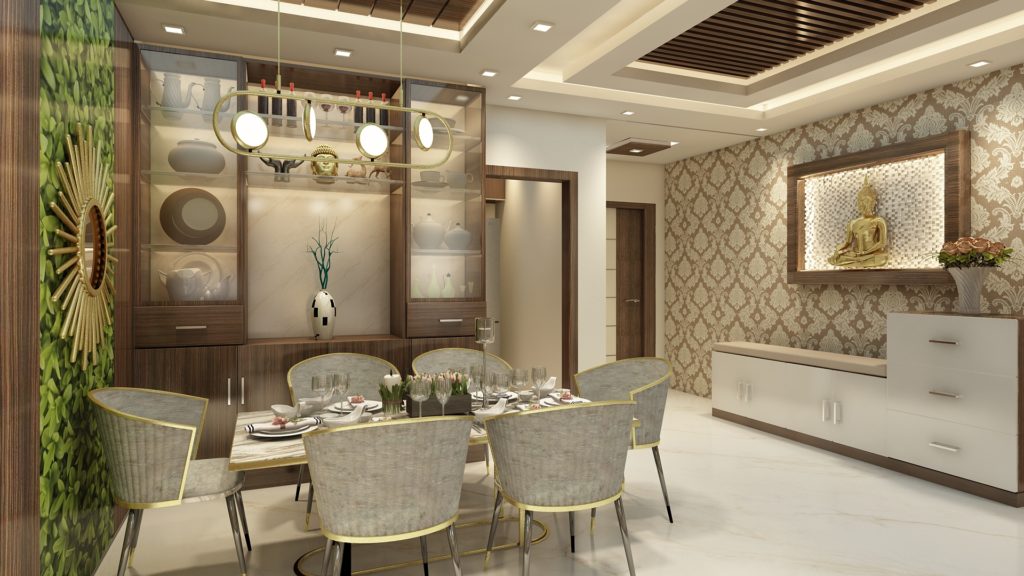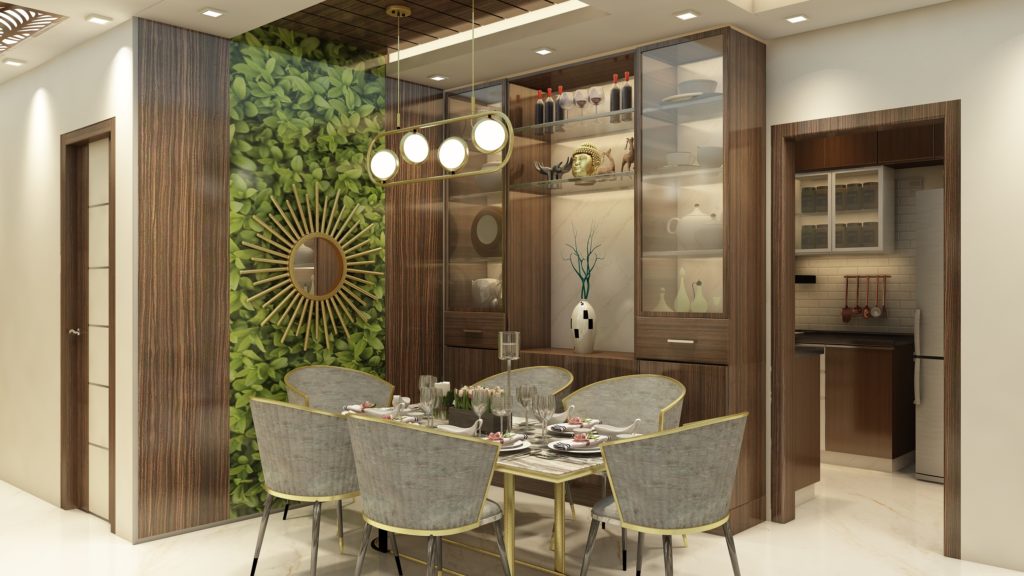 With curved chairs, sunburst mirror, one-of-a kind table, and ceramic vase love, this highly sophisticated dining space is the last word in luxury. The simple linear lighting fixture which is a less fussy alternative to a traditional crystal chandelier makes a striking yet subtle style statement in the space without overdoing the look. Not to mention, injecting a fresh feel, the leafy greens on the wall also bring an unexpected twist to the space. On the whole, this dining corner which exudes a unique personality of its own is perfect for the family to gather to chat about their days over dinner, we say. Also, the golden Buddha with classic wallpaper behind in the entryway becomes a welcome surprise for the guests and visitors. We have our eyes for this greeting set! And you?!
Regal looking bedrooms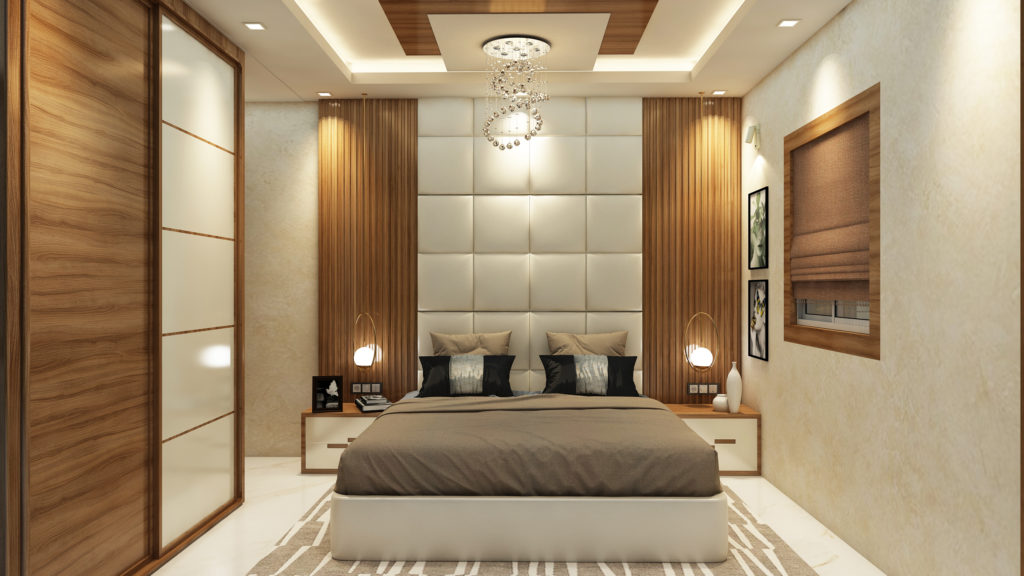 All three bedrooms are harmoniously draped in various shades of woody or sandy brown with different tones of beige lying on the rugs, pillow covers, and window treatments. The fifth walls are gorgeously adorned with straightforward false ceilings with tiny recessed lights and elegantly stunning crystal chandeliers, each having great style, texture, and depth.
The ceiling touching textured headboards create a visual anchor for the bed and dramatically change the way bedrooms look and feel. The entertainment consoles with slimline storage and display space and wardrobes with sliding doors are a thoughtful addition and fine installation to these compact bedrooms. The designers were also not shy about incorporating two matchy bedside lamps to give the rooms a consistent and uniform look.
An Accent Wall making more of a statement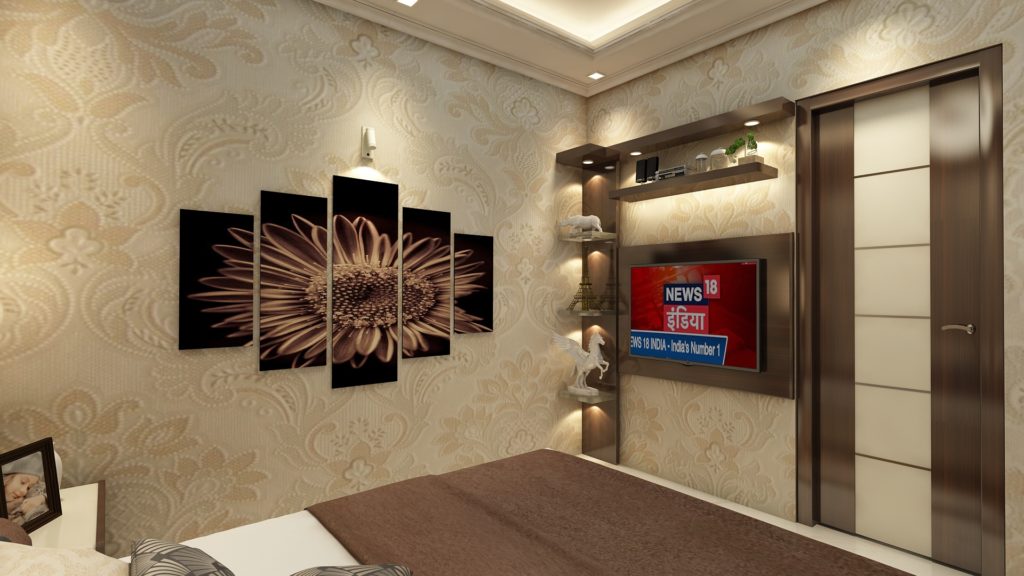 Waking up in a plain white box is too boring and normal. And hence here is the game-changer. This large-scale statement piece with picture lighting installed directly on the wall above, backdropped by a patterned wallpaper is really a mood-setter for the day.
Simplicity-speaking bathroom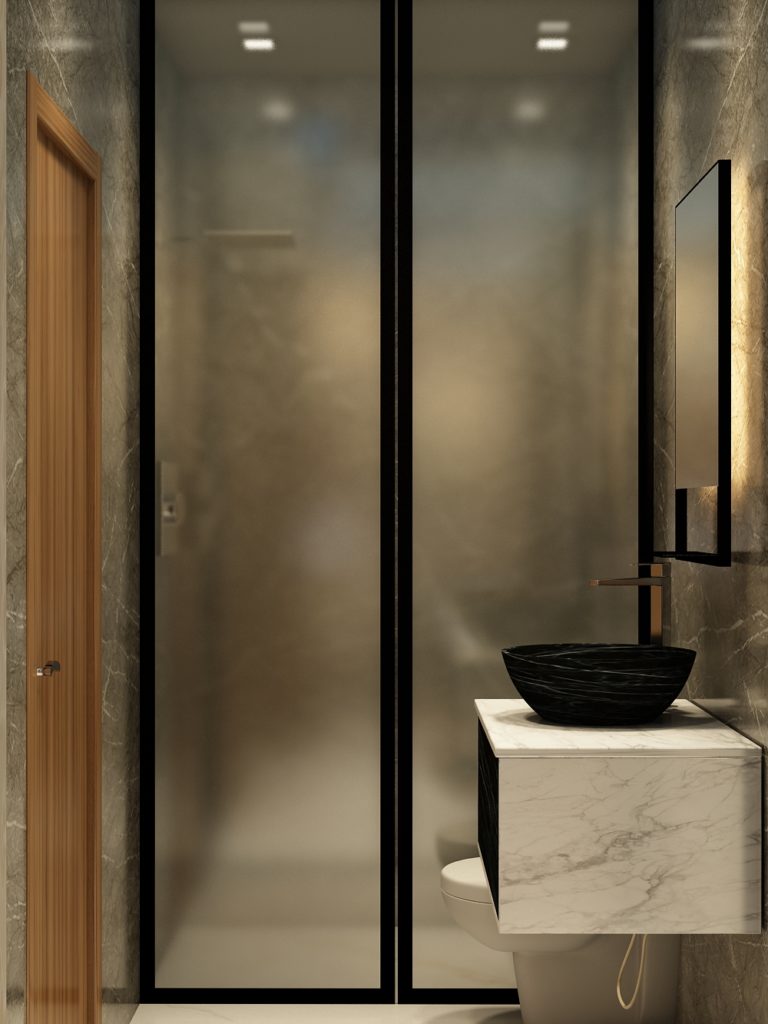 This medium-sized contemporary bathroom with an attached shower cubicle is smartly designed to make the morning and evening routines flow much faster. Without taking up any floor space, the wall-mounted unit serves as a convenient storage hub for bath essentials and supplies. Also, the sleek slender backlit mirror blends in effortlessly with the design and gives off some warm lighting. We love the deep dark, contrasting yet glamorous sink, too.
Loved this home? What did you love the most about it? Tell us in the comments below.
To design yours, drop us a note or get in touch with our interior design experts today!