Paint Your House Interior
No home improvement project revives a house as instantly and effectively as a paint job does. A fresh coat of paint can truly bring your home to life and make a giant impact on its look and personality. While painting a home is a pretty big job, you are likely to have lots of queries about it, especially regarding its painting frequency. And obviously, the first question would be "How often should I paint the interior of my house?" Well, there is no fixed timeline, since every home and its story is entirely different. Most paint experts say that it is good to paint every 5 to 10 years, by considering various factors like the previous paint job, wear and tear, your lifestyle, your family, your activities, etc. To get a clear picture, let's take a closer look at each of these factors.
Previous Paint Job
Having detailed information about the former paint job helps a long way in figuring out whether your home will get painted sooner or later. This includes particulars such as:
Type of paint used
The quality of paint
The number of coats applied
Paint's resistance to fading, dirt, dust, etc
Besides this, where you live, what kind of climate prevails in your region, how intense the weather gets, etc. also plays a substantial role in deciding how long your previous coat will last. For instance, if you live in a region with extremely hot summers, harsh winters, or high humidity, there are high chances for your previous coat to get dated very soon.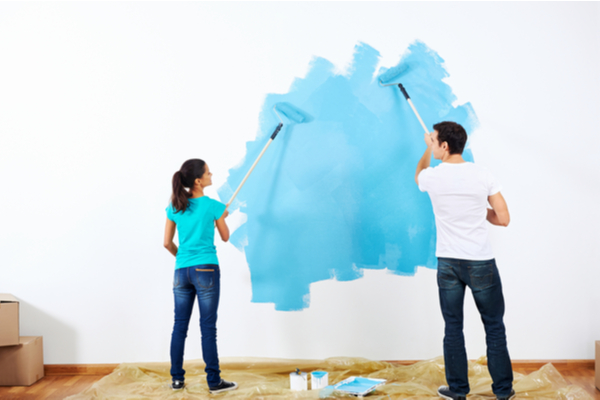 Paint Your House: Type Of Room
The frequency of paint updates varies from room to room, depending on various factors like how often the rooms are used, what they are used for, their wear and tear, etc. However, a simple logic is that the most "lived in" spaces will need to be painted most often. So, let's have a look at it by room-wise
Kitchen
The busiest room of your home which witnesses oil spills, food splatters, deep stains, etc. on a daily basis is your kitchen. And hence your kitchen walls may stand in the need of changing its paint more often than any other room in your home.
Living Room
If your living room sees a lot of hang-outs, then there are high chances for people to bump into and touch the walls more often than in other rooms. And this makes their walls suffer a lot of wear and tear and ask for a fresh coat of paint very frequently.
Bedroom
As bedrooms are used less frequently, they don't demand frequent paint updates. But this again depends on who lives in it and uses it. For e.g. the coats in an adult bedroom usually last for a long time as they do not see much activity. But when it comes to the kid's room, the scene is entirely different. From haphazard scribbling to chocolaty fingerprints, those pathetic walls experience all kinds of abuse. So, giving a fresh coat of paint feels necessary. One more reason why your little ones' room needs frequent paint refreshes is they grow and change fast and so do their preferences and interests. For E.g. Pink fairy walls or blue superhero walls may become obsolete in no time and call out for an upgrade.
Bathroom
With high traffic, this is one of the busiest rooms of all. And the unwritten rule in painting is the higher the traffic, the sooner the painting session will be. Another major reason why bathroom walls have increased painting frequency is their exposure to humidity and moisture. The impact they bring on the longevity of your paint is high and hence you will need to recoat your bathroom frequently.
Putty and Plastering
These are nothing but the layers on the wall underneath the paint. They fill the imperfections, cracks and faults on the wall and help achieve a smooth surface for painting. One general property of theirs is they have excellent adhesion and tensile strength, which helps with elongating the life of the paint applied to them. Hence, the longevity of the paint also relies on the standard and quality of the putty and plastering used underneath. In simple terms, the smoother the plastering, the longer the time interval between the two painting sessions will be.
Type Of Paints
The type of paint used also decides the durability of the paint irrespective of the colour. For eg: Low-cost paints will wear off quickly and cry for touch-ups often. On the other extreme, high-quality glossy paints are very stable, and also easy to clean and maintain and hence they offer the highest durability. Also, quality rich emulsion paints are thick, humidity-resistant and highly washable, meaning that they will be in good shape even after a considerable period of use.
Choice Of Colours
Colour selection also has a significant influence on paint performance and service life, even though paint technology has improved notably in recent years. In terms of colours, Black and other dark colours have a strong tendency to absorb dust, heat, and moisture and make you repaint your walls frequently. They are also more prone to fading and wear off. And because of this, they need more coats, which is difficult, time-consuming and expensive. On the other side, lighter colours last long and fade less.
Paint Your Home: Final Words
Tired paints instantly let a room down; no matter how expensive they are. So, consider a fresh coat of paint for your house interiors depending on the above-discussed factors.
While we don't doubt your paint planning abilities, a tricky paint job will be more successful and satisfactory if planned and executed by trained professionals. So, if you are all set, reach out to our paint experts at ZAD. Our home interior painting service covers everything, from accent walls to touch-ups, to complete refreshes.