2BHK Flat Interior Design in Boral, South Kolkata
With hues from crispy white to emerald green.
An uplifting colour scheme, some unique touches of luxury and plenty of space to move around is all what Mr. Arunabha Choudhury, who is residing in Chennai, wanted for his new 2BHK flat in Boral, Kolkata where his beloved parents are moving in. He also did not want to leave any stone unturned when it came to making the fresh flat look like a page out of a glossy magazine for his dear parents. So, after a deep consultation and Arunabha's Instagram inspirations sharing session, our designers picked up all the cues and expectations of the family and gave the best of designs and quality for their 2 BHK flat to make it nothing less than a slice of heaven on earth.
Here's their home tour! While you take this tour, you will be treated with elegant and fuss-free interiors with a bunch of unique design elements. What we loved most is the trendy mix of pastel and peppy palette which is turning the space into a visual masterpiece.
A clean never boring minimalistic living room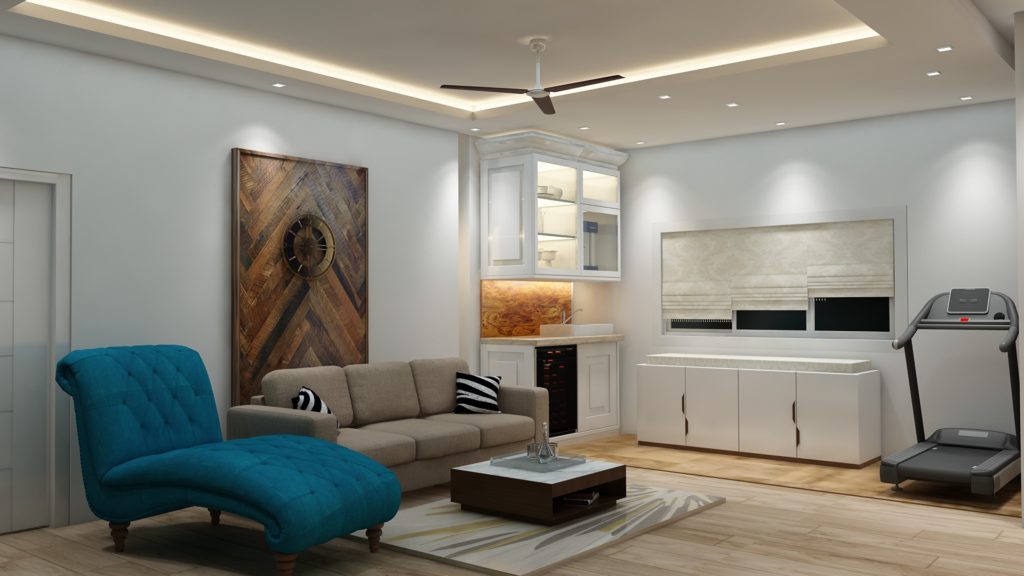 On entering the home, a minimalistic living room flaunting its interiors in a pure, crispy white backdrop will greet you with a wide smile. Coming home to this kind of uncomplicated white living room is absolute bliss. Isn't it? We wanted Arunabha Choudhury's parents to feel the same too!! Next, a bright lounge dressed in blue adds a vibrant colour to the plain living room decor. You can also find a mid-century golden clock with a wooden backboard providing some contrast. Doesn't this small detail make a big difference to this white living room?!!
Contrary to being a hidden space relegated to one end of the home, this cooking corner, with room for just the bare essentials, in the open layout of the room simplifies the structure and the decor as much as possible without sacrificing the functionality. And indeed, the couple who are avid travellers and outside food lovers, say they love this compact and clutter-free kitchen.
Why should the living space always house only a seating corner and an entertainment unit? We gave an unexpected twist with this home fitness equipment. And the best benefit of it is it will keep the family's workout routine intact and top of mind by sitting in front of their eyes every day. We also didn't limit ourselves to a weaved carpet or an area rug to define the space; instead opted for a non-weaved one.
Quirky and classy Bedrooms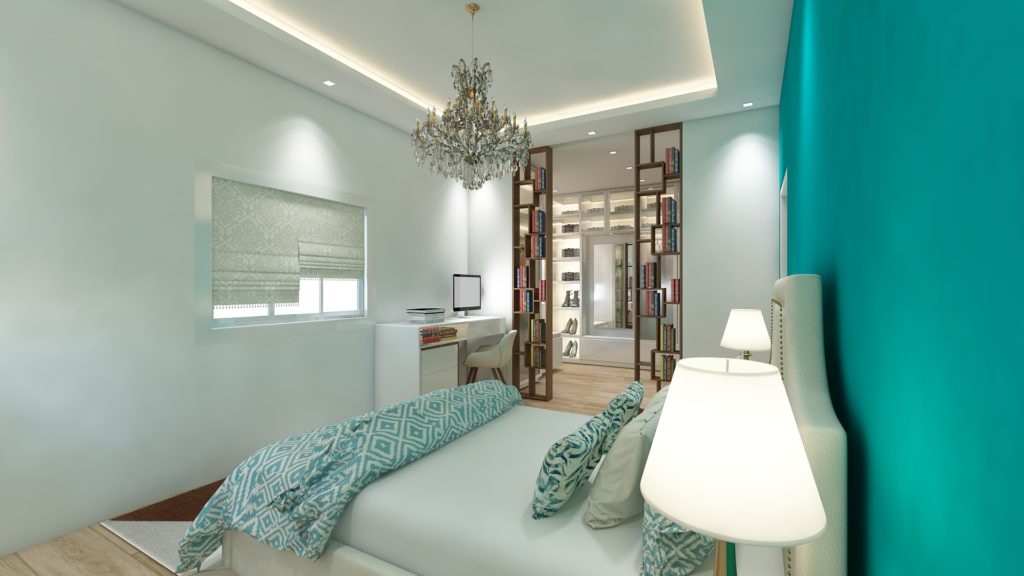 Now, let's get inside these simple yet sophisticated bedrooms. Since the family was keen on having more breathing space, our designers added only those pieces of furniture that the family genuinely needs. Further, to shake things up a little a shot of glorious blue and emerald green was picked up for the accent walls. And the most peculiar thing is we used green in both its palest and deepest avatars to create a rich, contrasting look that yet appears harmonious and co-ordinated. In the other bedroom, the glorious blue as an accent wall colour wonderfully adds a pretty and stunning edge to the plain white space.
Though there are virtually endless options for bedside tables, our team smartly repurposed a few old furniture which the family felt so hard to part with and arrived at these functional bedside storage tables with a brilliant design that is oozing with contemporary charm. This re-imagined furniture with two-tone drawers and sleek build is sure to turn heads!
Dreamy Walk-in wardrobes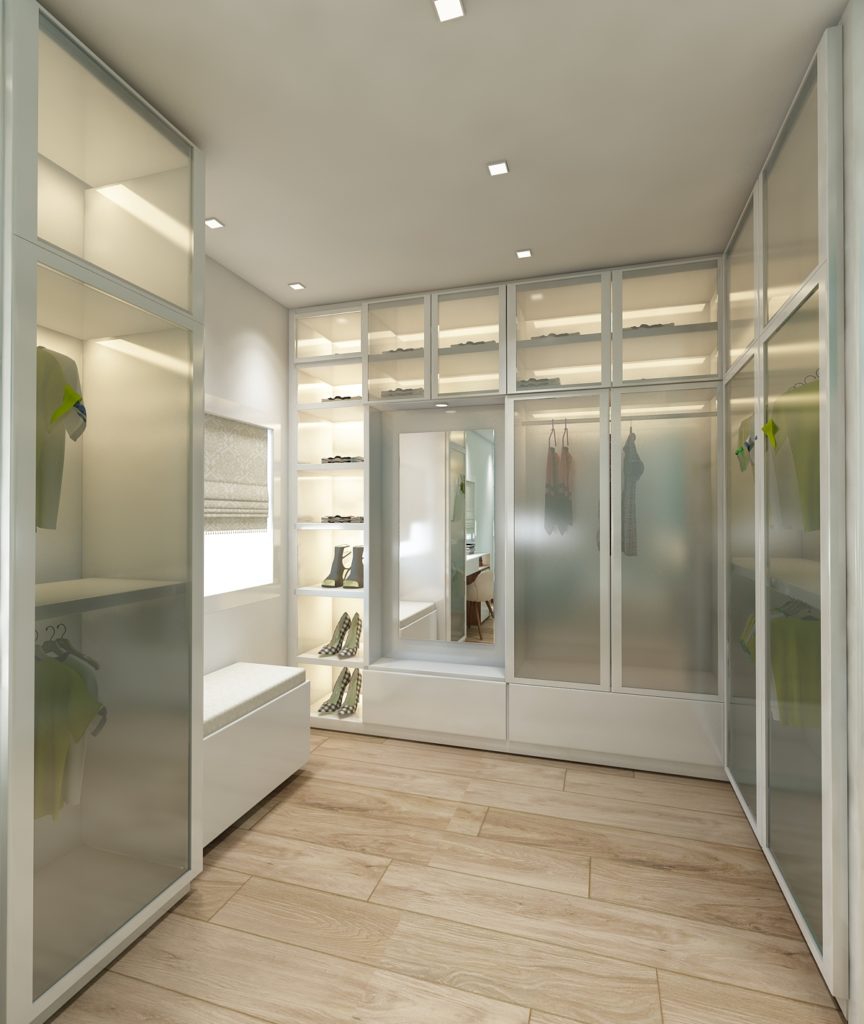 Who wouldn't crush on these walk-in wardrobes featuring plenty of storage room? During the initial consultation sessions, one of the major requirements stressed by the family was freeing up the space in the bedroom by getting rid of those usual bulky drawers and cupboards. As they were also open to new ideas, we planned to extend the bedroom and created these dreamy walk-in wardrobes by turning a whole room into a closet. With display cabinets rather than solid doors, these walk-in wardrobes feel more airier and even bigger – not to mention more modern too. Their transparency also puts forth the need for staying organised, which the family of neat freaks loves the most. These smart wardrobe designs also combine storage with vanity.
A closet that makes use of awkward spaces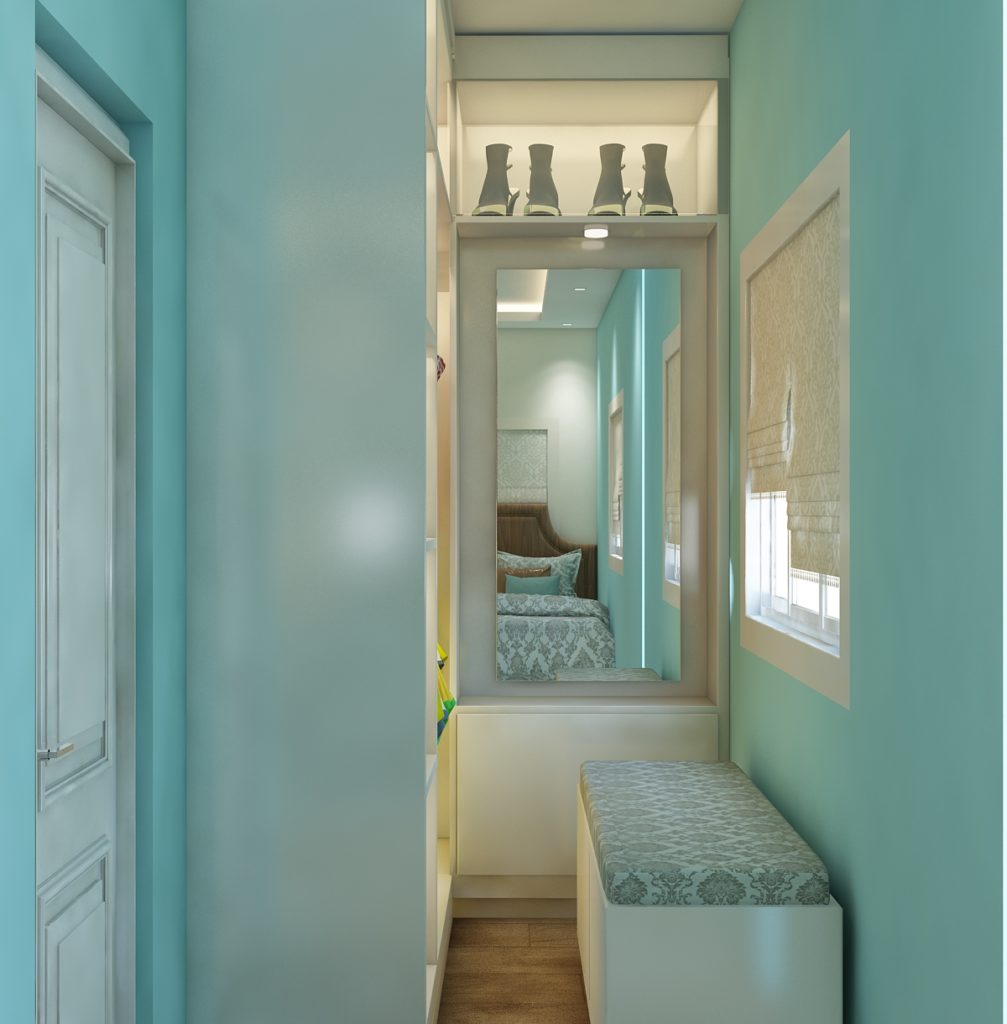 Though walk-in wardrobes are synonymous with luxury and space, we have managed to extend them in the nooks and crannies as well. Here, this corner unit has been made to perform double duty – i.e. a major portion of this space is allocated to the wardrobe for storage and the rest is smartly dedicated to a dressing unit with a sleek mirror and a soft seating.
Bathrooms
Bathrooms are one of the most challenging spaces to deck out. But when done right, they can be more bright and more spacious, just like the ones shown in these pictures. Being very very minimalistic, these vibrant bathrooms are dare enough to be different and sure enough to make the bath time infinitely more fun for the family. A farmed glass is brilliantly used as an internal partition to demarcate the wet shower area from the dry area and also to prevent the water from splashing. With simple outlines, the long sinks also lend themselves perfectly to the aesthetic.
Final words
We hope you enjoyed this visual tour. Let us know in the comments which are your favourite features in this home.
Want to give your home such unique features too? Get in touch with us today.