Modular Kitchen Design
Are you deep in the process of planning a new kitchen? Or just gearing up for great kitchen makeover? Then the chances of you have stumbled across the term "modular kitchen" are quite high. But, a question that you have to be asking yourselves is – What direction will your modular kitchen take in terms of its design? Alongside, being informed about the features and advantages of various modular kitchen layouts that are available in the market can make your design selection easy and hassle-free. That's exactly why, in this post, we will walk you through the features and advantages of various modular kitchen layouts and their most popular design ideas.
Our Top Appliance Recommendations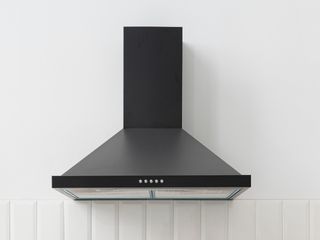 Chimney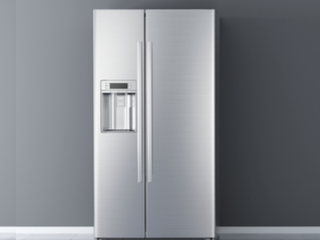 Refrigerator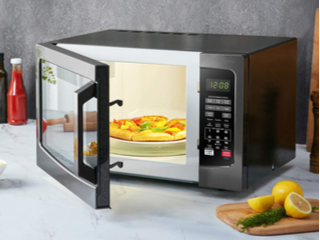 OTG & Microwave
Features and advantages of most common modular kitchen layouts
L-shaped Modular Kitchen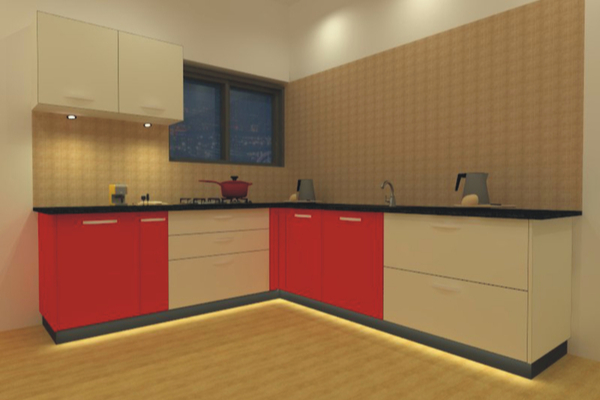 This type of kitchen has its counters spread over two adjacent walls aligned at the right angle, forming the shape of the alphabet "L". This is the most common way of planning and it is suitable for almost any kitchen, big or small and can be placed even in corners. An added benefit of this kitchen is it has the most efficient working triangle that allows the cook to move easily between the sink, hob and refrigerator. With proper utilization of available space, its triangular layout can create ample space for storage even in the smallest of work areas. This layout also generates enough foot space for multiple cooks to move around and hence it is suitable for large families where people are fond of cooking together to make the whole process of meal preparation shared and easy.
U-Shaped Modular Kitchen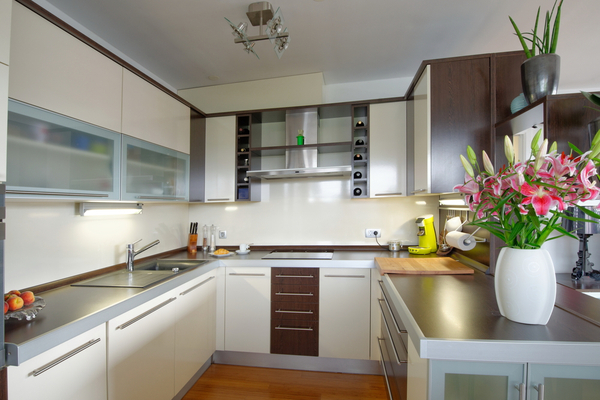 In the U-shaped kitchen, the counter runs along the three walls of the room, taking the shape of the letter "U". This type of layout is perfect for homes that can have a large area designated for its kitchen. Since it completely uses the three walls of the kitchen, this layout can offer an excellent field of activity to its cooks. In case if the space under the kitchen is not large enough, the limited size can result in crowding and cause inconvenience to the cooks. With this kitchen, one can take various liberties like using one complete wall for cabinets, one wall for a large window and the other wall for appliances and sink, etc. And this kitchen works great for joint families with multiple cooks.
Straight Modular Kitchen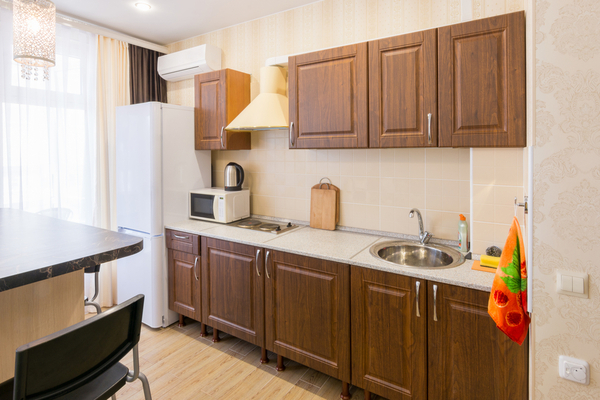 In a straight modular kitchen, the placement of cabinets and shelves happens along one linear line. This is the most compact and simplest of all kitchen layouts and hence works well for small-sized kitchens and also for studio apartments with open floor plans where one part of the room has a living area and the other is designated for cooking. Choosing a long wall can make the kitchen look more chic and also allow scope for easy alterations and extensions.
Parallel Modular Kitchen
Parallel modular kitchen, otherwise called Galley Modular Kitchen, consists of two long parallel workstations on opposite walls, facing each other, with a passageway between them. Each wing can be of any length and can get designated for any work, either dry or wet. This layout suits better for kitchens that are long and narrow and also for one-cook homes.
Island Kitchen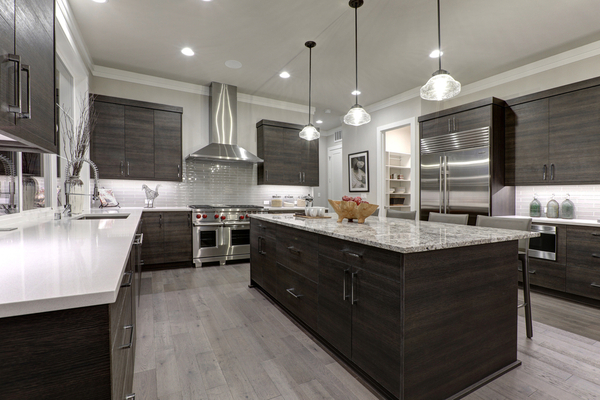 This is a kitchen of any layout with an additional unconnected island typically placed in the middle. One can incline towards this kitchen, if his/her home can donate a plenteous amount of space to its kitchen. Adding an island to the cooking area blesses the kitchen with some extra counter space and prep space which can be put to use for an array of activities like chopping vegetables, doing dry works, or just checking mails. Including seating facilities can turn this island into a casual dining area where quick breakfasts or evening snacks can be served. This kitchen is also a great choice for families who love doing dishes together.
G-shaped Modular Kitchen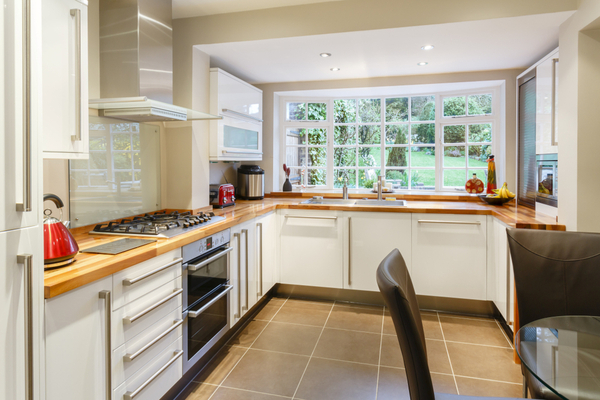 The G shaped or Peninsula modular kitchen is a blend of U-Shaped kitchen and island kitchen, with the extra standing workspace attached to the main counter. This kitchen offers plenty of opportunities for creating specialized work centers for seamlessly carrying out various activities like cooking, storing, washing, chopping and also for entertainment. Unlike an island kitchen that demands a lavish space, this layout can sit even in small kitchen areas by utilizing less floor space and give an extravagant look.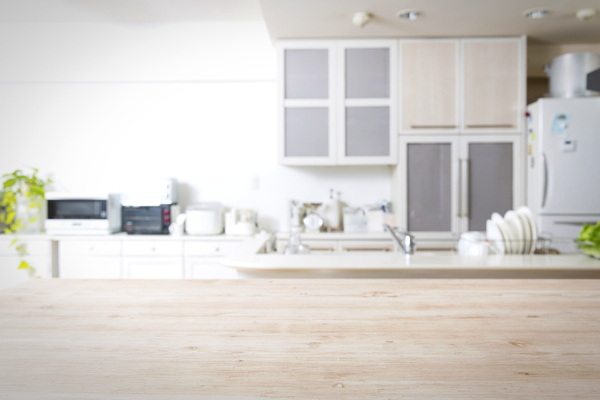 Modular Kitchen Design Types
Looking for design options? Whether it's modern, contemporary or traditional, with modular kitchens you will never run out of options. They can be designed in a myriad of ways so that they make a perfect fit for every home and its aesthetics. The most popular modular kitchen design ideas that are in vogue are:
Basic Modular Kitchen Design
Traditional Modular Kitchen Design
Contemporary Modular Kitchen Design
Modern Modular Kitchen Design
Rustic Modular Kitchen design
Industrial Modular Kitchen design
Sleek Modular Kitchen Design
Italian Modular Kitchen Design
European Modular Kitchen Design
American Modular Kitchen Design
French Modular Kitchen Design
The endless choices
Available in a wide range of colors and patterns, below are the most commonly used countertop materials.
Quartz countertop
Granite Countertop
Laminate Countertop
Wood Countertop
Marble countertop
Stainless Steel Countertop
Glass Countertop
Concrete Countertop
Synthetic material countertop
Tile Countertop
Cabinet Materials
The most commonly available material options for cabinets are:
1. Plywood
Boiling Water Resistant (BWR) Plywood
Moisture resistant (MR) Plywood
2. Fiberboard
3. Particleboard
Finishes
Finishes are the elements that decide the feel to your kitchen and they are available in the following types.
Matte Finish
Glossy Finish
2. Membrane Finish
3. Acrylic Finish
4. Aluminium glass Finish
5. Veneer Finish
6. Solid wood Finish
7. Pu or Polyurethane Finish
Storage Solutions
Wondering what storage solutions has to do with the design of your kitchen? But the reality is they also play a considerable role in deciding the look and feel of your kitchen by creating focal points. Below are some of the ways to do away with your storage needs
Wall cabinets or overhead cabinets
Tall units
Base Units
Drawers
Floor-standing cabinets
Dedicated shelves
Backsplash
For the backsplash, you have a variety of options to go with.
Tiles
Glass
Marble
Quartz
Granite
Wood
Colours and patterns
The palette for your modular kitchen need not always be the boring grey or simple white; it can extend from bold hues to subtle shades with patterns ranging from evenly arranged checks to randomly distributed florals. Often overlooked, the texture is as weighty as colour in a modular kitchen. Making a wise choice on these little details will make a huge impact on your kitchen and truly set it apart.
Final words
Before you make any design decision, take some time to find out what sort of design would suit you and how it can bring a jolt of energy to your kitchen and make it really shine. If you are still muddled up about making the right design decisions, please feel free to send in queries to ZAD. Our experts are always here to help you out.