Bar Counter Design Ideas
An in-house bar counter is a must for those who enjoy parties but prefer having them custom to their liking. This is especially relevant if you prefer being the host yourself. Your party will automatically become popular amongst your guests, when there is a stocked up stash of beverages to offer. It's always good to have something on hand to offer your guests and keep them entertained, even if you don't drink. While setting up a bar counter can be a tedious task initially, but with the right interior lighting techniques, decor and furniture, it will soon be seeing a lot of hosting. Read on for  a few design ideas for your in-house bar counter.
– Find Some Wall Mounted Bar Cabinets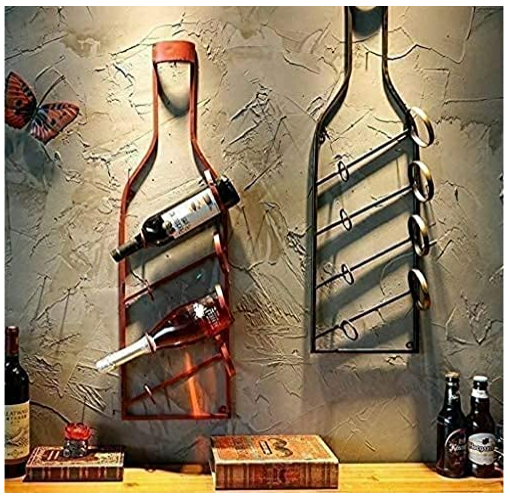 1. Home Decor Bottle Wine Rack Fully Assembled
Colour Black
Material Wrought Iron
Mounting Type Wall Mount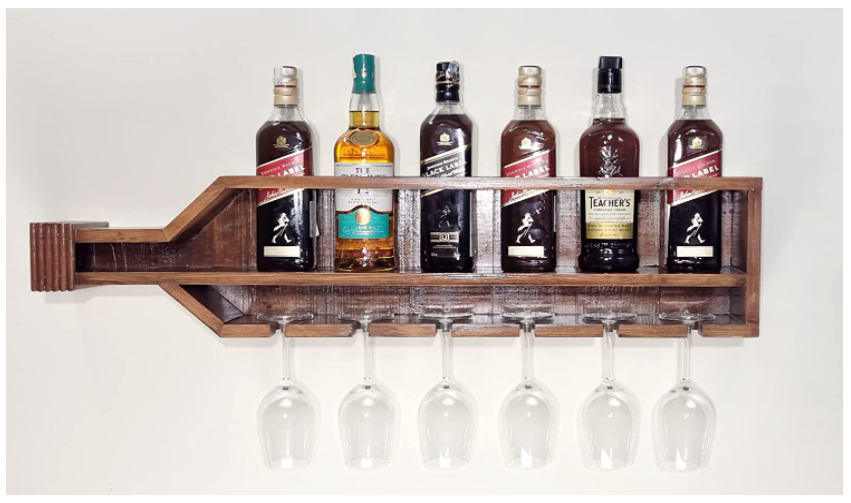 3. Wall-Mounted Bottle Shape Mini Bar Shelf with Wine Glass Holder
Material Solid Pinewood
Colour Walnut
Mounting Type Wall Mount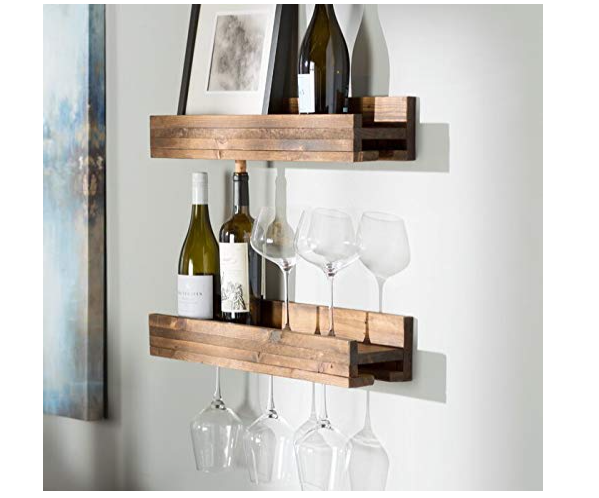 5. Wall Mounted Wine Glass Rack (Set of 2) 4 + 4 = 8/10 Wine Glass Holder
Material Sheesham Wood
Colour Brown ( Light Walnut)
Mounting Type Wall Mount
1. The Corner Bar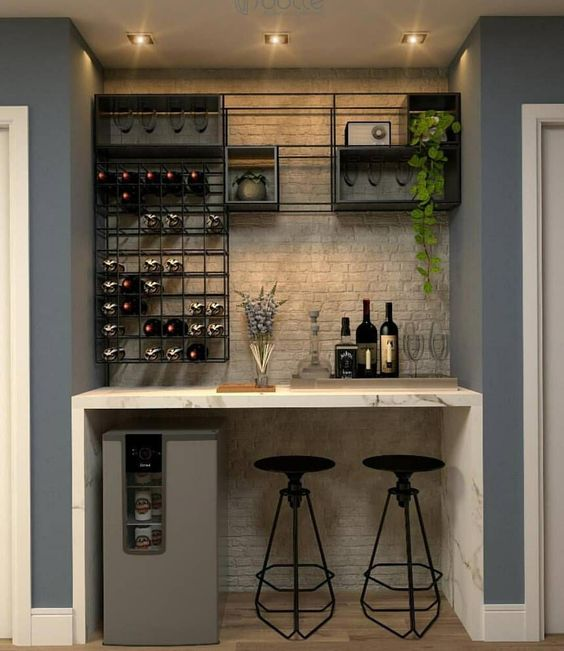 The term itself is self-explanatory – this bar counter can occupy one of the corners of your house. Like in the picture above, an otherwise dead space has been transformed into an extravagant minibar. It is easier to make a choice with an open bar that displays the drinks. Once the drinks are made and the lights are off, the subtle lighting sets a perfect ambiance to enjoy the beverage. A stone counter with a wooden finish makes the appearance classy, while the stone allows for hassle-free maintenance. This will surely enhance the dining-cum-living design when incorporated with an open kitchen plan.
2. The Parallel Bar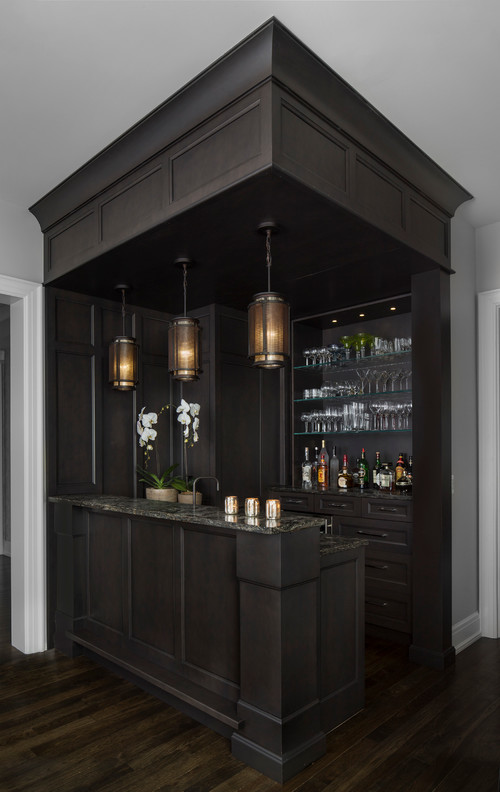 You can spread across a similar decor when space is not a constraint. With a circulation space enough for 2 people to comfortably help themselves, the parallel bar counter design has 2 counters parallel to each other. While one counter can be used as a bar table to enjoy the drink, the other can be used to mix the drink. Tall ottomans have been used in place of conventional bar stools, to go with the rich wooden finish. You can use an accent wall to highlight the area.
3. The Kitchen Bar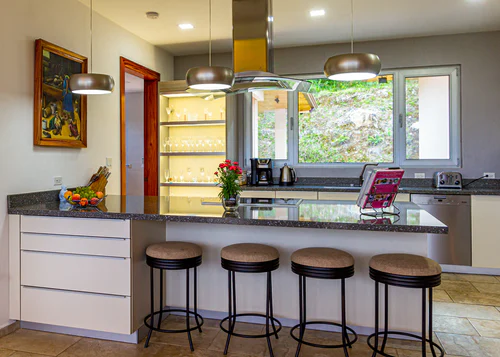 If your kitchen is spacious enough to house an island counter, the island can double as a breakfast counter in the morning hours, as well as a bar counter in the night. A part of the kitchen counter can be used to mix the drinks and display them, while the island can be used to serve them.
4. The Pull-down Bar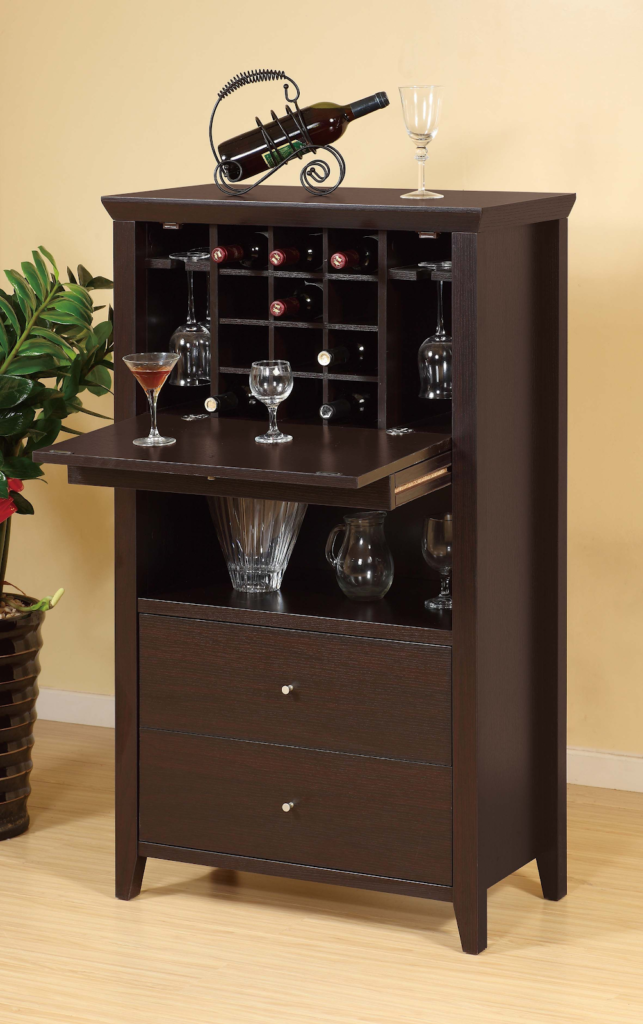 This design makes clever utilization of the television cabinet as the bar counter. This design works best when there is a space crunch, and there's not ample space to spare for a bar. This design also provides privacy by not flashing your drinks to everyone who visits, because everything is tucked away in a cabinet. The pull-down door acts as both a mixing and a serving table, while the rear-end stores the beverages. The furniture in the living room can be used as the seating.
5. The Pool House Bar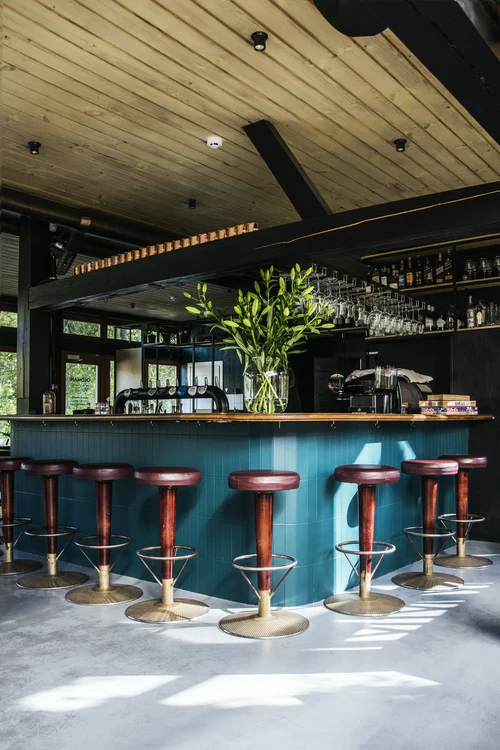 There is no better place for a bar counter to be set up if your house hosts a pool. You can spare a little room beside the change room. Some brilliant pool parties can be hosted with a well set up bar. To avoid mishaps, the flooring in a poolside bar will have to be skid-proof. With a typical counter in front followed by a couple of bar stools, a wall can display the accessories.
6. The Partitioned Bar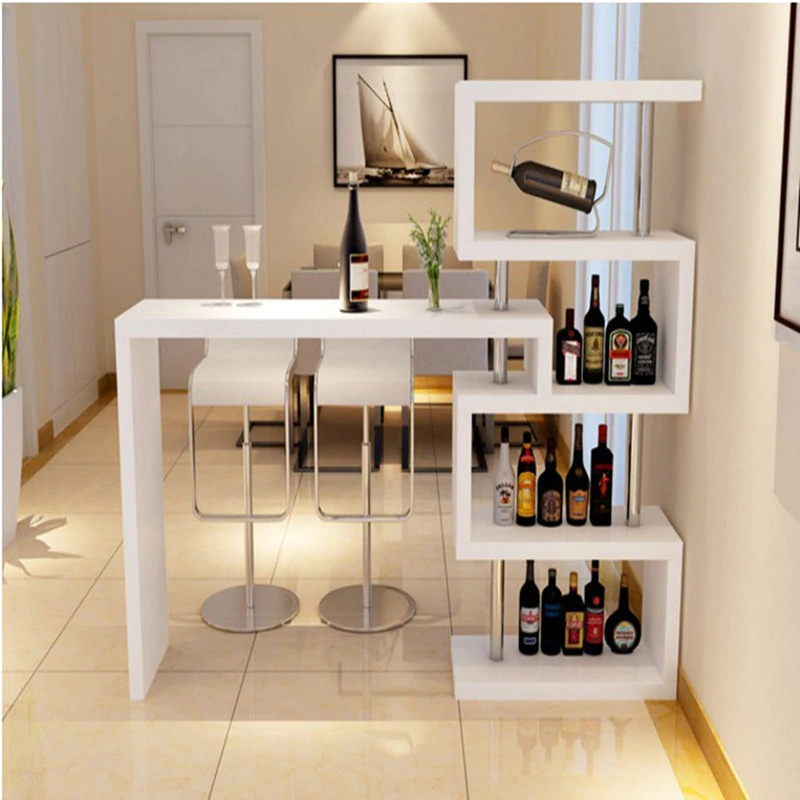 The living room can be partitioned into a bar counter when there's a large space available. In a 3-walled space design, each wall can be used to display a certain accessory creatively, with one wall giving rise to a counter for serving and mixing. This can also be opened up during parties to appear as one space with the living room because it's partitioned. This way the room appears more convenient and spacious.
7. The Barn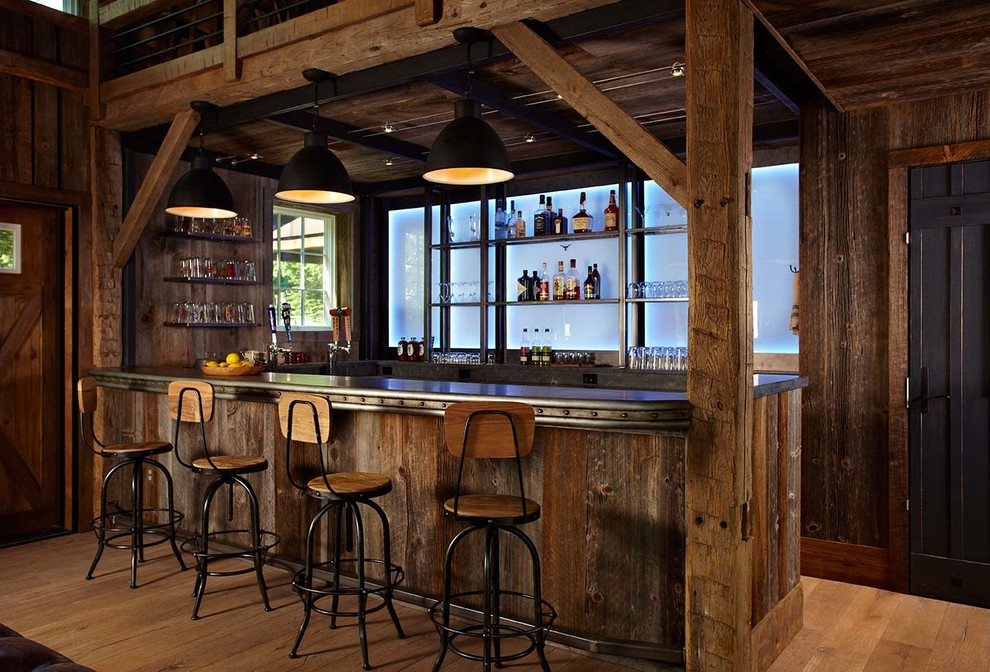 This vibe is all about amazing companions, great conversations and good times. All you need for a home bar that is barn-inspired is a wood slab counter, a chalkboard wall, bar stools and a few vintage wire lighting. Perfect for man cave or basement settings.
8. The Pallet Bar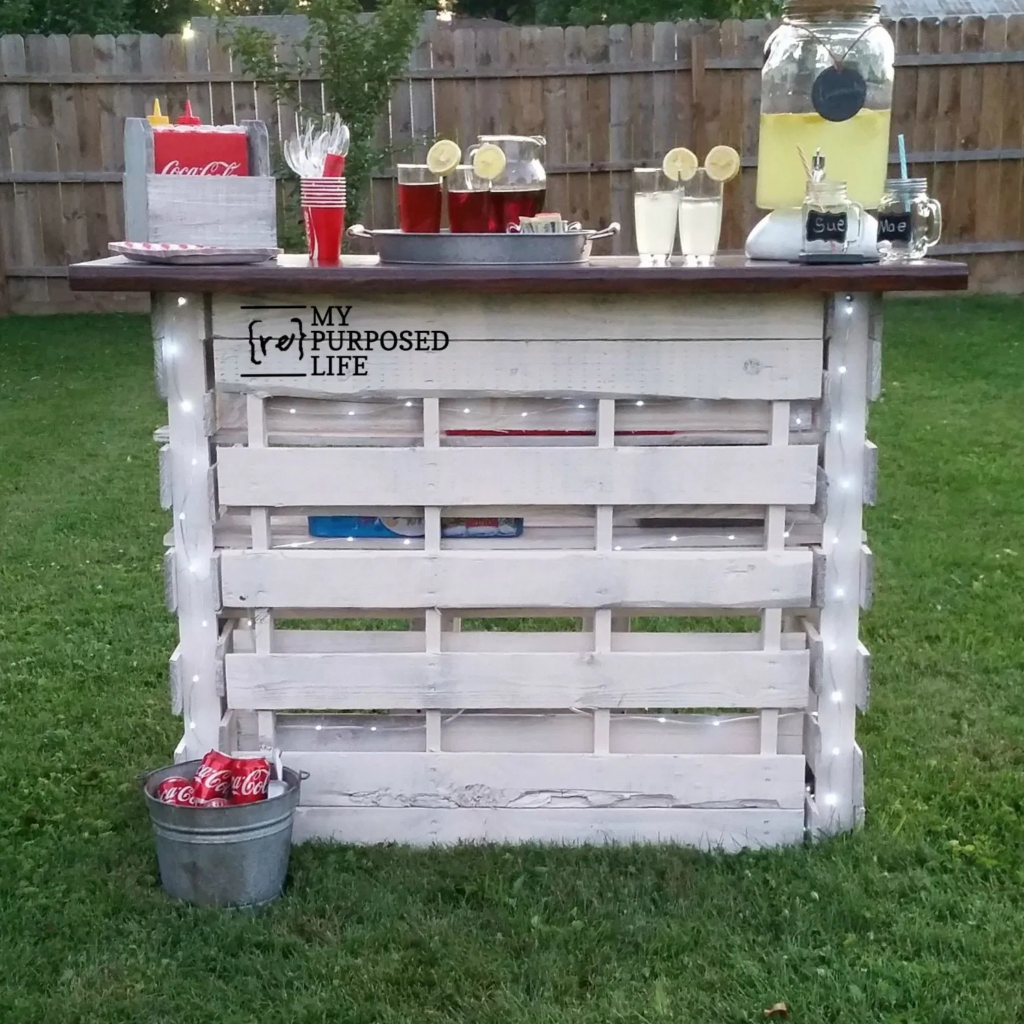 You don't have to necessarily spend a fortune for a home bar. This DIY recycled pallet bar will only cost you a few nails, the pallets and a weekend to work it out. This design is also very easy to assemble. Simply sand and clean the pallets, put them together, add the drinks and some colorful lighting, and bam, you are ready to party!
9. The Grey, Elegant Bar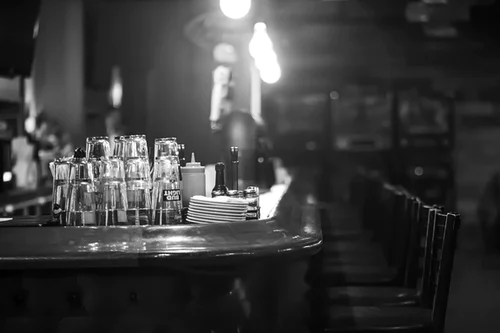 Elegant, posh and modern. This well-designed home bar is well-appointed because it already includes ample wine racks, a couple of coolers, storage shelves, drawers and service countertop. It only takes about 2 metres of your kitchen wall space. The luxurious marble splashback is highlighted by the understated light grey tone.
10. Floating Bottle Storage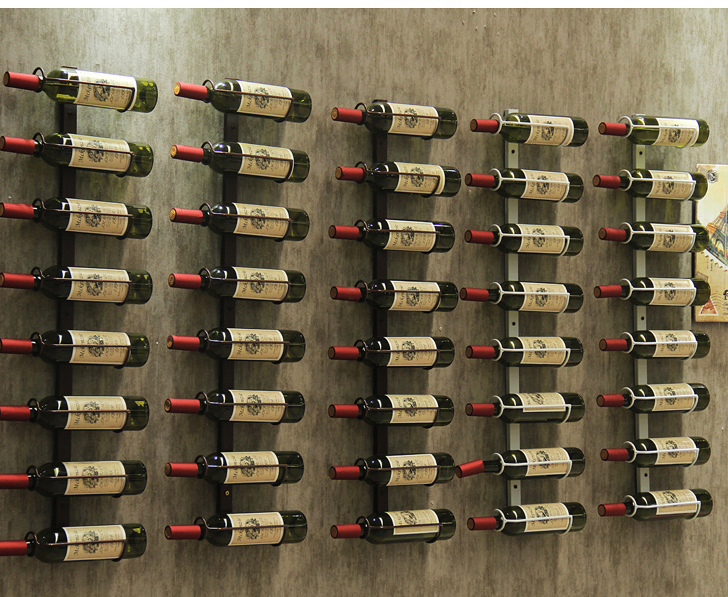 Interesting and amazing, this is the perfect wine bottle storage for the minimalist, modern home. This great design not only doubles as a room divider, but also emanates an edgy look with the chrome and silver bars. You can also make use of wood bars if you want a more rustic vibe.
11. Under the Stairs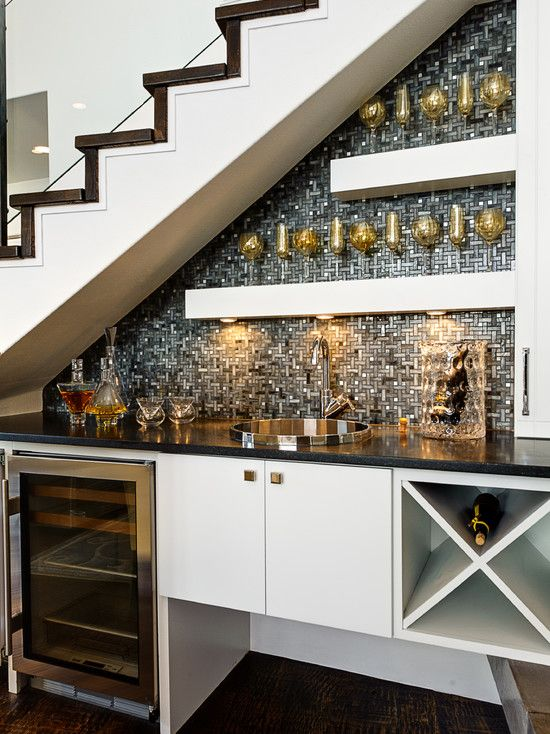 Put that awkward space under your stairs to great use with a home bar. While the red brick wall brings the rustic and charming look, the black granite countertop sets the moody vibe. Completing the bar are mood lights, shelves for bottles and a spacious cooler.
12. The Rustic Industrial Bar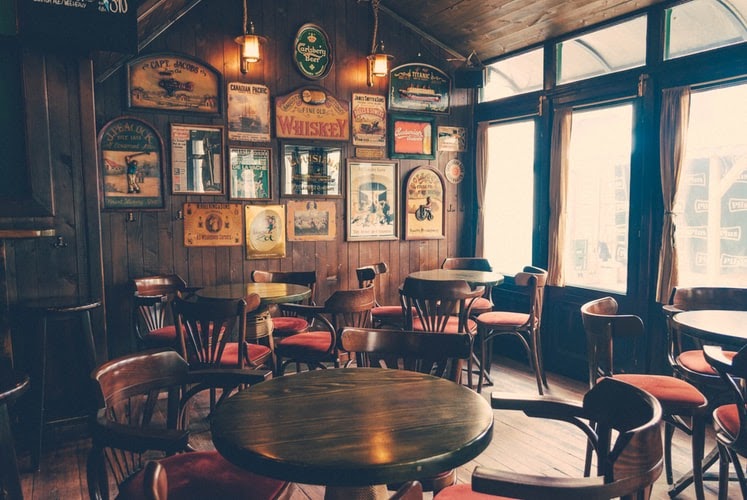 Combine the warmth of rustic charm with the rugged vibe of the Wild West. The brick walls, wood panelled ceilings and bare concrete floors give strong impressions of good times and bucolic hospitality. The metal bar and vintage wood, old-school bar stool and vintage light drive in the industrial look.
13. Marbled Opulence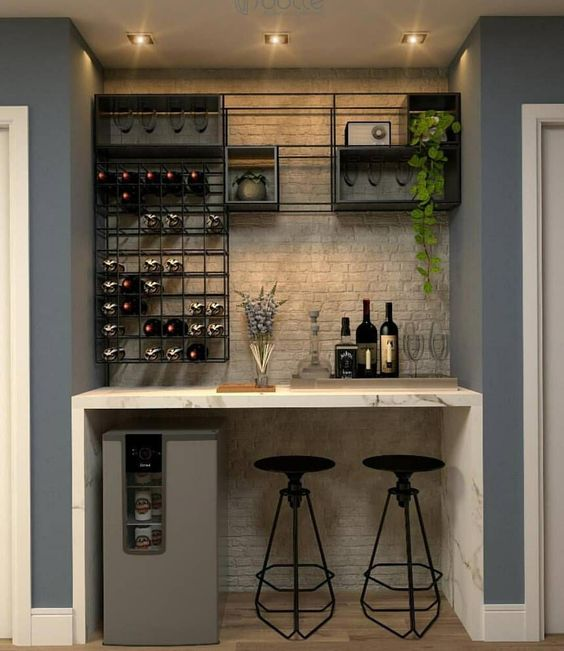 This magnificent and bright home bar counter is for those who aren't afraid to party in the light. The grey, the white and the several shades in between complement the luxurious marble counters and walls. Complete the posh look with crystal pendant lights and chrome bar stools.